Santiago de Chile, the buzzing capital of Chile, has much to offer visitors and attracts a diverse crowd, from veteran backpackers to aspiring wine connoisseurs and luxury city-breakers.
But whether you're looking to delve into Santiago's vibrant cultural scene, party in Barrio Brasil, or just sit back and sip a pisco sour by the pool, Santiago boasts a top-notch range of accommodations to suit all tastes and budgets.
I lived in Santiago for three years and, having since explored every nook and cranny of this city for my Chile guidebook, Moon Chile, and stayed in multiple hotels across the city on subsequent trips back, I've got plenty of opinions about where you should stay.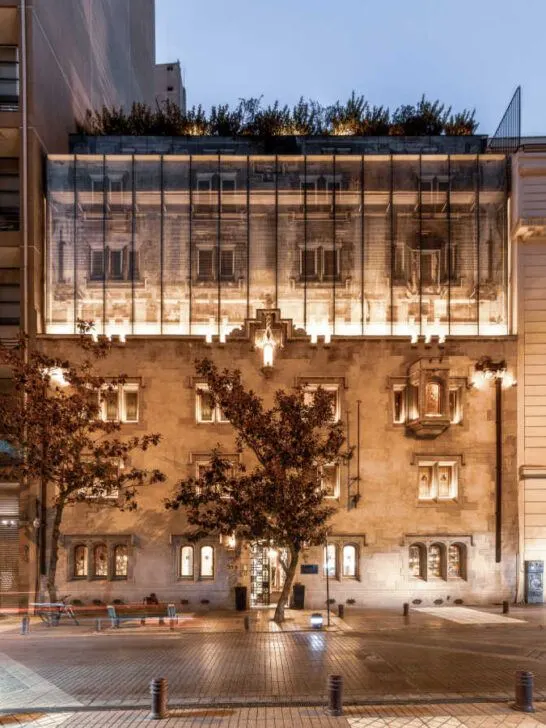 From cheap and cheerful hostels to quirky boutique hotels, here's our pick of some of the best hotels and where to stay in Santiago, which we've divided according to location and price.
May 2023 safety update: The US State Department has suggested "exercising increased caution" when visiting Santiago. This is due to an increase in muggings, assaults, and carjackings taking place in the city. Unlicensed taxi drivers are an increasing issue, too, particularly at the airport, so it's recommended to always book through a registered provider (we recommend the reliable, English-speaking My Ride Chile). Previously safe tourist neighborhoods such as Lastarria and Bellavista are becoming increasingly unsafe; it's advised to take taxis (use Cabify rather than Uber or ask your accommodation to call a taxi; never hail a cab off the street) within these areas at nighttime. Read more safety recommendations here.
Barrio Bellavista
Leafy Barrio Bellavista came into being when the ever-growing city of Santiago spilled across onto the northern banks of the Rio Mapocho, with charming, residential mansions and long, green avenues springing up to claim the neighborhood.
Many of these homes have since been converted into lavish boutique hotels and this barrio, along with nearby Lastarria, is home to one of the city's broadest selections of restaurants and bars, making it a prime location in which to stay.
It's also surrounded by interesting cultural highlights and unmissable things to do in Santiago such as Noble Prize-winning Chilean poet, Pablo Neruda's La Chascona home and the aged Funicular San Cristóbal, which carries passengers up to the lofty heights of Parque Metropolitano.
1. Best hotel to experience Chilean history: Hotel Boutique Castillo Rojo
You certainly won't struggle to find the rather bold facade of the four-star Hotel Boutique Castillo Rojo ($140 USD standard double, $166 USD deluxe double), which means "Red Castle" in Spanish.
This Bellavista landmark offers not only a brilliant location (it's just a block away from La Chascona, Nobel prize-winning poet, Pablo Neruda's quirky Santiago home) but truly charming quarters in a building constructed in 1923.
Never fear: refurbishments have brought this building right up-to-date, with nineteen bedrooms featuring antique furniture, warm furnishings, and room service (or "champagne service" as they prefer to call it). Some feature balconies and some views across the city; others are on the small size, so it's worth paying for a deluxe room.
Their on-site restaurant, Castillo Rojo Bistro, serves up modern Chilean cuisine, cocktails, and a locally-produced wine, which you can enjoy in their shaded courtyard – although Bellavista's glut of restaurants and bars are on your doorstep, too.
If you're hiring a car to explore the surrounding area, you'll find the secure parking an added bonus.
2. Best affordable hotel in a central location: Casa Bellavista Hotel
In the east of Barrio Bellavista at the foot of the imposing Cerro San Cristóbal hill, Casa Bellavista Hotel ($100 USD double) is perhaps Santiago's most affordable yet wonderful hotel stay.
It doesn't look much from the outside, but its spacious dining area for a delicious breakfast and sunny outdoor terrace grant guests plenty of room to enjoy the modern facilities of this hotel. Rooms are a bit on the small side, but, with service this welcoming, it's hard to complain.
3. Best guesthouse with shared accommodation: Eco Hostal Tambo Verde
Offering very affordable accommodation and an extremely friendly welcome in a prime position, Eco-Hostal Tambo Verde ($64 USD double, $30 USD dorm) has just a handful of smallish rooms set around a lovely terrace.
Some have private bathrooms, while others have access to shared facilities. Dorm rooms – again, on the small size – are the perfect choice if you're traveling in Chile on a budget.
The best bits about this humble little guesthouse are its sunny terrace, extensive breakfast choices, and location. Situated in a quiet residential area just east of Bellavista, it's within walking distance of both this neighborhood and Lastarria.
Planning Your Trip to Chile?
Save time, stress & money with a customized travel itinerary planned for you by a Chile expert
What previous clients have said:

Steph did a great job! I have never used such a service before and I wish there were more of them!
Getting off the beaten track was important to us and with Steph's knowledge we were away from the crowds. The information is very detailed and she knows some great places to stay! Thank you Steph!
Justin and Lisa
Traveled Patagonia, Bolivia and Peru in Jan '19
Barrio Lastarria
The lively, picturesque neighborhood of Barrio Lastarria is characterized by grand, 20th-century buildings, once inhabited by Santiago's wealthy intellectuals and artists.
At its heart is the pedestrianized Calle Lastarria, home to a weekend flea market, where second-hand books and other crafts are laid out on stalls or sheets, and the hill-turned-park, Cerro Santa Lucía – officially the city's loveliest green space.
As one of the city's trendiest, most hipster neighborhoods, Lastarria makes for an excellent place to stay in Santiago, with its pretty streets filled with some of the best restaurants and chic bars, while it's within walking distance of plenty of museums and the Plaza de Armas, Santiago's colonial core.
4. Best luxury hotel in Santiago: The Singular
The Singular ($435 USD double) is a strong contender for Santiago's most luxurious five-star boutique hotel.
This family-owned hotel is complete with a rooftop pool, spa, and gastronomic restaurant, which itself has quite the reputation in Santiago's fine-dining circles.
These facilities are open to the public – including an unmissable rooftop bar – and well worth a visit for a splash of luxury, even if you don't stay here.
5. Best boutique hotel for a zen stay: Hotel Magnolia
At the foot of Cerro Santo Lucia sits Hotel Magnolia ($253 USD double), a painstakingly renovated neo-gothic mansion complete with dramatic spiral staircases.
If you're looking for a high-end boutique hotel, this place is just the ticket. It's a fully-fledged zen paradise: its 42 guest rooms are beautifully done out in neutral shades with soft lighting and blond eucalyptus wood, exuding calm and fusing Chile's natural heritage with modern comforts and style.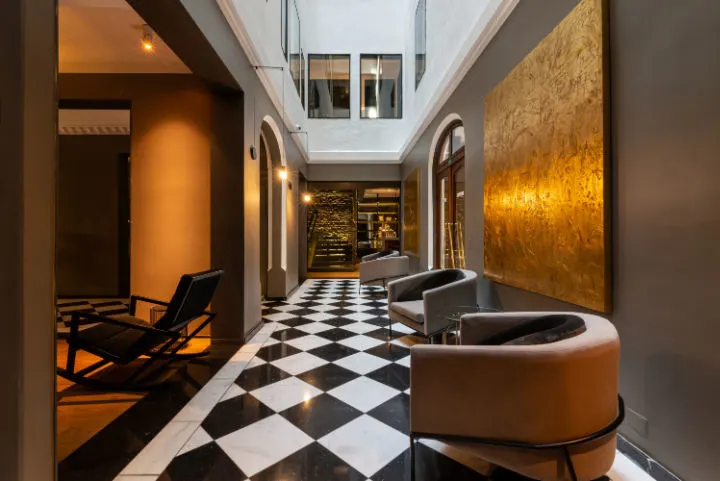 For a super quiet stay, request one of the upper-floor bedrooms, and be sure to visit the rooftop bar for signature cocktails and stunning views of the hill.
6. Best affordable boutique hotel: Hotel Sommelier Boutique
If you're hoping to stay right at the heart of Santiago – just without the high price tag – Hotel Sommelier Boutique ($133 USD double) is exactly what you're seeking.
Situated in an imposing avant-garde building, its twenty-four rooms sit across eight floors linked with marble staircases, each of which is named after a varietal of grape. And, despite being right on one of the main roads through Lastarria, you can expect a quiet night's sleep.
Bedrooms are decorated in a contemporary style, with ample space and extremely comfortable beds. However, the real talking point here is its rooftop bar and terrace, which promises great views of the cityscape below, including Cerro Santa Lucía to the south, and the Andes Mountains east.
7. Best modern budget guesthouse: Hotel Pasko
While it might be located in an underwhelming concrete building, Hotel Pasko ($105 USD double) will surprise from the moment you step through the door.
Furnishings are contemporary, with some bedrooms spacious and all fitted with welcome air-conditioning for the hot summer months in the capital. Welcome elevators take you up to your room
Its location right at the heart of Barrio Lastarria ensures it's just a few steps away from some of the city's best restaurants, however, despite being down a quieter street, traffic noise is a fact of life in Santiago, so light sleepers will want to bring ear plugs.
But, with the closest metro station just a block away, and the Museo Nacional de Bellas Artes (Chilean National Museum of Fine Arts) only a little further, you'll find everything on hand during your stay.
8. Best serviced apartments for self-caterers: Sweet Stay Chile
For self-caterers, Sweet Stay Chile ($113 USD one-bedroom apartment) is a great find. Comprising a well-sized bedroom and private bathroom, plus a sizeable living-kitchen area (which has bed-cum-couch for an additional guest), these modern furnished apartments guarantee a comfortable stay.
There's even an outdoor pool for guest use – something you don't typically get at this price point – plus a gym and laundry room. The owners are also extremely responsive, ensuring you have a brilliant stay.
Plus, its location just a few streets south of Cerro Santa Lucía means you'll never be short of cafes, restaurants, and bars to explore.
Barrio Italia
Jazz clubs, tiny cafés with floral patios, and innovative new restaurants mark the pretty streets of Barrio Italia, Santiago's most charming and bohemian neighborhood. It was settled by Italian immigrants in the 19th century and still moves at a different pace of life.
Although hotel options are limited, those that are available are outstanding and it's only a few stops along the metro to Barrio Lastarria and the Plaza de Armas, granting it an excellent location, away from the hubbub of the city.
Barrio Italia is also renowned for its antique furniture shops, which line a few blocks of Avenida Caupolicán, and are a perfect place to browse the assorted bric-a-brac, while the who neighborhood is a top shopping destination for boutique clothing and arty, modern furniture.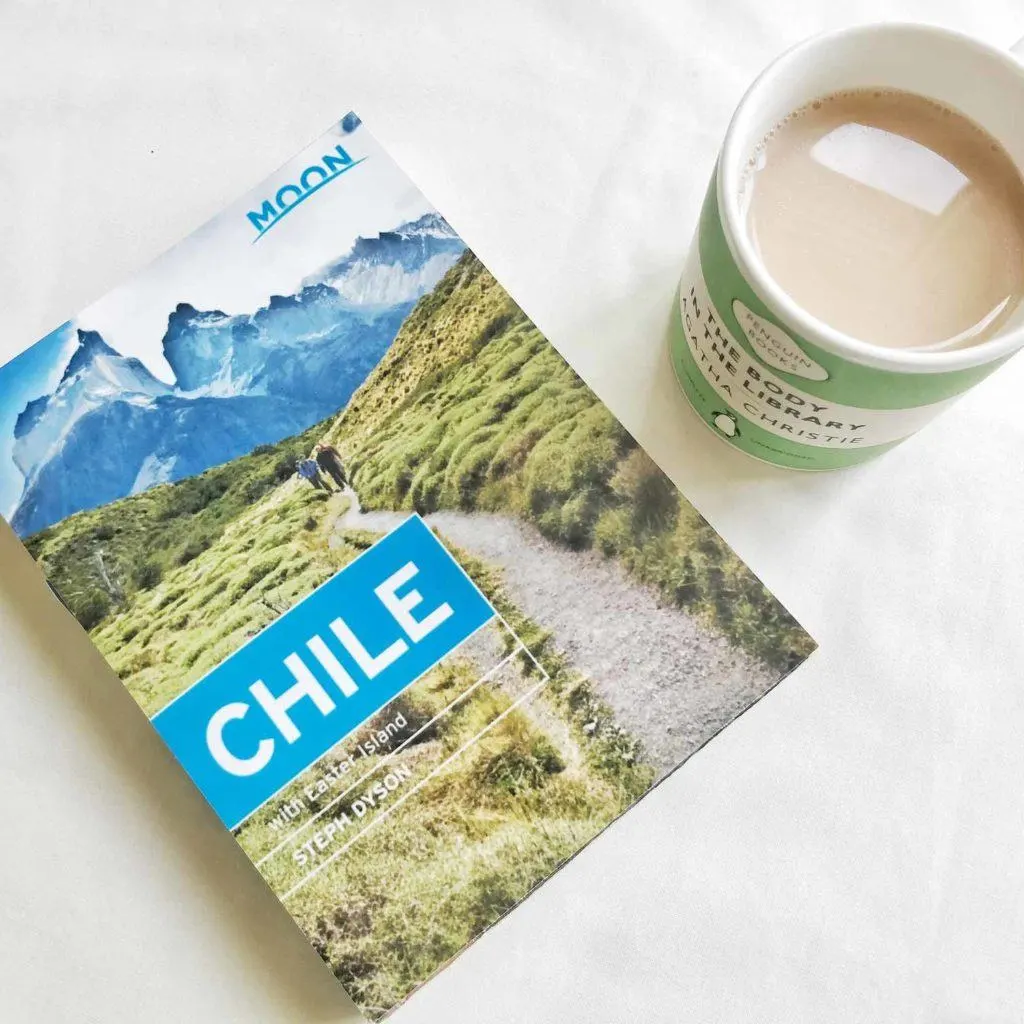 Need more inspiration?
You'll find even more detailed itineraries, off-the-beaten-path gems, hiking routes and accommodation, restaurant and tour recommendations to suit your travel style in my brand-new guidebook, Moon Chile.


9. Best boutique hotel in Barrio Italia: Maison Italia 1029
Within a red brick building characteristic of the neighborhood, Maison Italia 1029 ($147 USD double, $166 USD double with terrace) is a slick, modern choice of hotel.
Communal areas feature bold artwork and black-and-white photography, while bedrooms are all calming, muted hues.
That said, some are quite small – and if you're after a twin room then forget it. However, for extra space, go for a double with a terrace, where you'll get to soak up Santiago's practically all-year-round rays with just a hop and a skip out of bed, or upgrade to a massive king suite, which has a barbecue on its private balcony.
And, with its location on Avenida Italia, you're within easy reach of the neighborhood's shopping and dining options.
Las Condes
The Las Condes region of Santiago is a mostly wealthy residential neighborhood scattered with international chain hotels and is the safest place to stay in Santiago There's not a huge amount of tourist attractions here – although Parque Bicentenario, which follows the route of the Mapocho River, is worth a wander, as it's one of the city's prettiest public parks.
Most of the best hotels in Las Condes are located in Barrio EL Golf – Santiago's financial district. For decent dining, you'll need to head east into Vitacura proper or west to the main tourist neighborhoods mentioned above and downtown Santiago. Connectivity is good, however, with the El Golf metro station just a short distance away.
10. Best five-star chain: The W Santiago, Barrio Las Condes
If you're seeking a five-star hotel from a brand you can rely on, the W Santiago ($249 USD double) is the perfect fit.
Spacious bedrooms – with a welcoming balcony for an additional fee – have floor-to-ceiling windows taking in the whole of the city's impressive skyline, while the rooftop swimming pool has 360-degree views of the same for a truly outstanding place to enjoy the city's year-round sunshine.
Decor is contemporary and carefully designed to ensure you get the zeds you'll need for a busy day exploring Chile's most vibrant city, while their rooftop bar is the place to be seen – or just grab a deliciously smooth glass of homegrown red.
Santiago has a wide selection of brilliant restaurants, but if a relaxed evening in the hotel is more your style then their Karai restaurant is the ideal alternative. Showcasing Nikkei cuisine (a combination of Peruvian and Japanese styles), it's a brilliant introduction to South America's dining scene.
11. Best for lounging by the pool: Mandarin Oriental
In an eye-catching rounded tower, the Mandarin Oriental ($259 USD double) deals in modern architecture and contemporary style. Bedrooms set across 15 floors are bright, with floor-to-ceiling windows to allow you to absorb both the light and the vistas of the Andes Mountains.
Some bedrooms come with sunny terraces, which are perfect for whiling away a balmy summer evening. For daytime lounging, head to the hotel's large, picture-perfect pool, which is complete with a scattering of loungers and sun umbrellas, and surrounded by tropical palm trees.
The Mandarin Oriental's two restaurants serve two very different cuisines: Nikkei (Japanese-influenced Peruvian dishes) and Italian and a shaded terrace with views across the hotel's grounds for you to dine.
Note that his hotel isn't close to the metro, nor many restaurants and bars, so you'll need to use taxis to get around.
12. Best for old-school luxury: The Ritz-Carlton
The grand Ritz-Carlton ($249 USD double) has a lot to live up to given the lavish luxury that you've come to expect from this world-renowned hotel brand. But, with its large bedrooms featuring king-size beds and luxurious marble bathrooms, it mostly does – although it's not at quite the same caliber as the W Santiago.
Views from most bedrooms are magnificent, looking out as they do towards the other high-rise buildings that are prevalent in this part of Santiago.
The swimming pool and jacuzzi, which are encased within the domed glass cupola at the very top of the building, are a little dated, but there's also a fitness center and a spa where you can decompress from your journey.
What's more, a slick bar on the ground floor that specializes in pisco cocktails, and their restaurant, Estro, which showcases modern Chilean food and features live music at weekends, will appeal if you don't want to head out into town.
13. Best for business travelers: Santiago Marriott Hotel
Geared towards business travelers, Santiago Marriott Hotel ($179 USD double) is a reliable five-star option from this international chain.
This hotel has large bedrooms with desks and big windows – you'll just have to overlook the dated decor and furniture, which definitely needs attention, but won't have a huge impact on your stay.
A fitness center and pool, plus two restaurants and a welcoming bar complete the facilities, while it's situated next to Parque Araucano – a park dotted with cafes, restaurants, and pleasant green-lined walkways – which is a great place to stretch your legs.
Providencia and around
Named after the road that carves right through the middle, the Providencia neighborhood is an important commercial hub in Santiago and is also home to plenty of cheaper dining options – including some really traditional eateries – than in the more expensive areas of Lastarria and Bellavista.
Although there are few sights here – you'll want to head west for that – its excellent public transport and metro links mean that you're never far from a train to whip you into the more touristy areas of town.
It's also a safe place to stay in Santiago.
14. Best boutique in Providencia: Hotel Boutique Le Reve
There's something particularly charming about the facade and grounds of Hotel Boutique Le Reve ($250 USD double), with ivy creeping across the front of the building and a shady, verdant courtyard perfect for a lazy breakfast.
Inside, the appeal of this French manor-inspired hotel continues, with the building designated a Chilean national monument and the bedrooms showcasing elegant Parisian decor that speaks of a bygone age.
It's worth paying extra for a courtyard-facing bedroom as the street on which the hotel is located can be noisy at night.
15. Best Santiago hotel for a glass of organic Chilean wine: Carménère Eco Hotel
Santiago's first 'ecoHotel', Carménère Eco Hotel ($259 USD) is equally appealing to environmentally conscious travelers and those seeking an authentic Chilean wine experience from their own hotel.
A sustainability pioneer in the city, the hotel is powered by solar panels and boasts Santiago's only 'farm to fork' hotel dining, with ingredients sourced from the hotel's very own vegetable garden.
A complimentary glass of carménère wine upon arrival tempts guests to delve further into the depths of the hotel's organic wine cellar.
Its location, just a few blocks north of Barrio Italia and a few south of Providencia, makes it excellent for dining out in the evening. Note that this gem has just five rooms, so be sure to book well in advance.
16. Best Providencia hotel with a pool: Solace Hotel Santiago
Just a block away from Avenida Providencia with its excellent public transport links, Solace Hotel Santiago ($140 USD double) lives up to its name, providing a calming retreat in the middle of the city.
Bedrooms are large with a contemporary finish, and large windows with views towards the forested Parque Metropolitano help to cultivate a relaxed atmosphere.
However, it's the rooftop pool that overlooks the street below, that's the real star here; it's the perfect place to catch the sunset as its falls over the city.
17. Best boutique guesthouse: Hostal Boutique Casa La Barca
If you're looking for an affordable stay at a central location, book to stay at Hostal Boutique Casa La Barca ($136 USD double). Despite its name, it's not a hostel, but a friendly guesthouse in a restored historic building that offers a range of bedrooms, some featuring shared bathrooms and others private (a handful of which are outside of the room).
Situated just a few blocks south of Avenida Providencia and a few north of Barrio Italia, it offers an excellent location that's quiet yet close enough to the action, while being safe and secure at the same time.
A well-equipped kitchen, as well as supremely friendly staff, make this a place where you might find yourself staying longer than intended.
18. Best Santiago hostel for a friendly welcome: Hostal Río Amazonas
Hostal Río Amazonas ($79 USD double) is situated in a pleasantly chaotic mock-Tudor mansion next to Plaza Italia, a central landmark in the city and served by several metro lines.
Cheap and cheerful with a family ambiance, Hostal Río Amazonas has been a solid favorite with visitors to Santiago since the late 90s.
Double rooms are spacious and equipped with sturdy wooden furniture, although singles are small and the communal kitchen is decidedly undersized for the number of rooms.
Barrio Brasil
Arty, bohemian, and a little rough around the edges, Barrio Brasil is the place for affordable hostels and a scattering of historic hotels.
The streets here are lined with colorful graffiti by well-known Chilean street artists, while it's just a stone's throw from the pretty Quinta Normal park and the unmissable – if utterly harrowing – Museo de la Memoria y los Derechos Humanos, a museum dissecting the impact and commemorating the victims of the brutal Pinochet dictatorship during the 70s and 80s.
There's a growing number of trendy bars and excellent eateries here, while the fact that it's still within walking distance of the Plaza de Armas makes Barrio Brasil a top choice for travelers on a budget.
19. Best boutique hotel in Barrio Brasil: Matildas Hotel Boutique
Like much of Barrio Brasil, Matildas Hotel Boutique ($130 USD double) reflects Santiago's history. In fact, the hotel is within a grand old building dating back to the early 1900s.
It has been brought back to life with a lick of paint and some sensitive restoration. The 17 bedrooms each have a different decorative aesthetic, each with polished wooden floors and super king-sized beds.
Downstairs, a casual bar gives onto a sunny terrace and linger-worthy garden – although this often hosts weddings, so bring earplugs if staying during the weekend.
20. Best hotel for a taste of Chilean history: Casa Zañartu
Hotel Casa Zañartu ($95 USD double) has a truly unique selling point, being the former home of Don Miguel Zañartu, who participated in the revolution of 1820 and signed the Chilean proclamation of independence.
This historic mansion, built in 1885, has been dutifully restored in an elegant neoclassical French style, with antique furniture, original tiled floors, and ornate, gilt-framed portraits of previous Chilean presidents.
It's four quick blocks to the Plaza de Armas and a short walk to the Santa Ana metro stop.
---
Looking for more inspiration for your trip to Chile? Read our highlights of Chile travel itineraries, dive into our comprehensive guide designed to help you plan your trip to Patagonia, and read our recommendations for visiting Torres del Paine National Park, written after three visits to this incredible place.