Santiago, the buzzing capital of Chile, has much to offer visitors and attracts a diverse crowd, from veteran backpackers to aspiring wine connoisseurs and luxury city-breakers.
But whether you're looking to delve into Santiago's vibrant cultural scene, party in Barrio Brasil, or just sit back and sip a pisco sour by the pool, Santiago boasts a top-notch range of accommodation to suite all tastes and budgets.
From cheap and cheerful hostels to quirky boutique hotels, here's our pick of some of the best hotels and where to stay in Santiago.
Barrio Bellavista
Leafy Barrio Bellavista came into being when the every-growing city of Santiago spilled across onto the northern banks of the Rio Mapocho, with charming, residential mansions and long, green avenues springing up to claim the neighbourhood.
Many of these homes have since been converted into lavish boutique hotels and this barrio, along with nearby Lastarria, it's home to one of the city's broadest selection of restaurants and bars.
It's also surrounded by interesting cultural highlights and unmissable things to do in Santiago such as Noble Prize-winning Chilean poet, Pablo Neruda's La Chascona home and the aged Funicular San Cristóbal, which carries passengers up to the lofty heights of Parque Metropolitano.
Best boutique hotel in Santiago: The Aubrey
With its picturesque patios overlooked by exotic landscaped gardens and an idyllic swimming pool (heated in winter months), The Aubrey (Constitución 299, double room $173,000 CLP ($250 USD)) is both one of Santiago's most stylish boutique hotels and a tranquil oasis in the heart of Santiago's dynamic Bellavista neighbourhood.
If you've spent an afternoon exploring the zone's plethora of cafes, bars, art shops and theatres, the restored 1930s mock-Tutor mansion, with its piano lounge and airy, individually decorated chic bedrooms is a welcoming retreat.
The building also has a fascinating history – having played an important role as a meeting place for politicians and other notably Chilean figures throughout the 20th century.
Any stay here allows you to recharge your batteries and escape the baking heat of Santiago's streets in the summer months.
Planning Your Trip to Chile?
Save time, stress & money with a customized travel itinerary planned for you by a Chile expert
What previous clients have said:

Steph did a great job! I have never used such a service before and I wish there were more of them!
Getting off the beaten track was important to us and with Steph's knowledge we were away from the crowds. The information is very detailed and she knows some great places to stay! Thank you Steph!
Justin and Lisa
Traveled Patagonia, Bolivia and Peru in Jan '19
Barrio Lastarria
The lively, picturesque neighbourhood of Barrio Lastarria is characterised by grand, 20th-century buildings, once inhabited by Santiago's wealthy intellectuals and artists.
At its heart is the pedestrianized Calle Lastarria, home to a weekend flea market, where second-hand books and other crafts laid out on stalls or sheets, and the hill-turned-park, Cerro Santa Lucía – officially the city's loveliest green space.
As one of the city's trendiest, most hipster neighbourhoods, it makes for an excellent place to stay in Santiago, with its pretty streets filled with smart restaurants and chic bars, while it's within walking distance of plenty of museums and the Plaza de Armas, Santiago's colonial core.
Best Santiago hotel for self-catering: Apart Hotel B
For self-caterers, Apart Hotel B (Bellavista 234, double room $100,000 CLP ($145 USD)) is a great find. The ten, modern furnished bedrooms all have private bathrooms and fully equipped kitchens, with breakfast included in the rate.
This hotel is a stone's throw from the Bellas Artes museum and just a five-minute walk across the river from the Parque Forestal, making it ideal for families and for lazy summer days picnicking in the park.
Best hotel for a zen stay: Hotel Magnolia
At the foot of Cerro Santo Lucia sits Hotel Magnolia (Huérfanos 539, double room $167,000 CLP ($243 USD)), a painstakingly renovated neo-gothic mansion complete with dramatic spiral staircases.
This place is a fully fledged zen paradise: its 42 guest rooms are beautifully done out in neutral shades with soft lighting and blond eucalyptus wood, exuding calm and fusing Chile's natural heritage with modern comforts and style.

For a super quiet stay, request one of the upper-floor bedrooms, and be sure to visit the rooftop bar for signature cocktails and stunning views of the hill.
Best budget hotel in a central location: Hotel Foresta
Hotel Foresta (Victoria Subercaseaux 353, double room $38,000 CLP ($57 USD)) is a solid choice for a budget hotel in Lastarria. Just across the road from Santiago's landmark Cerro Santa Lucia, it is hard to beat in terms of location and offers private parking to guests.
While its decor is decidedly old fashioned compared to the neighbourhood's many boutique hotels (think chintz curtains and a full coat of arms on display downstairs), the price to room size ratio offers the best bang for your buck. Ask for a room on the quieter side to limit noise from traffic.
Best luxury hotel in Santiago: The Singular
The Singular (Merced 294, double room $277,000 CLP ($403 USD)) is a strong contender for Santiago's most luxurious 5-star boutique hotel.
This family-owned hotel is complete with a rooftop pool, spa and gastronomic restaurant, which itself has quite the reputation in Santiago's fine-dining circles.
These facilities are open the public – including an unmissable rooftop bar – and well worth a visit for a splash of luxury, even if you don't stay here.
Barrio Italia
Jazz clubs, tiny cafés with floral patios and innovative new restaurants mark the pretty streets of Barrio Italia, Santiago's most charming and bohemian neighbourhood. It was settled by Italian immigrants in the 19th-century and still moves at a different pace of life.
Although hotel options are limited, those that are available are outstanding and it's only a few stops along the metro to Barrio Lastarria and the Plaza de Armas, granting it an excellent location, away from the hubbub of the city.
Barrio Italia is also renowned for its antique furniture shops, which line a few blocks of Avenida Caupolicán, and are a perfect place to browse the assorted bric-a-brac, while the who neighbourhood is a top shopping destination for boutique clothing and arty, modern furniture.
Best for outstanding hospitality and charm: CasaSur Charming Hotel
CasaSur Charming Hotel (Eduardo Hyatt 527, double room $113,000 CLP ($163 USD)) lives up to its name, wooing guests with six serenely decorated rooms and endlessly helpful owners.
What's more, it's right within this up-and-coming neighbourhood, which is packed with hip new bars and restaurant, plus more linger-worthy cafés than you can shake a stick at.
From the 400-thread-count cotton sheets to the fluffy white towels and freshly ground coffee at breakfast, you'll be hard pushed to find anything to grumble about at this guesthouse-cum-boutique hotel, which has extra special design touches reflecting all the features the well-travelled owners wished they'd found across the world.
Book well in advance – it's one of the city's most popular lodgings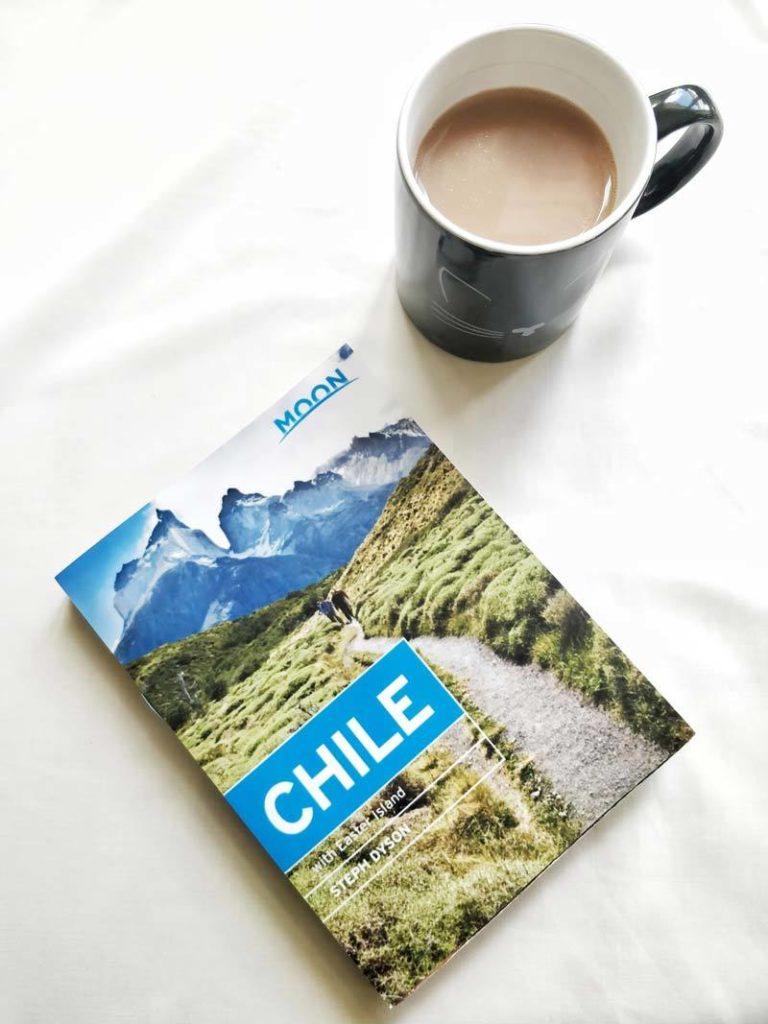 Need more inspiration?
You'll find even more detailed itineraries, off-the-beaten-path gems, hiking routes and accommodation, restaurant and tour recommendations to suit your travel style in my brand-new guidebook, Moon Chile.
Providencia and around
Named after the road that carves right through the neighbourhood, Providencia is an important commercial hub in Santiago and is also home to plenty of cheaper dining options – including some really traditional eateries – than in the more expensive areas of Lastarria and Bellavista.
Although there are few sights here – you'll want to head west for that – it's excellent metro links mean that you're never far from a train to whip you into the more touristy areas of town.
Best Santiago hostel for a chilled vibe: Castilla Surfista Hostel
With its homey communal spaces and bucketloads of "buena onda" (good vibes), Castilla Surfista Hostel (Maria Luisa Santander 0329, dorm $8,000 CLP ($11 USD), double with shared bathroom $20,000 CLP ($17.50 USD)) is a popular haunt amongst the student, backpacker and surfer crowd.
Tucked away in a sprawling colonial-style house on a backstreet, Castilla Surfista's Californian owner and his friendly dog have imbibed this place with a laid-back atmosphere apt for making new travel buddies over breakfast waffles or impromptu barbecues.
Best Santiago hotel for a classy breakfast on the terrace: Vilafranca Petit Hotel
Vilafranca Petit Hotel (Pérez Valenzuela 1650, double room 50,000 CLP ($72 USD)) is indeed a small hotel, comprising just eight rooms cosily tucked into a 1940s townhouse, which is something of a charming relic in bustling, modern Providencia.
It offers a welcoming escape from the district's busy roads, with double glazing throughout, classy decor and a secluded courtyard out back to enjoy a very dignified breakfast on sunny mornings.
Best Santiago hostel for a friendly welcome: Hostal Río Amazonas
Hostal Río Amazonas (Av. Vicuña Mackena 47, double room $51,000 CLP ($74 USD)) is situated in a pleasantly chaotic mock-Tudor mansion next to Plaza Italia, a central landmark in the city and served by several metro lines.
Cheap and cheerful with a family ambience, Hostal Río Amazonas has been a solid favourite with visitors to Santiago since the late 90s.
Double rooms are spacious and equipped with sturdy wooden furniture, although singles are small and the communal kitchen decidedly undersized for the number of rooms.
Best Santiago hotel for glass of organic Chilean wine: Carménère Eco Hotel
Santiago's first 'ecoHotel', Carménère Eco Hotel (Santander 292, double room $179,000 CLP ($259 USD)) is equally appealing to environmentally conscious travellers and those seeking an authentic Chilean wine experience from their own hotel.
A sustainability pioneer in the city, the hotel is powered by solar panels and boasts Santiago's only 'farm to fork' hotel dining, with ingredients sourced from the hotel's very own vegetable garden.
A complimentary glass of carménère wine upon arrival tempts guests to delve further into the depths of the hotel's organic wine cellar.
Its location, just a few blocks north of Barrio Italia and a few south of Providencia, makes it excellent for dining out in the evening. Note that this gem has just five rooms, so be sure to book well in advance.
Barrio Brasil
Arty, bohemian and a little rough around the edges, Barrio Brasil is the place for affordable hostels and a scattering of historic hotels.
The streets here are lined with colourful graffiti by well-known Chilean street artists, while it's just a stone's throw from the pretty Quinta Normal park and the unmissable – if utterly harrowing – Museo de la Memoria y los Derechos Humanos, a museum dissecting the impact and commemorating the victims of the brutal Pinochet dictatorship during the 70s and 80s.
There's a growing number of trendy bars and excellent eateries here, while the fact that it's still within walking distance of the Plaza de Armas makes Barrio Brasil a top choice for travellers on a budget.
Best for chilling by the pool: Happy House Hostel
Relaxing by the pool isn't just the stuff of luxe hotels, as Happy House Hostel (Moneda 1829, dorm $16,000 CLP ($23 USD), double $40,000 CLP ($58 USD)-$50,000 CLP ($72 USD)) gladly shows us.
Situated in the up-and-coming Barrio Brasil and surrounded by hip new bars and a scattering of good restaurants, this charismatic, refurbished mansion has attractive décor and 28 spacious rooms, but it's the outdoor terrace with pool and barbecue area that is really the cherry on top, making this hostel one of Santiago's best budget options.
Best Santiago hostel for those on a budget: Hostal Yungay
Situated in Barrio Brasil, Santiago's party district, Hostal Yungay (Barroso 547, dorm $12,000 CLP ($17 USD), double $50,000 CLP ($72 USD) is popular among travellers on a budget.
The hostel's 15 rooms, including cosier-than-average dorms of 3 to 6 beds, are gathered around an indoor kitchen-cum-dining area (sadly there's no outdoor area), which is good for socialising but bad for light sleepers. Quieter rooms are available upstairs.
Strictly speaking, there are no doubles here, but 5-bed privates, which include a double bed, can be rented out for two.
Best hotel for a taste of Chilean history: Casa Zañartu
Hotel Casa Zañartu (Companía 1520, double $89,000 CLP ($128 USD)) has a truly unique selling point, being the former home of Don Miguel Zañartu, who participated in the revolution of 1820 and signed the Chilean proclamation of independence.
This historic mansion, built in 1885, has been dutifully restored in an elegant neoclassical French style, with antique furniture, original tiled floors and ornate, gilt-framed portraits of previous Chilean presidents. It's four quick blocks to the Plaza de Armas and a short walk to the Santa Ana metro stop.
Save for later: pin this image!