Patagonia: a place of towering mountains that rise up to spear the sky; a mythical landscape scattered with cobalt blue glaciers and meandering fjords; a destination packed with braying penguins, breaching whales, and elusive pumas.
But, where is Patagonia? Is it a country or a region, or something else entirely? I've spent months traveling in this place at the very end of the earth, so let me guide you through everything you need to know about Patagonia.
I'll also talk about my absolute favorite places to visit in the region, a place I've had the fortune to spend months exploring as part of guidebook research for Moon Chile and also for this very blog.
There's also A LOT of articles on this site about Patagonia if you're looking for further help to plan an unforgettable trip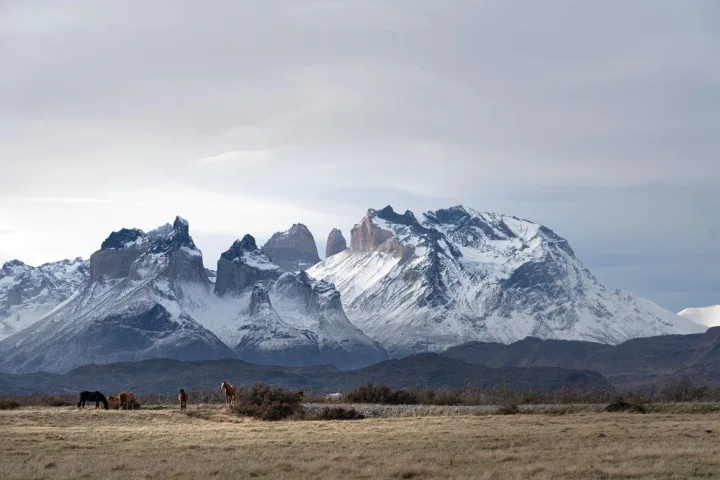 Where is Patagonia?
Before we begin, it's worth clearing up the most important question: is Patagonia a country?
No. Patagonia is a geographical region that denotes a region shared between Chile and Argentina.
Perhaps the most understandable way to identify where it is is to look at a map of South America.
Patagonia is the southernmost region of South America, starting 1,000 kilometers or so (600 mi) south of Buenos Aires (the Argentine capital) and Santiago (the Chilean capital).
Planning Your Trip to Patagonia?
Save time, stress & money with a customized travel itinerary planned for you by a Patagonia expert
But, that's not entirely true, either. The issue is, the actual geographical limitations of Patagonia are hotly contested and there's no official designation of the region.
Even more bafflingly, Patagonia has its northernmost point at different latitudes on each side of the border.
In Argentina, Bariloche and the surrounding Lake District is widely considered the northern limit of Patagonia on the eastern side of the Andes Mountains.
Anything south of the Río Negro – which starts in the mountains here and ends in the Atlantic Ocean 710 kilometers (441 mi) due east – is considered to be Patagonia.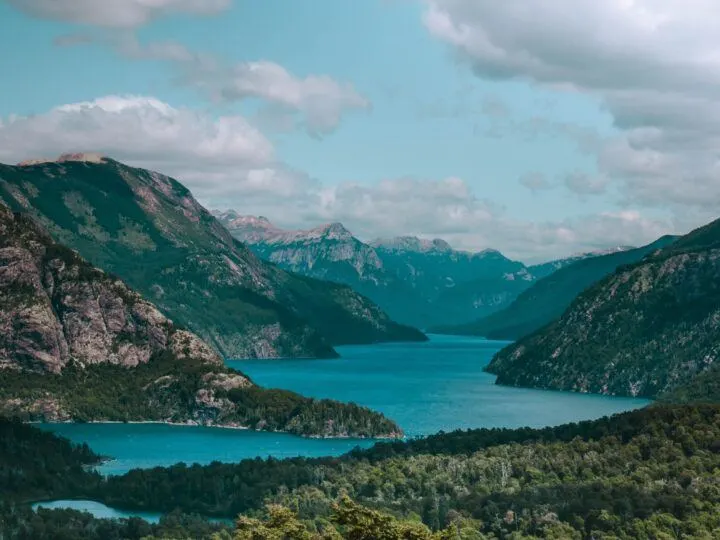 However, on the Chilean side, Patagonia is much harder to define. Some claim it starts in Temuco, in the Araucanía Region of Chile, some 270 kilometers (170 mi) north of where Argentine Patagonia is claimed to begin. This means places such as Pucón, Valdivia, Osorno, Puerto Varas, Puerto Montt, and Chiloé Island are included in the region.
While writing the Moon Chile guidebook, I defined Patagonia as anything south of Hornopirén, the town at the northern tip of the Carretera Austral, thus excluding Chiloé Island.
I designated the Lakes District (which includes the Ríos and Lagos Regions) and Chiloé as culturally and geographically distinct and thus not included in the limits of Patagonia.
Chileans themselves disagree about the exact boundaries of Patagonia, while Google claims that Patagonia covers over a million square kilometers (400,000 sq mi) – but doesn't say how it came up with this calculation.
Either way, as a visitor to this region, you'll find it useful to know that there are some locations that are conventionally agreed as part of Patagonia. I'll cover those below.
Why is it called Patagonia?
The name, Patagonia, stems from the indigenous people who inhabited these wild lands long before the Europeans arrived to colonize them.
The Italian chronicler, Antonio Pigafetta, first mentions the "Patagones" in his chronicles of the voyage of Ferdinand Magellan and his crew along the coastline of South America during their circumnavigation of the globe.
However, he claimed they were over twice the size of the European crew and had huge feet – and thus gave birth to the idea of a mythical race of giants. It was a fiction that would persist for the next two hundred years.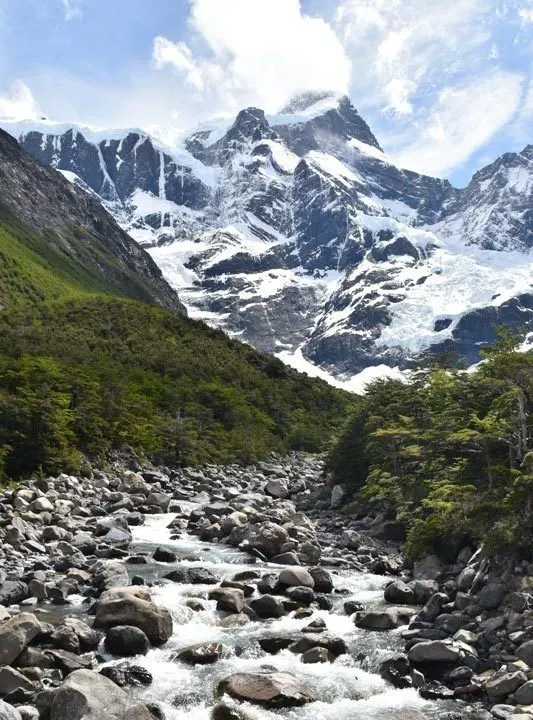 It wasn't until 1767 and the voyage of French explorer Louis de Bougainville that this myth was put to bed. His crew found only indigenous people measuring 5ft 9in (the average height of Europeans at the time was around five feet) and the Patagones' huge feet were discovered to be because of the guanaco-skin cloth they wore on their feet.
Nowadays, it's thought that the Patagones were actually the Tehuelche, an indigenous people who inhabited the plains of Patagonia until colonization and, later sheep ranching, disrupted their way of life.
Many Tehuelche people now live in towns and cities across Argentine Patagonia.
Where are the key destinations to visit in Patagonia?
Now we've established where exactly Patagonia is, let's launch into the different places you might want to visit on a trip to the region. I've broken them down into Chilean and Argentinean Patagonia.
I've also gone into much more detail in this article about the best places to visit in Patagonia if you're looking for more ideas!
Northern Argentine Patagonia
Argentine Patagonia's north tip is a place of real diversity. In the east, coastal towns are populated by communities with a rather unusual heritage and in close proximity to some of the best wildlife-watching opportunities in Argentina.
In the west and within the skirts of the Patagonian Andes Mountains are dramatic landscapes of snow-frosted peaks and sky-blue lakes.
Bariloche
If you're visiting Patagonia by flying into Buenos Aires and then taking domestic flights or overland transportation into the region, the first place you'll likely reach is San Carlos de Bariloche.
Considered the gateway to Patagonia, Bariloche (as it's better known) is one of Argentine Patagonia's best hiking destinations and the centerpiece of the Argentine Lakes District.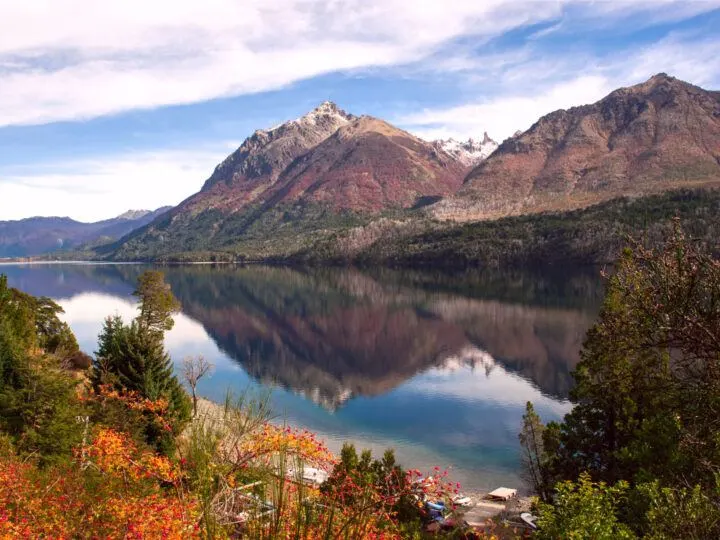 It sits within Parque Nacional Nahuel Huapi (Nahuel Huapi National Park), one of the country's most visited national parks and home to myriad day and multi-day hiking trails.
There's also a wealth of outdoor activities to do here, including mountain biking, horseback riding, white-water rafting, and, during the southern hemisphere's winter season, skiing.
You'll want at least three or four days in Bariloche to give you plenty of time to head out into its outstanding natural wonders.
Give yourself a day to drive the Ruta de los Siete Lagos: this spectacular 110-kilometer (70-mi) drive from San Martín de los Andes north down to Villa La Angostura south of Bariloche takes in seven dazzling lakes and equally dramatic mountain landscapes.
Puerto Madryn, Gaiman, and Dolovon
550 kilometers (340 mi) southwest and right on the coast lies the next of Argentine Patagonia's main tourist destinations: Puerto Madryn.
The appeal of this dusty, otherwise no-descript town is its access to wildlife. Tours to the Península Valdés are the key attraction here, with the waters surrounding the peninsula seething between June and mid-December with endangered southern right whales.
Further down the coast, Punta Tombo hosts a colony of around a million Magellanic penguins, who live in burrows scratched into the ground.
Even further south, the villages of Gaiman and Dolavon have a curious heritage. The settlers who came here in 1865 were all from Wales, and around a third of the current population claims Welsh ancestry.
Welsh tea houses – complete with tea towels showing the Welsh flag and pretty Welsh dressers – are the main attractions for passing tourists.
How to get to northern Argentine Patagonia
Bariloche is easy to reach by plane from Buenos Aires, with around a dozen direct flights per day to Aeropuerto Internacional Teniente Luis Candelaria from the capital's domestic airport.
Puerto Madryn is more challenging to reach. From Buenos Aires, flights to the Aeropuerto Internacional de Trelew leave from the domestic airport every day and you can get a bus to take you the final hour's drive to Puerto Madryn.
From Bariloche, there are multiple daily buses that take between 14 and 17 hours to reach Puerto Madryn.
Find out more about how to reach northern Argentine Patagonia with our guide to how to get to Patagonia (both the Chilean and Argentine sides).
Northern Chilean Patagonia
The far north of Chilean Patagonia is characterized by the narrowing of mainland Chile, as the land shatters into a scattering of islands cut through by narrow channels and fjords, while the Andes Mountains fall steadily lower as they head south.
Carretera Austral
The southern stretch of Chile's Los Lagos and Aysén regions play host to Patagonias' second most famous road: the Carretera Austral.
Also known as Ruta 7 (Route 7), this squiggle of a highway plows south some 1,240 kilometers (770 mi) from the titchy, fjord-side town of Hornopirén to the remote, settlement of Villa O'Higgins besides the Southern Patagonian Ice Field.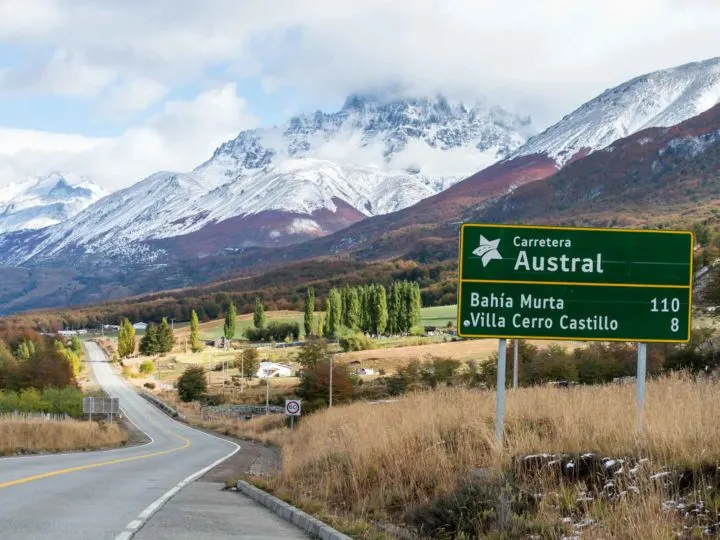 Fewer visitors find themselves in this part of Patagonia, mostly as a consequence of its remoteness and inaccessibility.
But those who venture here (it's the perfect place for a road trip) can expect to find a bewitching combination of glacier-strung mountains, thick, lush temperate rainforest, rare wildlife, and a host of incredible national parks. You'll want at least 10 days, if not more, to appreciate them.
Among the best are Parque Nacional Pumalín Douglas Tompkins (Pumalín Douglas Tompkins National Park), with its towering alerce forests and steaming volcano. Parque Nacional Cerro Castillo (Cerro Castillo National Park) is similarly bewitching and home to a three-pronged mountain range that's been dubbed "the new Torres del Paine".
Finally, Parque Nacional Patagonia (Patagonia National Park) is a sprawling, 3,000-square-kilometer (1,175-sq-mi) park of desolate steppe and cerulean lakes. It's probably my favorite of the three.
Add in the Ventisquero Colgante Queulat (Queulat Hanging Glacier) and the marble caves on Lago General Carrera and you've got a truly remarkable Patagonian destination.
How to get to northern Chilean Patagonia
The most frequent flights to northern Chilean Patagonia from capital city, Santiago, depart for Aeropuerto Internacional El Tepual (also known as Aeropuerto de Puerto Montt) just west of the city of Puerto Montt. It's a one-hour 40-minute flight, with departures more or less hourly.
This airport is situated at the very top of the Carretera Austral, from where it's possible to hire a car (or take a bus) and take a ferry to multiple destinations along this road.
From Puerto Montt, you can sail to Chaitén; if you drive to the southern edges of Chiloé Island and the town of Quellón, you can also take a car and passenger ferry to Puerto Cisnes and Puerto Chacabuco, much further south along the Carretera Austral.
There's also a boat from Hornopirén, the northern tip of the road, to the northern edge of Parque Nacional Pumalin Douglas Tompkins.
Alternatively, you can fly into Aerodromo Balmaceda, which lies an hour's drive south of Coyhaique around two-thirds of the way down the Carretera Austral. It's a 2.5-hour flight from Santiago, with flights leaving around twice daily from Santiago and from Puerto Montt.
Find out more with our guide to how to get to Patagonia (both the Chilean and Argentine sides).
Southern Argentine Patagonia
South past miles and miles of grasslands and the narrow spine of the Andes Mountains that provides a continuous barrier between Chile and Argentina, Southern Argentine Patagonia lays claim to some of the country's most beautiful national parks.
Glaciers, wildlife, and historic ranches complete the main attractions here.
El Chaltén and El Calafate
While there are towns north of El Chaltén, few make it onto visitors' itineraries due to their scarce attractions. El Chaltén, as well as El Calafate (3.5 hours and 213 kilometers (132 mi) south), in contrast, promise direct access to one of Argentine's most famous national parks, Los Glaciares.
Named for its sprawling glaciers fed by the South Patagonian Ice Field, Parque Nacional Los Glaciares (Los Glaciares National Park) is perhaps best known for the Perito Moreno Glacier.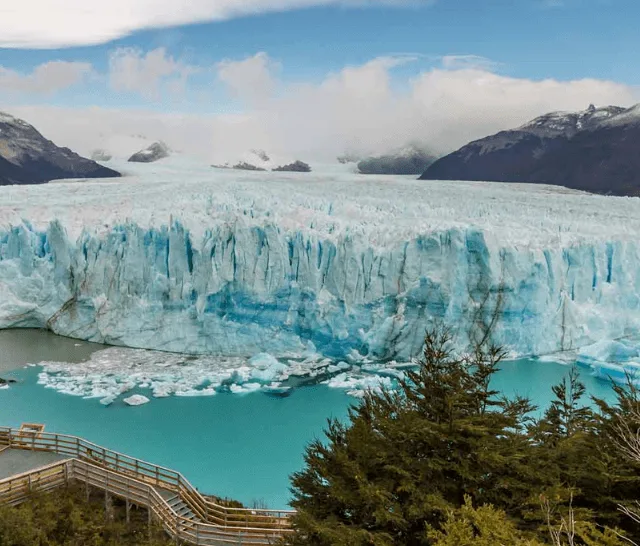 Measuring 30 kilometers (19 mi) long and with a snout over 60 meters high, it's a truly remarkable sight, particularly as a series of boardwalks situated just a few hundred meters away give unobstructed views. You might catch sight of it calving cobalt shards of ice into milky blue into Lago Argentino, beneath.
You can get to the Perito Moreno Glacier from El Calafate, which lies a 1.5-hour drive (or bus ride) east.
El Calafate is also known for its traditional Argentine ranches, where you can learn about the gaucho way of life, go horseback riding, and try a typical Patagonian feast of roast lamb.
But it's Los Glaciares National Park's rugged, sky-sweeping mountains that keep people here for longer.
Peaking at Cerro Fitz Roy at 3,375 meters above sea level, this section of the Andes is a hiking paradise, particularly given many trailheads are accessible directly from El Chaltén itself. You'll want at least three or four days to enjoy the best hikes here.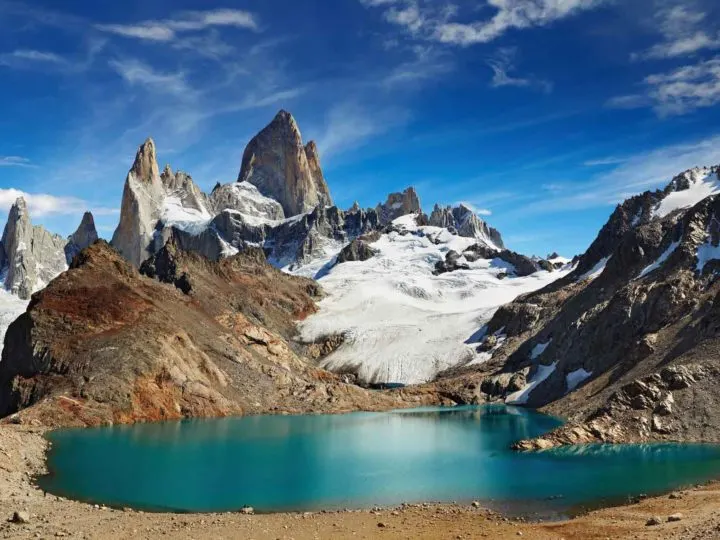 The hike up to the base of Cerro Fitz Roy at Laguna de los Tres for views of this iconic, three-pronged peak, is the most popular route of all.
Ushuaia
A further 565 kilometers (351 mi) south as the crow flies, or an hour and a half by plane, Ushuaia is southern Argentine Patagonia's final popular destination.
Marking the very southerly tip of Tierra del Fuego – an island shared between Chile and Argentina – this former penal colony is now the gateway to Antarctica, with dozens of cruises leaving between October and March to visit the White Continent (and I recommend finding out the best time to visit Antarctica before planning your trip).
Looking to head to the White Continent? I highly recommend the brilliant Swoop Antarctica. Their staff have extensive, first-hand experience of sailing to Antarctica and, because they sell cruises for all the well-known companies, they can give you handy, impartial advice for choosing the one that best suits you. What's more, they specialize in small ship expedition cruises, which means you'll be allowed to get off the boat at every stop on the itinerary (which is not the case for large ships!) and you won't pay a cent more by booking through them rather than directly with the cruise company themselves. Ready to be inspired? Check out their classic cruises to the Antarctic Peninsula, or their more unusual trips to wildlife-rich South Georgia and the Falklands, or go further than most on a cruise to the Antarctic Circle.
But Ushuaia has its own attractions. Parque Nacional Tierra del Fuego (Tierra del Fuego National Park) is known for its hiking trails, which take you along and, in some cases, up above the Beagle Channel for stupendous views.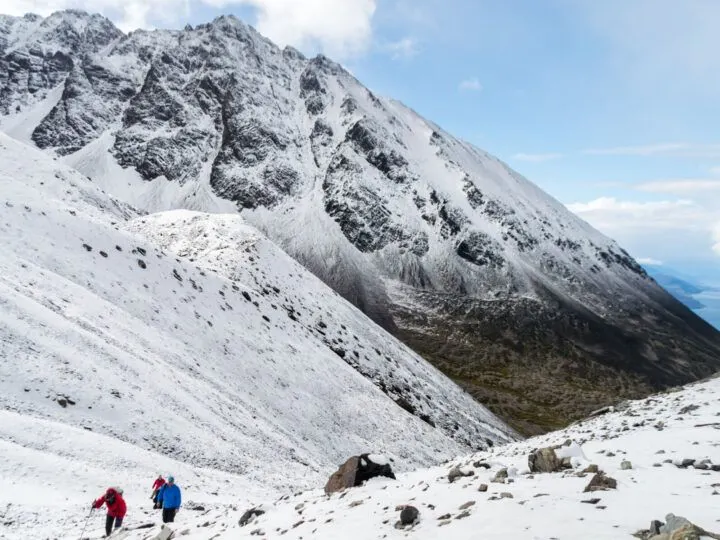 Boat tours out to the historic ranch Estancia Harberton, which dates back to 1886, and to visit colonies of fur seals, sea lions, and Magellanic penguins are other popular activities. Be sure to factor in at least four days in Ushuaia.
How to get to southern Argentine Patagonia
The easiest way to reach southern Argentine Patagonia is by plane.
Aeropuerto Internacional de El Calafate Comandante Armando Tola is a three-hour flight from Buenos Aires with three departures daily. The airport is located a 20-minute drive east of El Calafate.
Aeropuerto Internacional Malvinas Argentinas is a 3.5-hour flight from Buenos Aires, with five flights daily. It's located a 15-minute drive south of Ushuaia. There are also at least two daily flights between El Calafate and Ushuaia (1.5 hours), making this the easiest way to travel between the two (the bus takes a bum-numbing 17 hours).
Alternatively, and for those on a small budget or with plenty of time on their hands, from Bariloche there are daily buses leaving for El Chaltén (23 hours) and onwards to El Calafate (26 hours.
Similarly, from Puerto Madryn, you can reach southern Argentine Patagonia with a bus to Río Gallegos (17-20 hours) and then another one to El Calafate (four hours).
Find out more with our guide to how to get to Patagonia (both the Chilean and Argentine sides).
Southern Chilean Patagonia
Best known for its famed national park, Torres del Paine, southern Chilean Patagonia is a whirlwind of sparse, mountain landscapes perfect for hiking, spotting elusive wildlife, and staying at luxe hotels.
There's also plenty of history here in the form of settlements dating back to the sixteenth century, plus a vast network of fjords home to glaciers and more than its fair share of sea life.
Torres del Paine National Park
The jewel in Southern Chilean Patagonia's crown is undoubtedly Parque Nacional Torres del Paine (Torres del Paine National Park).
Known for the three granite rock formations that spear the sky from the Cordillera del Paine at the very heart of the national park, it draws thousands of avid hikers and day trippers per year.
The W, a five-day hiking route, and the O, a nine-day trail, appeal to those looking for a backpacking adventure, although plenty of day hikes, horseback riding, kayaking, and ice trekking await, too.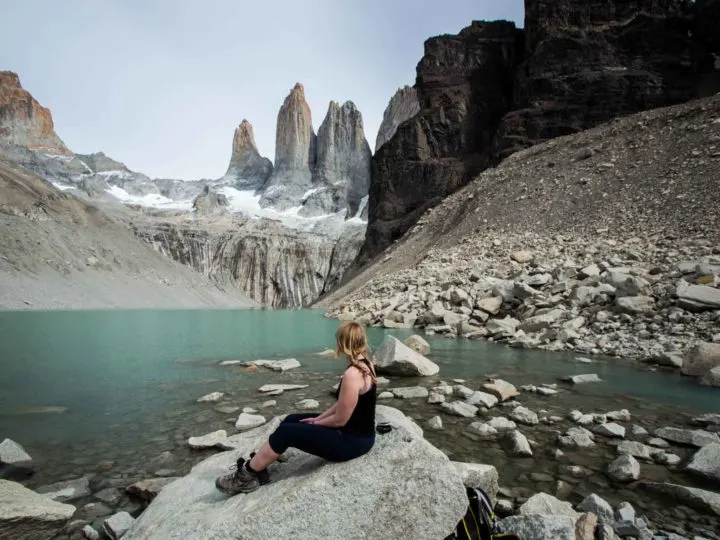 Strong winds are typical during the peak season of January and February; the best time to visit is either November or March when crowds are fewer and weather conditions more settled (read more about when's best for visiting Patagonia).
Luxury hotels and former ranches that have been turned into lodges, plus a handful of more affordable options, make Torres del Paine an easy place to spend at least three or four days enjoying the remarkable landscapes here.
Conservation efforts have also had a great impact on the park's wildlife, which is now believed to host the largest concentration of pumas anywhere in the world. You can see them as part of a puma tracking tour (use the referral code "Worldly Adventurer" for a 5% discount).
Puerto Natales
The gateway to Torres del Paine National Park is the small town of Puerto Natales, an hour and a half's drive south.
Clinging to the skirts of the Última Esperanza (Last Hope Sound), this town is mostly a stopping point for those on their way into the national park. However, horseback riding tours to still-active ranches, kayaking expeditions, and my favorite Patagonian hotel tempt some to stick around.
It's also the end (or start point) for the three-day, four-night ferry from Puerto Montt, just beyond the northern tip of the Carretera Austral. Taking you down through the fjords into some of Patagonia's remotest areas, this no-frills boat is a fantastic means of transportation between different parts of Patagonia.
Punta Arenas
A further three hours south of Puerto Natales is the Magallanes Region of Patagonia's capital, Punta Arenas.
Punta Arenas is a fairly nondescript town, although it played its own part in history. It's situated on the edges of the famed Strait of Magellan, a crucial passageway between the Atlantic Ocean and Pacific Ocean before the Panama Canal was opened in 1914. As a result, it has striking views south to Isla Navarino, the southernmost inhabited part of Chile.
That said, wildlife is one of the main reasons to come here. Isla Magdalena, a stone's throw north along the Strait of Magellan, is the nesting place of 120,000 Magellanic penguins during the Patagonian summer season.
Further south in the fjords, Parque Marino Francisco Coloane (Francisco Marine National Park) welcomes humpback whales in their droves to breed.
From Punta Arenas, you can also reach Cape Horn either by ferry or chartered flight.
South of Punta Arenas along the coast is the town's most sorrowful memorial Puerto del Hambre. The first place to be colonized in Southern Chilean Patagonia, this stretch of land received 300 men in 1584, who endeavored to settle the coast.
After three years, just one resident remained – and the name, Port of Hunger – was given.
Puerto Williams
South through the Patagonia fjords and beyond Tierra del Fuego, Isla Navarino is the home of the globe's southernmost settlement, Puerto Williams. Here at the very end of the world, just 3,000 people live, and few tourists arrive – making it one of the least visited places in Patagonia.
Those who make it here by the truly remarkable passenger ferry through the Patagonian fjords from Punta Arenas or by light aircraft will find an untamed, windswept corner of the region that best appeals to hikers and those seeking truly remote and untouched Patagonia.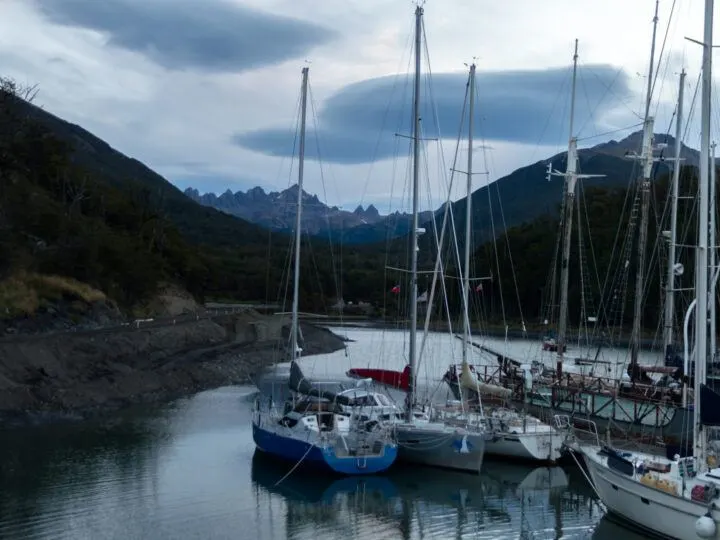 The challenging, five-day Dientes de Navarino trail circumnavigates the toothy mountain ridge behind the village, cutting through peat bog and exposed rock, and providing staggering views across the island. Beware: it's not for the faint of heart and requires significant trekking experience.
How to get to southern Chilean Patagonia
Again, the easiest way to reach the Chilean side of southern Patagonia is by flight – it's a very long way from Santiago otherwise!
Aeropuerto Teniente Julio Gallardo, just outside of Puerto Natales, is a three-hour flight from Santiago.
It's the closest airport to Torres del Paine National Park, however, they only have flights from Santiago between two and four times weekly in the months of November through March. You'll tend to find daily flights in December, January, and February.
Further south, Punta Arenas' airport, Aeropuerto Presidente Carlos Ibáñez is a 3.5-hour flight from Santiago. There are normally four flights daily in the summer months and these tend to be cheaper than those to Puerto Natales.
To get to Puerto Williams, light aircraft operated by DAP run daily (except Sundays) from Punta Arenas and take just one hour and fifteen minutes.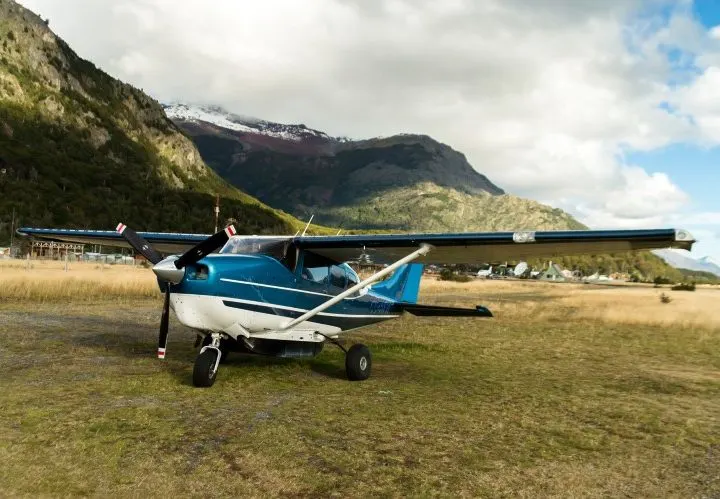 Another option to reach southern Chilean Patagonia is aboard the Navimag, the three-day, four-night ferry from Puerto Montt. Passenger ferries headed for Puerto Natales leave on Fridays and are generally booked up a few months in advance.
Alternatively, the TABSA boat from Punta Arenas to Puerto Williams is another superb choice. Taking 32 hours, this passenger ferry heads down through the southern fjords and along the incredible Glacier Alley, a channel lined with tidewater glaciers that spill into the ocean.
Find out more about how to get to Chilean Patagonia with our guide.