Torres del Paine in Chilean Patagonia is amongst the world's most dreamed-about destinations and often tops the agenda of travelers bound for Chile.
Declared a UNESCO World Biosphere Reserve in 1978, the park's well-established reputation as an incredibly diverse ecosystem as well as a site of exquisite natural beauty means that the tourist infrastructure in and around the park is extraordinarily well-developed for a place – almost literally – at the end of the earth.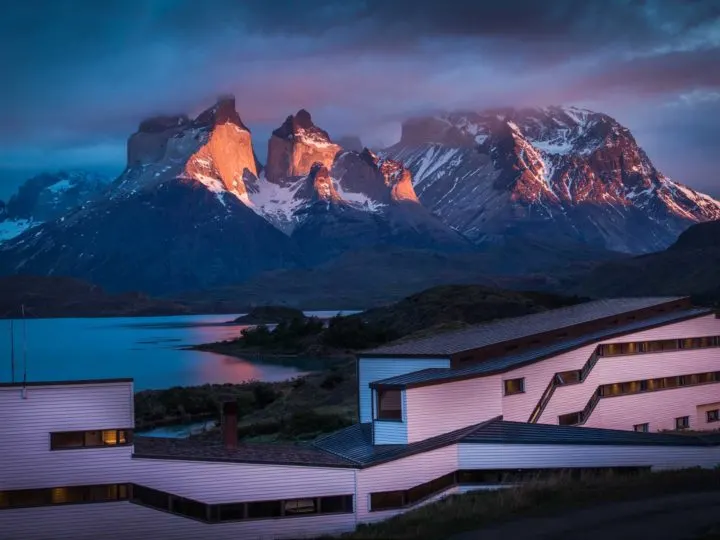 Bucket-list destinations often come with a whopping price tag, and Torres del Paine is no exception – but fear not!
But affordable options are at hand if you know where to look for them, and there is accommodation to suit every kind of traveler. I've spent over a month in total in the park, staying in tents, yurts, luxury hotels, and everything in between, giving me the unique perspective on the best places to stay.
So here's my list of the best hotels and places to stay in Torres del Paine National Park.
Best hotels inside Torres del Paine National Park
Best luxury lodging for view junkies: Explora Patagonia
You'll be spoilt with stunning views during any trip to Patagonia, but if you want to enjoy the very best of these from the comfort of a luxury hotel, look no further than Explora Patagonia ($6,300 USD double all-inclusive for three nights).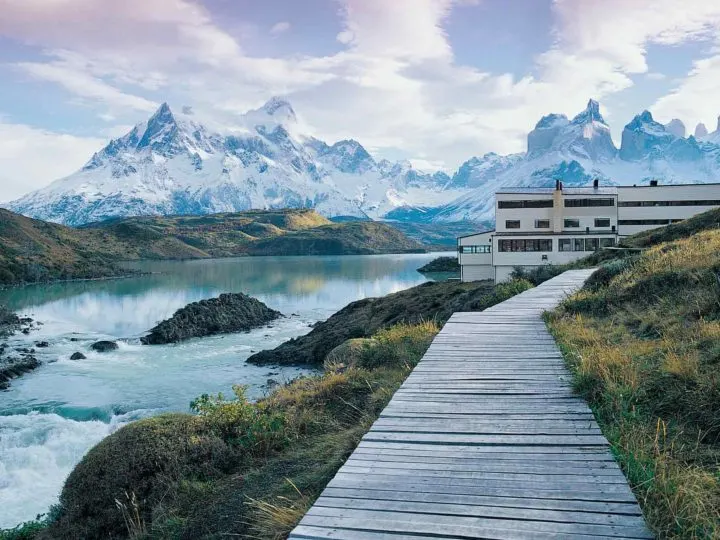 Bedrooms are done out in calming wood and neutral shades, the centerpiece undoubtedly the panoramic views of Lago Pehoé and Paine Massif – best experienced from the jacuzzi tubs that line the shores of the lake.
Conveniently located within the park next to the Salto Chico waterfall, just seven kilometers south of the Pudeto ferry port, the hotel is surrounded by short hiking trails – although part of the Explora experience is choosing from their exceptional array of activities.
Guests can pick from 40 different itineraries catering to all tastes and needs.
Prices are all-inclusive starting from three nights and include transfers to Punta Arenas airport and fine dining to refuel after the day's trek.
Planning Your Trip to Patagonia?
Save time, stress & money with a customized travel itinerary planned for you by a Patagonia expert
What previous clients have said:

Steph did a great job! I have never used such a service before and I wish there were more of them!
Getting off the beaten track was important to us and with Steph's knowledge we were away from the crowds. The information is very detailed and she knows some great places to stay! Thank you Steph!
Justin and Lisa
Traveled Patagonia, Bolivia and Peru in Jan '19
Best historic hotels right on the doorstep of the Towers: Hotel Las Torres
If you want to get as close as possible to the Towers themselves, don't miss staying overnight at Hotel Las Torres ($450 USD double B&B), one of the oldest hotels in the park and which sits right beside the trailhead for the Towers hike.
Well, it's not actually in the park: the land this hotel sits on belongs to a local family who bought it decades before the national park became something of a global adventure travel destination – and have since converted all of the land into a private reserve to help support sustainability.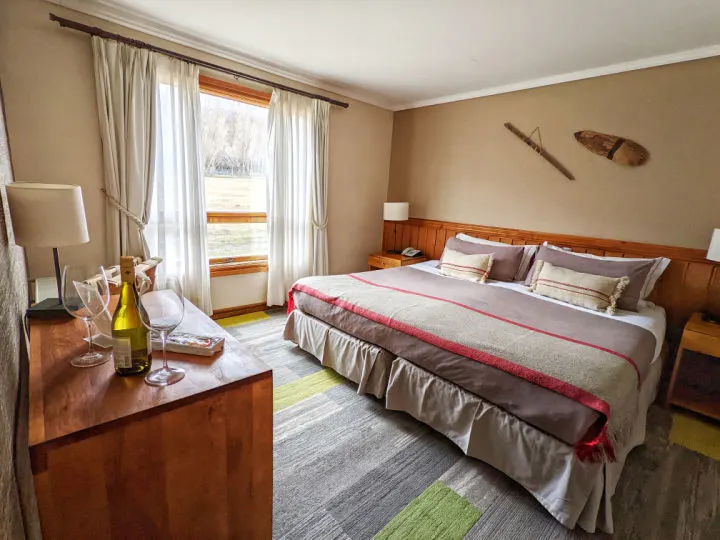 Rooms are comfortable, although there's not much of a view to talk about. However, the food is excellent, with homegrown cocktails and beer supplementing imaginative Chilean cuisine – you can even ask the hotel to rustle up a traditional Patagonian lamb barbecue, too.
In addition to accommodation, the hotel offers a range of excursions, many of which are on its private land, so can't be accessed unless with one of their guides, and include hikes and horseback riding.
Best hotel for getting up close to a glacier: Hotel Lago Grey
Hotel Lago Grey ($225,000 CLP ($335 USD) double) boasts an unrivaled location at the western side of the park and on the southern banks of Grey Lake, which is famed for its sheer icebergs, rocky ridges and surrounding Southern Ice Fields.
It's worth upgrading to a superior room to make the most of this once-in-a-lifetime view. Ferries to tour the lake and visit Glacier Grey, the lake's source, set out from the Hotel.
Rooms are modern and well equipped and the hotel restaurant's set menu is decent – but take a rain check on the bar food to avoid disappointment. Both have the hotel's ubiquitous views of Los Cuernos.
Best lodging for an eco-retreat: EcoCamp Patagonia
The award-winning geodesic domes of EcoCamp Patagonia ($3,000 USD standard double all-inclusive for three nights), ideally situated at the foot of the trail-head for the towers, are the brainchild of two Chilean engineers who, back in 2001, sought to create sustainable accommodation inside the park.
The striking domes are inspired by the dwellings of the indigenous Kawésqar tribe, with modern additions including composting toilets and hydraulic and solar energy.
Separate community, yoga, and bar domes ensure guests' complete relaxation and comfort.
For better access to facilities (including electricity, heating, and a private toilet), upgrade to a superior dome or suite. The hotel operates mostly multi-day, all-inclusive tour packages. Single travelers can opt to share a dome.
Best campsite in the heart of Torres del Paine park: Camping Lago Pehoé
Camping Lago Pehoé ($90,000 CLP ($132 USD) dome for two with shared bathroom, $11,000 CLP ($16 USD) camping per person), named after the picturesque lake on whose shores it sits in the heart of the park, has all the basics and more to ensure your camping trip in Torres del Paine is a happy one.
These include round-the-clock electricity, hot showers, picnic sites, a shop for essentials and even a little restaurant.
The 50-pitch site rents out tents and gear, as well as five geodesic domes which offer a stronger bulwark than your average tent against Patagonia's notorious winds.
The site is 10km north of Administración and a 10-minute drive from the catamaran ferry jetty at Pudeto, which takes you to the foot of Paine Grande to begin the famous W trek.
Hotels near the southern entrance of Torres del Paine National Park
Best luxury hotel and spa with striking views: Rio Serrano Hotel + Spa
Situated a stone's throw from the southern entrance of the national park, the luxurious Rio Serrano Hotel + Spa ($800 USD double, all-inclusive meals) has devilishly handsome views from all of its north facing bedrooms: of Los Cuernos, no less. You can spend days watching the colours shift, the clouds slip overhead and the majesty of the location remain unchanged. Trust me: I've done it.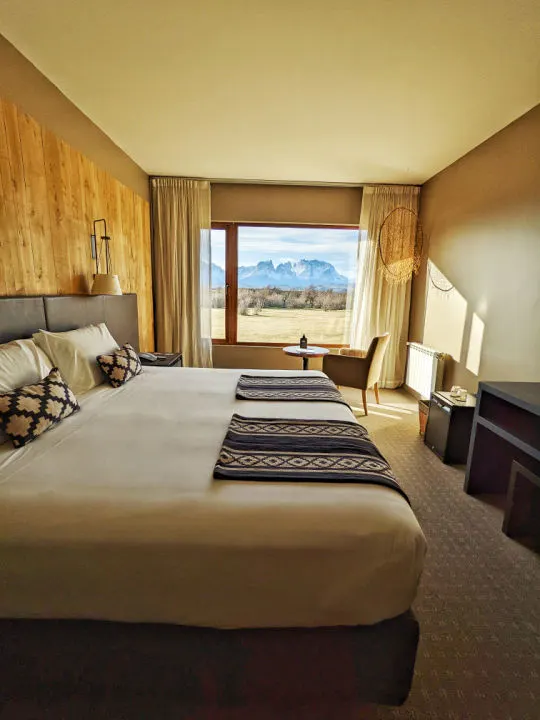 Better still, this large but still cosy hotel has a spa where you can enjoy treatments or just continue to absorb those views from its large swimming pool. Their restaurant serves up modern takes on traditional Patagonian dishes – with ample Chilean wine on hand to help it wash down – while they offer a small number of excursions into the park, too.
Best mid-range hotel with a mountain vista: Pampa Lodge
Within the park and close to the Serrano river, you'll find Pampa Lodge ($205,000 CLP ($300 USD) double), a small and beautifully decorated guest house with nine rooms done out in a minimalist but homely style.
Neutral shades, wooden panels, colorful local textiles, and – the show-stopper – yawning panoramic windows with incredible views across the river and towards the Paine Massif.
Don't be surprised to spot a horse ambling by in the morning – the hotel has its own stables and offers horseback tours to nearby viewpoints. Open October to April.
Best luxury yurts near the entrance of Torres del Paine: Patagonia Camp
With its cluster of 20 deluxe yurts, Patagonia Camp ($2,160 USD double all-inclusive for two nights) sits pretty on the southern shore of Lago Toro as a top luxury accommodation option just 15 kilometers from the park entrance.
There's no TV or internet connection in the rooms, but who needs WIFI when you've got a private terrace with panoramic views, and even a jacuzzi in the suites?
Patagonia Camp's guides are all exceptionally knowledgeable and you can book packages that include tours and meals at the excellent on-site restaurant, which uses wine sourced from its own vineyard, the award-winning biodynamic Matetic, in one of Chile's best wine regions, Casablanca Valley.
This is probably – by a whisker – my favorite hotel in Torres del Paine if you've got the cash to splash.
Best lodge for the Patagonian ranch experience: Hosteria Mirador del Payne
An authentic working ranch complete with baying herd of Hereford cattle, Hosteria Mirador del Payne ($151,000 CLP ($220 USD) double) has an astonishingly beautiful location, with views reaching across serene Lago Verde towards the towering Paine Massif in the distance.
The lodge is a 90-minute drive from the entrance to the park, but a number of short trails can be accessed from nearby, all with stunning views.
Rooms are smartly, if simply, decorated, but bear in mind there's only electricity in the morning and evening, and no WIFI connection.
Best cabins for self-caterers: Cabañas Lago Tyndall
Restaurant costs within Torres del Paine have skyrocketed with the park's popularity. Stock up on food in Puerto Natales and head to Cabañas Lago Tyndall ($110,000 CLP ($160 USD) four-person cabin), which is still going strong despite the adjoining Hotel Lago Tyndall burning down in 2017.
Situated on a bend in the Río Serrano and a short drive from the southern entrance to the park, these cabins may be old-fashioned but are a great way to keep costs down when visiting Torres del Paine.
They have a spacious living area, a well-equipped kitchen, and even cozy underfloor heating.
The cabins sleep up to 12 people and are open from October through April.
Best hotels near the eastern entrance of Torres del Paine National Park
Best former ranch turned boutique hotel: Estancia Cerro Guido
Patagonia is a place with a long history of sheep farming, brought to these remote lands by British immigrants. Many of these ranches still remain, with a proportion converted into luxe lodges; Estancía Cerro Guido ($2,990 USD double all-inclusive for two nights; $790 USD double full-board) is easily one of the best.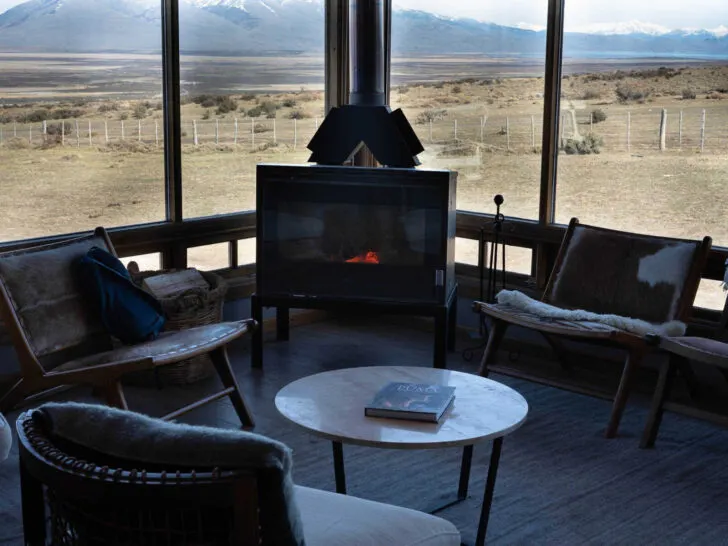 Located within its own land that adjoins the northeastern sector of Torres del Paine National Park, this working ranch-turned-lodge is still home to 50,000 sheep on 90,000 hectares (222,000 acres of land) – and is a pioneer in conservation and puma research.
Guests stay in their beautifully-converted former ranch house, with its English cottage-style bedrooms, while the ranch's main living and dining area grants spectacular views of the torres (the towers) after which the national park is named and has welcoming wood-burning stoves.
Excursions to see the park's increasing puma population can be included for an extra fee.
Best spa with a sublime view: Tierra Patagonia Hotel & Spa
Tierra Patagonia Hotel & Spa ($2,800 USD standard double all-inclusive for three nights) is a boutique lodge on the eastern shore of Lago Sarmiento, a half-hour drive from the Portería Laguna Amarga entrance to the park.
Its top selling point? A luxury pool and spa, including a steaming outdoor hot tub, for some serious pamper time with a view like no other. Rooms are beautifully but simply decorated with local materials.
Packages start from three nights and include access to the spa and restaurant, excursions into the park, and transfers to the airport in Punto Arenas. Bear in mind they're only open from October until May.
Best luxury accommodation for independent off-roaders: Awasi Patagonia
The 14 luxury villas at Awasi Patagonia ($3,990 USD double all-inclusive for three nights) lure explorers off the beaten track and into the lesser-chartered territory at the eastern outskirts of the park.
Tucked away into the steppe, the villas blend into the landscape itself and offer real seclusion – but with creature comforts and personalized service close at hand.
Guests are assigned a personal guide and 4WD to explore the wilderness, with excursions into the adjoining 4,500-hectare private reserve and puma conservation project also possible.
Don't miss out on the restaurant, which has innovative cuisine inspired by local ingredients and truly stunning views of the tips of the towers at dawn.