Peru's Sacred Valley – or the Valle Sagrado – receives more than a million tourists every year. Though most of them are passers-by on their way to or from Machu Picchu, those who ignore this stretch of fertile valley north of Cusco do so at their own loss.
At a glance, the area's relaxed atmosphere and tiny market towns may lead you to think it's only a place of transit. But a closer look will dispel this illusion.
The Sacred Valley of the Incas was named as such because it contained some of the best agricultural land and was therefore owned by the Inca himself.
Nowadays, it remains the breadbasket of nearby Cusco, as well as a place of untouched Quechua villages where farming techniques follow those employed by their ancestors and an abundance of archaeological sites dating back to the Inca.
Whether you're curious about the history of this once-great civilization or more interested in getting your hands on local handicrafts or pampering yourself with a rejuvenating Peruvian spa, there are plenty of things to do in the Sacred Valley.
The list is ordered according to those closest to Cusco, to those closest to Machu Picchu in order to help you plan your itinerary. You might also want to read our guide to when's best to travel to Peru before you start planning.
Insider tip: Admissions to some famous places in Peru mentioned in this article are included in the boleto turistico del Cusco integral para turista extranjero. Sold by Cosituc and Peru's Ministry of Culture, the bundled ticket is available at each attraction's main entrance. For S/130 ($34 USD), you get admission to 16 places – mostly archaeological sites and museums – for ten consecutive days from the date of purchase. Some of the sites below require this ticket. You can also purchase a boleto parcial for S/70 ($18 USD), which gives you access to one of three groups of sites. Find out further information about the different tickets here.
1. Learn about the valley's wildlife at Cochahuasi Animal Sanctuary
Located on the road from Cusco to Pisac, the privately-run Santuario Animal de Ccochahuasi (Cochahuasi Animal Sanctuary) has been rescuing and sheltering wild species since 2007, many of which are endangered and have been taken from illegal hunters or poachers.
While the ultimate aim is for the animals to be returned to the wild, many species are sheltered here, including Andean condors, vicuñas, and even pumas. You can see them yourself as part of a three-hour tour of the sanctuary and can get here by taxi (it's a 22-kilometer (14-mile) drive from Cusco) or a colectivo from Cusco to Pisac.
2. Browse for souvenirs at the Mercado de Pisac
The closest town to Cusco is Pisac, a one-hour drive northeast of the former Inca stronghold. This small, traditional Peruvian town is best known for its craft market, which draws local people from across the valley and tourists alike.
While the quality and authenticity of the products sold in the market have dropped with the increase in tourism numbers (many items are made in China, rather than locally), it's still a brilliant place to browse these wares, which range from hand-woven llama wool scarfs and baby alpaca sweaters to colorful bags.
Planning Your Trip to Peru?
Save time, stress & money with a customized travel itinerary planned for you by a Peru expert

Visit on a Sunday to see the market in its fullest iteration with fresh produce – including guinea pigs awaiting their culinary fate.
3. Appreciate the finest Inca stonework at Parque Arqueógico Pisac
Admission is included in the boleto turistico
Not only was the Sacred Valley an important place for agriculture for the city of Cusco, but also a strategic route from Inca-controlled towns further west to Paucartambo, a settlement on the fringes of the Amazon jungle in the east.
As a result, Pisac was, and still is, dominated by a looming fortress, which perches on the edge of the valley sides at 3,500 meters (11,482 feet) of elevation.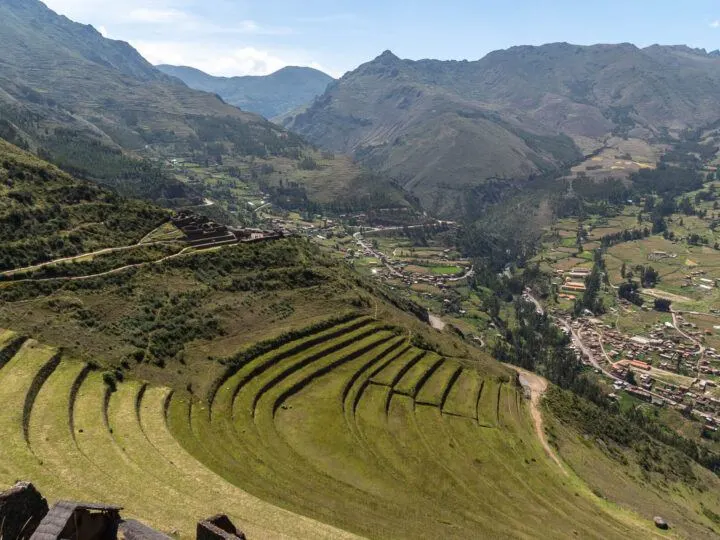 Parque Arqueógico Pisac (Pisac Archaeological Park) combines a citadel showcasing typically magnificent Inca stonework, as well as mesmerizing viewpoints down and through the valley. Don't miss the Templo del Sol (Sun Temple), with its precisely cut dry stone walls.
A demanding uphill hike takes you from the valley floor up to the site. Alternatively, a taxi from Pisac's main bridge costs S/20 ($5 USD).
4. Kayak on the calm waters of Lago Piuray
Located an hour's drive from Cusco on the road toward Urubamba, the tiny town of Chinchero offers something unique in the Sacred Valley: water activities. The most popular is kayaking or SUP on Lake Piuray.
At the Piuray Outdoor Centre, you can book a tour, with a guide from the local community or from the surrounding area there to help you become acquainted with your kayak or SUP and take you out onto the water.
5. Discover Chinchero's authentic local market
With its adobe brick houses and scattering of Inca archaeological sites, Chinchero is a typical Andean village that offers a tonne of photo opportunities. But the most attractive place to visit in this part of the Sacred Valley is Chinchero's market.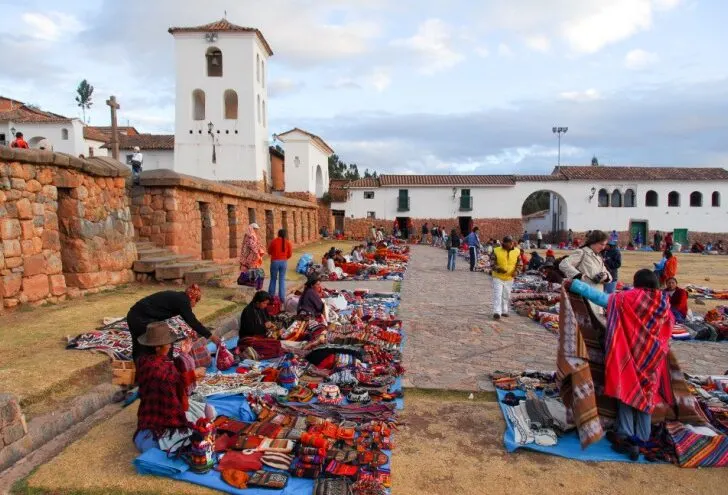 Held every Tuesday, Thursday, and Sunday, with the latter being the biggest event, it's a mostly traditional market, catering to locals who come here to stock up on fresh fruits and locally-made textiles.
Prices here are the cheapest in the region, although touristy knickknacks such as stuffed Alpaca toys are probably cheaper in Cusco.
6. Hike to the "birthplace of the rainbow"
About an hour's hike north of Chincheo takes you to an unexpected gem of the Sacred Valley: the Catarata Poc Poc (Poc Poc Waterfall). Though it's quite a challenging hike to get here, the view as the water pummels down a 30-meter (98-foot) drop is more than worth it. After all, according to the Inca, this is the birthplace of the rainbow.
The trailhead starts from the remains of an Inca site in the north of Chinchero and heads northeast.
7. Escape the crowds along the Sacred Valley's "other" Inca trail
While most visitors who hike to Machu Picchu do so along the famed Inca trail (although we highly recommend giving the quieter Salkantay trek a go instead), what few people know is that the area is riddled with "Inca trails".
One of these starts from Chinchero, heading past Catarata Poc Poc and out into farmlands at the edges of the Sacred Valley, following Inca canals that still irrigate modern farms. You'll clamber down Inca staircases before heading into the base of the valley itself to end at Urquillos.
The trail is around nine kilometers (5.5 miles) and takes around four hours. From the end of the trail, it's a 30-minute taxi journey or colectivo to Urubamba.
8. Photograph the dazzling white of the Salineras de Maras
About a 30-minute drive towards Urubamba from Chinchero takes you to one of the Sacred Valley's most unusual places to visit: the Salinas de Maras.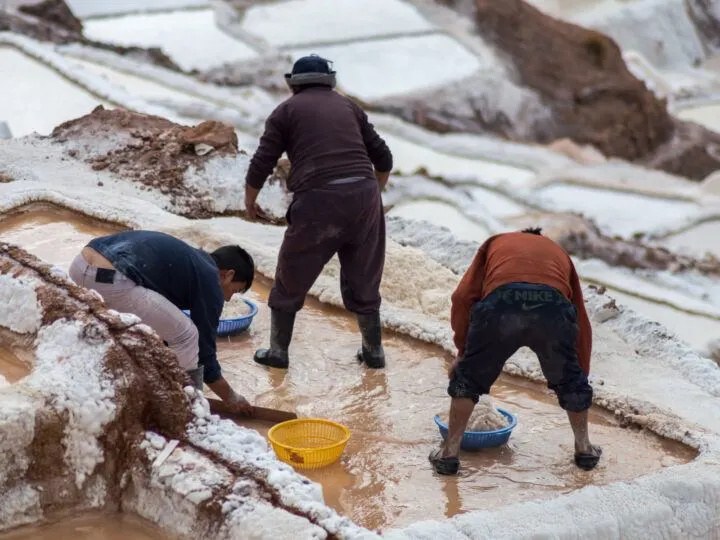 These salt pans have been used for over 400 years by local people to harvest salt, with the crumbly pink objects of their labor available to buy in the on-site shop.
The best thing to do here is capture photographs of the families at work; you'll see how the ancient technique of collecting and evaporating salt has been preserved and carried on carefully to this day. Admission costs S/7 ($1.8 USD).
9. Visit an Inca laboratory at Moray
Admission is included in the boleto turistico
Five kilometers west of the Salineras de Maras lies one of the most curious landscapes left by the Inca.
A series of concentric terraces have been carved into the hillside and are believed to have been used by the Inca as either a ceremonial center or as a type of laboratory to see how crops, such as potato, quinoa, and corn, would grow at different altitudes across their vast empire.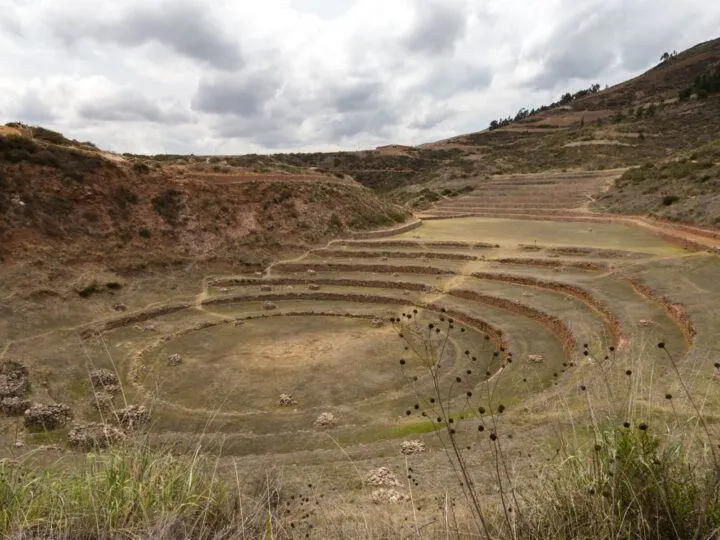 Once you've admired the Inca's use of science to inform their agriculture, stop for a world-class dining experience at Mil.
Founded by Peruvian chef Virgilio Martínez (who also owns Central in Lima), this restaurant features an eight-course tasting menu that showcases ingredients grown in the ecosystems surrounding the restaurant. It's not cheap and you'll need to book your spot months in advance.
10. Explore the Sacred Valley on horseback
Whether you're adept on horseback or a real beginning, horse riding is a unique way of exploring the Sacred Valley and accessing some of its less-visited archaeological sites.
Hacienda del Chalán, a 10-minute drive northwest of Urubamba, is the best place to find your stead. They'll take you up into the valley sides and you can even horseback ride from their lodge to the Salinas de Maras. Expect to pay around $160 USD for a half-day tour without accommodation.
11. Raft the foaming whitewater of the Vilcabamba-Urubamba River
While the Sacred Valley looks striking from all angles, a unique way to approach it is along the pounding foam of the Urubamba River, which flows along the length of the valley.
Depending on where you go, you can find various different levels of difficulty ranging from Class II to Class IV rapids. Expect to pay around $160 USD for a full day's rafting experience, such as this private tour with Amazonas Explorer (mention Worldly Adventurer for a 5% discount on this tour).
12. Sip on the Valle Sagrado's finest craft beer
The Inca might not have known about the beer brewing process, but the communities along the Sacred Valley have more than made up for this lack of knowledge. Nowadays, almost every big town has its own brewery but the best is the award-winning Cerveceria del Valle Sagrado.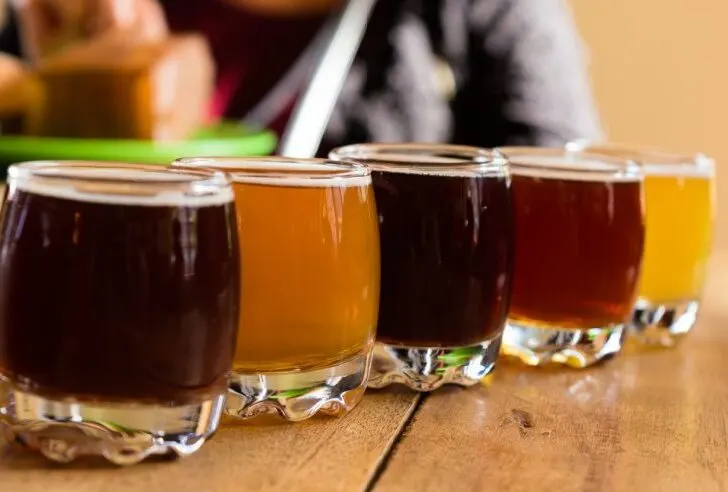 Located in Pachar, a 10 minutes drive from Ollantaytambo, this place has its own taprooms serving artisan beers brewed using water sourced from the Sacred Valley itself. Enjoy a cold beer or two (or three!) in this peaceful brewery on the edges of the Urubamba River.
13. Capture a mystical Sacred Valley sunset from Skylodge Adventure Suites
Among all hotels in the Sacred Valley, there's one that stands out – quite literally. Skylodge Adventure Suites' rooms are suspended from the sheer valley sides, some 400 meters above the ground. Built almost entirely from glass, they grant the perfect views of the Sacred Valley.
Just imagine being spoiled by unobstructed panoramas of this mystical place during sunset!
Visible for miles around, these pods are a once-in-a-lifetime experience, particularly because a via Ferrata or hike and zipline are required to get here.
At the end of your stay, you'll zipline down to the valley floor. This ziplining fee is included in the nightly rate, along with a breakfast and gourmet dinner.
14. Relax and recharge at an Andean spa
Few visitors know that spas are a crucial part of Peruvian culture, especially in places with high altitudes. In fact, Andean people have used herbs to help cure illnesses for centuries. Among them are uña de gato (a woody vine with high levels of alkaloids helpful to the immune system) and huacatay (minty, basil-like leaves used for aromatherapy).
From local spa parlors to luxurious wellness retreats and hotels, you'll find plenty of options where you can indulge in local natural remedies. For those with an affinity for luxury, Relais and Chateaux's Sol y Luna (S/1,980 or $523 USD double) is the perfect place for a spot of post-Machu Picchu pampering.
If you've got a smaller budget, Aranwa Sacred Valley Hotel & Wellness (S/665 or $170 USD double) has an array of local treatments and a gorgeous setting on the Vilcanota riverbank.
15. Explore the impressive terraces of Ollantaytambo
Admission is included in the boleto turistico.
Visited by many as the gateway to Machu Picchu, Ollantaytambo houses two significant Inca sites worthy of exploring. Built high up into the valley sides, both are visible from the town's Plaza de Armas.
The main archaeological site, the Sitio Arqueológico de Ollantaytambo comprises an Inca fortress with imposing stone terraces climbing up the mountain. At the top lies the unfinished Templo del Sol (Sun Temple), which has been built from lumps of red granite.
Across the site, you have panoramic views back down the Sacred Valley and a reminder of how much the Inca loved to build high up into the sky.
Situated directly opposite are the ruins of Pinkuylluna, which are thought to have been used as granaries. These can be visited for free by taking the steep path from the intersection of T'ilka Kiklla and Lares K'ilkllu.
16. Make pilgrimage to the sacred site of Machu Picchu
At the far western edge of the Sacred Valley you'll find the giant of all the ancient sites in Peru: Machu Picchu. One of the ultimate places to visit in South America, Machu Picchu is the jewel in Peru's crown and its most visited ancient site.
Since being introduced to the world stage by US explorer Hiram Bingham in 1911, this former citadel has captured the minds of adventurers and travelers across the globe. It's not hard to see why. Sitting atop a mountain saddle at 2,492 meters (8,165 feet) of elevation and ringed by sky-spearing peaks, its location is sublime.
And that's not to mention the remarkably precise stonemasonry of the vast terraces and temples that characterize what is believed to have been both a ceremonial and agricultural center.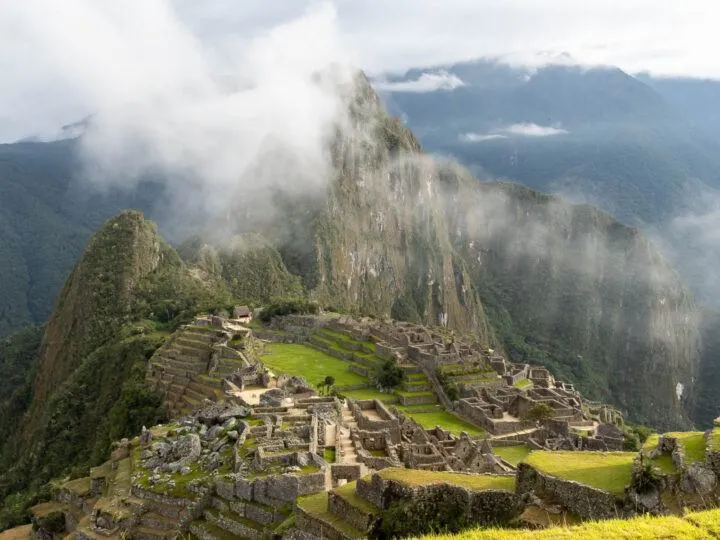 With over a million making pilgrimage to this site each year, Machu Picchu has perhaps lost a little of the magic experienced by the Inca and the explorers who've come in their wake.
To recapture it, book a bus ticket from Aguas Calientes and an entry ticket for Machu Picchu when it opens at 6am; our guide to the best time to visit Machu Picchu can help you plan, as well as help you avoid the rainy season on your trip.
17. Follow in the footsteps of the Inca elite along the Inca trail
If arriving at Machu Picchu by train doesn't feel sufficiently ceremonial, then there is another option. Instead, relive the pilgrimages undertaken by the Inca themselves by trekking the Inca trail to Machu Picchu.
While there are many trails built by the Inca across the Andes, the path to Machu Picchu was part of the Qhapaq Ñan ("Royal Road") used exclusively by Inca royalty and pilgrims.
This trail generally takes four days to complete and is strenuous thanks to the altitude, which peaks at 4,215 meters (13,828 feet). Joining a guided tour is a requirement; read our extensive guide on what you need to know before hiking the Inca Trail to find the best company for you, and who will handle all of the logistics, including food and accommodation.
I highly recommend local company Alpaca Expeditions, who offer a brilliant level of service and support local indigenous communities in Cusco and beyond. They're also now offering Worldly Adventurer readers a 5% discount on all of their hikes – just use the code Worldly Adventurer when you enquire!
18. Get beyond the beaten trail on the Salkantay
While the Inca trail is undoubtedly one of the most famous hikes in all of South America, the route itself has suffered as a result of its popularity. Numbers are capped at 500 people per day but even then, it can feel busy and far from the magical trekking experience you might have imagined.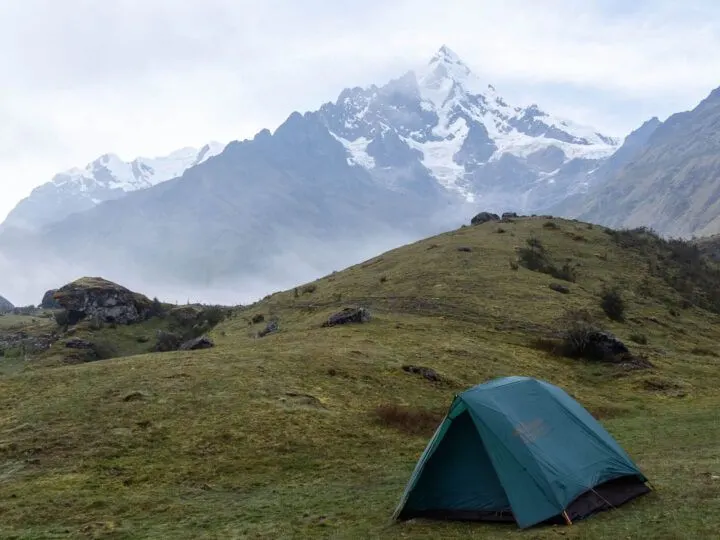 For a completely different adventure, opt instead for the Salkantay trek. This 66-kilometer (41-mile) hike starts in the sleepy hamlet of Soraypampa and ends at Aguas Calientes, the town below Machu Picchu.
Taking five days, it passes through superlative scenery deep in the Andes, switching between sticky cloud forests and high-altitude mountain passes on its winding and remote route to Machu Picchu.
Because you don't share campgrounds with other groups, you can expect to have the path practically to yourselves: when founder of Worldly Adventurer, Steph, did it, she saw just six other hikers. Read about her experiences in this complete guide to hiking the Salkantay.
FAQS about visiting the Sacred Valley
Where is the Sacred Valley and how can you get there?
Peru's Sacred Valley is located north of Cusco, about a thousand kilometers (620 miles) from Lima. Alejandro Velasco Astete airport in Cusco is the main hub that connects travelers to the Sacred Valley.
From Lima, take a one-and-a-half-hour flight (normally less than $50 USD) to get to Cusco. Note that the city sits at 3,400 meters (11,000 feet) above sea level, which can cause altitude sickness; take it easy, drink plenty of water, and avoid alcohol for the first couple of days.
To get to the Sacred Valley, you'll need to take a colectivo (a public van), bus, or taxi from Cusco. The former is the cheapest and easiest option. They leave every five to minutes from Calle Puputi for Urubamba (S/4-10/$1-2.5 USD; two hours) and Pisac (S/10/2.5 USD; one hour) or from Calle Pavitos to Ollantaytambo (S/10/2.5 USD;1.5 hours-two hours). Note that you have to take a different colectivo from Cusco if you're heading to Chinchero.
Insider tip: Whichever route you choose, you'll have to go through the winding roads of the Sacred Valley Valley. If you have significant issues with motion sickness, do bring preventative medication.
How can you get around the Sacred Valley?
The only public transportation available in the Sacred Valley is a colectivo, a small van that operates from Cusco to Chinchero and Cusco to Urubamba and Ollantaytambo. One usually passes every five to ten minutes and stops in every town in between. They will also take passengers from the street if there are any empty seats.
Another way to get around is by taxi. Getting one within the towns is easy, especially in touristy locations such as Ollantaytambo. But if you're in between towns, it's best to call your hotel to arrange a pickup. Don't want the hassle of arranging your transport? Take a Sacred Valley tour from Cusco and they'll take care of all the logistics.
Where should stay in the Sacred Valley?
Is the Sacred Valley safe?
Yes, although like anywhere in Peru, if you're flashy with your belongings, you'll attract attention. So, dress casually and keep your belongings safe when walking around the Sacred Valley.
How expensive is the Sacred Valley to visit?
Peru, in general, is an affordable destination. Dining at a high-end restaurant can cost less than $50 USD for two, even in the capital city of Lima. In the Sacred Valley itself, things are usually cheaper. Entrees tend to cost no more than S/20 ($5 USD), although you will certainly not find the same quality of restaurant as you will in nearby Cusco.
Accommodation can cost from as little as S/20 ($5 USD) up to $400 USD, depending on the type of hotel, guesthouse, or hostel in which you stay. Luckily, there are plenty of choices to match your budget.
Getting around is also quite cheap. A one-kilometer trip usually costs around S/4 ($1 USD). Note that taxis are unmetered, so it's best to ask and agree upon the fare amount before you set off.
How can you prepare for visiting the Sacred Valley?
The Sacred Valley sits at an elevation of around 2,400 meters (8,000 feet) above sea level. As a result, altitude sickness can be an issue among travelers, especially those coming from lower elevations, such as Lima. That said, the Sacred Valley is at a much lower altitude than Cusco (3,399 meters/11,150 feet), so it can be a great place to let your body adjust to these new conditions.
Typically, it takes two weeks to completely overcome altitude sickness (known as soroche to Peruvians), however, a couple of days of adjustment is better than nothing. Drinking plenty of water and having enough sleep usually help with altitude sickness. You could also consume coca leaf tea and apply herbal oil made for this type of sickness; both are available in most local markets in Peru.
Besides your personal medication or anything else you need to help you adjust to altitude sickness, it's also important to pack the right type of clothing. To visit Machu Picchu, pack something light and comfortable, but waterproof as there's a high chance of rain (we love the Patagonia Storm waterproof jacket or the North Face Alta Vista Jacket, which is significantly cheaper but offers good weather protection).
Sunblock is also important as the sun is very intense in Cusco and the Sacred Valley.
Packing a wide-brim hat is also useful. Check out our complete South America packing list for more suggestions.