Hiking to Machu Picchu is a bucket-list destination for many. But what many visitors to Peru don't realise is that there are far more options than just the Inca trail for reaching this world-famous Inca city tucked high into the Andes.
The Inca trail is the most famous of all the hikes to Machu Picchu and follows the route of the Qhapaq Ñan or Royal Road. This Inca stone pathway weaves through valleys and across mountains to arrive at the Sun Gate, a doorway into Machu Picchu that sits high above the city.
But, for me, a fan of beyond-the-beaten-path destinations, it is the Salkantay trek that I've been long waiting to experience.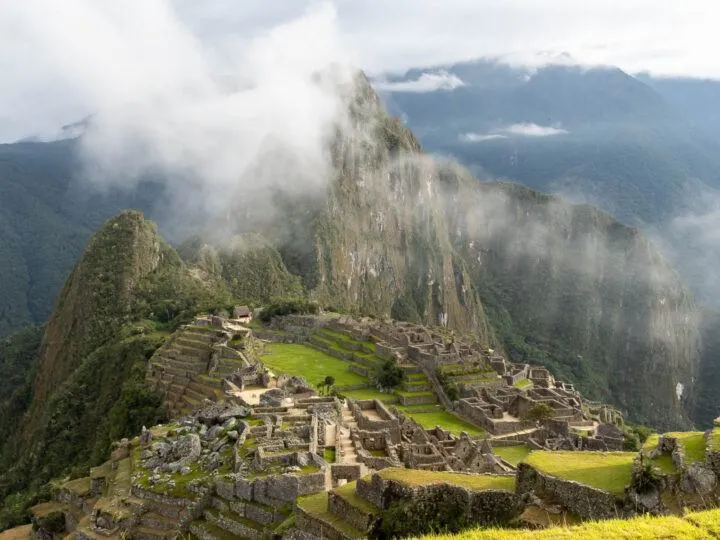 I'd been bewitched by the idea of hiking to Machu Picchu via this alternative route ever since I first lived in Cusco back in 2015. However, life got in the way and I never stepped foot on the path.
Planning Your Trip to Peru?
Save time, stress & money with a customized travel itinerary planned for you by a Peru expert

What previous clients have said:
Going to a new and exciting place is an adventure AND has its challenges. Being able to carve out an in-depth plan with someone that has been there and whom you can trust was extremely helpful.
We felt comfortable embarking on a six-week backpacking trip with kids ages 8 and 11 with Steph on our team. Her expertise and ability to hear what we wanted gave us a great jumping point for planning. Her advice and wide array of options also allowed us to be flexible. It also gave us peace of mind knowing that we had someone we could call if our plans went awry.
Every one of Steph's recommendations panned out to be incredible pieces of our trips and we would highly recommend her!
JORDAN AND KAYLEIGH
Traveled to Peru, Bolivia, Argentina and Patagonia
But this year, when Alpaca Expeditions asked me to join them on the Salkantay trail, I jumped at the chance. With the country now fully open to tourists (albeit numbers down to 30% of pre-pandemic levels), there has probably never been a better time to go to Machu Picchu, particularly as there are far fewer hikers on the trails than you would traditionally find.
Whether you've been dreaming about reaching Machu Picchu via this lesser-known route or have had to switch up your plans because the Inca trail is fully booked, here's everything you need to know about hiking the Salkantay trek.
Key facts about the Salkantay trek
How many miles is the Salkantay trek?
The Salkantay is a roughly 66-kilometre (41-mile) hike that starts in the sleepy hamlet of Soraypampa and ends at Aguas Calientes, the town below Machu Picchu. There are various different routes that you can take, depending on how many days you want to walk and which company you're hiking with.
The most common route is the five-day, four-night route, whereby you leave Cusco around 4 am and start on the trail around 8 am, scaling the Salkantay Pass on day one and arrive in Aguas Calientes on the evening of day four to spend the final day at Machu Picchu.
Alpaca Expeditions, like a handful of other companies, have their own glass-roofed huts at Soraypampa, where the trek begins. This means that they take their groups to the trailhead the day before (departing at 3 pm from Cusco) to allow you to start early and beat the other hikers to the trailhead. As a result, they advertise their trek as a five-day/five-night Salkantay hike.
Their hikes also include the route up to Lago Humantay, which adds an extra three hundred metres of ascent and descent to the first day's hike, plus the incredible scenery of this turquoise lake.
What is the elevation of the Salkantay trek?
The Salkantay trek starts at Soraypampa at an elevation of 3,900 metres above sea level. The elevation profile for the rest of the hike is as follows:
Day One: Soraypampa (3,900 metres) – Humantay Lake (4,200 metres) – Soraypampa (3,900 metres) – Salkantay Pass (4,620 metres) – Wayramachay (3,800 metres)
Distance covered: 20 kilometres (12.5 miles)
Total elevation gain: 1,020 metres
Total elevation loss: 1,120 metres
Day Two: Wayramachay (3,800 metres) – Loreta (2,200 metres)
Distance covered: 20 kilometres (12.5 miles)
Total elevation gain: 200 metres
Total elevation loss: 1,600 metres
Day Three: Loreta (2,200 metres) – Llactapata (2,700 metres)
Distance covered: 12 kilometres (8.7 miles)
Total elevation gain: 600 metres
Total elevation loss: 400 metres
Day Four: Llactapata (2,700 metres) – Hidroelectrica (1,820 metres) – Aguas Calientes (2,000 metres)
Distance covered: 15 kilometres (9.3 miles)
Total elevation gain: 180 metres
Total elevation loss: 880 metres
The first night sleeping at altitude you're inside a cabin, with a sleeping bag (either your own or rented) and it's pretty cosy. The second night was also at altitude and despite the sleeping bag, extra blankets, two sleeping mats and hot water bottle that Alpaca provided, I was still a bit cold and ended up sleeping in my down jacket.
I highly recommend bringing a down jacket (mine is this one from Jack Wolfskin but you can find plenty of down jackets at REI) plus a waterproof coat (mine is this one from Patagonia; for men from Patagonia|REI|Backcountry).
They did give us rain ponchos but frankly, any sort of plastic coat is a recipe for sweaty hiking, so I much prefer to have a breathable, lightweight coat that's great as a windproof layer at high elevations and also as protection against any downpours.
How fit do I need to be to hike the Salkantay trek?
The Salkantay trek is a moderate hike. The challenge comes from the amount of ascent and distance you're required to cover on day one, as well as the altitude at which you're hiking.
The toughest day by far is day one. Not only do you gain 300 metres to reach the dazzling waters of Lago Humantay, but you lose them again as you drop back off the mountain and then climb a further 720 metres to reach the Salkantay Pass. Because you're hiking at altitude, it won't be long until you realise how thin the air feels (and how little of it seems to be going into your lungs). If you're relatively fit and can cope with covering 20 kilometres (12.5 miles) in a day, you shouldn't have any issues.
Many of my group who had flown straight from home to Peru and hadn't had time to acclimate beforehand in Cusco for a couple of days really struggled with the first day of the trek.
Therefore I strongly recommend spending at least two days in Cusco before the hike for acclimatisation purposes and also speaking to your doctor to get a prescription for Diamox – tablets that help your body cope at high altitudes. You'll want to take the tablets once per day, starting 24 hours before you start the trek and continuing until day three when you won't need them anymore.
How can you prepare for the high-altitude Salkantay trek?
While being moderately fit and physically able to walk at least 20 kilometres (12.5 miles) at lower elevations is essential, preparing for high-altitude trekking is challenging. This is because you can't predict how your body will react when it's faced with these conditions – particularly as it's not impacted by how fit, young or healthy you are. In fact, even the fittest people can suffer horrible altitude sickness.
As a result, the best preparation for hiking the Salkantay trek is to arrive in Cusco at least two days before the trek begins to give your body time to acclimate. Get plenty of sleep, stay hydrated and be sure to get some Diamox to help your body adjust.
Do I need to book the Salkantay trek months in advance like the Inca trail?
Unlike the Inca trail, where there is a limit of 400 trekkers per day and so tickets can be sold out up to six months in advance, there are no limits for the Salkantay trek. This makes it an excellent alternative if you'd been hoping to hike the Inca trail but have found that there isn't any space.
The only restriction you'll face is on the availability of entry tickets to Machu Picchu, so it's still worth trying to book at least a few weeks in advance, particularly if you're travelling between June and August. As a result, you'll find it a good idea to book your trek in advance before you arrive in Peru; you can also check out what we think are the best times to visit Machu Picchu before deciding when to travel.
Better still, while an unlimited number of hikers allowed on the trailhead doesn't sound fun, if you trek with Alpaca Expeditions, you'll likely not see anyone else. This is because they schedule the trek to avoid all of the other tours leaving from Soraypampa. Through this wizardry, during the entirety of the five-day trek, we met only six other hikers.
The five-day Salkantay trek to Machu Picchu
The Inca trail is famous for taking you along a stretch of the Qhapaq Ñan or Royal Road, a path used by Inca royalty as well as pilgrims and other administrators to travel between Cusco and Machu Picchu.
However, what you probably didn't know is that the Salkantay actually travels along a stretch of Inca road on day three, allowing you to have a little bit of the same experience, just without sharing it with anyone else.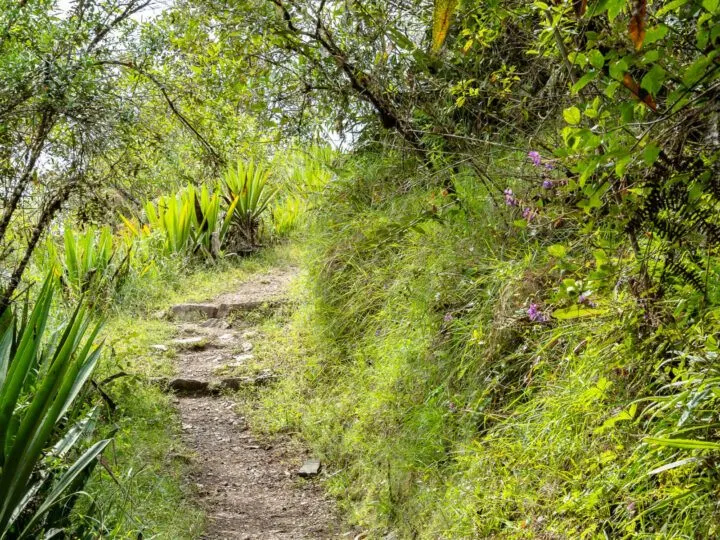 The scenery is also spectacular and involves a little bit of each of the microclimates that are found surrounding Cusco, and which pay host to everything from spectacled bears (the inspiration for Paddington!) to llamas, alpacas, condors and vizcachas (chinchilla-like rodents).
You travel from high mountain passes to lush cloud forest in just over a day, while you're always far enough away from towns and villages to have gorgeous starry skies at night.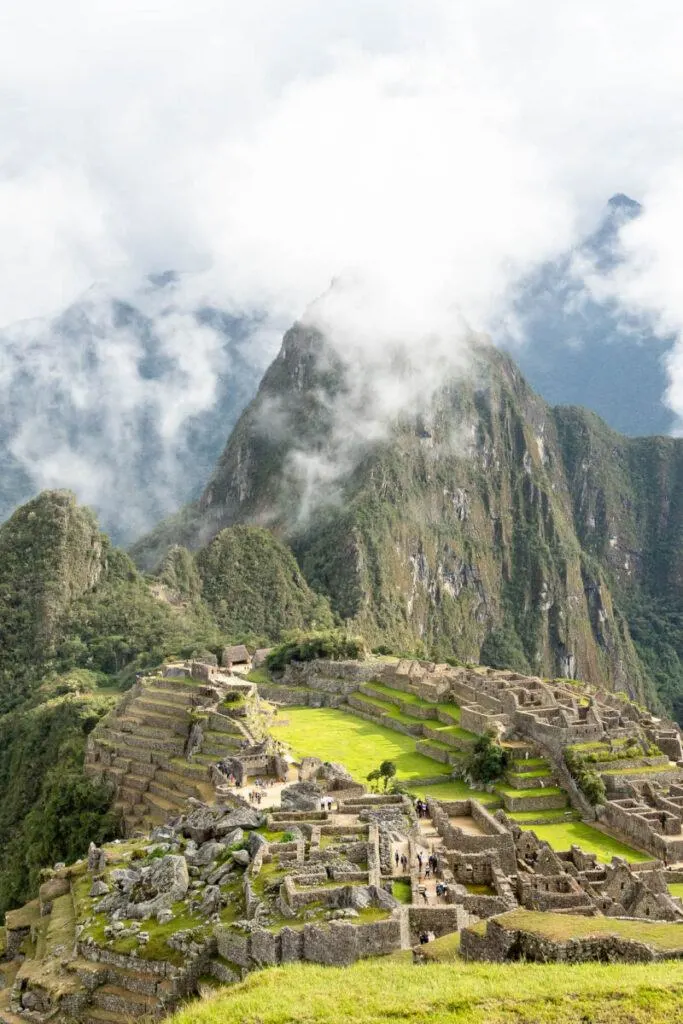 Want a cheeky 5% discount on the Salkantay trek?
Alpaca Expeditions are not only one of the most sustainable companies offering Salkantay and Inca trail treks to Machu Picchu, but their guides, porters and chefs are the ultimate hosts.
They're now offering Worldly Adventurer readers a 5% discount on all of their hikes – use discount code WorldlyAdventurer when you enquire!
Best of all, unlike on the Inca trail, you don't share campgrounds with other groups. In fact, we saw only six other hikers from when we started the hike to when we reached Hidroelectrica and began the final trek along the railway line. Therefore, if you're like me and prefer hiking in destinations where you aren't surrounded by others, this is the perfect route for you.
But what's the hike like day by day? Here's an itinerary of what you can expect on the Salkantay trek.
Day Minus One: Pre-trek information session
Distance hiked: 0
Total elevation gain: 0
Total elevation loss: 0
Time on the trail: 0
I started my Salkantay trek experience two days before we actually started hiking. This is because Alpaca Expeditions invited all of my group to their office in Cusco for a short information session to go over everything we needed to know before we started the hike.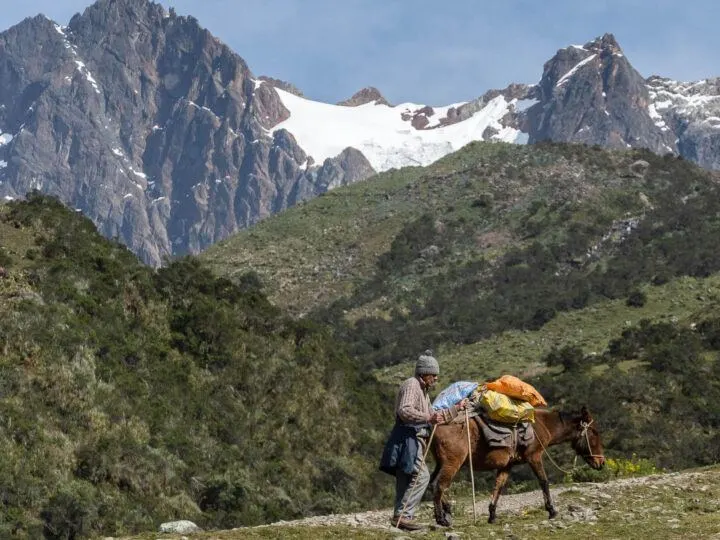 It was a quick, 15-minute meeting with our guide, Isao, where we were given our lime green duffel bags (for up to seven kilograms of clothes and other items for the hike that would be taken on mules), bright green rain ponchos and rucksack rain covers.
We were also able to reserve a sleeping bag, sleeping mat and trekking poles at this stage, while they made recommendations for essentials we needed to bring (bug spray – bring plenty!).
If I'd been sensible and brought some with me, I would have started taking Diamox this evening or on day zero to help prepare my body for the altitude. Don't be like me: I highly recommend discussing Diamox or similar with your doctor if you're planning a short trip to Peru to hike the Salkantay. This is because going directly from sea level to an altitude of up to 4,620 metres (15,157 ft) can be extremely dangerous – trust me: you don't want to feel as shit as those people in my group who did this.
Day Zero: Cusco to Soyrapampa
Distance hiked: 0
Total elevation gain: 0
Total elevation loss: 0
Time on the trail: 0
On day zero you'll have time for a relaxed morning and lunch in Cusco, before you're picked up at your hotel by the Alpaca Expeditions team around 3pm. The minibus will head directly out of Cusco for the spectacular drive through the Andes to the first night's accommodation.
It's three and a half hours of serpentine roads with sheer, vertiginous roadsides and lush valleys lined with avocado plants. Keep your eyes peeled for the first glimpses of Nevada Salkantay; we saw it sink into darkness as the sun set behind its snow-laden peak before our van began gaining altitude quickly.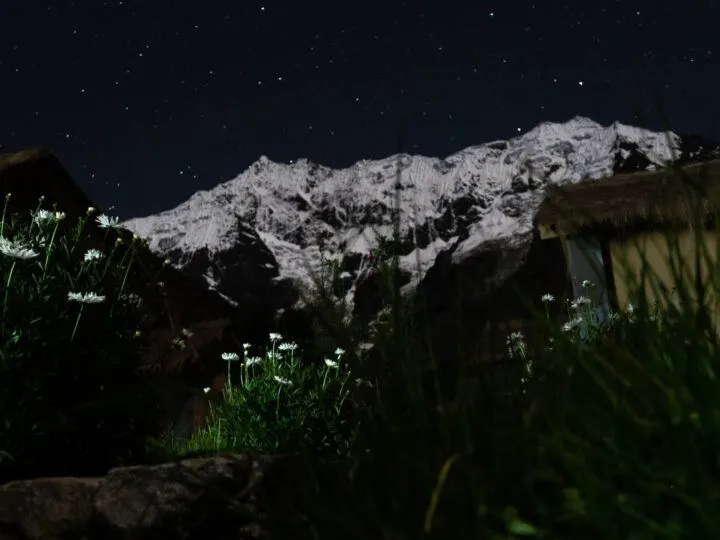 After about two and a half hours you'll stop in Mollepata, a tiny town en route, to use the toilets and then stock up on any remaining items you might have forgotten, before an hour later reaching the first night's accommodation: Soraypampa and its glass-roofed cabins.
If luck's on your side, the stars should be bright and your chef, sous chef and their merry band of porters will quickly rustle up a delicious two-course meal, giving you plenty of time to head to bed and sleep beneath the stars before an early wake-up call the next morning.
Day One: Soraypampa – Humantay Lake – Salkantay Pass – Wayracmachay
Distance hiked: 20 kilometres (12.5 miles)
Total elevation gain: 1,020 metres (3,346 feet)
Total elevation loss: 1,120 metres (3,674 feet)
Time on the trail: Around six hours, plus lunch and breaks
Day one starts early. At 4.30 am, you'll be woken up by a knock at the door. For us, it was by Juan Carlos, our second guide, bearing coca tea (coca leaves infused in water) to help settle heads and stomachs from any potential altitude sickness.
While there are flushing toilets at this accommodation, showers there are not, but your guides will ensure you have hot water for washing hands and faces at every mealtime along the trek.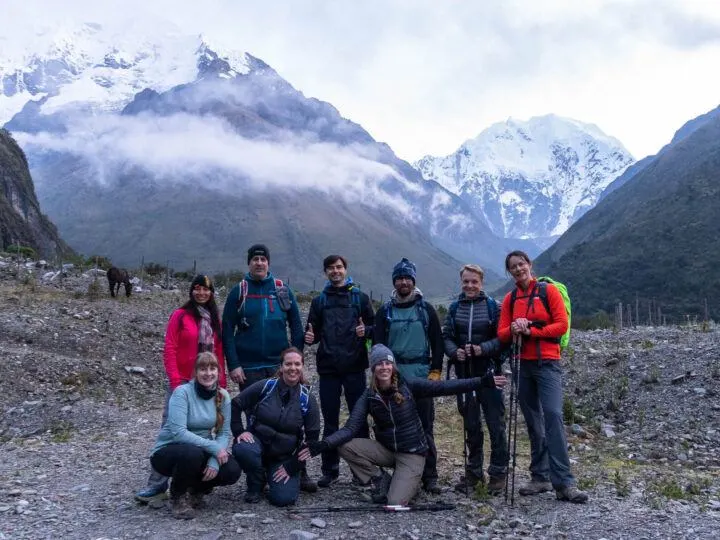 There will be time for a filling breakfast – omelettes, pancakes, cereal and bread – and to pick up snacks and water ready for the day. Today will be the hardest of the entire trek – there's no gentle first day to ease you into it – so eat plenty and stay hydrated. You'll need all the energy you can get.
At this stage, your body, with the help of Diamox, should be starting to acclimatise to the altitude and be ready for the two-hour climb up to Lago Humantay. Mine felt ok, but as we began the trek, climbing a gentle gravel road that became a steep trail as it emerged out of the valley and up to the shores of Lago Humantay, my lungs were burning and the effort of hiking was already beginning to feel like a challenge.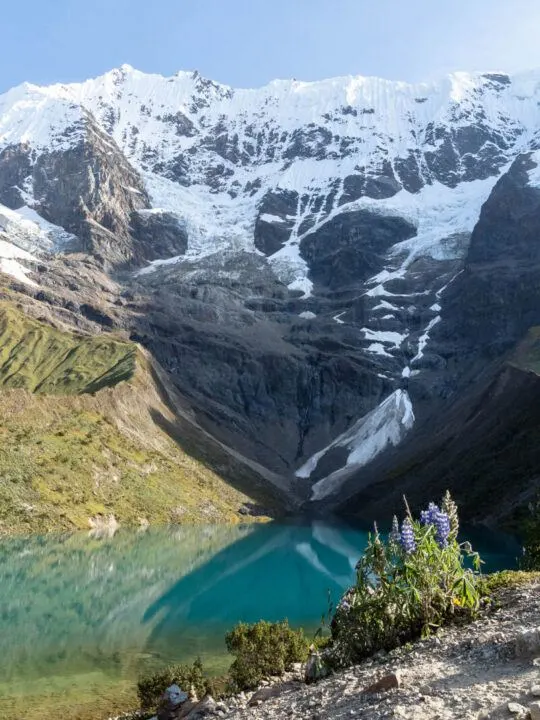 At the top, there's time to relax, take copious photos and dive into your snacks, before you head back down the way you came, joining the main Salkantay trail back at the bottom of the valley.
For us, we began the ascent to the Salkantay Pass around 10 am, relieved to discover that the other groups of hikers for that day's walk were long gone, leaving us the trail to ourselves as we passed meadows filled with llamas and then the barren slopes of Nevada Salkantay.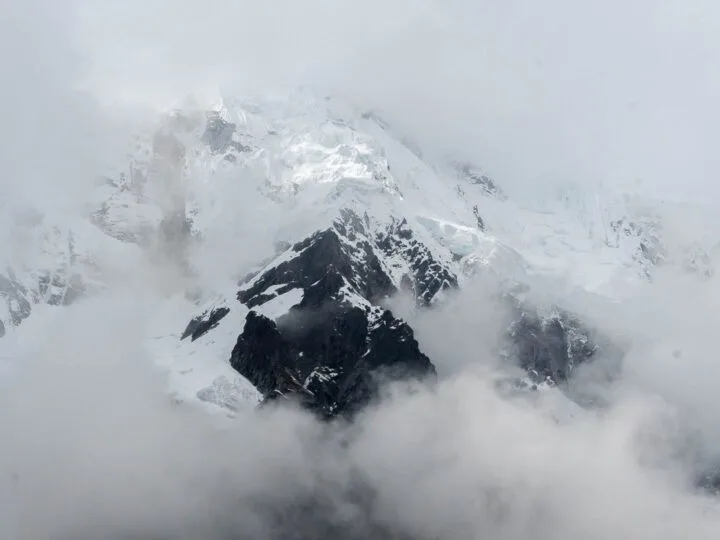 Keep your eyes peeled for stone-coloured vizcachas hiding in the rocks alongside the trail; these chinchilla-like rodents live in this otherwise empty landscape.
After a further 4.5 hours, and about an hour from the top, you should arrive at your first lunch: prepare to be amazed by what your chef and porters can put together, despite being miles from civilization.
Our chef, Sergio, his sous chef and porters had prepared us an extensive lunch of roast chicken, salads, rice and plenty of vegetables to help give us enough energy to get over the pass. If you're lucky and well acclimatised, you'll be feeling extremely hungry right now, so fill your boots and also have a good few cups of coca tea – they'll help stave off any incoming headache.
From lunch, it's a thankfully short final hour to reach the Salkantay Pass. At 4,620 metres above sea level (15,157 feet) and in the shadows of snow-capped Salkantay, it's the highest point on the trek and you deserve to celebrate here.
We followed Quechua traditions and made an offering to the Apus (the Gods of the mountains) of some coca leaves given to us by our guide, Isao, while making three wishes. I'm fairly certain at least a few members of the group were wishing to get out of there quickly!
After the pass, it's a long, two-hour hike down the camp, through the quickly changing scenery that passes from barren rock to become a verdant river valley flushed with powder blue lupins. It's a dramatic contrast between the hike up and the scenery as you come down.
When you arrive, finally, at Wayracmachay, your first camp on the trek, your camp fairies (aka the porters, chef and sous chef) will have been busy preparing the camp. Our tents had been filled with our mats and sleeping bags, plus the welcome addition of fluffy alpaca blankets and, when it was finally time for bed, some extremely welcome hot water bottles. You'll find flushing toilets, but no showers, here, too.
Dinner will be another feast of hearty, filling Peruvian food that'll put you to sleep early, ready for another pre-dawn start.
Day Two: Wayracmachay – Colpapampa – Loreta
Distance hiked: 20 kilometres (12.5 miles)
Total elevation gain: 200 metres (656 feet)
Total elevation loss: 1,600 metres (5,249 feet)
Time on the trail: Around seven hours, plus lunch and breaks
Today, you'll rise before dawn again, ready for a big breakfast of pancakes, omelette, bread and the obligatory coca tea to help you start the day.
While day two of the Salkantay trek is as long as day one, the vast majority of the trail is downhill, so you'll find it much less taxing.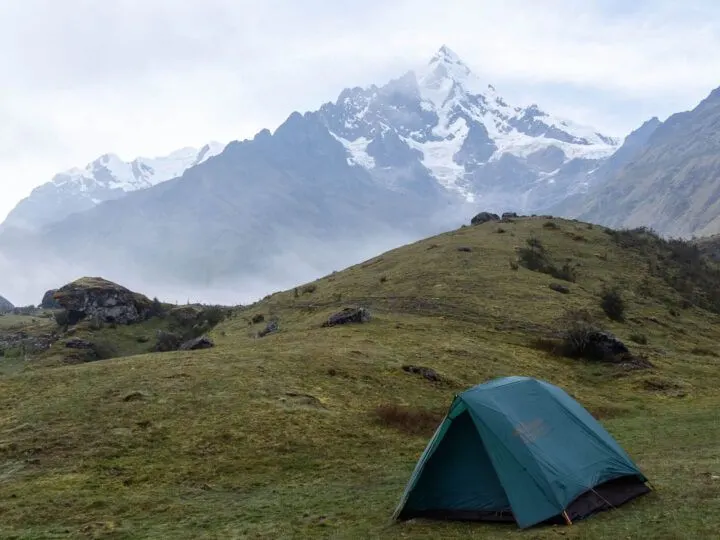 From Wayracmachay, it's a gentle downhill hike along a gravel path. As a group, we had decided that downhill sounded too boring for the day (!) so Isao and Juan Carlos took us off-piste to climb another hill (just a 100 metres of ascent this time).
By this stage, the scenery had changed dramatically, and we'd dropped far enough down to find ourselves in thick, lush cloud forest, filled with butterflies and bromeliads suspended from the trees.
If your guides offer you this detour, I strongly suggest taking it. The payoff for climbing this extra hill is some seriously incredible views back across the valley towards Salkantay and then down into the next valley, where lunch and your accommodation for the night are located.
The views change by the second; the clouds move rapidly as the valley and the mountains beyond appear and disappear in turn.
From this incredible vantage point, it's a steep downhill – through cloud forest thick with orchids and hummingbirds to finally hit the road beneath and lunch at Colpapampa. For us, it was mango ceviche followed by mountains of lomo saltado, vegetables, salads and rice.
The final few hours to reach your accommodation are along a flat gravel road that follows the Rio Salkantay as it weaves through the valley.
Finally, you'll descend down an incredibly steep path to reach your home for the night: Alpaca Expeditions' very own hobbit holes, complete with lime green, round front doors and comfy beds. There are even hot showers available and, the pièce de résistance: jacuzzis.
We saluted a long but incredible day with some cervezas (beers) and even a small pisco sour prepared unexpectedly for us by our chef, Sergio. It's fair to say we slept like babies – you will too.
Day Three: Loreta – Lucmabamba – Llactapata
Distance hiked: 14 kilometres (8.7 miles)
Total elevation gain: 600 metres (1,968 feet)
Total elevation loss: 400 metres (1,312 feet)
Time on the trail: Around five and a half hours, plus lunch and breaks
Day three starts with a gentle walk through a clutch of villages tucked into the cloud forest, where you'll meet the resident dogs, chickens and any other livestock that's wandering around.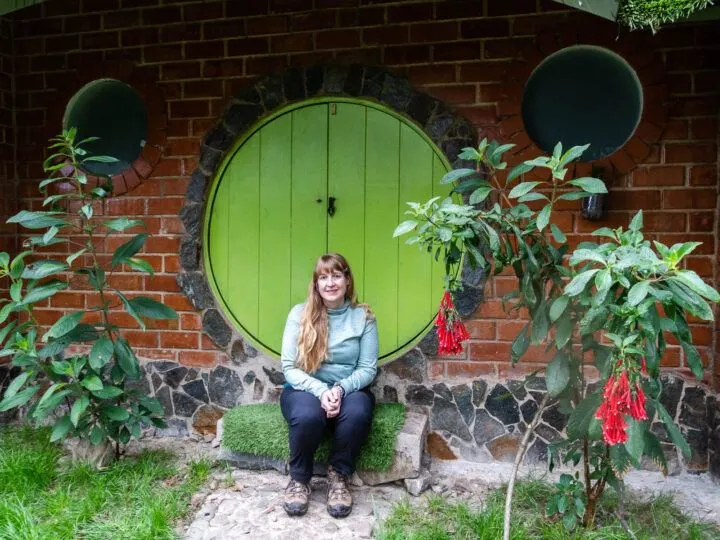 Today will be a fairly relaxed day and give you the opportunity to hike a stretch of the Inca trail that clambers up through lush forest and coffee plantations and, for some parts, still consists of worn stone steps.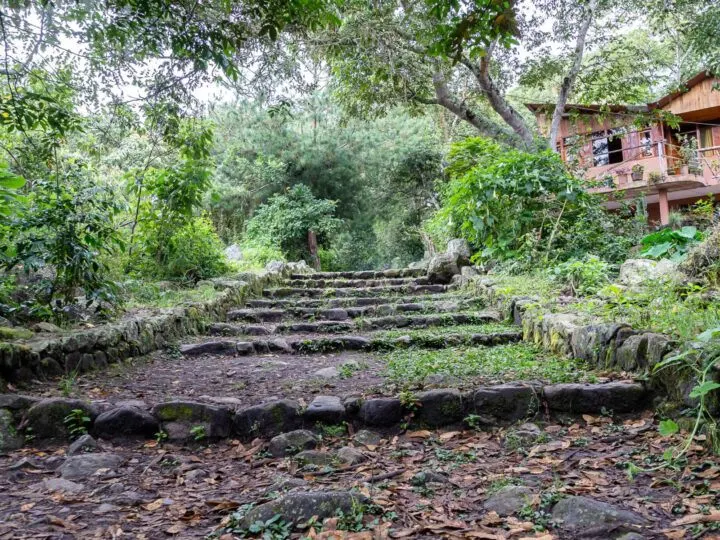 As you climb this five-hundred-year-old stone staircase into the mountains, you'll realise quite how relieved you are that you didn't do the Inca trail. It's tough going on your thighs (perhaps even more so than the climb up to the Salkantay Pass), but a fairly gentle incline up to lunch at a coffee farm, where you'll also have the chance to pick, toast and grind your own steaming cup of Joe alongside the owner, Paulina.
Support sustainable tourism, porters' rights and female empowerment by booking the Salkantay trek with Alpaca Expeditions and get a 5% discount on the cost of the hike by using discount code WorldlyAdventurer!
Your chef will also give a demonstration about cooking a traditional Peruvian dish (in our case lomo saltado, with fake meat for the vegetarians), before you dine again like kings, with incredible views across the valley.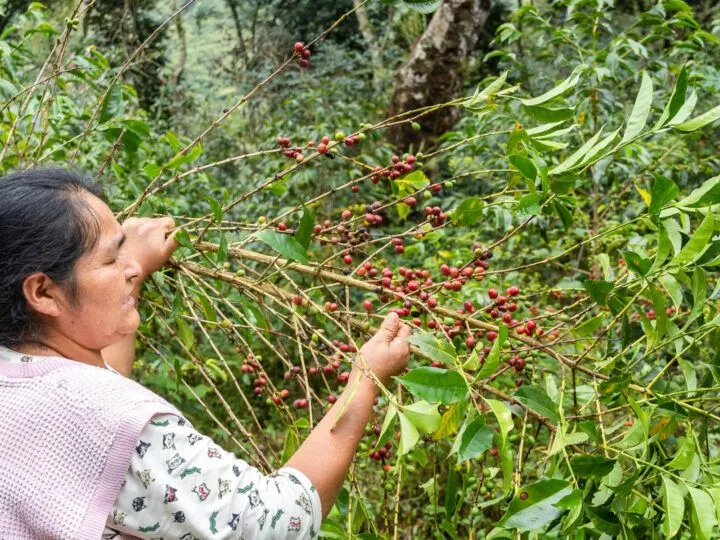 In the afternoon, it's a tough, sweaty climb up, up and up, although you'll take plenty of breaks and have the chance to enjoy the pretty flowers and picturesque valley views that characterise this part of the hike.
After around three and a half hours of walking, you'll finally reach the brow of the hill, from where it's a short hike down to Llactapata.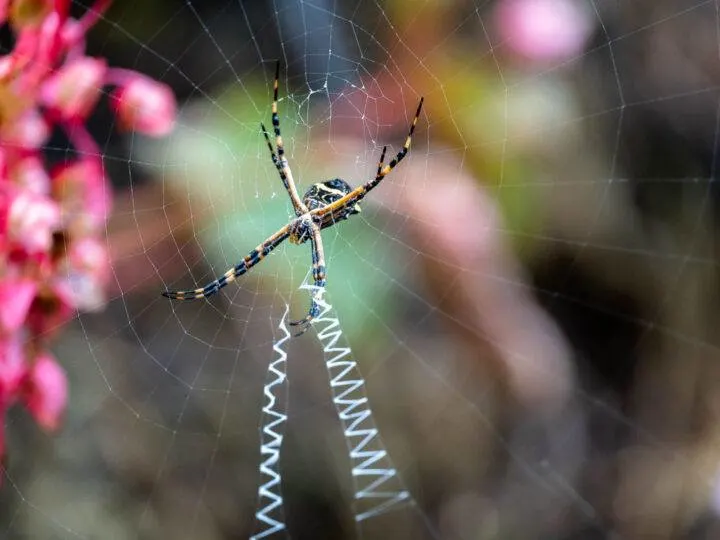 An Inca site, it sits across the valley from Machu Picchu – the Inca liked to be able to see this city from other parts of their Empire – which you can see in the distance. It's here that you'll suddenly realise just how far you've come and how close you are to the end of the hike.
After half an hour learning a little about this site, which would have acted as a waystation for the chaskis (the messengers of the Inca, who ran along the Inca roads delivering messages across the Empire), it's a 20-minute hike down the mountain to reach perhaps the most surreal of you campsites.
Offering even closer views of Machu Picchu from its lofty position, the campground below Llactapata is the most remarkable of the whole trip. It's possible to spend hours here, watching as the sun slips away past the mountains in the west and bathes the Cordillera de Vilcabamba in which Machu Picchu lies in gentle evening light.
If you can tear yourself away from the view, you'll be delighted to learn that after a sweaty day's hike there are hot showers at this campsite (costing around S/10), and mountains of food to help you sleep soundly.
Because you're still far away from any towns, there's very little light pollution, so if the skies are clear, you can expect a sensational view of the Milky Way and the night's sky.
Day Four: Llactapata – Hidroeléctrica – Aguas Calientes
Distance covered: 15 kilometres (9.3 miles)
Total elevation gain: 180 metres (590 feet)
Total elevation loss: 880 metres (2,887 feet)
Time on the trail: Around six hours, plus lunch and breaks
You'll wake early again today in time to eat breakfast as the sun's rays climb above Machu Picchu and bathe you in their glorious light.
There will be time to enjoy the views while your team packs up camp and you should be on the trail by about 7 am, for a snaking, tough-on-the-knees, steep climb down the mountain and along the Río Ahobamba to reach Hidraelectrica, the hydropower station that produces electricity for Aguas Calientes and Machu Picchu itself.
Here you stop for a final leisurely lunch with your porters and cooking team, before it's time to bid them farewell and continue along the side of the railway line that connects Hidroeléctrica with Aguas Calientes and beyond, Ollantaytambo.
While the hike itself is hot and sweaty and feels like you're starring in the film Stand By Me (yes, you do need to keep an eye out for trains as it's a functioning railway line – although they do tend to make an awful lot of noise on the approach to allow you to get out of the way), it takes you through the deep mountain canyon that is the Urubamba Valley, with the dramatic steep valley sides rising high above you.
Along the way, you'll find the occasional shops operated by those who live in houses dotted along the railway line, where you can pick up snacks of fresh watermelon or ice-cold drinks.
It's around 10 kilometres (six miles) along the railway line and a three-hour hike. Finally, you'll reach the edges of Aguas Calientes, the small but picturesque town that sits beneath the Inca city.
Here, you'll be checked into your hotel and have some downtime to explore the town or just take a long, hot shower, before heading out for dinner with your group.
Day Five: Machu Picchu
Distance hiked: Depends; the path around Machu Picchu is a couple of miles
Total elevation gain: Roughly 10-20 metres (32-65 feet)
Total elevation loss: Roughly 10-20 metres (32-65 feet)
Time on the trail: Depends; around three hours if just exploring the site. Add a further two hours if hiking to Huyana Picchu.
Today's the day you've been waiting for: Machu Picchu. To get on the first bus up to Machu Picchu, you'll wake around 4.30 am and aim to be at the bus stop by 5.30 am, read when it leaves.
It's a 30-minute drive up to the entrance and definitely worth taking the bus (the tickets are included in the cost of your tour): the walk looked exhausting and takes at least two hours.
At the top, your guide will show your tickets and you'll climb the final few steps of Inca stone up into Machu Picchu, a former summer retreat for the Inca emperor and a remarkable example of Inca architecture.
At the viewpoint at the top of the site, if the weather's clear, you can watch as the sun rises over the mountains, showering the stone buildings and Huayna Picchu, the mountain that sits behind, with morning light.
If it's not clear, don't worry: when we arrived, it was cloudy, but the weather came and went quickly, giving us good opportunities for capturing photographs and absorbing the surreal feeling of standing above Machu Picchu.
Support sustainable tourism, porters' rights and female empowerment by booking the Salkantay trek with Alpaca Expeditions and get a 5% discount on the cost of the hike by using discount code WorldlyAdventurer!
In total, you will have around three or four hours in Machu Picchu, which will involve a guided tour by your guide to learn more about life in Machu Picchu, the architecture and the key buildings dotted around.
Since the pandemic, they've introduced a very strict route around the site, so you don't have as much opportunity to explore as you once had. However, it definitely felt like plenty of time for visiting and learning more about the Inca Empire.
If you want to hike up Huayna Picchu, this will take around two hours and you can expect an alternative view of the site from the top. As my tour was booked quite last-minute, I didn't manage to get these tickets (it's recommended to buy them at least a couple of months in advance as they sell out; book them here selecting "Circuito 4 + Waynapicchu"), but other members of my group highly recommended it. The path up is very steep, so definitely not for the faint of heart.
Around noon, you'll catch the bus back down to Aguas Calientes for a final lunch. This wasn't included in our tour, but there are plenty of restaurants within the town. I recommend Chullos Craft Beer & Homemade Food for great local food and beautiful views of the river.
Early afternoon, you'll board the train to Ollantaytambo, a stunning, two-hour journey that takes you along the Urubamba Valley and, thanks to the train's large windows, gives you dazzling views of the surroundings.
At the station in Ollantaytambo, a bus will be waiting to take you back to Cusco, a final two-hour journey through the mountains. Be sure to have your accommodation booked ready for you when you in the town. You'll be exhausted but still reeling from an incredible six days!
Preparing for the Salkantay trek
When to travel to Cusco and Machu Picchu
Unlike the Inca trail, which needs to be booked at least six months in advance, the Salkantay is a trek that can be organised with a lot less advance notice. This is because permits are not required to hike along this trail; instead, you'll just need to make sure you've got a ticket for Machu Picchu.
That said, if you're planning on visiting between the peak months of May and September, you'll likely need to reserve this trek at least a few weeks in advance to ensure that there's time for the company to book Machu Picchu tickets for your dates.
It's possible to hike the Salkantay trek all year round, but for the best conditions (and to get those iconic views at Machu Picchu on the final day), try to avoid the rainy season, which is between November and February.
Alpaca Expeditions do run this trek from the start of March through the middle of January, but as someone who has lived in Cusco and knows how hard it can rain here, I imagine trekking during the rainy months would be a very soggy experience.
Choosing a sustainable and ethical tour company
One of the main reasons I chose to hike with Alpaca Expeditions is because of their attitude towards their staff. They pay some of the highest wages for porters and guides; the minimum wage for porters by law is S/44 per day, while Alpaca pays them S/180 per day.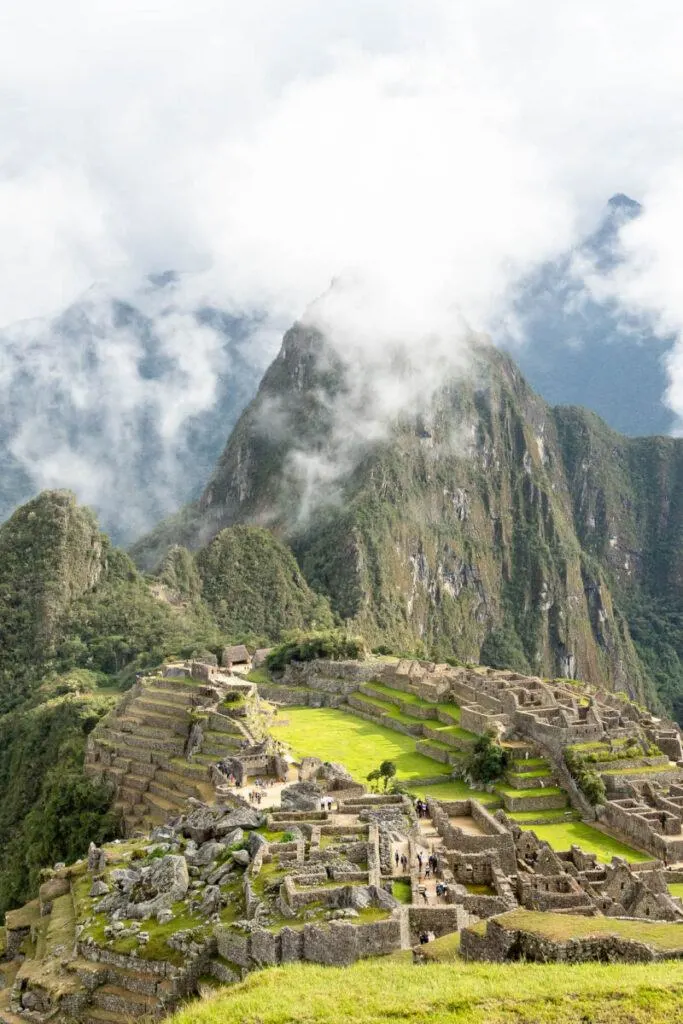 Want a cheeky 5% discount on the Salkantay trek?
Alpaca Expeditions are not only one of the most sustainable companies offering Salkantay and Inca trail treks to Machu Picchu, but their guides, porters and chefs are the ultimate hosts.
They're now offering Worldly Adventurer readers a 5% discount on all of their hikes – use discount code WorldlyAdventurer when you enquire!
As many of their staff come from indigenous and often poor Andean villages scattered across the region, Alpaca Expeditions have also built a house in Ollantaytambo where their staff can stay the night before or after a trek, with its own resident doctor offering them healthcare.
What's more, due to limits on entering Machu Picchu, porters who accompany groups of hikers aren't allowed to enter the site, and many can't afford the expense of visiting Machu Picchu on their own dime. This means many have spent years hiking to Machu Picchu but have never actually gone in.
To address this injustice, Alpaca Expeditions take groups of their porters, chefs, guides and their families to Machu Picchu twice a year, ensuring that all of their staff can experience the culture of their ancestors and learn about their own history.
Alpaca Expeditions are also leading the way when it comes to female employment. They were the first tour company to introduce female guides (2017) and then porters (2018) onto the Inca trail and now have women working in every role on the trek and in their office, with an aim to employ an equal number of men and women in the future.
They're also doing some amazing work to allow local communities to visit sites such as Machu Picchu, as well as the archaeological sites of Pisac, Ollantaytambo and others in the Sacred Valley.
To achieve this, every Sunday they pay to take a group of 15-17 local children from Cusco or surrounding villages to visit some of these sites and learn more about their heritage, ensuring that they have the same access to their history as the thousands of tourists who explore the region each day.
I followed along for one of these days and it was wonderful to see the kids soaking everything in and even getting to experience the incredible Alpaca Expeditions outdoors lunch, too!
All in all, I found the experience on the trail with Alpaca Expeditions to be even better than I had expected. Their staff are absolute heroes: our guides were good-humoured and extremely supportive when the going got tough on the first day and the rest of our team of chefs and porters ensured that every single meal and camp felt like we'd stepped into our own private resort, no matter how remote the location.
The cost of hiking the Salkantay trek
The cost of the trek varies depending on the company with whom you go. Alpaca Expeditions isn't the cheapest and nor is it the most expensive. They offer the five-day/five-night tour that I did at a cost of just $650 USD per person and you can potentially have a group size of up to 16 people. We had nine in ours and it felt like a really comfortable size.
They also commit to running a hike even if they just have two people signed up, which means you're less likely to get your tour cancelled if they don't manage to sell other tickets.
To secure your place on the trek, you will need to make a deposit of $400 USD per person either through PayPal (who'll charge a 5.5% PayPal fee) or by wire to Bank of America or Citibank (free if you bank with either of these companies). Therefore, it's worth being aware that the trek may well cost a little more when you've factored in the transfer cost.
Alcohol isn't included in the cost of the hike but there are places en route where you can buy beers, ranging from a cheap S/5 to a more eye-watering S/20. If you think you'll want a cold cerveza to celebrate a long day's hiking, then bring extra soles (small notes preferably as change can be an issue) with you.
Tipping on the Salkantay trek
Before departing for the trek, it's important to budget into your trip the cost of tipping. While it's certainly not obligatory, tipping was brought up quite a few times during the hike and our guide made recommendations for the amount of money we should consider tipping per person.
This worked out around S/50 soles per porter (we had four for a group of nine people), $20 USD for both the chef and sous chef, and $40 USD each for our guides.
It's worth bearing in mind that there's often a limit of around S/750 soles (around $200 USD) per day that you can withdraw from ATMs in Cusco, so it might be sensible to bring dollars with you for tipping purposes if you also need to withdraw cash to pay for your tour when you arrive.
Another area to consider when it comes to hiking costs is whether your travel insurance covers hiking up to 4,600 metres.
My travel insurance with World Nomads required me to pay for additional coverage up to their level three (camping up to 4,500 metres and hiking up to 6,000 metres), which cost an additional $75.33 for my two-week trip to Peru.
Packing for the Salkantay trek
If you book before you arrive in Cusco, you should get sent a packing list covering what they recommend you bring. In short, it includes:
Your passport. You will need to show the original document to get into Machu Picchu. Don't forget it, otherwise the hiking will have been in vain!
A day pack. I brought my Osprey 40-litre pack (REI|Amazon|Osprey), which comfortably fitted my camera, down jacket, waterproof coat and a couple of other bits and pieces for the day. You could comfortably get away with carrying a 25-litre or 30-litre pack, as the majority of your belongings go into your duffel bag that's carried by mule.
A cosy sleeping bag. You can actually hire one of these for $25 USD for the duration of the trek, so unless you're particularly attached to your own, then it's probably easier to just pay this cost. I found the one I rented to be warm and comfortable. I generally recommend the Nemo Disco 15 for women (REI) and men (REI) if you want to buy one.
Air mattress. Again, this can be rented for $25 USD. If you want to buy your own, I recommend this one from Therm-a-Rest (REI|Amazon|Backcountry)
Trekking poles. I made the mistake of turning these down when I was offered to rent them. Don't be like me. They're really helpful for the first day in getting you up the Salkantay Pass and absolutely ESSENTIAL in helping you get back down. Rent them for $25 USD or buy these lightweight ones (REI|Amazon|Backcountry).
Well-broken-in hiking boots. I can't stress enough how important it is that you wear hiking shoes that you've used before on this trek. Days are long and there's absolutely nothing worse than getting a bad blister on the first day. All of the downhill can also wreak havoc with your toenails, so they need to be comfortable. I'm a convert of Salomon (women's: REI|Amazon|Backcountry; men's: REI|Amazon|Backcountry)
Five pairs of walking socks. Seriously, you need a clean pair for each day. I recommend Darn Tough socks (women's: REI|Amazon|Darn Tough; men's: REI|Amazon|Darn Tough)
Sandals. These are for the evenings when you'll want to allow your feet to breathe. I love my Teva sandals (women's: REI|Amazon|Backcountry; men's: REI|Amazon|Backcountry)
Warm clothing. A down jacket (I wear this one from Jack Wolfskin; you can find plenty of others at REI) and a lightweight waterproof coat (mine is this one from Patagonia; for men from Patagonia|REI|Backcountry) are essentials for this trek. I also had a midweight walking jumper and a fleece jumper (women's: REI|Amazon|Backcountry; men's: REI|Amazon|Backcountry).
Two or three pairs of hiking trousers. You want lightweight trousers that won't be too hot for the warmer days. I like these ones from prAna (REI|Amazon|Backcountry)
Long-sleeved hiking tops. I didn't bring any of these and it was a mistake. Not only do they protect you from the sun (which is fierce at this altitude) but they can protect you from the mosquitos, too. We only really encountered these a little bit in the evening at Loreta (day three) and during the hike through the cloud forest on day four.
Headlamp. This is essential for the camps, as many of them don't have electricity. You don't want to trip over and injure yourself when going to the bathroom in the middle of the night. I recommend this one.
Camera. This hike is incredibly photogenic, so make sure you've got a couple of spare batteries for your camera. I travel with the Sony A7iii, an 18-135 lens and a spare battery.
Phone charger and adapter plug. There is electricity on days zero, three and five. I use this universal adapter plug.
A sunhat and sunglasses. Don't burn your head or hurt your eyes.
Mosquito repellent. You will want this for evenings on days three onwards and at Machu Picchu. I use Sawyer insect repellent (REI|Amazon)
Support sustainable tourism, porters' rights and female empowerment by booking the Salkantay trek with Alpaca Expeditions and get a 5% discount on the cost of the hike by using discount code WorldlyAdventurer!
Other options for hiking to Machu Picchu
Still not sure which is the right hike for you? Here's a round-up of the other treks that can get you to Machu Picchu.
The Inca trail
Length: 48 kilometres (29.8 miles)
Hiking time: Four days/three nights
Cost: From $695 USD
The best-known trek of all, the classic Inca trail is a four-day, three-night trek up and down the stone pathway of the Inca, stopping at a handful of other Inca sites before arriving at Machu Picchu at dawn on the fourth and final day through the Sun Gate.
This is the only trek that allows you to approach the site through this entrance and have the first dawn views of Machu Picchu.
Read all about the Inca trail to Machu Picchu for more information about this trek.
It's also possible to extend this trip to five days/four nights to allow you to take a slower approach to the hike (perfect if you're travelling with your kids), or do a shortened version of the Inca trail if you've got less time but still want to hike this fabled road.
You can even combine a bit of Salkantay with the Inca trail for a seven-day/six-night adventure.
The Inca Jungle trek
Length: 89 kilometres (55.30 miles)
Hiking time: Four days/three nights
Cost: From $450 USD
Keen to visit Machu Picchu but want to get your adrenaline pumping even more? The Inca Jungle trek is a route that combines mountain biking, rafting, hiking along sections of the Inca trail, and even ziplining.
It's not a trip organised by Alpaca Expeditions but there are other companies based out of Cusco who do.
The Lares trek
Length: 33 kilometres (20.5 miles)
Hiking time: Four days/three nights
Cost: From $600 USD
Perhaps the least-known of the three main treks to Machu Picchu, the Lares is another alternative route that takes you through Andean villages around the Sacred Valley, where you'll soak in natural hot springs and climb up into the mountains to a 4,680-metre (15,354-foot) pass.
Considered a little easier, slower-paced and much shorter than the Salkantay and the Inca trail, it's a good option for families, as well as those who aren't sure about their fitness levels! Alpaca Expeditions have a four-day/three-night itinerary.
The Choquequirao trek
Length: 100 kilometres (62 miles)
Hiking time: Nine days/eight nights
Cost: From $1,250 USD
For the really adventurous, the trek to Machu Picchu via Choquequirao is a truly once-in-a-lifetime experience. Taking you first to the archeological site of Choquequirao, a mountaintop series of Inca buildings that is only visited by a handful of tourists and where you can camp just beneath, you then continue to Machu Picchu, combining two of the region's finest Inca cities.
The hike has plenty of uphill to reach Choquequirao and is a long slog: 100 kilometres (62 miles) in total.
We've got information about hiking it independently in this guide to hiking to Choquequirao, while Alpaca Expeditions offer a shortened six days/five nights version of the trek.
I was a guest of Alpaca Expeditions on this tour, but the experiences, opinions and unfettered enjoyment of the trip are my very own. I don't promote tours or experiences that I don't believe to be 100% sustainable, ethical or high-quality.