Stood on top of the 1000-year-old Huaca las Ventanas (Temple of Windows), just 40km from Chiclayo in northern Peru, I feel quite the thrill. Aside from my guides, I am alone.
Every way I turn, views of other pyramids, weathered by the years, are visible from our vantage point in the middle of the Santuario Histórico Bosque de Pomac.
As I stand here, I wonder to myself: Where else in South America can you find yourself so tantalizingly alone when visiting truly ancient Pre-Colombian ruins?
Well, in northern Peru, lots of places actually.
Beyond-the-beaten-trail adventures in northern Peru
Regular readers will know that I'm not a fan of visiting destinations in high season. In fact, there are some significant places along the well-trodden South American "gringo trail" that I've avoided, mainly for the sheer volume of other tourists that I'll know I'll encounter. I've not yet made it to Machu Picchu, after all.
For as long as I've been writing Worldly Adventurer, my whole philosophy has been to approach well-known destinations with a new perspective and give my readers the tools to encounter the lesser-known ones by themselves.
At the heart of this lies a commitment to responsible travel and a desire to promote deeper and more meaningful travel experiences.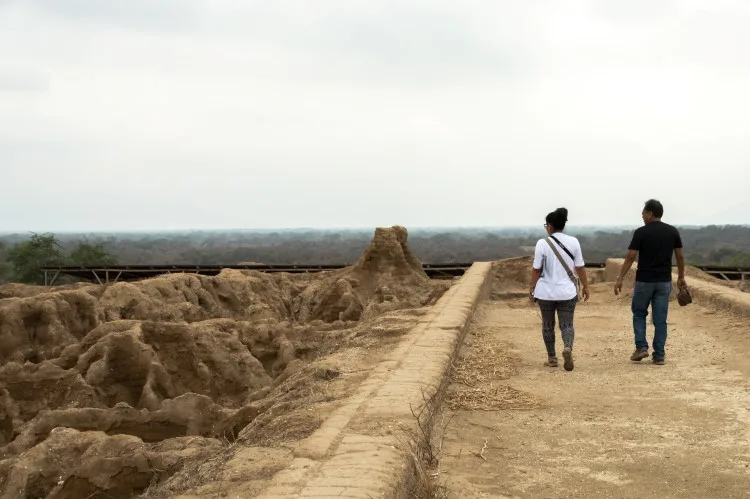 So, when Better Places Travel, a Dutch travel agency specialising in English-speaking, tailor-made tours that allow travellers to experience authentic, community-run tourism, got in contact, I knew that travelling with them on one of their northern Peru tours could only help me to see the country in a new light.
Unlike southern Peru and the cities of Cusco and Arequipa, the north feels genuinely undiscovered. Sure, there are parts that are starting to gain global recognition: the ancient stone ruins of the Kuélap fortress near Chachapoyas is an example of just one.
But outside these tiny pockets, there are many off-the-beaten-path destinations that promise an insight into a Peru that I've always felt has been hidden or completely transformed by the effects of tourism further south.
Planning Your Trip to Peru?
Save time, stress & money with a customized travel itinerary planned for you by a Peru expert

What previous clients have said:
Going to a new and exciting place is an adventure AND has its challenges. Being able to carve out an in-depth plan with someone that has been there and whom you can trust was extremely helpful.
We felt comfortable embarking on a six-week backpacking trip with kids ages 8 and 11 with Steph on our team. Her expertise and ability to hear what we wanted gave us a great jumping point for planning. Her advice and wide array of options also allowed us to be flexible. It also gave us peace of mind knowing that we had someone we could call if our plans went awry.
Every one of Steph's recommendations panned out to be incredible pieces of our trips and we would highly recommend her!
JORDAN AND KAYLEIGH
Traveled to Peru, Bolivia, Argentina and Patagonia
Community-led tourism and ancient ruins in Northern Peru
On the northern Peru tours that I took with Better Places Travel, I encountered a wealth of local people engaged in truly fascinating and successful projects.
Many were focused on ecotourism and combining community development, environmental protection and tourism in an impressive show of what can be achieved through sensitive and responsible projects.
I also explored ruins of cultures that far pre-date the Inca and about whom most tourists know little. These included the mountain-top citadel of the "Cloud Warrior" people, aka the Chachapoyas and the striking ruins of the Sicán, whose huge adobe-brick pyramids are still being excavated by archaeologists today.
And then there was the beauty of landscapes practically untouched by civilizations; vast waterfalls that rank among the highest on the planet and where there's no need to elbow other tourists out of your selfies. It was a rare treat to find myself blissfully alone.
Responsible Northern Peru tours not to miss
Thanks to Better Places Travel and my research for the 2018 Rough Guide to Peru and the Rough Guide to South America, I came away from Peru with a radically new perspective on a country that I had often dismissed as one of my least favourite places in South America.
Now, I'm on a mission to prove that there's far more to Peru than just the Inca Trail and Machu Picchu and that travelling to northern Peru guarantees a world of incomparable treasures.
Taking my latest adventures, join me as I show you my five favourite northern Peru tours that shouldn't be missed off your itinerary for Peru.
1. Exploring adobe brick pyramids in the Santuario Histórico Bosque de Pomac
Just one-hours' drive from Chiclayo in the Ferreñafe province of Peru, the Santuario Histórico Bosque de Pómac was the site of my first northern Peru tour with Better Places Travel.
A protected area home to the country's most important forest of the endangered algarrobo (white carob), it's striking in its unconventional beauty.
We hiked through the forest along some of the trails, stopping as one of the park rangers a glimpse of one of the 70 different species of birds found in the park and a remarkable type of tree whose creeper-like vines cover the rest of the forest, turning its canopy a scorched brown in summer.
I was also delighted by the number of wild cherry tomatoes you can find in the forest; much smaller than those you find in the supermarket equally delicious and available to be plucked straight from the tree.
Deeper into the forest, we came to the edge of Batán Grande, the former capital of the Lambayeque or Sicán culture, who built this mammoth city of adobe mud pyramids sometime between the eight and twelfth centuries.
Unfortunately, these structures haven't withstood the challenges of the ages very well; made from a mix of soil, straw and sometimes sand, the adobe bricks are susceptible to the weather and indeed many of the temples look more like lumps of melted chocolate ice cream than the grand structures that they must once have been.
2. Learning about the female ruler of Túcume and the Valle de los Pirámides
Just 14 kilometres from the Bosque de Pómac, the Valle de los Pirámides (Valley of the Pyramids) is a similarly impressive set of pre-Colombian ruins.
Excavation only started here as recently as 1992, but continues to this day, as the team of archeologists patiently work to uncover the secrets of the 26 pyramids located here.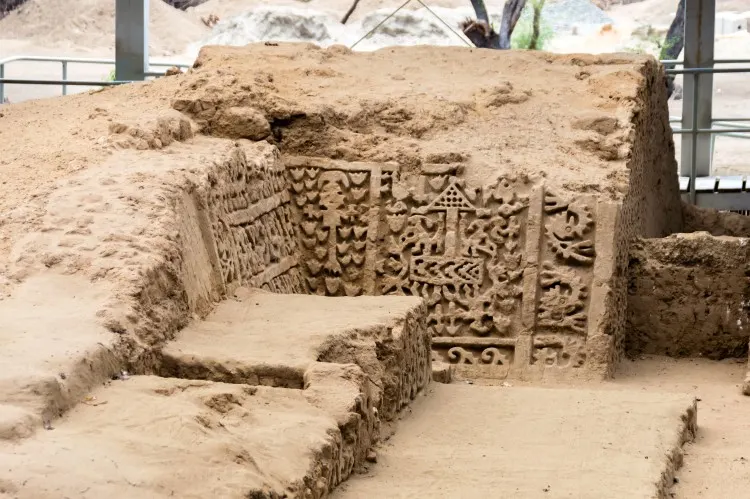 Although most visitors' attention has been historically directed towards the vast Huaca Larga (the literally named Long Temple), the largest adobe structure in South America as it covers a space the size of seven football fields, it was interesting to learn about others within the complex.
Resident archaeologist Manuel showed me around the Huaca de las Balsas, where excavation work has unearthed a surprising finding.
In this pyramid, only female remains – except for the body of one decapitated male believed to have been a sacrifice – have been dug up, leading to the hypothesis that, unlike all the others here that have yet been excavated, this pyramid was led by a female ruler.
After a day of admiring ancient temples, I enjoyed spending the night in Los Horcones de Tucume, a nearby boutique hotel built entirely from adobe brick.
It was utterly magical in its combination of slick, modern design despite being built using the most traditional of all materials and echoing the grand but yet still humble structures of the nearby pyramids.
3. Exploring stone citadels and private conservation areas
Kuélap was the archeological complex I had most been looking forward to visiting during my travels in northern Peru.
Sat astride a mountain overlooking the Utcabamba Valley, Kuélap is a fortress built by the Chachapoyas (or, as they're known in many articles published about them, the "Cloud Warriors").
Until last year, you could only get there by a 90-minute nauseating bus journey from the bottom of the mountain or a gruelling four-hour hike.
Now, it's a breezy 20-minute cable car journey up to the ticket office and then a ten-minute walk (or horse ride if you're feeling lazy).
I'll admit to having been slightly disappointed by the number of people who were wandering the ruins; at two hundred or so people, it was more than I'd anticipated. I was told that, in fact, this was nothing: in June and July, visitor numbers reach up to 1800 people.
But it's still a truly magical place and while the ruins are being steadily restored (an unfortunate feature of Peruvian archeological protection that is very visible at Machu Picchu), it still feels very authentic and abandoned. I was also delighted to hear about the holes built beneath the floors of the circular stone dwellings where people stored the mummies of their ancestors!
After visiting these striking ruins, I spent a morning at Milpuj, a nearby private conservation area run by the energetic Lola and son Perico.
The perfect hosts, they showed me around their guest rooms and along the short series of trails that they've carved into the forest, and where it's possible to see everything from the native species of cat, the colocolo, that was used in the iconography of the Chachapoyas, to bromeliads filled with previously undiscovered species of frogs.
4. Hiking without the crowds to Gocta and Yumbilla Falls
Like my experiences in the Bosque de Pomac, Yumbilla Falls, an hour's drive from Chachapoyas to the trailhead and then an hour's hike, was blissfully free of other tourists.
As I wandered the trail, accompanied by my guide from the local tourism association, we passed perhaps five other tourists and at the base of what is considered one of the highest falls in the world (although there's admittedly much debate on this matter), there was no one else.
It's a slightly different story in Cocachimba, the village closest to the base of Gocta Falls.
From the main road that cuts through the valley from Chachapoyas, you turn off up a steep gravel road that winds up, up and up, surrounded on all angles by cloud forest before suddenly you arrive at the village and you finally catch sight of Gocta: a jagged slice of water that has carved its way through the dense green of the trees before emerging in a swift gush.
I'll admit I didn't get a chance to hike to its base (a two-hour walk through the forest); instead, I visited Gocta Natura, a truly stunning boutique hotel with quite astounding views of the falls from the terraces of each cabin and the balcony of the main house.
All are tucked away into the forest that owners Rocio and Augusto have been replanting as part of their environmental work with the local community.
5. Making pottery in the jungle-fringe city of Tarapoto
The final of my northern Peru tours with Better Places Travel took me to Tarapoto, a city eight hours by bus east of Chachapoyas and clinging defiantly to the edges of the Amazon.
It felt very similar to the jungle towns I'd visited in Bolivia; motor taxis were practically the only traffic that squealed through the sticky streets and it was hard work walking during the day because of the fierce heat of the sun and the sweltering humidity.
I was picked up by a motor taxi and whisked thirty minutes away to Chirapa Manta, a cosy yoga lodge located on the outskirts of tiny San Roque de Cumbaza. At night, separated from the outside by an insect screen, I could hear the roar of the river close by and the chattering of the insects beyond.
The next day, I visited the home of Doña Petrona. An indigenous woman and Quechua native speaker, she now opens up her home to visitors for pottery lessons.
My class involved learning about the type of clay you need to use (apparently there's a particular spot close to the river where you find the best kind) and how it needs stamping thoroughly underfoot to combine the clay and the shaño (the gritty dust of old, ground pottery that helps give the clay extra strength).
As we worked, she talked about her life and how she's the final woman in the village who knows how to make pottery using this traditional method; without tourists coming to visit, the art would most likely already have died.
I was a guest of Better Places Travel and – as ever – my opinions of the northern Peru tours that I took are my own.
Found this article about responsible northern Peru tours useful? Pin it to share it with other responsible travellers!