In a remote corner of the northern Peruvian Andes lies Chachapoyas, a region steeped in an ancient culture unlike any other you'll find in the country.
Whether you want to explore unusual and pristine ruins, hike through lush forest to one of the highest waterfalls in the world or climb along cliffs to witness ancient tombs clinging to the rocks, Chachapoyas, a town well off the beaten track, is possibly the most adventurous place you'll visit in Peru.
Where is Chachapoyas?
Tucked into the cloud forest of the Amazonas Region, 650 kilometres northeast of Lima, Chachapoyas is a small town that's rising out of obscurity to become a firm spot on the tourist circuit.
The region is named for the Chachapoya civilization, a people known as the Cloud Warriors or Cloud People of Peru, because they lived in the cloud forest of the northern Peruvian Andes.
The of life of the Chachapoya people was completely different to all other Peruvian cultures and their old homeland has grown in popularity among tourists because of the variety and beauty of what lies in the surrounding hills.
Chachapoyas is a place of adventure, where there is still a lot to discover in the thick forests of the area. The town itself is quiet and inviting, with lots of restaurants, a big market, sidewalks paved with fossils and squares thronging with life.
However, visiting the attractions beyond the town and into the surrounding valleys requires a number of day trips, so it's definitely worth adding a good few days in Chachapoyas to your Peru travel itinerary in order to fully experience the region.
What to do in and around Chachapoyas
1. Kuelap
Part fortress, part city, Kuelap was the Chachapoya's stronghold in the mountains.
Not only was it was built centuries before better-known Machu Picchu, it's home to the largest ancient stone structure in the Americas, thanks to its enormous, 20-metre-high defensive wall that still protects it to this day.
Surrounded by superlative mountain scenery, this site's popularity is growing rapidly, and it's since been dubbed the "Machu Picchu of northern Peru" because of its lofty hilltop position and its appeal to visitors.
Built between 500 and 800 A.D., this fortified city was occupied until 1470, when they were conquered by their southern neighbours, the Inca.
What you'll notice when visiting the site is how distinctive the architecture of Kuélap is when compared with other pre-Colombian Peruvian civilizations.
One of its most striking features is its round houses, around 420 of which remain, with just a handful decorated externally with zigzag patterns, likely indicating that they belonged to nobility.
Something else that sets the houses of Kuelap apart is that most contained two or three graves. Slightly terrifyingly, mummies were buried in one-metre-wide holes, effectively beneath the floorboards of the house, and then covered with a large stone.
Death was a very important part of the Chachapoya culture and if it sparks your curiosity, be sure to investigate the Sarcophagi of Karajia and Mausoleums of Revash (see below).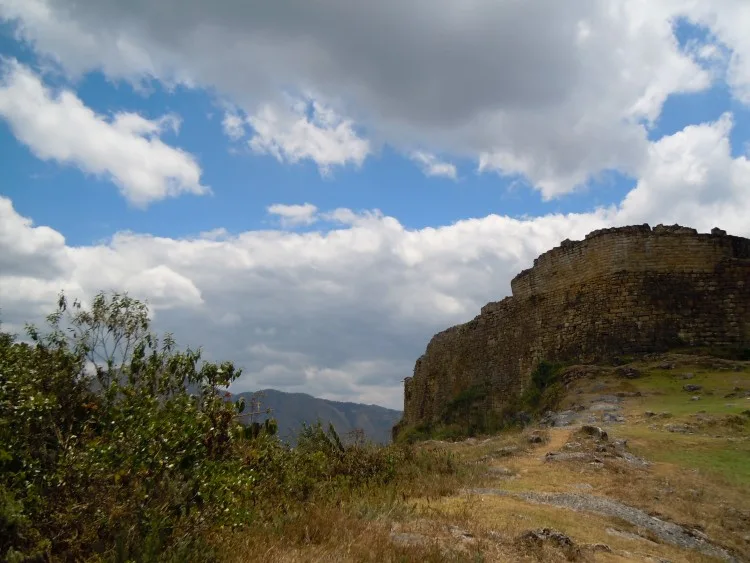 Unlike Machu Picchu, the site has not faced any substantial restoration, and it remains in the same state it has been for the past 500 years, with the orchids and bromeliads still growing wild amongst the ruins.
Because of this, and the variety of structures, unusual history and the valley views make this archaeological site an absolute must see in northern Peru.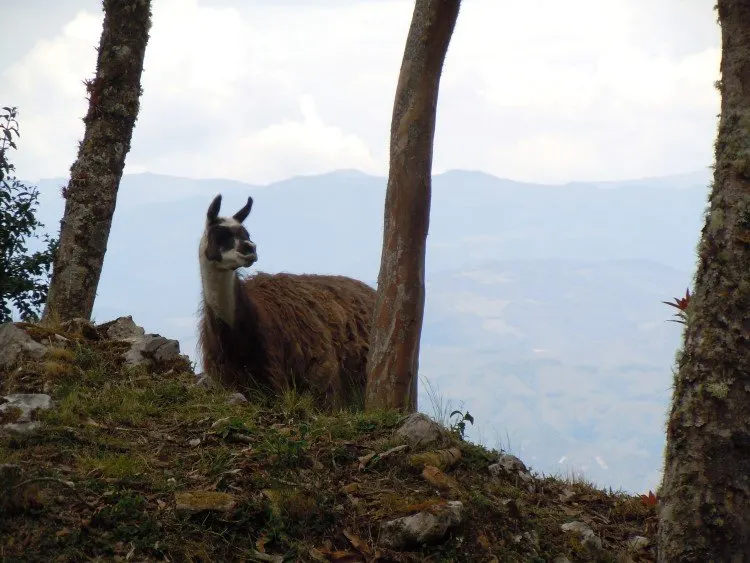 How to get to Kuelap
It takes about three hours to drive from Chachapoyas, but this route is becoming very uncommon since the construction of a cable car in 2017.
An hour' drive from Chachapoyas is the cable car station in Tingo Nuevo (buses from the terminal in Chachapoyas can get you here), from where a 20-minute ride takes you up the mountain to the entrance to Kuelap, granting you views down the valley as you soar through the air.
However you arrive, you will reach La Malca, the entrance to Kuelap. Site entry costs S/20 ($6) and you have to walk the two and a half kilometres up to where the city sits at the apex of the mountain.
There are horses available for those who can't make it, but the walk helps you appreciate why it took the Incas so long to conquer this ancient fortress.
Planning Your Trip to Peru?
Save time, stress & money with a customized travel itinerary planned for you by a Peru expert

2. Gocta Waterfalls
Your first impression of Gocta Waterfalls does little to persuade you that you're not dreaming.
In fact, it looks like something straight out of a Jurrassic Park movie, with lush green forest clinging to the rocks that line a gushing, two0tiered waterfall, which cascades some 700 metres to the ground from the mountains above.
This experience helps you to understand how Stefan Ziemendorff, a German researcher out looking for sarcophagi in the jungle, felt when he "discovered" the falls in 2002, thus opening them up to international tourism.
Of course, the locals full-well knew they were there, but a series of superstitions surrounding their existence had prevented the locals from going anywhere near them.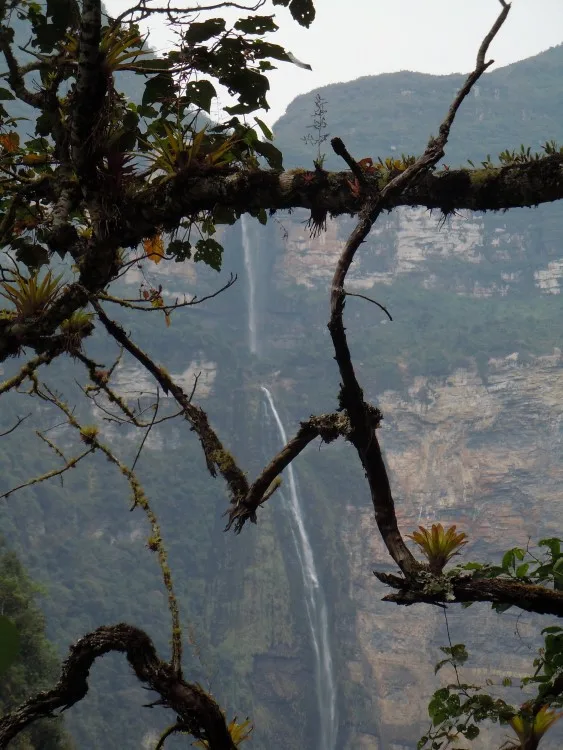 The falls are said to be 771 metres tall, but this is disputed by many who claim Ziemendorff did not measure them correctly. This height makes them the third highest falls in the world, but some sources put them fifth, or even as far down as fifteenth. However tall they are exactly, they are an awe-inspiring sight and definitely worth the trip.
Route options for hiking to Gocta Falls
The waterfalls are only accessible by hiking two hours each way through cloud forest, but with a variety of endemic fauna and flora, including the emblematic Andean Cock of the Rock, a startlingly red-hued bird endemic to South America, you're sure to be enthralled the entire way.
There are two route options, each of which start about an hour's drive from Chachapoyas.
From Cocachimba, six kilometres from the falls:
The first, and more common, option is from the village of Cocachimba, which takes you to the bottom of the falls. Here a fee of S/10 ($3 USD) is charged to start the trail. On this path you will walk through cloud forest and arrive at the base of the falls, where the water has fallen so far that it hits the ground as a mist.
The wind created by the water falling from so high can force you to stoop into it and leaves having a quick swim at the bottom perilous and freezing but refreshing after the humid forest.
In Cocachimba, there are two great accommodation options, depending on your budget:
Gallito de las Rocas (double room with view of the falls S/79 ($24 USD)) is a very simple guesthouse but the owners are superbly friendly, can organise a great evening meal and, make sure you get the double facing back towards the falls as the views are spectacular.
In a very different price bracket, Gocta Natura (double cabin with terrace and all meals S/890 ($270 USD)) is an absolute slice of paradise just below the village. All of its five boutique cabins have terraces from where you can see Gocta Falls and the owners, Rocio and Augusto run various conservation projects in the area that you can learn about and potentially visit, too.
From San Pablo, five kilometres from the falls:
The second option is from the village of San Pablo which takes you to the first level of the waterfall and passes some rock art. This trail is less common and usually quieter, but you don't get the full experience of looking up at the true length of it.
There is a steep trail down to the bottom level, so you can return via the second route to Cocachimba, making the whole route about 17 kilometres.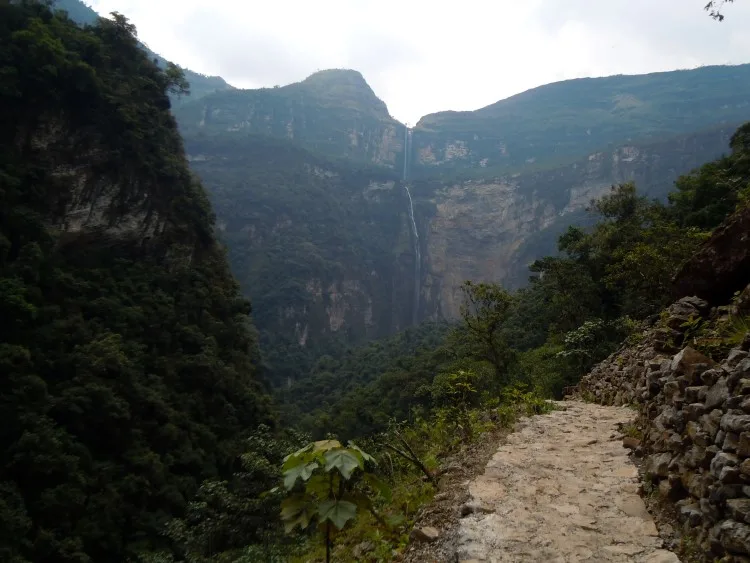 There is the possibility of horse hire in Cocachimba for around S/40 ($12 USD). Bear in mind that the horses do not go all the way up and you will still need to walk about 40 minutes on your own.
How to get to Gocta Falls
As with most places in northern Peru, there are no direct collectivos. If you are heading to Cocachimba, you will need to take a collectivo to Pedro Ruiz and get off in the small village of Cocahuayco. From here, take a moto taxi up the winding uphill road. Otherwise take a collectivo to San Pablo for the alternative route.
There are many tours that go to Gocta, but a guide is not really necessary as the trails are well-marked.
3. Yumbilla Waterfalls
While Gocta waterfall is better known, nearby Yumbilla Falls are actually a touch taller and can stake the claim as having evaded discovery for even longer, being "found" in only 2007.
Measuring in at a height of 895.4 metres, they should be considered the fifth tallest on the planet, but dispute reigns thanks to the fact that they are made up of three distinct tiers and actually run dry in the outside of rainy season.
Either way, the hike through the lush cloud forest is beautiful and you even pass two other, smaller falls, Cristal and Medio Cerro, just a couple of the 22 spectacular waterfalls in the valley.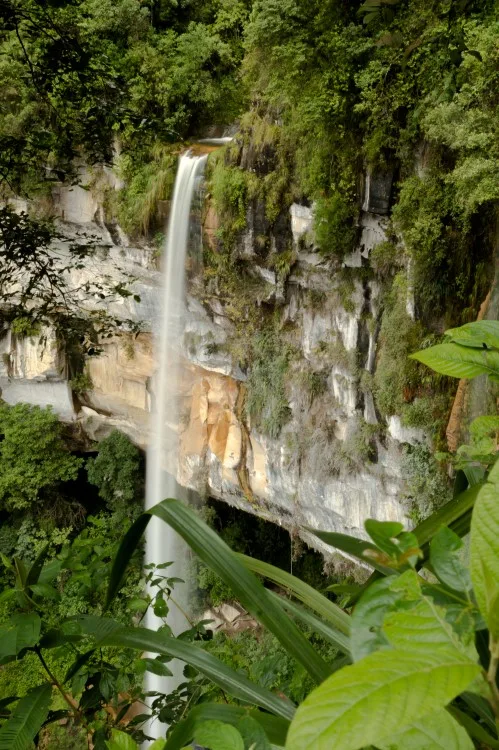 The forest is thick and teaming with life and has been practically untouched by mankind by mankind. Keep an eye out for the animals lurking in the undergrowth and up above in the forest canopy, as monkeys and endemic birds species inhabit this pristine environment.
There are two options for hiking to the falls. The standard route means you return on the same path and takes about three and a half to four hours. An alternative is a loop path and guides will charge extra to take you on the alternative route, which takes you both above and below the Cristal falls.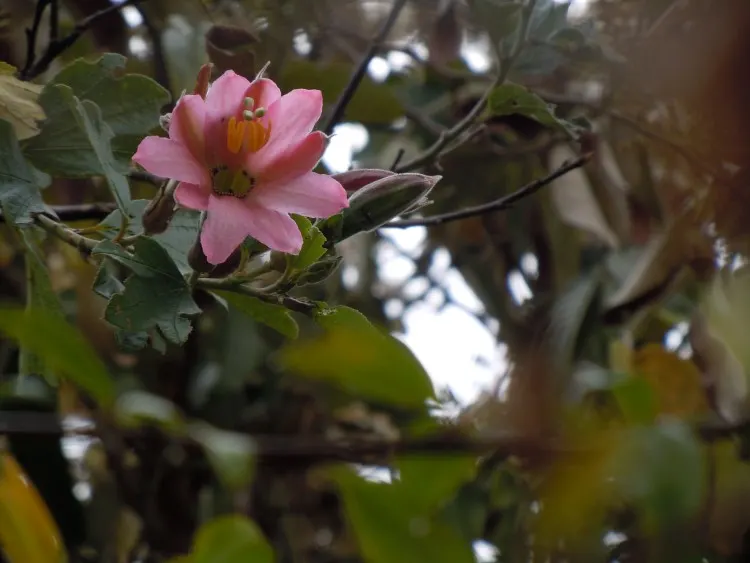 Some tours also do canyoning in a variety of falls as part of the day trip, if you are looking for a little more adventure in your outing.
How to get to Yumbilla Falls
Directly, Cuispes is just over an hour by car but to get there by colectivo, you first have to go to Pedro Ruiz, and from there take a moto-taxi the last eight kilometers to Cuispes; ask to go to Plaza del Armas where you can ask the tourist information centre about the path. The ticket will cost you S/10 ($3) and you can get a guide for around S/30 ($9 USD) (however most of the guides are not licensed).
4. Sarcophagi of Karajia
On a cliff, in a treacherous ravine, six sarcophagi stare wide-eyed out at the world. They are a relic of the Chachapoya culture, elaborately decorated clay coffins that were used to bury important individuals when they died.
Due to their precarious positioning on a cliff edge, not only did the sarcophagi of Karajia guarantee closer proximity to the sky and the gods for their inhabitants, but they have escaped the looting of centuries past to which many ancient relics have been lost.
At two and a half meters tall, they were built from a bamboo structured covered in mud and straw and their large flat faces represent funerary masks, although they certainly share some similarities with the moai of Easter Island.
The lower parts of these clay monoliths were decorated with geometric patterns in red paint, while inside each structure was a mummy in the fetal position.
Two of the sarcophagi are decorated with skulls, and archaeologists say that all of those buried here were likely fierce warriors, but all of the mummies must have belonged to the upper classes of the Chachapoya, as only the most important dignitaries received this privilege.
How to get to the Sarcophagi of Karajia
If you want to visit this site, there are many tours leaving from Chachapoyas. If you want to do it alone, take a collective to Luya and then from there to Cruz Pata.
The start of the trail is about one and a half hours' drive from Chachapoyas and the entrance fee is S/5 ($1.6). You will need to walk about 20 – 30 minutes to arrive at the bottom of the cliff from where you can observe the sarcophagi from a distance. You will, however still be close enough to admire them fully.
The hike back out of the ravine is more strenuous but manageable with good shoes and a moderate fitness level.
5. Mausoleums of Revash
South of Chachapoyas, another striking sight awaits from a cliff face. Small mud houses, built side by side in a cave on the edge of a mountain, mark the Mausoleums of Revash.
Much like the sarcophagi of Karajia, they were the final resting places of eceased Chachapoya, who went to great lengths (and scaled even greater heights!) to ensure that they sufficiently honoured their dead.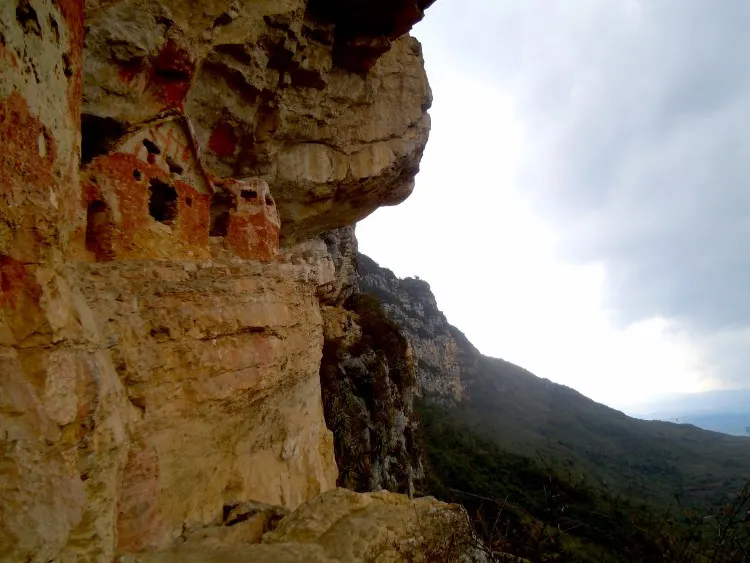 You'll notice that, while they all look house-shaped, there is a large degree of variety when it comes to their shape and size, as they were built to fit the available space. Some have multiple floors, but all have side entrances to allow access from the cliff face.
Made from stone and clay, the houses are decorated with red paint, which was made from the seeds of the achiote fruit. The paintings range from geometric to organic forms, with some recognisable shapes being llamas and the Andean cross (a symbol often associated with power and war, and therefore death).
The precarious positioning and uniqueness of these tombs are quite spectacular. Scrabbling along the cliff face to get a closer look feels like an adventure and you can almost imagine just discovering them on your own.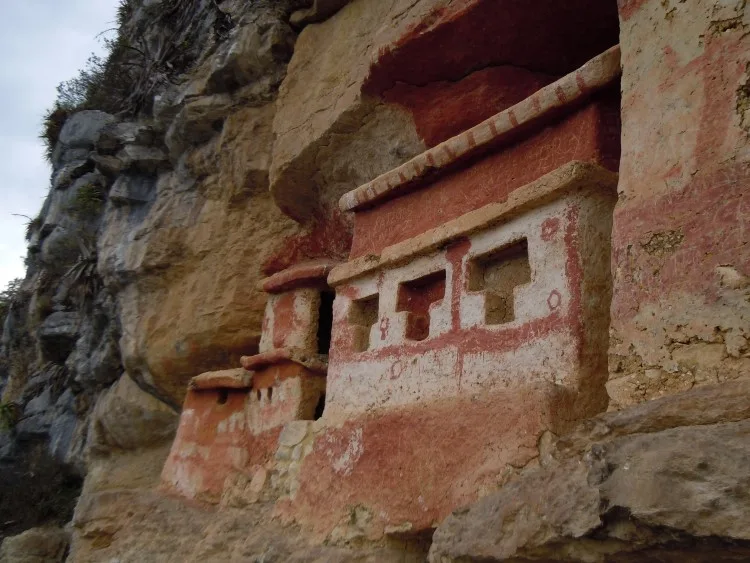 How to get to the Mausoleums of Ravash
It takes about an hour and a half by bus from Chachapoyas to San Bartolo. The entrance fee is paid in the town and costs S/10 ($3) and a further S/25 ($6.5) if you're not on a tour and would like a guide.
From the town of San Bartolo, you walk one and a half kilometres along a stone path until you reach the cliff face. There are paths on the cliff to allow closer looks but are only recommended for people with good balance and strong fitness levels.
6. Leymebamba and its striking museum
Picturesque Leymebamba lies just a few hours' drive from Chachapoyas. And while the town, with its cobbled main square and pretty stone houses is lovely in its own right, the real draw here is the local museum, the Museo de Leymebamba, which houses one of the region's most spectacular archeological finds.
Most of the treasures in the museum come from the excavation of the Laguna de los Cóndores burial site, where the 219 mummies now on display in the museum were discovered in 1996.
They are kept in a dark, temperature-controlled room, but you can peer through a glass window to see their remarkable start of preservation despite the six centuries since they were buried, and you'll either be delighted – or troubled – to discover that many still have eyes, which have been exposed by the movement of their original wrappings.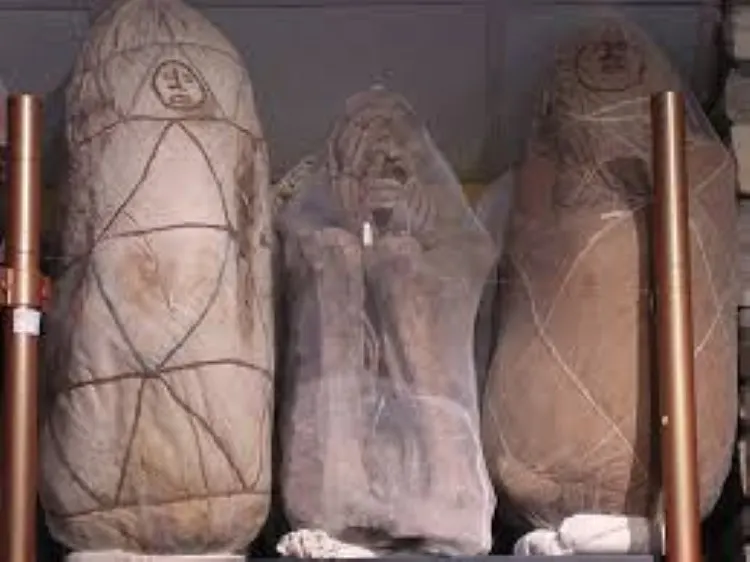 Ultimately, if you're planning on visiting the Mausoleums of Revash or the Sarcophagi of Karajia, definitely include the Museo de Leymebamba in your plans to gain a deeper understanding of the region and its former people.
How to get to the Museo de Leymebamba
Tours from Chachapoyas to the museum are usually combined with visiting Mausoleums of Revash to make the long drive more worthwhile. If you don't take a tour, there are collectivos to Leymembamba, but you will probably need to spend the night as it is a long trip and most of the collectivos leave later in the day.
A recommended place to stay in Leymebamba is La Casona de Leymebamba (double bedroom S/230 ($70 USD)) is cosy, if a little basic and set in an old colonial-style house with a pretty patio and gardens. The owners speak very little English and can help to organise the trek to the Laguna de los Cóndores burial site, Revash and other nearby hikes.
The entrance fee is S/15 ($4.5) and is paid to at the entrance of the museum.
How to get to Chachapoyas
Chachapoyas is certainly not one of Peru's easiest towns to reach, but transport here is all part of the adventure.
From Lima, it's possible to fly directly to the Aeropuerto de Chachapoyas, five kilometers from town, with ATSA Airlines, who fly three times weekly (Check out our review of Selina for your guide as to where to stay in Lima).
You can also fly from Lima to the Aeropuerto de Jaen, a four-hour bus journey from Chachpoyas daily with LATAM.
Overnight buses from Lima (22 hours), Trujillo (12 hours) and Chiclayo (nine hours) are also possible; Movil Tours are the most recommended for the quality of the service and their safety record.
The final option is by minibus from Cajamarca, but this is only recommended during the day; the route covers high-altitude passes and mostly one-lane-only roads, making it spectacular but certainly not for the fainthearted, particularly as drivers are known to take them at breakneck speeds (literally).
The company Virgen del Carmen depart at 5am and 5pm from Cajamarca but the day-time journey is the only one I'd recommend as I've heard stories of drunk drivers for the overnight trip.
Where to eat, drink and stay in Chachapoyas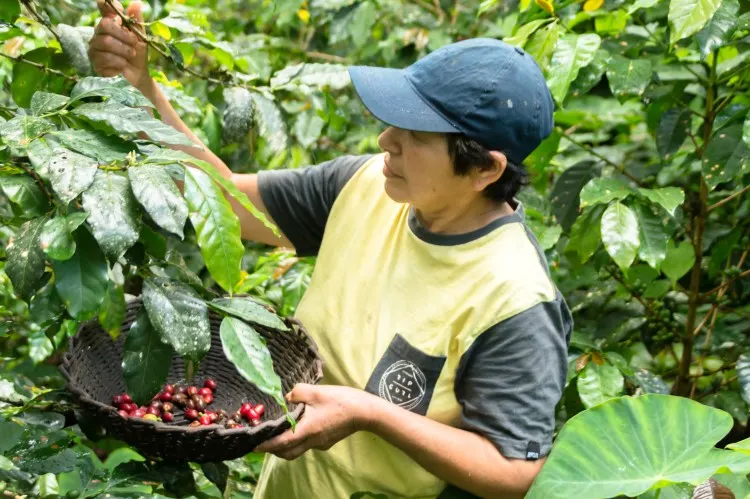 The best restaurants in Chachapoyas
Cafe Fusiones (Ayacucho 952) is easily the best restaurant in the town and it specialises in organic, nutritious food (something you may well be craving after a few weeks in Peru!) and really fresh, and delicious, fruit juices. They also sell fair trade, local coffee, which is grown by a coffee collective in nearby Rodriguez de Mendoza.
El Batán de Tayta (La Merced 604) is also worth a visit if you're on a bigger budget. It's all a bit bonkers (the corridor as you walk in is daubed with messages from previous customers) and the food is Peruvian cuisine as you've never seen it before – with really innovative dishes and great pisco sours.
Where to drink in Chachapoyas
Although you'll likely be after an early night if you plan on visiting any of the sights, Licores La Reina (Ayacucho 544) is a wonderfully Peruvian experience. It's basically a huge bar, with an outdoor courtyard, blaring music and potent macerado (cane sugar aguardiente infused with fruit) that they make somewhere in the back. They sell the drink in shot glasses for a reason!
Where to stay in Chachapoyas
Budget accommodation in Chachapoyas
The best budget option in town is Chachapoyas International (dorm S/18 ($5.5 USD) and double (S/40 ($12 USD)), which has well-sized rooms and a decent kitchen if you're looking to self-cater. The staff are very friendly and know the area well.
Mid-range accommodation in Chachapoyas
Set in a quiet colonial mansion just one block from the Plaza de Armas, La Casona de Chachapoyas (double S/190 ($58 USD)) has large rooms set around a flower-studded central courtyard with comfy beds and a good breakfast.
High-end accommodation in Chachapoyas
The most luxurious lodgings in Chachapoyas are La Xalca Hotel (S/330 ($100 USD)), another colonial mansion with large, antique-furniture decorated bedrooms, some of which have pretty balconies overlooking the central courtyard and an extensive breakfast buffet. If you're visiting in winter, ask for a room with carpet, not tiles.
Pin this article for later: