Move over the Grand Canyon: there's a much more impressive canyon in town. Peru's Colca Canyon is the world's second deepest, measuring in at around 3,400m at its deepest point – twice as deep as the Grand Canyon.
Epic it most certainly is, and a hike into the depths of this colossal fissure is fascinating – and physically challenging – experience. The landscape here is remarkably diverse and offers new perspectives at each turn of the trail. You'll hike from the terraced farmlands on the rim of the canyon down into a sparkling oasis at its heart as condors soar above.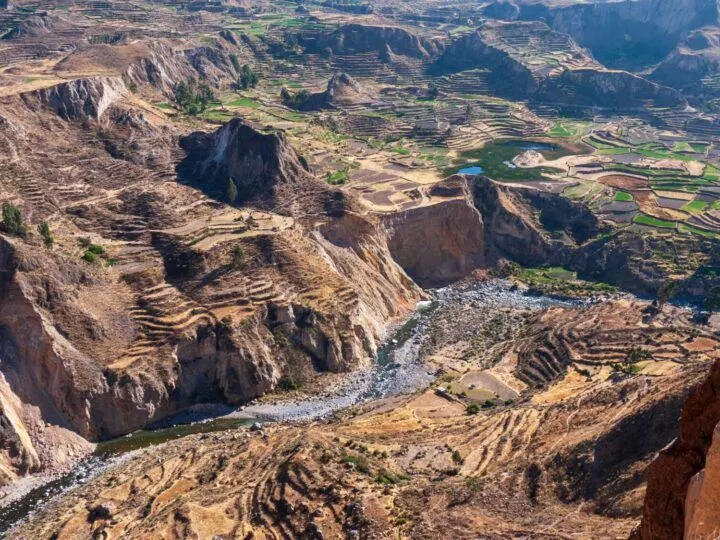 Unlike the far more famous Inca Trail trek to Machu Picchu, the Colca Canyon hike doesn't have an official start or end point, with various different routes to choose from. Due to the sheer number of potential paths, it's nearly impossible to discuss all the available options, but all of them generally share one thing in common: they start with a long, winding path down towards the oasis – a place of lush vegetation and refreshing pools – at the bottom of the canyon and end with a challenging climb back out again.
Ready to hike? Before you do, this nuts-and-bolts guide will talk you through routes spanning one day to three days, as well as bus timetables, a recommended accommodation, packing list and pre-departure considerations to ensure you put your best foot forward. Here's how to hike Peru's spectacular Colca Canyon.
Preparing to hike the Colca Canyon
Before we begin, it's worth understanding a little more about treks in the Colca Canyon. While the going here is tough, it's very rewarding, although you'll definitely want to be prepared before you leave.
1. How long does it take to visit the Colca Canyon?
It really depends on how much time you have and how you'd like to explore the canyon. Most travellers choose to do the two-day Colca Canyon hike – one night in the oasis – which involves an early morning bus from Arequipa on day one. Alternatively, the three-day/two-night trek gives you a chance to explore more of the canyon's epic scenery.
With that said, you can also do the one-day hike without an overnight stay in the oasis. This option is, of course, one of the most challenging as you don't have much time to rest and day tours start at 4am from Arequipa. For inexperienced and beginner hikers, we recommend signing up with a Colca Canyon private tour if a one-day trip is what you prefer. A private guide will arrange your transport and meals and ensure you don't get behind schedule and drop you back at your accommodation in Arequipa at the end of a long but .
Planning Your Trip to Peru?
Save time, stress & money with a customized travel itinerary planned for you by a Peru expert
What previous clients have said:
Going to a new and exciting place is an adventure AND has its challenges. Being able to carve out an in-depth plan with someone that has been there and whom you can trust was extremely helpful.
We felt comfortable embarking on a six-week backpacking trip with kids ages 8 and 11 with Steph on our team. Her expertise and ability to hear what we wanted gave us a great jumping point for planning. Her advice and wide array of options also allowed us to be flexible. It also gave us peace of mind knowing that we had someone we could call if our plans went awry.
Every one of Steph's recommendations panned out to be incredible pieces of our trips and we would highly recommend her!
JORDAN AND KAYLEIGH
Traveled to Peru, Bolivia, Argentina and Patagonia
2. Where does the trek into the Colca Canyon start?
The Colca Canyon trek does not have a specific starting point, as there are a variety of different routes and trailheads, depending on how far you wish to hike (see our Colca Canyon map above for more details). However, the common starting points are located in Cabanaconde. The most popular one is located north of Plaza de Armas, which leads straight to Sangalle.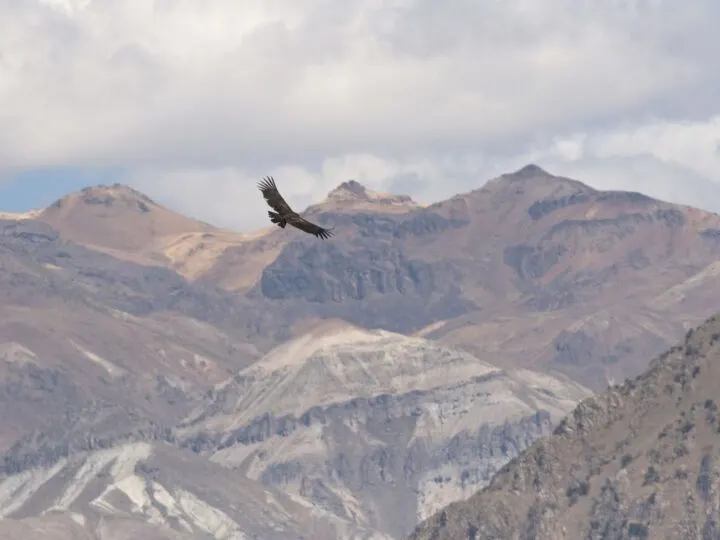 Another starting point in Cabanaconde is located west of the Plaza de Armas. This one leads to Llahuar, through the western loop of the oasis. The other starting point, Mirador de San Miguel, is located a 30-minute walk from the town.
3. When is the best time to do the Colca Canyon trek?
April and May are the best months to visit the Colca Canyon as the valley turns green following the seasonal rains but the mountains are still capped with snow. That said, the Colca Canyon weather is generally warm and dry all year long – except for January through March when it rains almost every day. Because of the elevation, nights can be cold, especially if it's been cloudy during the day.
Low pollution levels in the desert region mean a clear night sky. If you can time your trip, visit during the new moon in April or May. The views at night are majestic!
To know more about Peru and its weather conditions, read our guide on the best time to visit Peru next.
4. How fit do I need to be?
Overall, the Colca Canyon trek is challenging, whichever path you choose. Even though the hike down may be easy, you still need to hike your way out of the canyon and, with Sangalle sitting at 2,100 metres of elevation and Cabanaconde at 3,300 metres, you're facing the effects of altitude, too.
Another thing to consider is that it's a high desert region where the sun is pretty intense, and there are not many trees to offer shade. Moreover, the paths are mostly dusty with small, loose rocks, which is physically demanding.
You don't need to be super fit to do the Colca Canyon hike. But it's definitely not for a first-timer or anyone with mobility issues. Since there's no place to spend the nights other than in Cabanaconde or in the villages within the canyon, once you start your hike, there's no stopping. So, good cardio, strong legs, and a sense of determination are a must.
5. How much does it cost to hike in the Colca Canyon?
If you travel on your own and without taking an organised Colca Canyon tour, the hike itself is free. All you need to budget for is transport, food, and accommodation. On a non-guided three-day/two-night hike, you can exect to spend around $150 USD for two people in a double room. This cost includes a private room (one night each in Llahuar and Sangalle), colectivo fares from and to Arequipa, plus meals at the lodgings.
Signing up with tours may cost less as they put you up in dorm accommodation, while prices of Colca Canyon private tours vary – from $30 USD to $100 USD per person per day – depending on what the operator provides.
6. Do I need to take a tour or can I hike the Colca Canyon treks alone?
Not necessarily. With our Colca Canyon map, you can choose the route you like and hike without a tour or a guide. Besides, the locals are helpful when you ask them for directions. With that said, joining one helps avoid any unpleasant surprises such as missing the last bus!
Colca Canyon tour options
The most common options to trek the Colca Canyon are one day, two days, and three-days/two-nights trips. The Colca Canyon day trip will take you straight to Sangalle in the oasis, where you can have a short lunch break before going back up to Cabanaconde. If this is what you prefer, it's best to have a guide with you.
With a guide, you'll stay on track, which is important to make sure you get back safely and on time. Besides, you'll have everything prearranged for you in the oasis.
Remember that Sangalle is not really a town as such, more of a spot to rest in the oasis. Even though it's often visited by tourists, there are no restaurants or shops with walk-in services. Instead, you tend to request and eat all of your meals at your accommodation, so if you're hiking for just the day, you might struggle to find somewhere to eat.
Paying for a guided tour is a good choice if you're on a day trip as your meal will be ready, made according to your preferences!
---
Colca Canyon packing list
The weather in the Colca Canyon makes it a little tricky when it comes to what to pack and what to wear. Though the temperature in the oasis stays around 15oC (59oF) during the day, it's pretty hot in Cabanaconde, especially when you hike under the sun. So, wear something you can sweat in, but bring a jacket or an extra layer in case the sun decides to hide behind the cloud.
Sunblock and a hat. The sun can be pretty intense even at seven o'clock in the morning! Put on sunblock before your hike and keep your head protected under a wide-brimmed hat.
Insect repellent. Especially in the oasis, there will be insects wherever you go. Protect yourself with insect repellent that lasts a long time, so you don't have to constantly stop to re-apply. Something like Sawyer's insect repellent is great; put it on right before your hike, and it will protect you for up to eight hours.
A trekking pole. Hiking down thousands of metres of the Colca Canyon elevation towards the oasis can be challenging. A trekking pole (or even a pair of them) helps prevent you from losing your balance and slipping down.
A raincoat. Even if it's not the rainy season (December through March), there's still a chance of drizzle. We recommend Patagonia's Storm 10 (find it on Backcountry|Patagonia|Amazon), a lightweight, highly waterproof and durable raincoat.
One litre of water for every three hours of your hike (and more for the climb!). Having a sip of water every now and then during your trek is vital. The intense sun combined with the dryness of the high desert region means more effort is required to stay hydrated. Note that you cannot drink the tap water in the Colca Canyon and the water in the river is likely contaminated by mining waste. The only chance you'll have to restock is to buy bottled water at your lodging or small shops you'll find in the villages.
Snacks. Some parts of the trek, especially between Cabanaconde and Llahuar, have no shops in between. To stop you running on empty, pack protein bars, energy drinks, and other types of sustenance that help curb your hunger while providing you extra energy.
Warm clothes. Even though it's not winter, nights in the oasis can get below freezing. Pack a jacket and nice warm socks to help you sleep better. You'll need your zs before a challenging hike the next day!
---
Colca Canyon hiking routes
Now you're fully prepared for the trek, it's time to plan your route. When it comes to choosing your Colca Canyon hiking route, you've got a wealth of options. Typically, you can opt to hike one route into the canyon (to one of the three settlements in the oasis at the bottom) and return the same way, or hike a full loop into and then around around the canyon (taking a circuit that heads east or west).
To help you decide, we've focused on three routes which differ according to their difficulty, the majesty of their scenery and the terrain they cross. The durations given are how long we would recommend in order for you to hike comfortable and have time to enjoy some relaxation when you arrive at the oasis towns for the evening. And if you're feeling like you need an extra day of rest before embarking on the steep climb out, you can always extend any one of these routes by including an additional night staying at the oasis.
Please note, hiking times have been calculated based on being fit, healthy and having experience of hiking, and they don't include rest or stop times, so be sure to build these into your hiking plans.
Colca Canyon route maps
To help you understand the different routes, each has been marked onto this map.
These include the following:
Red: Cabanaconde – Sangalle – Cabanaconde (one day; 9.2 kilometres; challenging)
Purple and red: Cabanaconde – San Juan de Chuccho – Sangalle – Cabanaconde (or viceversa) (two days; 17 kilometres; challenging)
Yellow, orange and red: Cabanaconde – Llahuar – Sangalle – Cabanaconde (or viceversa) (three days; 29.6 kilometres; very challenging).
One-day hike: Cabanaconde – Sangalle – Cabanaconde (Red)
Duration: 9.2 kilometres (5.7 miles); 7 hours
Difficulty: Challenging
Starting point: Cabanaconde (north of Plaza de Armas at the end of GrauStreet. From there, follow the arrows through the local farmland)
Ending point: The same as the starting point
Only have one day to do the Colca Canyon trek? This is the route for you. The most popular path as it leads directly down into the oasis, it follows an extremely steep and rocky, 4.6-kilometre descent into the depths of the canyon. You'll need three hours to go down and four hours to hike the same route back out.
To avoid the crowds – and give yourself plenty of time to complete the trek – take the earliest colectivo (at 4am) from Arequipa. You'll arrive around 8am-9am in Cabanaconde. A better option is to spend the night before in Cabanaconde, which will allow you to start earlier and reach the cool waters of the oasis sooner – giving you more time to relax in Sangalle. For that, La Casa de Santiago – located right at the trailhead – is an excellent choice of accommodation.
If you're worried about fitness levels or time and can't face the hike, there is another option: riding a mule to go back out to Cabanaconde! Rent one for around S/70 (around $17 USD), and, as it leaves Sangalle at five in the morning, you'll need to arrange the ride with your lodging host the previous day. Note that it's still a challenging ride up and out of Colca Canyon, so we don't recommend it if you've never tried non-guided horseback riding before.
Two days and one night: Cabanaconde – San Juan de Chuccho – Sangalle – Cabanaconde (or viceversa)
Duration: 17 kilometres (10.5 miles); two days
Difficulty: Challenging
Starting point: Mirador de San Miguel or (30 minutes walking distance from Cabanaconde)
Ending point: Cabanaconde (north of Plaza de Armas)
Day one: Cabanaconde – San Juan de Chuccho – Sangalle (Purple); 12.5 kilometres (7.8 miles); 7 hours
This loop takes you out east to explore the a more remote part of the canyon compared to the one-day hike itinerary above. Though it takes more time and effort to get to the oasis, it's more enjoyable as the views of the canyon are magnificent and you've got more time to appreciate them rather spending the entire time watching your footing as you descend.
Day one is the most demanding on this two-day Colca Canyon hike. Unlike the other two routes, the starting point is located around two kilometres outside of Cabanaconde. From there, it's a winding, seven-kilometre, five-hour path down towards San Juan de Chuccho, a cluster of houses nestled into the canyon's eastern flank.
Stop here for lunch at one of its small restaurants – although many remain closed due to the pandemic, so bringing a packed lunch is a sensible idea – before continuing your journey to Sangalle.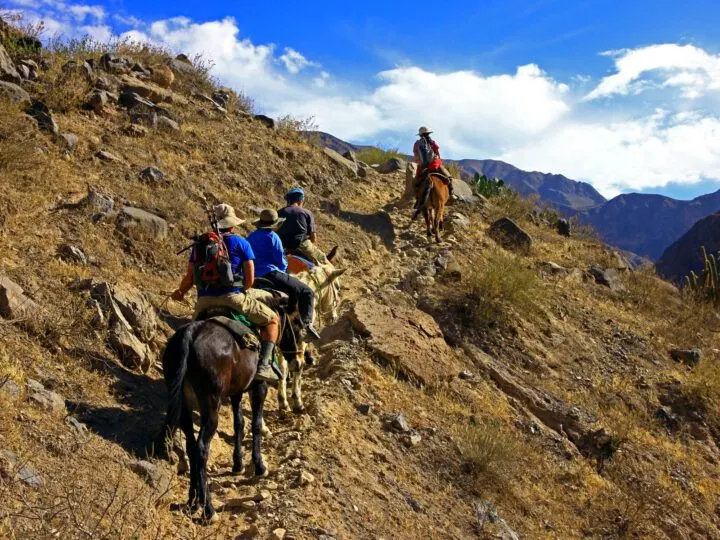 After lunch, it's a two-hour, 5.5-kilometre trek to reach Sangalle. While Google Maps shows an alternative route across the floor of the canyon straight from San Juan de Chuccho to Sangalle, we didn't see any visible, safe path.
Instead, it's best to climb out of the canyon following the marked route through Cosñinhua and Malata, skirt the edge through the two towns, and finally down to Sangalle.
Where to stay: There are four lodging options in Sangalle. With lovely grounds and excellent service, Oasis Paraiso Ecolodge ($40 USD double with private bathroom) is the pick of the bunch.
Day two: Sangalle – Cabanaconde (Red); 4.6 kilometres (2.8 miles); 4 hours
Leave Sangalle early (5 a.m.) to avoid the heat from the sun – and to be back in time to take the bus to Arequipa – as you take on the steep and rocky path out of the canyon. If hiring a mule for the way out, you'll be starting at this time, too.
Three days and two nights: Cabanaconde – Llahuar – Sangalle – Cabanaconde (or viceversa)
Duration: 29.6 kilometres (18.4 miles); three days
Difficulty: Very challenging
Starting point: Cabanaconde (west of Plaza de Armas). Follow Calle Bolivar west away from the Plaza de Armas in Cabanaconde to its conclusion; you'll see a bull arena (marked as Plaza de Toros) at the beginning of the path.
Ending point: Cabanaconde (north of Plaza de Armas)
This route is our favourite for exploring the Colca Canyon as it takes you around both sides of the gorge, down into one oasis village – Llahuar – and into another – Sangalle – therefore allowing you to see this dramatic canyon from all angles.
Day one: Cabanaconde – Llahuar (Yellow); 12 kilometres (7.5 miles); 5 hours
Start your hike at first light from Cabanaconde. The path will take you through local farmlands towards the edge of the southern side of the canyon. This hike starts gently, giving you the option to admire and take photos of the northern side of the canyon from afar.
After about 30 minutes on this path, you'll reach your first descent into the canyon. A rocky path descends to a small wooden bridge that connects the southern and the western sides of the canyon. On the other side of the bridge is a flatter, easier route skirting the edge of the trek's westernmost part. The views during this part of the hike are fantastic!
After skirting the edge of the canyon, you'll reach the most challenging part of day one: another descent to the oasis on a steep, rocky trail. When on this path, please pay attention to each step on the loose rocks, especially on the steepest parts.
This one-hour long zig-zag path meets a big road in the end. Follow the road down towards a big bridge that crosses Rio Colca. From there, it's a bit of a walk uphill until you find an intersection that splits the road into two options: one to Tapay and another to Llahuar. Take the latter to get to a path down – another zig-zaggy one – towards the last bridge you need to cross to get to the hamlet of Llahuar.
Where to stay: There are a couple of lodging options in Llahuar. We stayed in a private room with a shared bathroom at Casa de Virginia ($20 USD double). Breakfast by the river is included. Deliciously hot thermal pools are available for guests to soak their tired legs under the stars.
Day two: Llahuar – Sangalle (Orange); 13 kilometres (8 miles); 5 hours
If you're a beginner trekker, or a slow walker, leave Llahuar as early as possible on day two, as you'll be hiking a long distance as you move from one part of the canyon to another. First, return to the intersection you descended to reach Llahuar yesterday, but instead take the lefthand road towards Tapay. This road skirts the hillside until you arrive in a village called Paclla, where you'll find a small pathway up the hill heading north out of the village.
If you're not sure which pathway to take, you can ask for directions to Belen. Note that the locals may direct you to the main road, but we don't recommend this as the road is too long and not meant for pedestrians. The pathway is more steep and challenging, but it's significantly shorter than the road.
It's a steep climb for about an hour until you reach Belen. From here, follow the main road heading southwest out of the village, which follows the edges of the canyon for a number of miles until you see a descending path towards Sangalle.
There are two ways to descend to Sangalle: the first point you'll encounter – marked with a road sign – is shorter but can be dangerous, especially for tired legs; locals actually stopped us from going down this path. Instead, continue along the road and descend into the village of Malata.
From there, just follow the trail down past a reservoir, across farmland, and finally down a steep, winding path to Sangalle; you'll find a road sign marking the start of this final descent.
Where to stay: There are four lodging options in Sangalle. With lovely grounds and excellent service, Oasis Paraiso Ecolodge ($40 USD double with private bathroom) is the pick of the bunch.
Day three: Sangalle – Cabanaconde (Red)
Leave Sangalle early (5 a.m.) to avoid the heat from the sun – and to be back in time to take the bus to Arequipa – as you take on the steep and rocky path out of the canyon, which should take around four hours. If hiring a mule for the way out, you'll be starting at this time, too.
---
Transportation and logistics
Located 220 kilometres away from Arequipa, the Colca Canyon is served by a decent array of public transport. That said, regardless of the route you take, you need to begin your hike early in the day, planning your route to the trailhead (and back to Arequipa) is essential.
Transportation to Cabanaconde from Arequipa
To get to any starting point for hiking into the Colca Canyon from Arequipa, you have three options: on a bus straight to Cabanaconde, on a colectivo (a van) to Chivay (a town 1.5 hours away from Cabanaconde), or signing up with a Colca Canyon tour.
The latter is the most expensive, but they will arrange everything for you, including transport from and to Arequipa. Some even provide a private guide to accompany you on the trek as well – although we don't believe this to be a necessary expense, as the trail is easy to follow (download Maps.Me and the map for the region before you leave, however, so you have a map and GPS for the duration of your hike).
The bus (S/25 or $6.13 USD) takes six to seven hours from Arequipa's bus terminal (Terminal Terrestre de Arequipa) to Cabanaconde and can take longer as it stops at every town in between.
Covid-19 note: Due to the pandemic, there's currently only one company operating the Arequipa-Cabanaconde route: Andalucia. Plus there's only one bus available, leaving at 4 a.m. Since seats are limited, booking your spot well in advance is recommended.
An alternative is to take a colectivo (S/20 or $4.9 USD), which is faster and have a greater frequency, with one leaving every one to 1.5 hours.
Covid-19 note: Currently, there's only one operator for colectivo: Caminos del Inca. The earliest van leaves at 4 a.m. and the latest at 1 p.m., with one leaving every one to 1.5 hours in between. Though when there's high demand, they may add more schedules up to 3 p.m. Keep in mind that the colectivo only reaches Chivay. From here, you need to take another colectivo (S/10 or $2.45 USD) to Cabanaconde. The van leaves Chivay at 9am. If you miss it or prefer a more convenient way, taxis are available from Chivay that will take you to Cabanaconde for S/80-100 (around $19-25 USD).
If you're planning to start your hike from the Mirador de San Miguel, ask the colectivo or bus to let you off at the stop, which is located on the road before Cabanaconde. This will save you an hour of walking time.
The transport timetables are below:
| | | | |
| --- | --- | --- | --- |
| | Leaves Arequipa | Leaves Cabanaconde | Leaves Chivay |
| Andalucia (Bus) | 4 a.m | 1 p.m | 3 p.m |
| Caminos del Inca (Colectivo) | 4 a.m to 1 p.m (every 1-1.5 hours) | – | 4 a.m to 1 p.m (every 1-1.5 hours) |
| Colectivo Cabanaconde-Chivay | – | 11 a.m | 9 a.m |
Transportation from Cabanaconde to Arequipa
Unless you sign up with Colca Canyon tours, getting back can involve more effort than getting to the Colca Canyon from Arequipa. Basically, you need to take the same transportation to get to the Colca Canyon: on a colectivo from Cabanaconde to Chivay and another colectivo from Chivay to Arequipa, or a bus straight from Cabanaconde to Arequipa (which also stops in Chivay). Read our Transportation from Arequipa to Cabanaconde section above for more details.
This trip is more challenging because due to the limited number of vehicles operating, you may have to wait up to several hours to get a seat. And you can't book the colectivo in advance. If you'd like everything set before your trip, book your seat with the Andalucia bus operator that leaves at 1 p.m. from Cabanaconde. Whichever means of transport you choose, you can access it from the Plaza de Armas.
Looking to do some other hiking while you're in South America? Don't miss our guide to hiking the Inca Trail or this round up of the 11 best South America hikes.