Arequipa is unlike any other city in Peru. In fact, it's so unique, Peruvians joke about needing a passport to visit!
Situated at 2,300 meters above sea level, Peru's second-largest city is ringed by volcanoes, which give a striking backdrop and a hint at the adventures that await in the surrounding countryside, such as the unmissable Colca Canyon.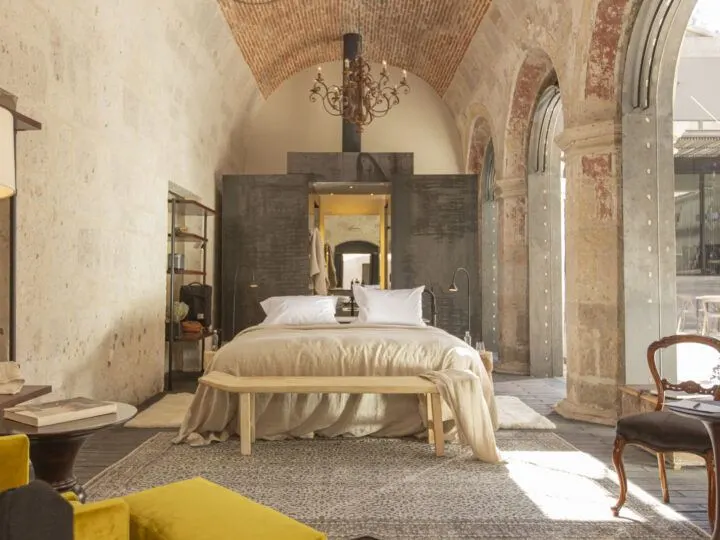 Choosing where to stay in Arequipa doesn't have to be a complicated decision. As the city is so compact, you're never far away from the historic center of Arequipa, but you do have plenty of options when it comes to hotels.
In this article, we share our selection of Arequipa hotels, guesthouses, and hostels. We've handpicked each one not only for its excellent facilities but also its location and value for money.
And, in case you're visiting Cusco next, read our list of 21 best hotels and guesthouses in Cusco.
Best areas to stay in Arequipa
You've probably heard and seen the reason why Arequipa's city center is so popular. The baroque buildings built of sillar – white volcanic stone – are resplendent in the sunshine and addictively photogenic; you'll certainly want a camera for walking around town, especially on those pedestrian-only streets.
The beauty of Arequipa's historic district is why the city is nicknamed the White City (Ciudad Blanca in Spanish). We can't tell you enough how much we love Arequipa's main square and the surrounding streets.
And, for that reason, we've picked three areas in Arequipa that are still within walking distance (and about 10 minutes drive away) of this focal point.
Where to Stay in Arequipa: Centro Histórico
It should come as no surprise that most of the best hotels in Arequipa are located in the historic center. This area IS the reason behind the city's nickname.
Book any accommodation in the Centro Histórico and chances are you'll be spending the night surrounded by white volcanic walls.
The area's central location puts you closer to Arequipa's top tourist attractions. The majestic Cathedral right in front of the Plaza de Armas is within walking distance of most hotels in this area. Visiting the Santa Catalina Convent and the Casa de la Moneda is also made easy by staying here.
Expect higher hotel rates since this is the most popular part of Arequipa. The same rule applies to wining and dining.
With that said, it's still worth picking a hotel in this area. Just imagine waking up to the sun rising over the Volcán Misti from your lancet sillar window. El Centro Histórico offers just that!
Planning Your Trip to Peru?
Save time, stress & money with a customized travel itinerary planned for you by a Peru expert

What previous clients have said:

Steph did a great job! I have never used such a service before and I wish there were more of them!
Getting off the beaten track was important to us and with Steph's knowledge we were away from the crowds. The information is very detailed and she knows some great places to stay! Thank you Steph!
Justin and Lisa
Traveled Patagonia, Bolivia and Peru in Jan '19
Where to Stay in Arequipa: Cayma
Cayma is one of the biggest districts in Arequipa. It's only minutes from the city center and stretches to the northern part of the city, passing beyond the Aeropuerto Internacional Alfredo Rodríguez Ballón.
The best hotels in this district are located near the airport or in the southern part, close to the center of Arequipa.
Among all districts in Arequipa, Cayma has the most neighborhoods or urbanizaciones. As a result, you'll find many local eateries or picanterías that sell lip-smacking dishes for less!
On average, eating in this area costs around half of what you'd expect to pay in the city's more touristy areas or the wealthier parts.
If you're planning on exploring Peru for a month or more, this area is a great place to look for an apartment or house to rent.
Where to Stay in Arequipa: Yanahuara
Located between the historic center and Cayma district, you'll be within a thirty-minute walk from the Plaza de Armas wherever you stay in Yanahuara. However, this district has its own Arequipa attractions.
For example, the Mirador de Yanahuara, by the district's plaza, offers a scenic overview of the volcanoes, framed by the big sillar arches.
There's an abundance of parks with trees, benches, and food vendors in this area. So if you just want to sit down and enjoy the views, it won't take too much effort to locate your own quiet spot.
When it comes to dining and entertainment, Yanahuara has enough to keep you busy for days. Cafés and picanterías can be found in the eastern and northern parts, especially towards the historic center.
Best luxury hotels in Arequipa
CIRQA – Relais & Châteaux
Think traditional Arequipean architecture mixed with grandeur: this is what five-star accommodation, CIRQA Relais & Châteaux ($581 USD double) – also known as the Parador – offers in the heart of Arequipa's historic center.
With just 11 rooms, every guest is treated with exclusive facilities: from massage and spa to 24/7 concierge service.
The Parador first opened back in 1540 – the same year Arequipa was founded – and underwent a renovation in 1883. As a result, this luxury Peruvian hotel offers a unique and historical atmosphere no other Arequipa hotels can replicate.
This extends to all 11 rooms, built around two intimate patios. There are three room types, each with its own style of high-vaulted ceilings and luxurious interior resplendent in the rich artistic style of Arequipa.
Casa Andina Premium Arequipa
Casa Andina is one of the biggest hotel chains in Peru. But unlike most popular European and North American hotel chains, Casa Andina hotels can be found in off-the-beaten-path places in Peru, such as Nazca and Trujillo.
One of the chain's best properties can be found here: the Casa Andina Premium Arequipa ($168 USD double).
There's more to this hotel than just accommodation. The 200-year-old building was once Peru's National Casa de la Monedaor treasury house. Now, it's a UNESCO cultural heritage site since 2019 and sits just five minutes away from Plaza de Armas.
Though it's an old building, the rooms are modern with all the five-star hotel facilities you'd expect. There's a big flat-screen TV, coffee and tea-making facilities, and comfortable double beds, while wooden furniture adds a rustic feel.
Sonesta Hotel Arequipa
Nestled in the southern part of the Centro Historico District, Sonesta Hotel Arequipa ($97 USD double) is where to stay in Arequipa luxuriously but without breaking the bank.
Rooms are high quality, with a comfy seating area and a small workstation next to the flat-screen TV.
We recommend booking a room on one of the upper floors. Being the only building that stands more than ten stories high in this part of town, you'll be spoilt by the view of the volcanoes from the room's large windows.
But the real star of this hotel is the on-site restaurant. All guests can have the Arequipean gastronomic experience while enjoying the panoramic view from the restaurant.
Best boutique hotels in Arequipa
Palla Boutique Hotel
Though many of the best hotels in Arequipa are boutique hotels, Palla Boutique Hotel ($137 USD double) stands out among them. It combines excellent service, richly-decorated rooms, and a strategic location for the best value for money.
Located on Calle Puente Bolognesi, one of the focal points of Arequipa, Palla is an excellent base from which to explore the city. It's within minutes of walking distance of the Plaza de Armas and only a few meters away from one of the city's main roads, Avenida La Marina.
As a result, you won't be bothered by the traffic even though you're staying in probably the most touristy area of Arequipa.
Palla somehow combines Arequipa's artistic vibe with modernity. Perhaps it's the sillar walls that meet the hardwood floors, or maybe it's the colonial-era doors and windows facing the wooden furniture.
It could also be the abundant natural light that falls on the colorful bedding and curtains. Whatever it is, staying here is a wonderful experience!
La Hostería Boutique Hotel
If a homely, intimate vibe and a location next to all of the city's top attractions are what you're looking for, La Hosteria Boutique Hotel ($92 USD double) is your best bet.
Right from the very first step into the lobby, you'll feel the warmth from the building's design, decoration, and of course, the staff.
Everything from the hotel's rooms and patio to the restaurant and bar has been designed with a sense of intimacy in mind. So, don't expect spacious modern rooms. Instead, you'll be spending a night in a compact yet cozy room. The only thing missing will be your family pictures hanging on the wall!
When you book, there are plenty of choices, as each room is different. Some come with private balconies, some with direct access to the swimming pool; others are carved from sillar, while some are more modern, with white plaster and neutral carpets.
Katari Hotel at Plaza de Armas
Can't get enough of the view of Arequipa's Cathedral? At Hotel Katari at Plaza de Armas ($109 USD), you can wake up to the majestic sight every morning!
As you can tell from its name, this hotel sits in front of Plaza de Armas, right across from the Cathedral and at the very center of Arequipa. Consequently, select rooms come with amazing views of this popular site.
If those rooms are not available to book, you can still admire the view from the on-site rooftop bar and restaurant. Enjoy breakfast, lunch, dinner, and nightcaps accompanied by the striking view of the Cathedral beyond the palm trees of the plaza, with all three volcanoes in the background.
Being located in the city's UNESCO heritage city center requires the hotel to stay true to Arequipa's historical look, not only on its façade but right across its rooms.
Besides the popular sillar walls, arches, and pillars, wooden furniture and artistic details have been added to complete the vintage theme.
Best budget hotels and guesthouses in Arequipa
Le Foyer Arequipa
Though the historic center is the more expensive part of the city, there are budget hotels in this area. Le Foyer Arequipa ($24 USD double) is one of them.
Just two blocks away from Plaza de Armas, you'll be within walking distance of the city's most delectable restaurants, bars, and cafés.
Rooms are compact yet comfy, with wooden floors and – for some – rustic private balconies, with views of the monastery. There's a TV with international channels and complimentary WiFi to keep you entertained, too. Though we love enjoying a beer on the balcony while the sun's setting, it can be a tad noisy at night with the traffic right outside.
So if this is something that might disturb your sleep, pick up some earplugs for free at the reception desk.
Los Andes Bed & Breakfast
Just a few steps away from the Plaza de Armas you'll find Los Andes Bed & Breakfast ($34 USD double). The room prices of Arequipa hotels within this area typically cost you an arm and a leg, so this guesthouse is a rare find.
The rooms are simple but more than adequate to provide you with a good night's sleep in between exploring the city. You'll have a comfy bed – some rooms have four of them – and enough space to hang your clothes.
From the rooftop sun terrace, absorb the views of the Cathedral with its breathtaking backdrop of Volcán Misti beyond. Facilities are as you'd expect: a buffet breakfast, cable TV, and WiFi. Some rooms come with a private bathroom, while others have a shared one.
Whichever room you book, you'll have access to the communal kitchen area, terraces, and patios.
Mango Hostel B&B
What makes Mango Hostel B&B ($25 USD double) a great place to stay in Arequipa for budget travelers is its location and affordable rate. Located just steps away from the Plaza de Armas, the hotel has views of the Cathedral from its rooftop terrace, where you'll find hammocks in the small seating area.
Complimentary WiFi and breakfast are included in the nightly rate. You can also use the baggage storage service for free, while the hotel's airport shuttle is available at an additional cost.
Like most budget hotels, the rooms are simple. Amenities include a TV and a small closet. Some rooms come with a bathtub, too.
Best hostels and shared accommodation in Arequipa
Selina Arequipa
Selina Arequipa ($14 USD dorm, $30 USD double) is not an ordinary hostel. In fact, it's a three-star hotel with dorms housing six to twelve beds and private rooms with private bathrooms, too.
All in all, it's your best choice of where to stay in Arequipa for all types of travelers.
The shared rooms feature comfortable bunk beds with privacy curtains. Lockers with keys are available, plus you'll have a small box at the foot of your bed to keep your belongings. That's where you'll find a charging socket as well.
Selina Arequipa is on Calle Jerusalén, five blocks away from Plaza de Armas. There are plenty of restaurants, cafés, and bars on this street. From here, you only need to walk north, crossing the river, to reach Parque Selva Alegre, the city center's biggest park.
Way Kap Hostel Arequipa
Way Kap Hostel Arequipa ($8 USD dorm) is popular among digital nomads and travelers alike. While it's extremely affordable, we can't stress enough that the rate doesn't reflect the quality of the accommodation.
Rooms are built to hold bunk beds for ten persons, with each bed equipped with a privacy curtain, individual power socket, and a reading light. As a guest, you'll be assigned your own locker.
The facilities are designed with a shared experience in mind. There's a reading room with comfy couches and a small courtyard with chairs and direct access to the on-site bar to enjoy conversation over a drink.
What about its location? Way Kap Hostel is right across from the monastery and just a short walk from the Plaza de Armas.