Rapa Nui, better known as Easter Island, is one of the most remote inhabited islands in the world. And this eastern Pacific island is an endless source of fascination, with some 100,000 travelers visiting annually.
Formed from the ash and lava of three underwater extinct volcanoes and lying a six-hour flight off the coast of Chile, it's known for its immense stone sculptures, the moai, who were erected on huge platforms by the indigenous Rapa Nui people as an homage to their ancestral chieftains.
Getting here is expensive and a long-winded affair. But, as I discovered on my trip to Rapa Nui (Easter Island) to research Moon Chile, it's more than worth it.
However, before you start planning your trip to Rapa Nui (Easter island), it's worth thinking about the weather conditions that you can expect to find on this island.
Let's dive into everything you need to know about the best time to visit Easter Island.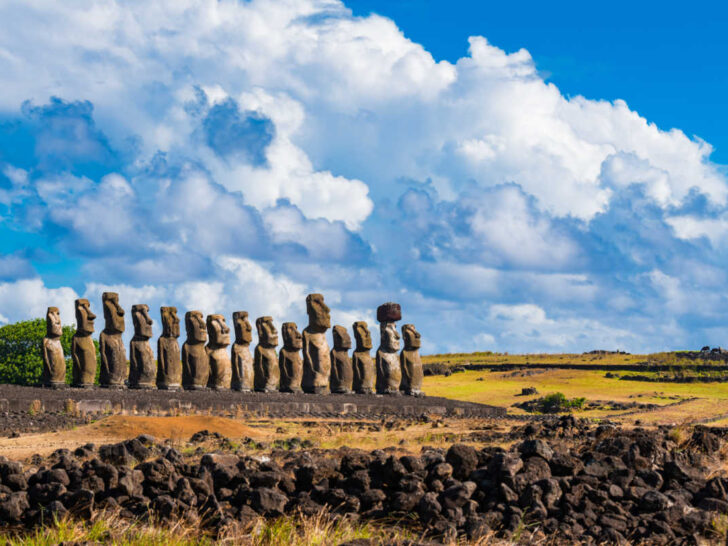 January: Generally, the weather during January is near-perfect as it's the middle of summer. It's one of the most popular times to visit the island and falls in the middle of the high season. However, due to the warm temperatures and high humidity, you may find the conditions challenging.
February: This is the last summer month in Rapa Nui. February experiences similar weather and temperatures to January. It's also the month when the annual Tapati Festival, a cultural festival where families compete in sporting, musical, and dancing events; expect accommodation costs and flights to rocket during this month as 20,000 people land on the island.
March: This is the beginning of Rapa Nui's shoulder season, with lower average temperatures. It's a great time if you want to explore the island on foot, as humidity levels are beginning to drop.
April: There's a gradual decrease in temperature as you head into the southern hemisphere winter. Tourist numbers are on the wane, so you can expect fewer visitors at key archeological sites across the island making this one of the best times to visit.
May: This is the official start of Rapa Nui's low season and has similar weather to April, but you can expect lower nightly temperatures and some rainfall. It's one of the island's rainiest months, with a fortnightly average of 4.7 inches (120 mm) of rain. It rarely rains all day, however.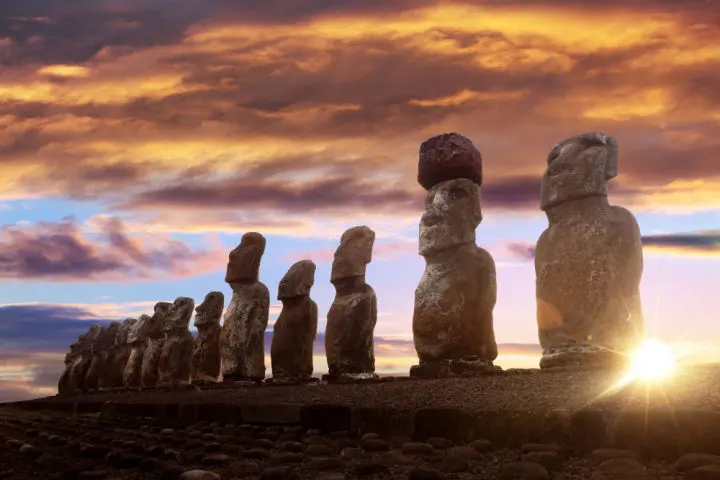 June: This is the start of winter and one of the most pleasant months to visit Rapa Nui. Average temperatures fluctuate but are generally ideal for exploring some of the archeological sites and beaches on the island. The rain starts to begin, however, with showers common and overcast days the norm. However, with cooler temperatures, this is the perfect time to go horseback riding along the coastal cliffs.
July: Rapa Nui's rainy season peak has otherwise pleasant weather, though nights can get cold. Temperatures average 65.6°F (16°C), so it's best to pack a light jacket.
August: With winter ending, August is a good month to visit Rapa Nui – especially if you plan on spending as much time outside as possible. However, it's also the coldest month, and nights can get chilly. If you plan to head to higher points, such as the Rano Kau volcanic crater, the wind can make it feel even cooler.
Planning Your Trip to Chile?
Save time, stress & money with a customized travel itinerary planned for you by a Chile expert
September: Expect moderate rainfall and similar temperatures to August. Lower humidity means improved hiking and exploring conditions. If you're an avid hiker, this is the best time to head out on the island trails.
October: This is the beginning of Rapa Nui's spring and the second shoulder season on the island. Temperatures are lower but so is humidity, making this one of the best times to visit.
November: November brings together the best of spring and summer. Temperatures rise gradually as the month progresses.
December: December kicks off Rapa Nui's high season; tourist numbers increase dramatically. This is the second sunniest month after January, so expect a sharp rise in temperature.
What you need to know about visiting Rapa Nui
As well as understanding the weather on Rapa Nui, you'll need additional information before setting off.
Want to avoid the hassle of organizing your flights, accommodation, and tours to Easter Island?
EcoChile Travel is a brilliant Chilean tour operator run by local experts based in Chile and Argentina.
Their four-day trip to Easter Island costs from $1,130 USD per person (and you get a 5% discount if you mention Worldly Adventurer when enquiring!).
They'll help you with everything from booking those all-important flights to sorting accommodation and finding you a brilliant guide to take you to the island's remarkable historic sites.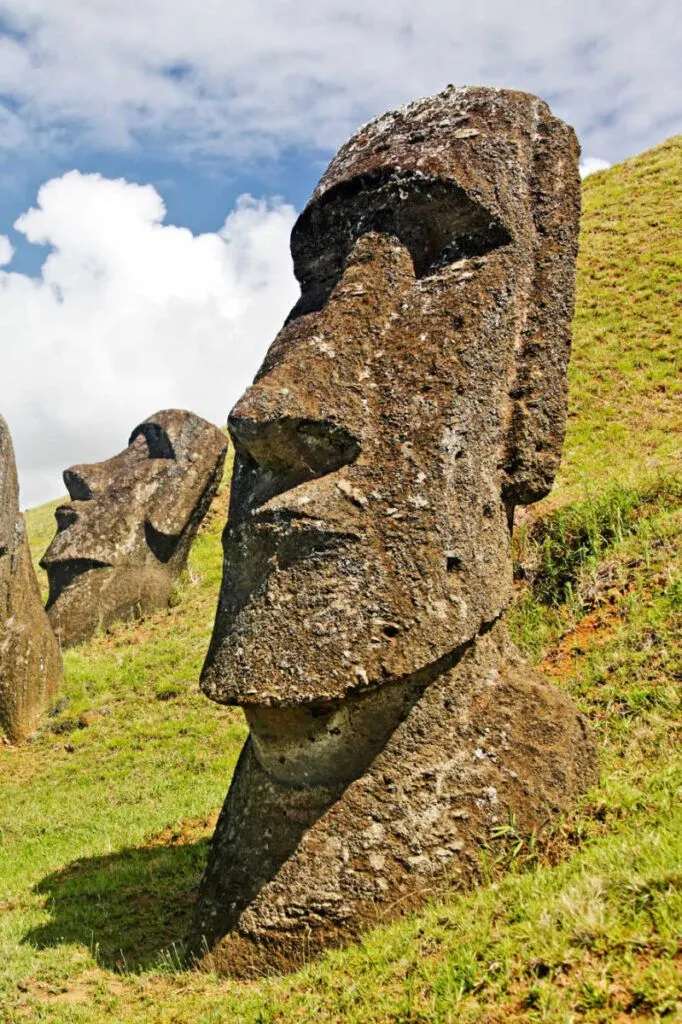 General information for your Rapa Nui trip
The giant stone statues (moai) are the main attraction of Rapa Nui, but the island has much more to offer. When putting together your itinerary, keep the following in mind:
You should always travel responsibly, which means – among other things – arming yourself with background information. As a mark of respect to Rapa Nui culture, always refer to the island as Rapa Nui rather than Easter Island. Easter Island is the name given to the island by the Dutch when they arrived here in the 1700s; it was, however, already called Rapa Nui by the local people.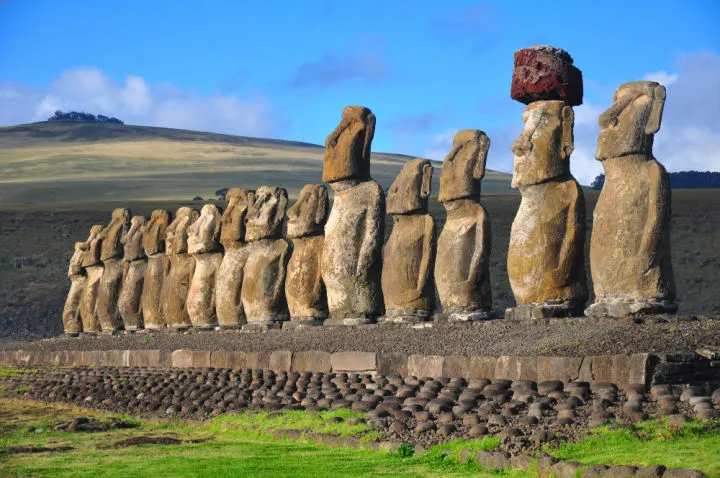 Respect native Polynesian culture while visiting the island. You can do this in several ways: by attending talks about the remarkable Birdman cult in the Orongo Ceremonial Village or visiting the ethnological museum in the main town of Hanga Roa.
Explore the coast as well as the culture. There are a handful of beaches on Rapa Nui, so bring appropriate swimwear. There is also an abundance of snorkeling and scuba-diving sites.
Rapa Nui is a recognized UNESCO World Heritage Site, so do heed local environmental rules while exploring the island. Remember that thousands of tourists visit here every year; if you do not keep sustainable travel top of mind, you could inadvertently contribute to the island's degradation.
Since the Covid pandemic, you must be accompanied by a certified local guide or host when visiting most places on the island. Expect trips to Rapa Nui to be more expensive than they were a few years ago.
Although Rapa Nui has excellent year-round weather, January and February get very busy. Expect accommodation prices to skyrocket.
How to get to Rapa Nui
Now that you know the best time to visit for your preferred travel style, read on for further information on how to get to Rapa Nui.
Although it is possible to get to Rapa Nui by sea, the rough waters of the Pacific Ocean make it an unpleasant and arduous experience. For this reason, almost all visitors to the island do so via plane. Direct flights from Santiago de Chile International Airport are the best way to reach the island.
As well as a visa for entering Chile (dependent on your home country), you'll need to complete the Rapa Nui Entry Form before heading for the island. You can find it here.
Note that post-pandemic, flights are less frequent than before: only three per week are available, operated by LATAM Airlines and departing from Santiago, Chile. Expect an average flight time of roughly five hours and I recommend getting a seat on the lefthand side of the plane for the best views of the island when you come to land. Flights are also frequently delayed; when I visited in May, we waited at the airport for a number of hours to board our flight.
Which seasons offer the best weather conditions for Rapa Nui?
Rapa Nui is small: just 163 square miles (422 square kilometers). For that reason, you won't need to prepare for varying climates from place to place.
As Rapa Nui is in the southern hemisphere, its high season runs from December to February. Though tourism numbers are relatively low compared to destinations such as Machu Picchu, it can feel crowded due to the island's size.
That said, visiting during the high season is a great idea if you want to experience the island's traditions – particularly festivals and other cultural events.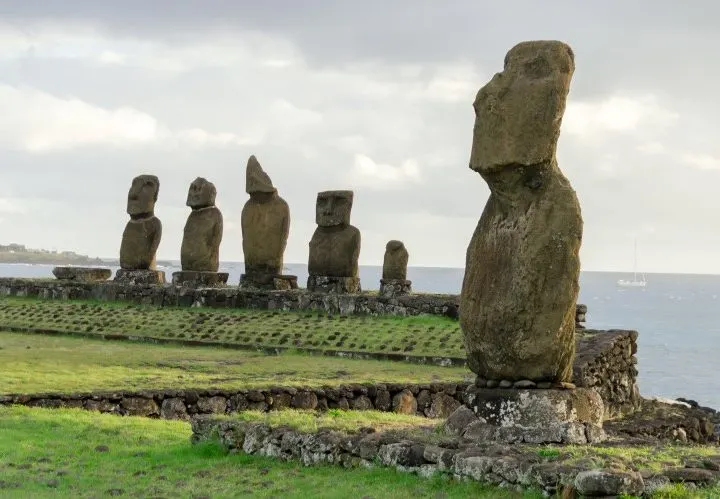 Visiting Rapa Nui between May and November is the best time from a weather point of view. This is because, while most visitors explore the island by car, there are options for hiking on the island. The best include heading north from Ahu Te Peu along the western edges of the island to reach Anakena (six hours, 13.5 kilometers; this can also be done on horseback) as well as a hike from Ahu Akivi up to the summit of Terevaka volcano (four hours, nine kilometers) and around the Poike peninsula (five hours, 11 kilometers).
Though conditions are cooler during these months, Rapa Nui is a tropical island, so it's still warm enough to head to the beaches in Hangaro and Anakena for swimming and snorkeling.
Rapa Nui weather by season
December to March (high season)
Expect hot temperatures. The summer months of December, January, February, and March mean warmer weather. In many ways, this is the perfect time of year to visit; don't expect reasonable prices, though.
Daytime highs can reach up to 82/86°F (28/30°C), while nightly temperatures dip to 63/68°F (17/20°C). Temperature is rarely an issue, however; it's the wind and rain you'll need to pay attention to.
December: With an estimated 240 sunshine hours, sunny days dominate December. The island sees only ten rainy days, with a maximum of 3.5 inches (90 mm) of rainfall.
January: January has a total of 275 hours of sunshine per month. Rainfall levels are similar to December, though slightly lower.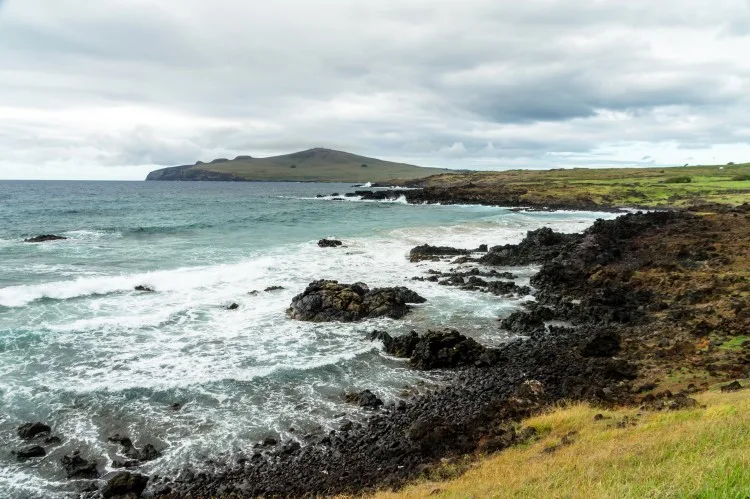 February: Like December, February averages 240 hours of sunshine. Compared with the previous two months, February experiences less rain, with around nine days and 3.1 inches (80 mm).
March: Towards the end of summer, days on Rapa Nui become shorter: you'll have about 7.5 hours of sunshine daily, with 230 hours for the month. Expect similar rain conditions to February.
April to November (low and shoulder season)
Beginning right after Easter, the low season kicks off on the island in April and lasts until November. You'll experience an average daily high temperature of 77/79 °F (25/26 °C); nighttime temperatures drop to about 61/67°F (16/19°C). Rarely, nightly temperatures can fall to 45/48°F (7/9°C).
Low season falls in the Austral winter, which begins in June and lasts until September. There are a few key differences that may affect your trip.
April: April averages 6.5 hours of sunlight daily, with about 195 hours for the month. Rain increases during the start of the shoulder season; April is the second wettest month of the year. Expect around 4.3 inches (110 mm) of rain spread over roughly 13 days.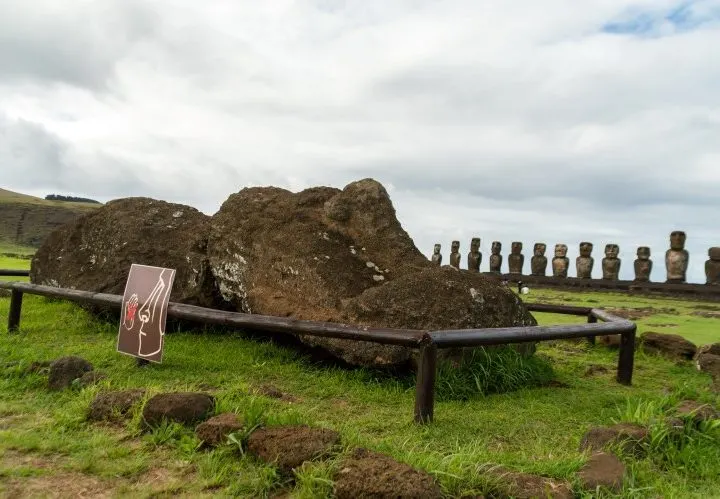 May: If you're visiting Rapa Nui during May, you'll experience the wettest month of the year and fewer hours of sunlight each day. Expect an average of 5.5 hours of sunlight per day. Rainy weather is at its peak during May; prepare for around 14 days and up to 4.7 inches (120 mm) of rain.
June and July: Although the island does not feel the full force of the southern hemisphere winter – especially compared to winter in the northern hemisphere – June and July can feel a little cool. They have the least amount of sunshine per day – averaging five hours – and a total of 145 for the entire month. There is a gradual decrease in rainfall, dropping to 3.9 inches (100 mm) across roughly 13 days. When I visited in June, I found the weather largely overcast, which wasn't ideal for photographs.
August: With a slight uptick in climate and temperature, August is the beginning of the end of the austral winter. This means you'll have more sunny days – not many, though, as sunshine per day is still only about 5.5 hours and 170 for the whole month. Expect an average of 3.1 inches (80 mm) of rain over 13 days.
September: As the austral winter comes to a close, sunlight increases daily to about six hours per day and 180 for the entire month. While not the sunniest month, this is a welcome increase if you're out and about. Expect similar rainfall patterns to August.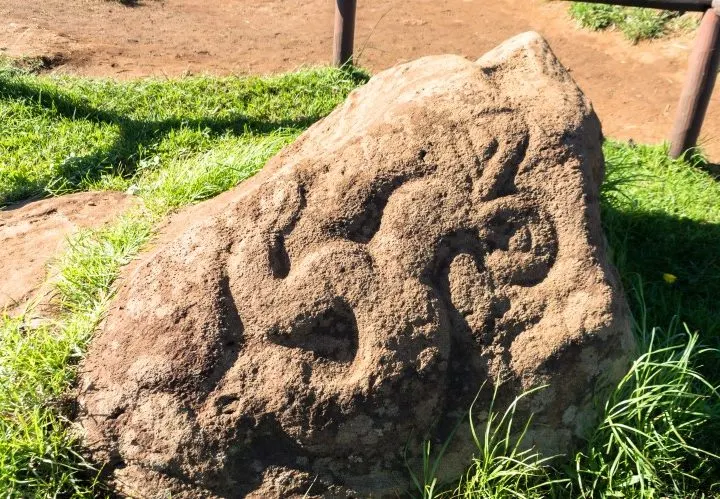 October: October opens the second shoulder season on Rapa Nui and brings spring-like weather. Daily sunshine increases with around seven hours per day and a cumulative 215 hours per month. Rainfall patterns are similar to September.
November: Closing out the final shoulder season of the year, November heralds the start of the austral summer: daylight rises to 7.5 hours per day and 220 hours throughout the month. While not particularly rainy, expect rain amounting to 3.1 inches (80 mm) over around 10 days.
Insider Tip: You can keep up to date with any weather changes during your Rapa Nui getaway with Meteoblue.
Which months are better for avoiding crowds on Rapa Nui?
If your main priority when visiting Rapa Nui is to avoid the crowds, there are several things to consider.
The Tapati Rapa Nui festival runs from early February and takes over the island. At other times, things quieten down, and prices become more affordable.
However, if you're keen to see the island at its quietest and get the chance to speak to the local people and see daily life here, I recommend September and October or April and May. These shoulder seasons see good weather, few tourists, and lower levels of rainfall than during the austral winter months (June through August).
If you're a keen photographer and want to explore the island, these months are a great time to visit. You'll get the best experience when visiting popular sites such as Ahu Akivi, where seven of the moai keep watch over the South Pacific Ocean, due to not having to share it with too many other tourists.
To take full advantage of lower tourist numbers during these months, set out on a sunrise visit to Ahu Tongariki. It's one of the most important megalithic monuments on the island, with 15 well-preserved moai. Weather permitting, this is a great spot for photo-taking.
The same goes for Rano Raraku: almost 400 moai statues sit in this volcanic crater, in varying stages of completion. However, a cool ocean breeze means you'll need to dress warmly.
With the relatively mild winters on Rapa Nui, it's never too cold to enjoy the many hiking trails around the island. The same goes for its beaches; the sandy, palm tree-lined shores of Anakena Beach are less crowded in these months.
So, when is the best time to visit Rapa Nui?
Luckily for prospective travelers, there really is no bad time to visit Rapa Nui – it depends purely on your preferences.
If you want to immerse yourself in the highlights of Rapa Nui's local calendar, such as Easter Sunday or Tapati Rapa Nui, then go during peak season, from December to March.
You'll have full access to the island's cultural diversity, as well as competitions such as Haka Pei. But hotel prices, airfare, entrance tickets, and tour costs spike and will make your trip quite expensive.
By contrast, if you're planning on in-depth exploration the best time to visit would be during the shoulder season months of April and May and September and October. Low humidity and mild weather make these months a great time to be on the island, with everything from hiking (not normally so pleasant due to the sticky temperatures) and horseback riding far more pleasant during this period.
Bear in mind, some tour operators do stop running tours due to a drop in tourist numbers, so it's worth reaching out to a handful beforehand to check they're operating (we've got recommendations for the best in this guide to Easter Island).
---
Looking for more inspiration? We've covered how to visit Easter Island, as well as rounded up the island's best hotels. If you've got extra time to spend in Santiago, read our guide to the best things to do in the Chilean capital, the best day trips from Santiago, and our favorite Santiago hotels (with recommendations for the best neighborhoods in the city).