What gifts do you buy a travel lover for Christmas?
This is the question that my family faces each and every year. It's not that I'm hard to buy for, it's just that I don't really have anywhere to put new bits and pieces or any particular need for the decorative items that are normally such a hit as gifts at this time of year.
And I don't think I'm alone in this. But the best part about buying gifts for people who love to travel: there are always things that we do need.
Practical travel gifts and essentials – small, large or dull but incredible useful – always go down a winner for those of us travel enthusiasts with our indefatigable obsession with globetrotting.
So, whoever you have in your life who's planning a trip away in 2020, I guarantee that this list of the best gifts for travel lovers is packed with unique gift ideas to keep them happy this year!
Stocking fillers for travel lovers
Contoured sleeping mask
I can't count the number of times that I've tried to sleep on aeroplanes or buses and struggled to do so because of the bright lights that they never seem to dim enough.
I always need darkness, which is why this contoured sleep mask is a great option. It's a fantastic gift for anyone who loves to travel but also needs that right amount of darkness to get to sleep!
Get the contoured, light-cancelling sleeping mask
Shampoo bars
Since last year, I've been trying to both lower my use of plastic packaging and the weight of my rucksack – and I've found that shampoo bars are a positive way of achieving both.
Hard shampoo bars are both compact and lighter weight than in bottle form, making these the ideal travel friendly gifts.
I'll be honest with you: finding a shampoo bar that leaves your locks luscious and lovable can be a bit of a trial at first, but once you've got there, you can kiss goodbye to plastic shampoo bottles for good.
Lush is my go-to, but if you're in the US, Ethique has loads of different options, scents and ingredients – all guaranteed to put a smile on the face of your loved one! What's more, you can find them as conditioner bars, too.
Get Ethique hard shampoo bars or try out those on Etsy
Llama passport cover
Nothing says "ready to travel" like a slick new passport cover. And nothing is closer to my heart than one with llamas on it. Seriously – this is the gift for any South America travel addict!
Handmade using gorgeous fabric showing a couple of llamas hanging out with some cacti (yup, really!), this is the ideal gift for someone with both a sense of humour and a sense of style.
It's also probably one of the cutest travel gift ideas I've come across (can someone buy it for me, please??).
Universal plug adaptor
If there's one thing that I usually get compliments on when I travel then it has to be my universal plug adaptor.
"Gosh, how boring everyone you meet must be!" I hear you cry!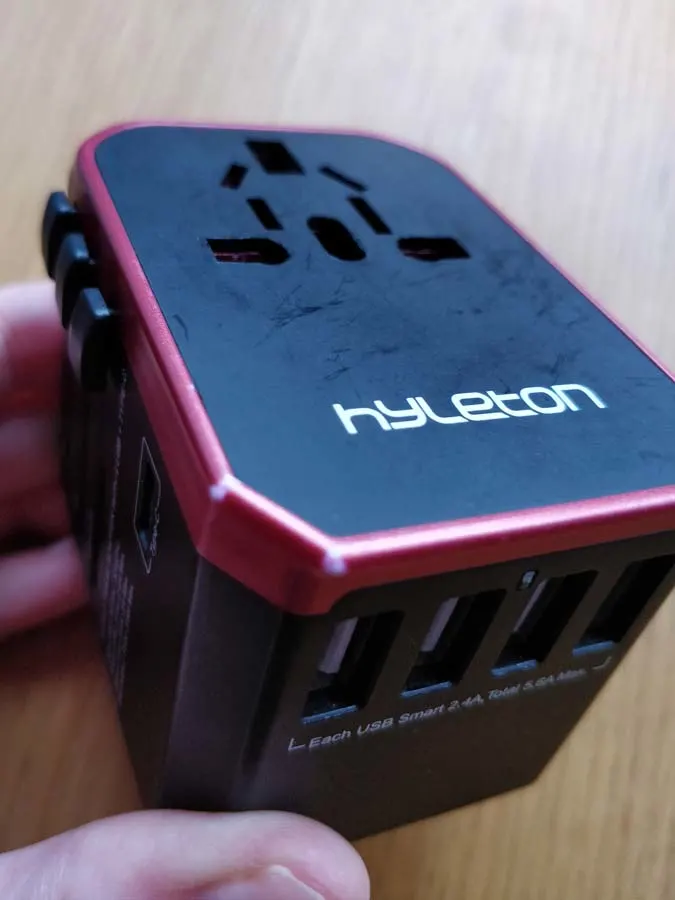 And you'd be wrong! Seriously, with prongs to fit every single possible plug socket (this may not be exactly true, but I've never come across one that it won't) plus space for four USB plugs, this will keep electrics charged wherever you go.
It's also a solid crowdpleaser as it means that, even if you are hogging the plug socket in a hostel, there's plenty of room for everyone to get charging.
This is the ultimate gift for frequent travelers – trust me, I am one!
Get the universal plug adaptor
Body Shop Shea body butter
I'm not one to travel with many unnecessary beauty items, but I'll admit that I don't travel anywhere without my Body Shop Shea body butter.
Not only does it smell divine (and I mean, divine!) and provide deep moisturising without stickiness, it's a great pick-me-up pamper for those times when you just want something that makes you feel good!
What's more, the Body Shop doesn't test anything on animals, so this is guaranteed to make any travel lover feel good about their environmental impact, too.
It also works excellently as an after sun cream, so it's ideal for any fair-skinned adventurer like me!
Get the Body Shop Shea body butter
Moleskine notebook
Every traveler wants a way to record their experiences and there's no way more personal than through the written word.
It's for this reason that a Moleskine notebook is the ultimate gift for someone who loves to travel. Hardback black is the traditional style (and guaranteed to make them feel like they've fallen straight out of Eat, Pray, Love).
But there are various different colours and sizes to choose from – and all are guaranteed to get your favourite traveler's creative juices flowing!
Anker PowerCore portable charger
While travel is the perfect time to disconnect from the onslaught of information slung at us daily by the world wide web, it's also the time when you want to have enough juice in your devices to ensure that you can capture each and every last photograph and video of your trip.
It's for this reason that I always carry a portable power bank with me, which I've found invaluable for everything from long bus journeys to multi-day hikes.
Seriously, if you buy only one gift on this list for your travel-addicted friend, it has to be this.
The Anker PowerCore manages three charges of your phone (46 hours of battery life to be exact) and only weighs 180g.
It does take a long time to charge (but all of these battery packs do – you are effectively charging your phone three times, after all), so you'll always want to pop this on overnight to ensure it gets a full charge.
Get the Anker PowerCore portable charger
(You can also buy a similar product from REI)
Eco-friendly gifts for people who travel alot
WaterToGo bottle
Dealing with the environmental crisis facing our world is something that all of must play a part in – and actively making the choice to reduce your use of single-use plastic is a concrete way to make a difference.
What better gift for an eco-travel-warrior than a Water-To-Go bottle? What makes these most attractive is that they contain an internal filter that gets rid of all nasties in the tap water, making it instantly safe for you to drink (unlike other travel water filters available on the market).
What's more, their low-price tag compared to many of the other options on the market (check out the Steripen below) makes them doubly attractive – as does the extensive work that the company does in supporting charities based across the globe.
By gifting one of these bottles to your favourite travel enthusiast, you're helping to curb the plastic problem and do some good. What a great present!
Cork toiletries bag
Travelling in an eco-friendly manner isn't just about protecting the earth; no, it's about doing so in style, too.
And there's no better way of doing it than this beautiful cork toiletries bag. It's both eco-friendly (the cork is, obviously, 100% natural!) and vegan, making it a fabulous and unique gift!
Steripen Adventurer
I've raved about my Steripen Adventurer since getting it five years ago and I'll rave about it again: this is the ultimate in eco-friendly travel accessories!
Ok, so it's not the sexiest gift, but trust me: your recipient is going to love you. Not only will it save them a ton of money because they won't have to pay for bottled water, but they can avoid feeling awful about having to use and dispose of single-use plastic bottles each and every day. Win-win!
While it is expensive compared with other options on the market, it's so easy to use, the batteries last for ages and, after using this for around two months of travelling, it'll have paid for itself.
Read my full Steripen Adventurer review if you want to read me waxing truly lyrical about this filter.
(You can also buy it at Amazon).
Hydro Cell water bottle
Staying hydrated when you travel is essential – and having your own water bottle that works for both hot and cold liquids is mostly just a pipe dream – unless you have a Hydro Cell water bottle!
Built from stainless steel and BPA free, this bottle is vacuum sealed to keep liquids hot for eight hours and others cold for up to 24.
It also comes in a variety of sizes (I recommend the 32 oz as a sensible traveling sized bottle), 12 cute colors (I love the fuchsia!) and, best of all, the wide mouth of the bottle works with the Steripen Adventurer!
This is a fantastically practical travel gift that they'll get so much use out of.
Get the Hydro Cell stainless steel water bottle
Zero-Waste starter kit
Got a friend who's trying to go cold turkey when it comes to waste? Help them achieve that goal this year with a zero-waste starter kit.
Packed up in a pretty box is a range of items that they'll be dying to use: everything from biodegradable cutlery and mesh produce bags to bamboo toothbrushes and hard shampoo bars.
They're ideal for travel and the whole set looks pretty adorable, too.
Get the zero-waste starter kit
You can buy something similar on Amazon, too
Reusable make-up remover rounds
Cutting out disposable face wipes is a sure-fire way to embark on a zero waste lifestyle and there's no way to do it in more style than with these reusable bamboo make-up remover pads.
Not only are they made from sustainable bamboo, but they're easy to use as you just need them in the washing machine after use.
They've genuinely revolutionised my face care routine and they're guaranteed to do the same for your travel-loving friend!
Get these reusable make-up remover rounds
There are similar ones on Amazon, too
Gifts for travellers who love to learn
Language study program: Rocket Languages
I'm a huge advocate of learning at least some of the lingo of a new destination before you arrive, but understand that this can be a huge endeavour – and one that not many people have time for.
One of the best things I've found about travelling in South America is the fact that most countries speak Spanish, so it's a great place to travel if you only want to focus on learning one language!
I know that Duolingo is the flavour of the day for most budding linguists, but I've personally never found it to be particularly effective in providing a rounded language education (although it's great for learning random words and phrases!).
While you can spend an arm and a leg on language tuition, a great alternative is Rocket Languages.
It comes with a really comprehensive reading, writing and listening programme, with a particular strength being its use of audio from native speakers to help you improve one of the most difficult of skills: comprehension on the ground.
What's more, you can download all of the lessons, meaning you can be working on them offline – even while you're travelling!
Language lessons through Italki
While taking face-to-face, one-on-one classes is the most ideal means of learning a language, if that's out of your price range or doesn't fit with your schedule, a great alternative is italki.
This is effectively an online marketplace of teachers around the globe, where you can take affordable, one-on-one classes over skype.
Unlike subscription-based programmes such as Rosetta Stone, Italki only charges you for the classes that you do take, so it's excellent preparation for someone who travels a lot!
Get language lessons with Italki
Adventure travel-themed gifts
Go Pro Hero 9
Adventurous travellers generally have one thing in common: they love to document their trips. This is why the new Go Pro Hero 9 is such a cool gift for an adventurer in your life.
The image stabilization improved from previous Go Pro models, meaning smoother, more professional-looking videos and shooting up to 5K resolution. It's also fully waterproof (up to 10m) and packed with great features including time-lapse modes (hello, sunset!) and capture presets, which allow you to customize image settings for quick use in different shooting conditions.
For budding filmmakers with a little less cash to spare, the Go Pro Hero 8 remains a fantastic alternative, at a slightly lower price-point
Sea to Summit Dry Bags
If, like me, you know a frequent traveler with a tendency to pack a whole lot of technology, then you'll be wanting to protect them from their biggest nightmare: water.
I just spent 2.5 weeks travelling almost entirely by boat on a trip to Guyana and Suriname and, shock horror, I completely forgot to pack dry bags. Honestly: there is nothing that sees you questioning your life choices more than powering down the river in an open-top dugout canoe with your $500 USD+ camera equipment sat on your lap.
In all seriousness, I normally travel with a tonne of dry bags, in a range of different sizes. Sea to Summit are both excellent quality and offer a range of different sizes.
I would recommend a two-litre bag for small electrical items (phone, passport, wallet etc) and four or eight litres for full camera equipment (depending on how much they carry with them).
The eight-litre is also ideal for storing your sleeping bag – given how hard it can be to dry it, if your sleeping bag gets wet, it really is game over.
(You can also buy them from Backcountry and Amazon)
Swiss Army penknife
As a child when we would go hiking in France for our holidays, I was told by my parents that I wouldn't get lunch if I didn't have my penknife on me.
Why? Because I wouldn't have anything for chopping up the cheese or spreading the butter into my sandwich!
While this isn't exactly a legitimate reason to not eat, a Swiss Army penknife does make an excellent gift for anyone who likes to tavel.
Not only can you make your sandwiches on the move or guarantee you're never short of a pair or scissors, but you can ensure there's always the chance for a glass of wine thanks to the inbuilt bottle opener!
(You can also buy one from Amazon).
Packing cubes
If you're buying a gift for a travel lover who has never yet encountered packing cubes then prepare to blow their minds!
I cannot tell you how much I love packing cubes. If you are packing a suitcase, they are the best way of keeping your clothes neatly folded – and not horribly creased – and organised; no pulling out every item in your suitcase in the hunt for that one shirt.
I've found that three mediums and one small fit perfectly into a carry-on sized suitcase, but if they tend to travel with larger luggage, you may well want to invest in a couple of large sizes too.
Compression Sacks
Ok, so if you're buying for someone who travels with a rucksack, ignore the above; those bad boys won't fit! Instead, treat them to a couple of compression sacks.
Most people use these as a replacement for the stuff sack that comes with your sleeping bag, but I've found them to be essential for packing your clothes, towels and other soft but bulky items in my rucksack.
Not only do they fit the shape of a rucksack better than packing cubes, these compression sacks help fit more items in as the straps on the outside of the sacks allow it to squeeze it right down, leaving plenty of extra space in the rucksack. I would suggest either medium or large sizes to fit best in a rucksack.
I've been using mine for five years now and I honestly don't use my rucksack without them!
(You can also buy a similar item them from Backcountry or Amazon)
Waterproof pants
Nothing says a great gift like a pair of waterproof pants!
No, seriously: hear me out. I'll admit, they are probably the dullest present you could find, but damn they're useful.
When I got piss-wet through in Patagonia, these were my absolute best friends, keeping me dry and toasty, whatever the weather chose to throw at us.
What's more, they're considered a luxury item by lots of traveller (yeh, go figure!), so many just don't bother to purchase them – and live to regret it.
Get waterproof pants for women or get waterproof pants for men
(And they're also available from Amazon for women and men!)
Travel books to buy for South America adventurers
The Rough Guide to South America on a Budget
Would-be South America travelers could do worse than get their hands on this extensive and detailed guide to South America.
While it focuses on the more budget side to the continent (ideal if you're in it for the long haul), there are plenty of activity, hotel and restaurant suggestions for those looking to spend a little bit more of their budget on once-in-a-lifetime experiences.
I contributed to the Peru and Paraguay sections, so I can vouch for the guide's accuracy!
Get The Rough Guide to South America on a Budget
Marching Powder – Thomas McFadden and Rusty Young
Cocaine might be South America's most notorious export and no book addresses this shady side of the continent better than the fantastic Marching Powder.
It describes the experiences of the British inmate Thomas McFadden, who found himself living in Bolivia's most notorious prison, San Pedro, after attempting to smuggle cocaine out of the country.
A true story, it follows his years inside starting up prison tours that would find their way into Lonely Planet and Rough Guide guidebooks to Bolivia.
The House of Spirits – Isabel Allende
From one of Latin America's most acclaimed novelists, this novel set in Chile weaves a tale of three generations of women in the Trueba family.
Drawing heavily on the authors' own kaleidoscope of enthralling – if sometimes truly barmy – relatives, Allende's three female leads, Clara, Blanca and Alba take us by the hand into Chilean society, warts and all.
Culminating in the dictatorship of 1973, the beautifully written House of the Spirits manages to mix non-fiction with the author's own brand of magical realism, making her characters and their fates seem both ir-real and utterly believable.
At the Tomb of the Inflatable Pig – John Gimlette
My friends have a particular eye roll perfected for every time I open my mouth about this book but, outside of my obsession with everything John Gimlette, I guarantee that it will make you desperate to visit Paraguay.
Yup, that is a country and it's one that no one visits, but this exceptional travelogue as Gimlette works his way through the country, learning about a place ravaged by wars, dictatorships and Irish mistresses in a fascinating and generally hilarious yarn.
Get At the Tomb of the Inflatable Pig
The Voyage of the Beagle – Charles Darwin
Few texts about Latin America have been quite so pivotal as Darwin's exceptionally readable journal, which follows the would-be naturalist's journey after the HMS Beagle sailed out of Devonport on 27 December 1831.
What follows is a remarkable collection of observations about the lands he passes, from Patagonia through to the Galapagos and which were formative in the writing of his most famous – and most controversial – book: The Origin of the Species.
The Last Days of the Inca – Kim MacQuarrie
The story of the Inca and their defeat at the hands of the Spanish conquest is one that has long been shrouded in mystery and untruths.
MacQuarrie's excellent and fast-paced non-fiction book takes you through the final years of the Inca and shows how a great civilization that was so developed could fall at the hands of a mere few hundred Spaniards.