What gifts do you buy a travel lover?
This is the question that my family faces each and every year. It's not that I'm hard to buy for, it's just that I don't really have anywhere to put new bits and pieces or any particular need for the decorative items that are normally such a hit as gifts at this time of year.
And I don't think I'm alone in this. But the best part about buying gifts for people who love to travel: there are always things that we do need.
Practical travel gifts and essentials – small, large or dull but incredible useful – always go down a winner for those of us travel enthusiasts with our indefatigable obsession with globetrotting.
So, whoever you have in your life who's planning a trip away, I guarantee that this list of the best gifts for travel lovers is packed with unique gift ideas to keep them happy this year!
Stocking fillers for travel lovers
Contoured sleeping mask
I can't count the number of times that I've tried to sleep on aeroplanes or buses and struggled to do so because of the bright lights that they never seem to dim enough.
I always need darkness, which is why this contoured sleep mask is a great option. It's a fantastic gift for anyone who loves to travel but also needs that right amount of darkness to get to sleep!
Shampoo bars
Since last year, I've been trying to both lower my use of plastic packaging and the weight of my rucksack – and I've found that shampoo bars are a positive way of achieving both.
Hard shampoo bars are both compact and lighter weight than in bottle form, making these the ideal travel friendly gifts.
I'll be honest with you: finding a shampoo bar that leaves your locks luscious and lovable can be a bit of a trial at first, but once you've got there, you can kiss goodbye to plastic shampoo bottles for good.
Lush is my go-to, but if you're in the US, Ethique has loads of different options, scents and ingredients – all guaranteed to put a smile on the face of your loved one! What's more, you can find them as conditioner bars, too.
Leather passport cover
Nothing says "ready to travel" like a slick new passport cover – and with various colors and personalization options available below, you're bound to find the perfect design for your loved one.
Considering their passport is the most important thing they'll be taking with them on their adventures, why not gift a long-wearing, beautiful passport cover to accompany them throughout?
Universal plug adaptor
If there's one thing that I usually get compliments on when I travel then it has to be my universal plug adaptor.
"Gosh, how boring everyone you meet must be!" I hear you cry!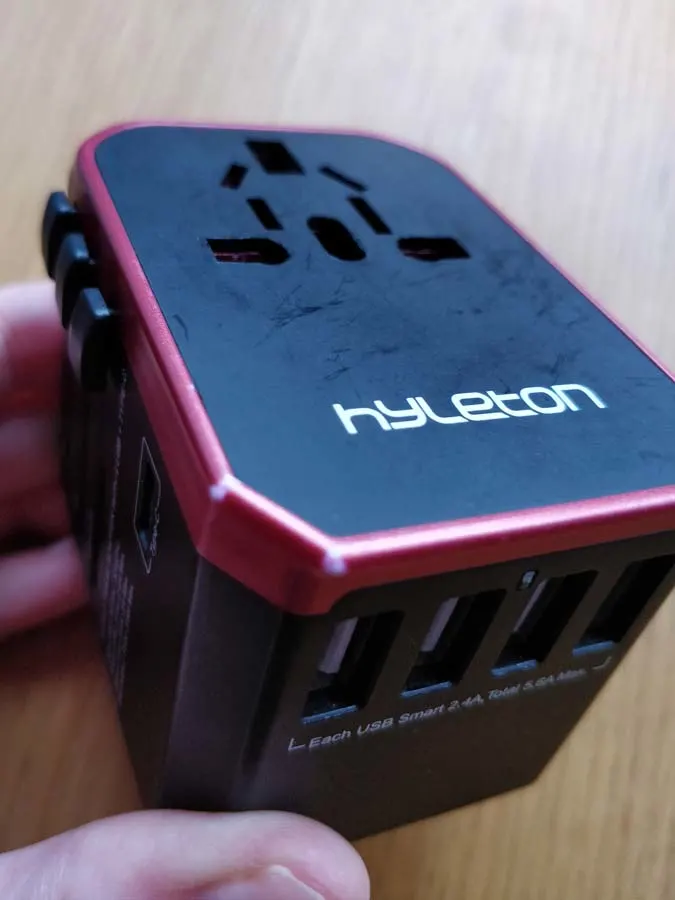 And you'd be wrong! Seriously, with prongs to fit every single possible plug socket (this may not be exactly true, but I've never come across one that it won't) plus space for four USB plugs, this will keep electrics charged wherever you go.
It's also a solid crowdpleaser as it means that, even if you are hogging the plug socket in a hostel, there's plenty of room for everyone to get charging.
This is the ultimate gift for frequent travelers – trust me, I am one!
Body Shop Shea body butter
I'm not one to travel with many unnecessary beauty items, but I'll admit that I don't travel anywhere without my Body Shop Shea body butter.
Not only does it smell divine (and I mean, divine!) and provide deep moisturizing without stickiness, it's a great pick-me-up pamper for those times when you just want something that makes you feel good!
What's more, the Body Shop doesn't test anything on animals, so this is guaranteed to make any travel lover feel good about their environmental impact, too.
It also works excellently as an after sun cream, so it's ideal for any fair-skinned adventurer like me!
Moleskine notebook
Every traveler wants a way to record their experiences and there's no way more personal than through the written word.
It's for this reason that a Moleskine notebook is the ultimate gift for someone who loves to travel. Hardback black is the traditional style (and guaranteed to make them feel like they've fallen straight out of Eat, Pray, Love).
But there are various different colors and sizes to choose from – and all are guaranteed to get your favorite traveler's creative juices flowing!
Anker PowerCore portable charger
While travel is the perfect time to disconnect from the onslaught of information slung at us daily by the world wide web, it's also the time when you want to have enough juice in your devices to ensure that you can capture each and every last photograph and video of your trip.
It's for this reason that I always carry a portable power bank with me, which I've found invaluable for everything from long bus journeys to multi-day hikes.
Seriously, if you buy only one gift on this list for your travel-addicted friend, it has to be this.
The Anker PowerCore manages three charges of your phone (46 hours of battery life to be exact) and only weighs 180g.
It does take a long time to charge (but all of these battery packs do – you are effectively charging your phone three times, after all), so you'll always want to pop this on overnight to ensure it gets a full charge.
(You can also buy a similar product from REI)
Eco-friendly gifts for people who travel a lot
WaterToGo bottle
Dealing with the environmental crisis facing our world is something that all of us must play a part in – and actively making the choice to reduce your use of single-use plastic is a concrete way to make a difference.
What better gift for an eco-travel-warrior than a Water-To-Go bottle? What makes these most attractive is that they contain an internal filter that gets rid of all nasties in the tap water, making it instantly safe for you to drink (unlike other travel water filters available on the market).
What's more, their low-price tag compared to many of the other options on the market (check out the Steripen below) makes them doubly attractive – as does the extensive work that the company does in supporting charities based across the globe.
By gifting one of these bottles to your favorite travel enthusiast, you're helping to curb the plastic problem and do some good. What a great present!
Cork toiletries bag
Traveling in an eco-friendly manner isn't just about protecting the earth; no, it's about doing so in style, too.
And there's no better way of doing it than this beautiful cork toiletries bag. It's both eco-friendly (the cork is, obviously, 100% natural!) and vegan, making it a fabulous and unique gift!
Steripen Adventurer
I've raved about my Steripen Adventurer since getting it five years ago and I'll rave about it again: this is the ultimate in eco-friendly travel accessories!
Ok, so it's not the sexiest gift, but trust me: your recipient is going to love you. Not only will it save them a ton of money because they won't have to pay for bottled water, but they can avoid feeling awful about having to use and dispose of single-use plastic bottles each and every day. Win-win!
While it is expensive compared with other options on the market, it's so easy to use, the batteries last for ages and, after using this for around two months of traveling, it'll have paid for itself.
Read my full Steripen Adventurer review if you want to read me waxing truly lyrical about this filter.
(You can also buy it at Amazon).
Hydro Cell water bottle
Staying hydrated when you travel is essential – and having your own water bottle that works for both hot and cold liquids is mostly just a pipe dream – unless you have a Hydro Cell water bottle!
Built from stainless steel and BPA free, this bottle is vacuum sealed to keep liquids hot for eight hours and others cold for up to 24.
It also comes in a variety of sizes (I recommend the 32 oz as a sensible traveling-sized bottle), 12 cute colors (I love the fuchsia!) and, best of all, the wide mouth of the bottle works with the Steripen Adventurer!
This is a fantastically practical travel gift that they'll get so much use out of.
Zero-Waste starter kit
Got a friend who's trying to go cold turkey when it comes to waste? Help them achieve that goal this year with a zero-waste starter kit.
Packed up in a handy box is a range of items that they'll be dying to use: everything from silk dental floss and mesh produce bags to bamboo toothbrushes and reusable straws.
They're ideal for travel and the whole set looks pretty adorable, too.
Reusable makeup remover rounds
Cutting out disposable face wipes is a surefire way to embark on a zero-waste lifestyle and there's no way to do it in more style than with these reusable bamboo makeup remover pads.
Not only are they made from sustainable bamboo, but they're easy to use as you just need them in the washing machine after use.
They've genuinely revolutionised my face care routine and they're guaranteed to do the same for your travel-loving friend!
There are similar ones on Amazon, too
Wild deodorant
Wild are everywhere right now.
Their reusable deodorant cases, and deodorant refills (housed in eco-friendly, compostable bamboo pulp) are an obvious choice for those looking for sustainable deodorant options. Not to mention, their products are aluminum, paraben, and sulfate-free, and entirely vegan and cruelty-free.
Plus, so far Wild have planted 445,994 trees, and diverted 80 tonnes of throwaway deodorants from landfill, and they're proud to have achieved B Corp status. What's not to love?
Reusable and collapsible straw
Sustainable AND handy? I'm sold.
This pack of four collapsible straws is small enough to be carried around at all times, and the clips that are included mean your travel lover can attach them to their bags for easy-access.
Wave goodbye to plastic straws and soggy paper straws forever with these metal straws (I bet they carry on using them when they're back from their travels, too!)
TSA-approved padlocks
From securing backpack zips to storing valuables in lockers, I always recommend traveling with at least one padlock on every adventure.
And these TSA-Approved padlocks are a great option.
With three-digit code access (no need for keys here!), flexible cable locks and a steel build, the peace of mind of having a reliable padlock on hand is priceless.
Gifts for travelers who love to learn
Language study program: Rocket Languages
I'm a huge advocate of learning at least some of the lingo of a new destination before you arrive, but understand that this can be a huge endeavor – and one that not many people have time for.
One of the best things I've found about traveling in South America is the fact that most countries speak Spanish, so it's a great place to travel if you only want to focus on learning one language!
I know that Duolingo is the flavor of the day for most budding linguists, but I've personally never found it to be particularly effective in providing a rounded language education (although it's great for learning random words and phrases!).
While you can spend an arm and a leg on language tuition, a great alternative is Rocket Languages.
It comes with a really comprehensive reading, writing and listening program, with a particular strength being its use of audio from native speakers to help you improve one of the most difficult of skills: comprehension on the ground.
What's more, you can download all of the lessons, meaning you can be working on them offline – even while you're traveling!
Language lessons through Italki
While taking face-to-face, one-on-one classes is the most ideal means of learning a language, if that's out of your price range or doesn't fit with your schedule, a great alternative is italki.
This is effectively an online marketplace of teachers around the globe, where you can take affordable, one-on-one classes over Skype.
Unlike subscription-based programs such as Rosetta Stone, Italki only charges you for the classes that you do take, so it's excellent preparation for someone who travels a lot!
Adventure travel-themed gifts
GoPro HERO 11
Adventurous travelers generally have one thing in common: they love to document their trips.
This is why the GoPro HERO 11 is such a cool gift for an adventurer in your life.
With Emmy-award winning stabilization, the ability to grab high-res photos straight from your videos, Scheduled Capture and TimeLapse features, the latest GoPro release is the best one yet. It's also fully waterproof (up to 10m), offers 8x slow-mo and has a whopping 5.3K resolution.
For those who might want something a little more involved, the GoPro HERO 11 bundle pack includes various wrist, helmet, and chest straps, along with tripods, selfie sticks, mounts and accessories to ensure you can film throughout your trip – whatever the adventure.
For budding filmmakers with a little less cash to spare, the GoPro HERO 9 remains a fantastic alternative, at a slightly lower price-point.
Sea to Summit Dry Bags
If, like me, you know a frequent traveler with a tendency to pack a whole lot of technology, then you'll be wanting to protect them from their biggest nightmare: water.
I just spent 2.5 weeks traveling almost entirely by boat on a trip to Guyana and Suriname and, shock horror, I completely forgot to pack dry bags. Honestly: there is nothing that sees you questioning your life choices more than powering down the river in an open-top dugout canoe with your $500 USD+ camera equipment sat on your lap.
In all seriousness, I normally travel with a tonne of dry bags, in a range of different sizes. Sea to Summit are both excellent quality and offer a range of different sizes.
I would recommend a two-liter bag for small electrical items (phone, passport, wallet etc) and four or eight liters for full camera equipment (depending on how much they carry with them).
The eight-liter is also ideal for storing your sleeping bag – given how hard it can be to dry it, if your sleeping bag gets wet, it really is game over.
(You can also buy them from Backcountry and Amazon)
Swiss Army penknife
As a child when we would go hiking in France for our holidays, I was told by my parents that I wouldn't get lunch if I didn't have my penknife on me.
Why? Because I wouldn't have anything for chopping up the cheese or spreading the butter into my sandwich!
While this isn't exactly a legitimate reason to not eat, a Swiss Army penknife does make an excellent gift for anyone who likes to travel.
Not only can you make your sandwiches on the move or guarantee you're never short of a pair of scissors, but you can ensure there's always the chance for a glass of wine thanks to the inbuilt bottle opener!
(You can also buy one from Amazon).
Compression Packing Cubes
I cannot tell you how much I love compression packing cubes.
If you're buying for someone who travels with a rucksack or suitcase, they are the best way to keep clothes neatly folded and organized – and as they compress, you can fit more in than a traditional packing cube.
Wave goodbye to needing to pull out every item in your suitcase in the hunt for that one shirt!
Waterproof pants
Nothing says a great gift like a pair of waterproof pants!
No, seriously: hear me out. I'll admit, they are probably the dullest present you could find, but damn they're useful.
When I got piss-wet through in Patagonia, these were my absolute best friends, keeping me dry and toasty, whatever the weather chose to throw at us.
What's more, they're considered a luxury item by lots of travelers (yeh, go figure!), so many just don't bother to purchase them – and live to regret it.
Solar-powered phone charger
Whether it's used to take photos of their adventures, stay in touch with home, or access Google Maps and Google Translate, chances are, your travel lover will be relying on their phone a lot.
And with long travel days, busy electric sockets at hostels and the anxiety of running out of battery, a solar-powered phone charger could be the answer. It's also one of the best travel safety accessories, as it ensures you never lose power when out hiking or in remote areas.
Compatible with all major phone models, tablets, speakers and powerbanks, this foldable solar-powered phone charger takes up minimal space – and the clip allows you to charge on the go, by attaching it to your backpack.
Travel sneakers
Allbirds are fast becoming the light sneakers of choice for both men and women – and are perfect for travelers looking to explore the city, trek through the jungle or head out on a light hike.
With cushioned midsoles and crash pads, Allbirds are designed to be worn all day without weighing you down – and as a proud B Corp, they're also doing their bit for the environment too (check out their sustainability strategy for more info – they're certainly practicing what they preach!)
Trekking poles
If your traveler is off on a hiking trip (whether home or away), trekking poles could very well be high on their list of must-have items.
Designed to provide support on flat surfaces and rocky terrain, ascents and descents, they can provide stability and reduce impact on joints to help them go further, for longer.
Rechargeable headlamp
I never go on any trip without my rechargeable headlamp – and for those heading off on an outdoor adventure, this waterproof lamp with eight different light settings is a great option for hands-free vision.
If your traveler is also planning on staying in shared rooms in hostels on their trip, a headlamp can be a great way for them to locate items in their backpacks in the dark without needing to turn the main light on (and ultimately, stay in good favor with their roommates!)
Hydration bladder
A hydration bladder is a lightweight and effective way to keep fluid intake high when embarking on a hiking or travel adventure.
The drinking tube allows for hands-free use, and the 2L capacity ensures your traveler is staying hydrated, whatever the activity. With a large opening, it also enables easy cleaning – and the ability to add ice into the pack, if preferred.
Miscellaneous travel gifts
Kindle Paperwhite
With limited space in their luggage, a Kindle ereader is the best way for your travel lover to carry their library of books with them.
Whether they're looking to be entertained on long bus rides through South America, want to live their best life reading on the beach, or like to grab a few pages before they go to bed, a Kindle really will become your travel lover's best friend.
For those with a larger budget, the glare-free Kindle Oasis offers a 7" display, is waterproof, and features page turn buttons, or alternatively, the cheaper Kindle Paperwhite comes in at 6.8", offers a glare-free screen, and provides the same access to millions of books in one place.
Light-up travel mirror
Just because they might need to travel light, it doesn't mean your travel lover needs to forgo all luxuries – and this light-up mirror is a popular option for those who still want to keep up with their beauty routines on the road.
The mirror is ultra-slim and lightweight – and is fully rechargeable, so no need to carry batteries around.
Electronics cable organizer
There's nothing worse than tangled cables in the bottom of your bag – especially when you need to access your electronics quickly – which is why I love my cable organizer.
If your travel lover is planning on taking their laptop, camera, hard drive, mouse and chargers with them on their trip, trust me when I say this cable organizer will be a hit!
It's also waterproof (which is a key selling feature for me!), and while it may only be small, it sure can pack a lot in.
Drone
We've all seen the incredible birds-eye videos of beautiful landscapes and cliff-edges – and for budding filmmakers, a drone is most likely high on their wishlist.
For beginners, the budget-friendly RADCLO offers the opportunity to experience using a drone, and comes with a 1080P HD camera, can carry out 360° flips, has a wide-angle lens, and can fly for up to 22 minutes.
Alternatively, for more experienced drone fliers, the DJI Air 2S seems the obvious choice. With high res 5.4K video, a 1-inch CMOS sensor, 4-direction obstacle sensing and Mastershots, it's well-worth heading to the review section to see some of the videos other customers have been able to shoot using this aerial powerhouse.
Toiletry bag
When staying in hostels, it's wise to find a toiletry bag that has a hook, enabling you to hang your toiletry bag up on a door (rather than needing to put it on a floor or surface).
And these stylish options are as beautiful as they are functional!
Look for a bag with multiple compartments to benefit from easy-to-access toiletries and organization (because trust me, these little moments of organization really can be a game-changer when you're on the road for weeks at a time).
Neck pillow
Trtl have changed the game when it comes to neck pillows.
Gone is the need to carry large, chunky neck pillows around with you (which, when you're backpacking, is entirely unrealistic). Instead, say hello to the foldable, lightweight neck pillow with a patented internal support system.
If your travel lover is flying long distances, they're going to love this!
Travel laundry bag
It might not be the most glamorous of gifts, but one week into any trip, your travel lover is going to be grateful they have these!
Help them keep their dirty laundry separate in their backpack, and keep clean clothes fresher for longer. Laundry day will be a breeze, with all their dirty clothes together in one place.
Travel sound machine
If your traveler is someone who needs background noise to nod off to, this travel sound machine is a great option.
With 21 different sounds, a clip to attach to bags, and the ability to recharge (rather than needing to carry batteries around), you can ensure they get a good night's sleep, wherever they are in the world.
Scratch-off map
Just because they might be home, it doesn't mean your traveler can't be dreaming of far-flung places – and this detailed scratch-off map allows them to track their travels and plan their next adventure in one beautiful location.
Designed with cartographic detail, it also includes a breakdown of US States, can be framed, and comes in multiple different sizes.
It's a gift that truly can last a lifetime.
Camping hammock
Picture the scene: your travel lover has spent the day hiking in the wilderness of a far-flung destination and is ready to set up camp for the night. They've got their tent. They've got their sleeping bag. The campfire is roaring.
And now, thanks to you, they've got their hammock set up between two trees, ready for an evening of relaxation and comfort.
With two sizes available (for one or two people), the hammock comes with two 9ft talon straps, two carabiners, and a storage bag to allow for easy set-up, and even easier take-down.
Aromatherapy roll-ons
After a long travel day, the benefits of an aromatherapy roll-on should never be underestimated – and these multipacks are an ideal option for those looking for a boost, or for relaxation.
They're also small enough to pack in even the most limited of rucksack space, are cruelty-free, and can be applied directly to the skin, making them a long-lasting option for those interested in essential oils.
Wireless Bluetooth speaker
Whether your traveler is planning on staying in party hostels or is looking for a more relaxed experience, having a small and portable Bluetooth speaker on hand can help provide the soundtrack to their adventure.
Splashproof, long-lasting, rechargeable and with different color options available, it's a great gift that can be used both home and away.
Cell phone camera lens kit
If your travel lover is a photography enthusiast but doesn't want to be lugging a camera around with them on their trip, why not consider a cell phone camera lens kit?
This kit includes 1x 120° wide angle lens, 1x 198° fisheye lens, 1 x 20x macro lens, a universal clip (suitable for most iPhone and Android phone models), and a storage bag to keep the lenses safe and secure.
Camera
For those who won't go anywhere without a digital camera to capture their adventures, Canon's EOS M200 is a great option!
Popular with vloggers, this model offers 4K video and 4K time-lapse, high-res images at 24.1 megapixels, an LED touch screen, and built-in Bluetooth and Wi-Fi technology to share images instantly and efficiently.
Head to the review section to take a look at some of the images other customers have captured with this camera.
The Wander Club
I love the concept of The Wander Club.
For every country, US State, US National Park, MLB statium, city, landmark and continent you visit, you can purchase a small stainless steel ring to display on a ring carrier of your choice.
It's a lovely way to collect your memories, and for every order received, The Wander Club proudly feeds a child in need.
Buff headwear
With 12 ways to wear your Buff, and multiple designs available, this is a backpack wardrobe staple!
Breathable, stretchy, quick-drying, lightweight, and offering UPF 50+ sun protection, it's a great option wherever the destination, and whatever the adventure.
Digital magazine subscription
A whole host of magazines available to read at the touch of a button – without needing to lug them around in a backpack?
Count me in!
With unlimited access to over 7000 magazines, a Readly subscription is the gift that keeps on giving.
Microfiber towels
Microfiber towels are an absolute MUST for those looking to travel light – especially if your travel lover is off on a backpacking adventure.
Microfiber towels are fast-drying, pack down super-small, lightweight, and absorbent – and aswell as being ideal for drying after a shower, they're also great for the beach and at the gym.
Look for a towel that includes a loop so you can hang them up to dry them anywhere.
Travel detergent
Nobody wants to have liquid detergent spill in their backpacks – which is why I swear by detergent sheets.
These sheets can be used in a washing machine, or for handwashing, and works with hot or cold water.
And for those looking to save even more space on a shorter-term trip, your travel lover can take just a few sheets with them on their trip, rather than taking the entire pack.
They'll save on the cost of laundry, AND take up next to no space in their backpack. No brainer!
Wireless earphones
Wireless earphones are everywhere nowadays – and for good reason.
It's time to wave goodbye to tangled, splitting wires!
These wireless earphones (with over 252,000 reviews!) offer Bluetooth syncing, touch control functions, the ability to charge on the go with the rechargeable case, and are waterproof up to 1 meter deep for 30 minutes.
Apple AirTags
When your travel lover's world is in their luggage, AirTags will enable them to keep track of and find their items straight in their iPhone or iPad.
To do so, they need to place an AirTag on or within the item they'd like to be able to keep track of, and using their iPhone, they can identify its whereabouts, wherever in the world. With the replaceable battery lasting over a year, and multiple colorful accessories available separately, it's a great way for your travel lover to keep an eye on their valuables.
See?
Whilst your travel-lover might be short on space, there's always something you can find for them – whatever the occasion!