Having spent over three years living in Santiago, plus multiple other trips back to Chile where I've hitchhiked, road-tripped, and trekked around this country, I think it's fair to say I know a thing or two about the places to visit in Chile.
As one of the top destinations on the planet for adventurous travelers (and #1 in South America), there are a plethora of destinations that you really need to discover on your next trip to South America's skinniest and stunning[ist] country.
Sure, Patagonia and Torres del Paine National Park are a huge draw (and included in this list), but there are so many utterly beautiful places across the country that deserve to be on your itinerary.
So, get ready to be inspired with this list of my eight favorite locations for your next adventure when you travel to Chile – and don't miss my article about the best things to do in Chile, either!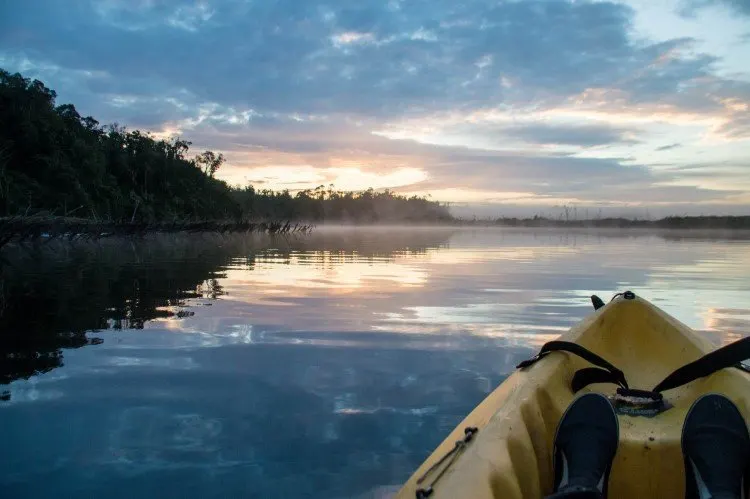 1. Torres del Paine National Park
If you've read anything about this country then it should come as no surprise that Torres del Paine National Park comes out at the top of this list of places to visit in Chile.
I first saw the granite spires of this surreally beautiful national park when I hiked the W back in March 2016 and was so enamored that I had to return to complete the Full Circuit or O.
Although I understand that a nine-day hike can take quite a chunk out of anyone's holiday allocation or backpacking trip in Chile, I strongly recommend that you consider trekking the Circuit rather than the more popular – and very busy – W.
Not only will you get your fill of hanging glaciers, glimmering glacial lakes, and glimpses of guanacos, foxes, and hares, but it's a genuine adventure that accessible even to those who've never embarked upon a multi-day hike before.
How to get to Torres del Paine National Park from Santiago: Flights from Santiago to Puerto Natales run from the start of December until the end of February with LATAM Airlines. Out of these dates, flights from Santiago to Punta Arenas with LATAM or Sky (two per day, three hours 25 minutes) are your best option.
Where to stay in Puerto Natales: The closest town to Torres del Paine is Puerto Natales, and most travellers stay at least overnight in what has become a surprisingly hip little town. Possibly my favorite hotel in Patagonia (or Chile itself) is Simple Patagonia ($250 USD double) where, on clear evenings, sunsets across the sound are spectacular from its vast windows. Channeling the barns that once populated the region, the buildings are simple, while inside is a modern warm design, with underfloor heating, large tiled baths, and astonishing views from the living and dining area and bedrooms (the best are rooms 8 and 11).
2. Chilean Tierra del Fuego, Southern Patagonia
As adventurous places to visit in Chile go, this is probably the most difficult and rewarding of them all. Tierra del Fuego, the huge island at the far end of Patagonia, is only really visited on the Argentine side, with tourists making their way to Ushuaia and the southernmost city on the planet.
Planning Your Trip to Chile?
Save time, stress & money with a customized travel itinerary planned for you by a Chile expert
But the Chilean half of Tierra del Fuego is a bewitching paradise of soaring, snow-dusted mountains, rusty peat bog, and a huge range of native wildlife that you're almost guaranteed to see on a trip here.
In March 2017, I took not one but two road trips to the very end of the road at Caleta Maria, powering through windswept landscapes in our rental Landrover and wild camping beside vast, undisturbed lakes.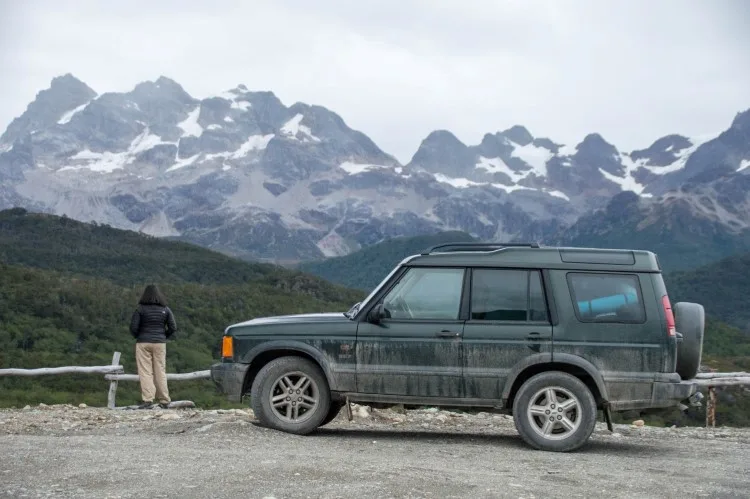 Chilean Tierra del Fuego was truly the most beautiful place I've ever been in South America and for adventurous souls, it's the ultimate place to visit in Chile.
It's also home to Parque Pingüino Rey, a reserve protecting the 70-or-so-strong colony of king penguins that lives at the shores of Bahía Inútil in Tierra del Fuego and which you can visit as part of an expensive tour from Punta Arenas or by arriving independently.
How to get to Tierra del Fuego from Santiago: Fly from Santago to Punta Arenas and hire a vehicle (a 4×4 isn't necessary but a car with reasonably high suspension is a good idea) and take the ferry across at Punta Delgada to Tierra del Fuego.
There are plenty of international vehicle rental companies in town, but for the best prices and to book easily in advance (and get insurance documents in English), I always use Rental Cars.
Where to stay in Tierra del Fuego: There is a range of cabañas (cabins) run by local people en route. We stayed in Hosteria Las Lengas (four-person cabin $83,300 CLP ($125 USD), double room $134,470 CLP ($202 USD), reservations rese[email protected]) on the shores of Lago Blanco and at Estancia Lago Fagnano (camping (price unknown), four-person cabin $60,000 CLP ($90 USD), contact +61 2 262 366 or +56 9 821 683 88), as well as wild camped in various lake and riverside spots.
3. The Chepu Valley, Chiloé
A growing number of those who travel to Chile head to Chiloé, the island just south of Puerto Montt in the Lakes Region. It's best known for its rainbow-colored houses on stilts that line the estuary in capital Castro and which are known as palafitos.
Many of these former fishermen's dwellings have been converted into swish boutique hotels and symbolize the rich culture that makes this island so distinct from the rest of Chile.
You'll also see this singular identity in the equally quirky wooden churches dotted around the island. 150 were built by the Jesuits in the early 1600s with the help of the Chilote people, with the remaining 60 – many in pastel hues – a curious representation of the island's boatbuilding and religious heritage. 16 have also been designated UNESCO World Heritage sites to reflect their distinctive cultural importance.
Beyond the architecture, Chiloé is a place of unique food (try curanto, a seafood and potato stew cooked underground) and untouched natural landscapes.
While Parque Nacional Chiloé is the most visited, my personal favorite is the astoundingly beautiful and wildlife-rich Chepu Valley.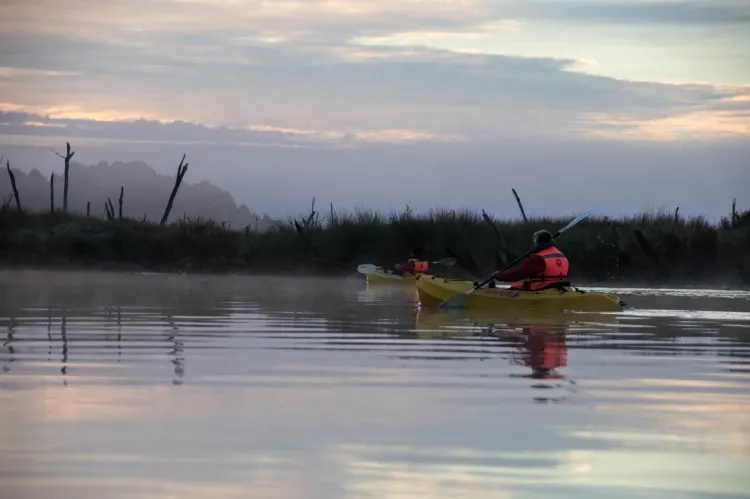 Here, I kayaked at dawn through the jet-black boughs of a forest that sunk beneath the waters of Río Puntra after a 9.3 magnitude earthquake – the largest ever recorded – ripped through the island, causing the whole of Chiloé to drop 1.5m.
You might even spot Southern river otters in these silent waters, and while I failed to do so, I did manage to catch a glimpse of a whole family of pudú, one of the smallest deer species in the world.
Unfortunately, the lodge that used to offer these tours has since shut down, so your best option is a tour from nearby Ancud. The area also has one of the most beautiful coastlines I've seen in Chile, so it's well worth the wander down to the beach.
How to get to the Chepu Valley from Santiago: Sky and LATAM both fly to Puerto Montt (five per day, one-hour 45 minutes, from where you need to take a bus to Puerto Montt bus station to get connecting transport to Ancud.
From here, public buses leave on Mondays, Wednesdays, and Fridays to Chepu (check at the bus station for the exact times in the morning and afternoon). Alternatively, you can take a taxi directly to Chepu or get dropped off at KM 25 on the road towards Castro and hitchhike from there.
Where to stay in the Chepu Valley: On the western shores of Lago Cucao in the southwest of the island, Palafito Cucao Lodge ($130 USD double, two-night minimum) is one of my favorite places to stay in Chile. The building mimics a traditional wooden-shingled palafito, with a stylish living room and wraparound terrace over the lake, where you may spot an otter meandering through the waters. It's also just a short distance from Parque Nacional Chiloé, which is home to a number of short hiking trails and outstandingly beautiful beaches.
4. The Carretera Austral, Northern Patagonia
This 1,240km stretch of mostly unpaved road makes for one of the most exciting ways of traveling in Chile: road-tripping. Depending on your Chile travel itinerary, you can start the Carretera Austral at its northern tip from Puerto Montt or at its southernmost town, Villa O'Higgins.
In reality, most rent a vehicle in the former (just check the T&Cs to ensure you can take it on the Carretera Austral) and drive through the glacial and forested landscapes of northern Patagonia, stopping at Carretera highlights such as the Queulat Hanging Glacier, the Enchanted Forest, the San Rafael Glacier, and the Marble Caves.
You can also hire a car in Balmaceda, an airport halfway down the Carretera Austral.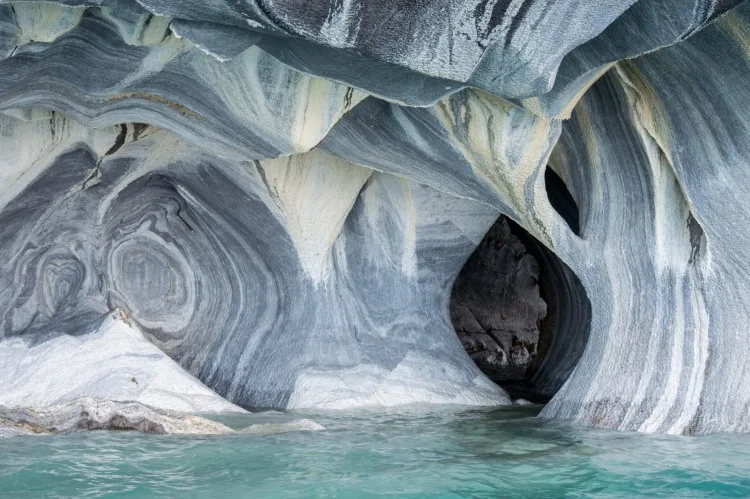 For those with even more adventurous tendencies, travel in Chile wouldn't be complete without hitchhiking the Carretera Austral, a both safe and highly recommended way of seeing Patagonia.
You'll need to allow yourself more time as it's never guaranteed that you'll get hitch, and also to pack a full set of camping equipment (check out my recommended packing list for Patagonia for suggestions) just in case you get stuck in the middle of nowhere and have to pitch up in a spellbindingly beautiful part of Patagonia – what a shame!
How to get to the Carretera Austral from Santiago: Sky and LATAM both fly to Puerto Montt (five per day, one-hour 45 minutes). Alternatively, the Navimag ferry leaves Puerto Montt and sails to Coyhaique, about halfway along the Carretera Austral two times per week during the Austral summer.
Where to stay along the Carretera Austral: There are plenty of places to stay en route. Check out this complete guide to the Carretera Austral for all my recommendations.
5. Puerto Varas, The Lakes Region
Puerto Varas has long been one of the favorite places to visit in Chile for travelers, not only because this small city has an incredible lakeside location and is overlooked by the snowy cone of Volcán Osorno, but it's also a short distance away from a whole host of hikes and activities.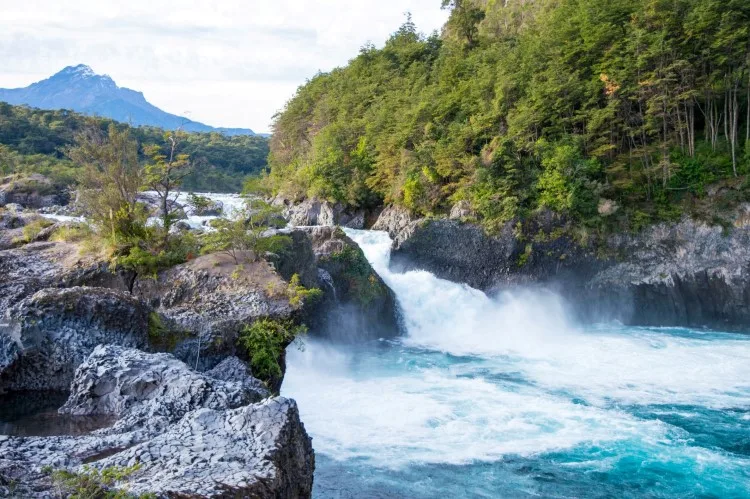 One option is to summit the volcano using a tour, but if you're on a smaller budget, you're better off renting a car from town and driving up to the end of the road near the top of the volcano, from where it's possible to ride the cable car even higher.
At the top of the cable car, you can hike to the red crater which has stupendous panoramic views of the surrounding landscape.
Nearby, there's also the Saltos de Petrohue, a set of gushing waterfalls that spill over ancient lava flows and the tiny village of Petrohué where you can walk along the beach beside Lago Todos Los Santos and even pay a small amount for a short boat trip around the lake.
How to get to Puerto Varas from Santiago: Sky and LATAM both fly to Puerto Montt (five per day, one-hour 45-minutes) and from there, it's a short bus journey to the bus station and then 20 minutes via local minibus to Puerto Varas. Buses from Santiago also leave for Puerto Varas, taking roughly 13 hours.
Where to stay in Puerto Varas: Both times that I've travelled in Chile to Puerto Varas, I've stayed in Compass del Sur (dorm $14,000 CLP ($17 USD), double room $39,000 CLP ($46 USD)). They have huge, comfortable rooms and their breakfast is awesome!
6. The Atacama Desert, Norte Grande
Sky-piercing volcanoes combine with record-breaking geyser fields and a sprinkling of flamingos in the Atacama Desert, one of the most popular destinations for foreign tourists and one of the truly unmissable places to visit in Chile.
At over 2,400m above sea level, the Atacama Desert is breathtaking in both senses of the word and also one of the top places on the planet for stargazing thanks to an average of over 200 cloudless nights per year.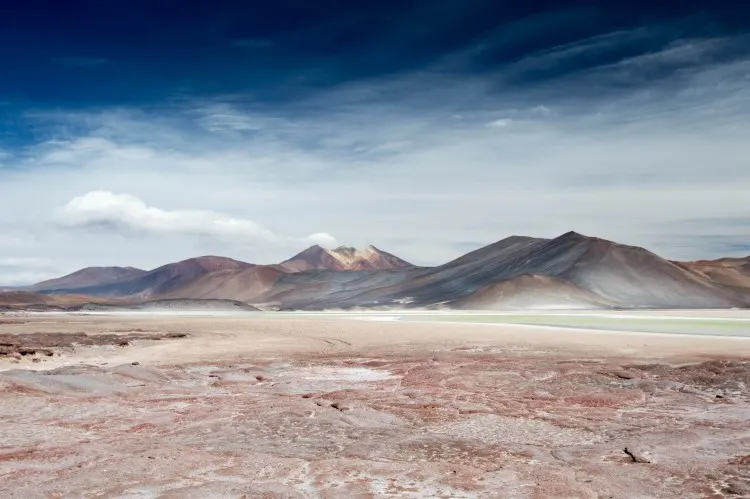 But while a trip to this high-altitude region of desert and salt flats is always going to be memorable, one way to ramp up the adventure is by hiring a car and heading out into the Atacama Desert under your own steam.
Not only will this save you a lot of cash, but it means that you can adapt your itinerary and reach places such as the Piedras Rojas – a strange formation of lava flow from one of the many surrounding volcanoes – which was my personal highlight.
How to get to the Atacama Desert from Santiago: Seven flights per day leave from Santiago to Calama (two hours 10-minutes), after which it's a one-and-a-half-hour bus journey to San Pedro de Atacama, the oasis town at the heart of the desert.
Where to stay in the Atacama Desert: I stumbled upon Ckuri Atacama ($48,000 CLP ($78 USD) double) online and this is definitely the nicest place you will find in San Pedro. They only have three rooms and it's best if you're a couple (they're only double rooms), but they all include a bathroom with shower, a large double bed and a small dining area with fridge, cutlery, and plates.
7. Valdivia, The Lakes Region
This small university city in the Lakes Region isn't one of the places to travel in Chile for adventure per se, but given that so few tourists ever make it here, part of Valdivia's appeal is that you feel like you've made it some truly away from the crowds.
That said, there's plenty of room for an adventure in Valdivia, which is best known by Chileans as the beer capital of the country, thanks in large to the German heritage of many of its residents.
Brewing giant Kunstmann is based here and you can even do a tour of its factory (something I've heard compared to a trip to Disney Land – so you may want to give it a miss), but there's a range of tiny, craft breweries and brilliant bars selling all the local brews (a particular favorite was El Growler).
What's more, the resident sea lion colony that lives at the fish market is more than worth the trip to Valdivia alone – particularly as you'll likely see a fearless local dog attempting to have a standoff with an equally fearless sea lion…
Outside of town, you can take a bus to nearby Niebla where tiny motorboats transport you across to the ruined Spanish fortifications on Isla Mancera and Corral or you can enjoy the museum at Fuerte Nieble with its commanding views across the bay.
How to get to Valdivia from Santiago: It's a ten-hour, overnight bus from Santiago to Valdivia with a number of companies offering the route. You can also take a 3-and-a-half-hour bus from Puerto Montt.
Where to stay in Valdivia: We stayed in the incredible Airesbuenos Hostel (dorms $12,000 CLP ($16 USD), double $32,000 CLP ($51 USD)), which has a beautiful outdoor space, huge comfortable bedrooms and a really great breakfast.
7. Pucón, The Lakes Region
For many, Pucón is the ultimate destination for adventure travel in Chile, with the main highlight being the fact that you can ascend to the peak of Volcán Villarrica, an active, 2,847m stratovolcano that presides over the town and the whole area.
One of the major draws of hiking to the top is the lava lake found within the volcano's crater and which can be seen spitting lava in the months of February and March when it's most active.
Luckily, it hasn't erupted for two years, when it spewed lava and ash into the air and over 3,000 people were evacuated.
But the real fun comes when you make your way down, sliding on your posterior as far as the snow will take you.
Although you're unlikely to see the lava if you visit in October or November, you'll definitely end up sliding down the volcano a lot further (and walking a lot less) than we did when I was there in March.
In and around Pucón there are also a wealth of hiking trails with sensational views in Parque Nacional Huerquehue, kayaking and rafting opportunities on the nearby Río Trancura, and a load of hot springs that are best visited at night so that you can relax in a geothermal pool beneath a shimmering sky of stars.
How to get to Pucón from Santiago: Most visit Pucón as part of a trip towards Santiago from Patagonia as it's around five hours by bus to Puerto Varas and Puerto Montt. However, it's possible to take an 11-hour overnight bus from Santiago directly to Pucón.
Where to stay in Pucón: Pucón is known as Chile's capital of adventure and, while it's a firm favorite with the backpacking set, if you're looking for a high level of comfort than a hostel, there are plenty of options – although you will need a car to access the best. Rakau Lodge ($275 USD double) sits comfortably within this category. This sensitively-designed property is surrounded by forest and so is the ideal place for relaxation – particularly after a busy day of hitting the trails in nearby Parque Nacional Huerquehue. It's worth upgrading to the villa for your own private terrace surrounded by the peaceful sounds of the forest.