One of the most beautiful places in the world, the Perito Moreno glacier is a rare tourist attraction that is 100% worth the buzz – and the price tag. Do not be dissuaded by its popularity; the scale of this glacier and its awe-striking natural beauty is enough to make the crowds fade into the background.
The Perito Moreno glacier sits on the edge of Lago Argentino, in Patagonia. It is one of 47 glaciers in Argentina and the third largest in the country.
But what is most impressive about the Perito Moreno is how close you can get to the calving snout of this cobalt blue ice giant. A series of boardwalks bring you within a few hundred meters of its snout.
Without opting for a glacier trekking tour, this is likely the closest you will get to a glacier in Patagonia.
Just west of El Calafate, this frozen river is one of the few glaciers in the world still growing. You can hear the crack and boom of advancing ice sheets underneath you.
What's more, while it may seem frozen, this glacier is actually on the move. As it grows, huge chunks break off the face of it, the splash creating a spectacular show and rightfully earning it the accolade of one of the most unmissable places to visit in Argentina.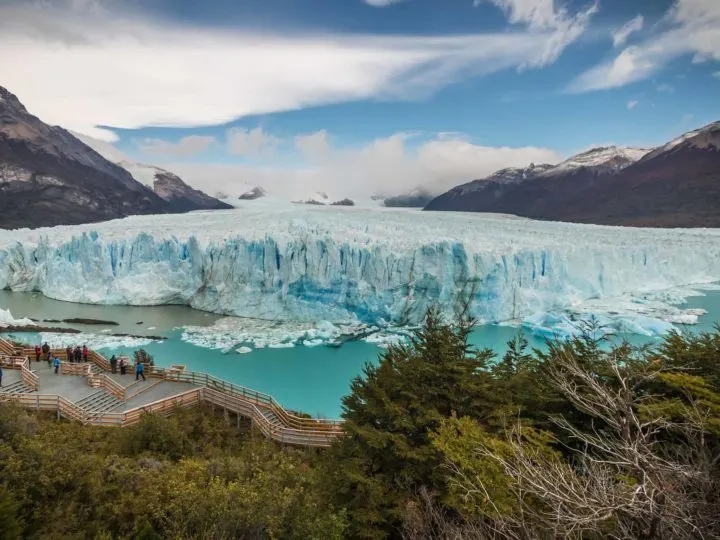 Where is the Perito Moreno glacier?
Los Glaciares National Park in Argentina Patagonia is home to the Perito Moreno glacier. The park is 75 kilometres west of El Calafate, the town where most people stay when visiting the glacier.
Planning Your Trip to Patagonia?
Save time, stress & money with a customized travel itinerary planned for you by a Patagonia expert
How to get to Los Glaciares National Park
From El Calafate to the Perito Moreno glacier and Los Glaciares National Park, it's a 90-minute drive.
Most people opt for the easy option to get there: a Perito Moreno glacier tour that includes transport. However, this will mean that your movements will be completely controlled by the tour and you will probably not have much time to explore.
Instead, I would recommend getting there on your own and meeting up with a tour when you do.
So what are your options?
It depends heavily on your budget:
Take a bus
There are several buses heading to the park around three times a day (or fewer outside of the months of October through March). The earliest ones leave around 9 AM and the latest return at 7:30 PM.
CalTur and Chaltén Travel are the two bus companies that operate this route; bus timetables can be found on their websites.
Buses tickets are around $30 USD return and can be bought from most hostels or hotels, or at any of the travel agencies along the high street of El Calafate.
The easiest way is to go directly to the two companies' offices (both are located on Avenida San Martin) or to the main bus terminal (Address: Jean Mermoz 104) where you can compare the times and prices.
Rent a car
If you have a group, an expedient option is to rent a car for the day. With a group of four or five people, the cost will be similar to buying bus tickets, and you will be in control of when you go and return!
The park actually stays open until 10PM, and, in summer, this is before sunset. You could stay in the park later, long after the tourists have cleared out and continue to enjoy the views. There is general parking as well as a car park closer to the entrance for those with accessibility needs.
There are car rental agencies in El Calafate downtown and at the airport; we recommend using RentalCars.com as they can provide all of the insurance information in English.
A day's rental will be around $80 USD, depending on the driver and the car. You do not need an international licence to rent a car in Argentina but you do need a valid driver's license and credit card.
Be sure to ask about the availability of petrol before renting a car. Sometimes El Calafate has shortages due to the petrol having to be driven down from the north.
While the car will come with a full tank, if you can't fill it back up before you return it, the rental agency will charge you a huge fee.
Hitchhike
If you are still looking for a cheaper option, hitchhiking is very common in Patagonia. There is not a lot of traffic on the road other than to the glacier park, so it is likely that you will be picked up by someone going exactly where you are headed.
Walk out of town to Ruta Provincial 11 and stick your thumb out; it shouldn't be too difficult to get a ride in busier times.
To get back, you can try the same approach, or ask the people you got a lift with originally what time they are returning; maybe you can go back again with them.
If lifts are looking unlikely, you can also ask the bus drivers for a one way fare. There is no real rule for how much this should cost but you can likely negotiate a deal.
You can't camp in the park, nor is there anywhere to stay near by, so be sure to give yourself enough time on the way back to find a ride.
The entrance fee for Los Glaciares National Park
The ticket to get into the national park to visit the Perito Moreno glacier is $10,000 ARS ($29 USD) for foreigners. This will not be included in any tour you are offered. Be prepared to pay it on arrival, no matter how you get there.
Also, the gate will accept payments by card but it is still recommended to bring Argentine pesos in cash so you aren't stuck should the card machine be down for example. You may also need cash for tips for tour guides.
Tour options for visiting El Perito Moreno
Going by yourself will allow you to appreciate the glacier and the valley, but only from a distance. You won't really appreciate the magnitude and beauty of the place without getting up close and personal.
I would recommend taking a tour to get closer to the ice.
You don't need to take a glacier tour from El Calafate; instead you can meet up with it in the park. This means you will be free to explore the park on your own terms but still appreciate the ice from a closer vantage point.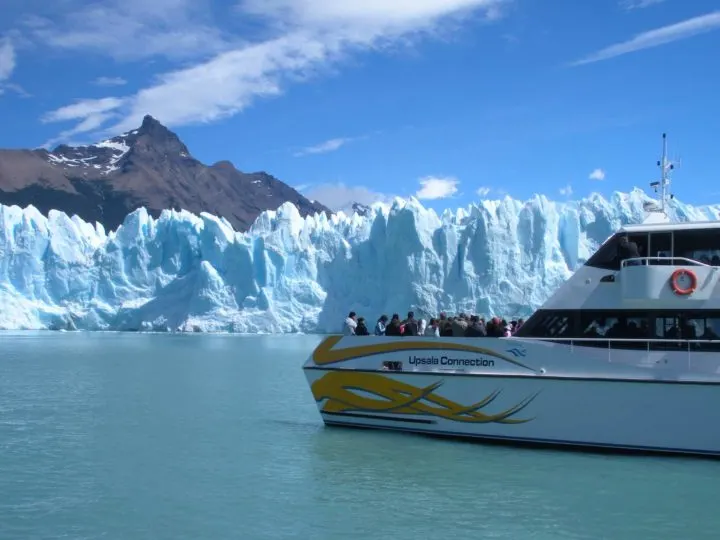 Boat tours
Many of the all-inclusive glacier tours from El Calafate include a jaunt on the lake, where you get to approach the glacial wall by boat. However, these can also be booked at the entrance to the national park, at the little booth that says 'Navegacion'.
They will just add you to a tour at a time that works for you. The tours last about 90 minutes, and usually include a snack and a whisky with glacier ice at the end. It is a great option for getting really close to the glacier for photos.
The main companies offering these tours include:
Southern Spirit (from $34 USD pp), whose boats depart from the jetty at the bottom of the boardwalk. They have around 3 departures per day from Puerto Moreno.
Hielo y Aventura (from $34 USD) who also have 3 departures per day. Note their boats leave from Puerto Bajo de las Sombras, a port six kilometres before you reach the main car park. You can also buy tickets here. It is sometimes possible to arrange a stop here with one of the public buses; confirm this when purchasing your ticket, otherwise it's easier to get here with your own transport or hitchhiking.
Trekking on the ice
In my opinion, the Perito Moreno glacier hike is a must. Walking on a glacier is a truly unique experience and the crack of the ice feels that much grander when it reverberates up your legs.
If you have never been on a glacier before, and love a bit of adventure, you absolutely have to do this. You'll be given crampons (spikes to strap to your shoes) so you can walk across the slippery ice with confidence.
These glacier hiking tours can be booked from El Calafate through Hielo y Aventura, with the bus ride and a boat trip across the lake to the glacier included.
However, if you have your own transport, just tell the tour guide you want to meet the group there and want the bus trip to be deducted from the price. They will probably try and talk you out of it, but just insist. The tours can be booked online with and without transport from El Calafete.
Make sure you have a clear idea as to where the tour will start; most do so from Puerto Bajo de las Sombras, six kilometres before the main car park.
These glacier tours come in two different types, depending on what level of trekking you want to do:
Mini Trek
The mini trek on the Perito Moreno glacier is the shorter option of the two and runs between Mid-July to end of Sept.
After a short boat ride across to the southern bank of the lake you will walk 40 minutes along the shore, through sparse trees with the ice towering ahead of you.
At the edge of the glacier, you'll strap on your crampons and head out onto the frozen blue for a two-hour walk across the glacier.
Some of this will just be time to explore and experiment with walking up and down ice walls. Those shoe spikes made you feel invincible.
When you're done, you can warm up with a whisky poured over freshly chipped glacial ice. After the boat ride back, you have an hour to explore the walkways on the hill opposite the glacier. This gives amazing panoramic views of the Perito Moreno.
These tours are around $240 USD but do not include the park entrance fee of $30 USD. It does include transport to the boardwalks in front of the glacier so that you can walk around for an hour.
The entire tour, with transport from El Calafate, takes about 9.5 hours.
Big Ice Trek
The Big Ice trek is a more challenging experience on the ice and takes you much further up the glacier. You will be met with stunning views of the blue ice backed by snow-capped mountains every step of the way. These treks run Mid Sept to end of April.
The routes change depending on the time of the year, and in better weather, can include visits to ice caves.
As with the mini trek, it will include a bus to the park where you will take a boat across the lake to the southern bank of Lago Argentino. Here you will be given your crampons but unlike the mini trek, you will not go straight to the edge of the ice.
The trek starts with a 90-minute walk up the edge of the glacier, before you get put in a harness and strap on your crampons.
The hike across the plateau of ice lasts 3.5 hours, and along the way, your guide will teach you a lot about the ecology and dynamics of the glacier.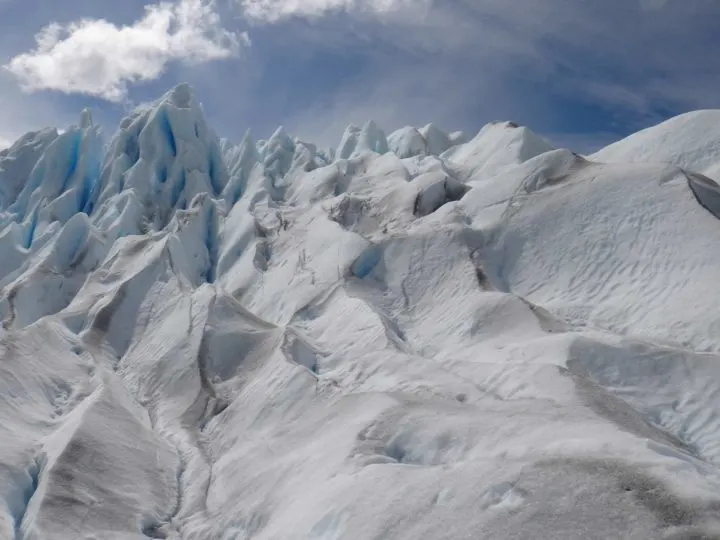 As you can imagine, these tours are far more expensive, starting at around $385 USD. This usually doesn't include lunch, so be sure to pack some food.
While this is a high price tag for a one-day activity, it is a unique experience. If you are up for the challenge and like a bit of adventure on your holidays, this comes highly recommended.
This activity is not advised for anyone who would struggle with the difficulty of the trek. If you are unsure of whether you are up for the challenge, rather stick to the Mini Trek.
As with the mini trek, this includes transport to the boardwalks in front of the glacier so that you can walk around for an hour after your ice trekking.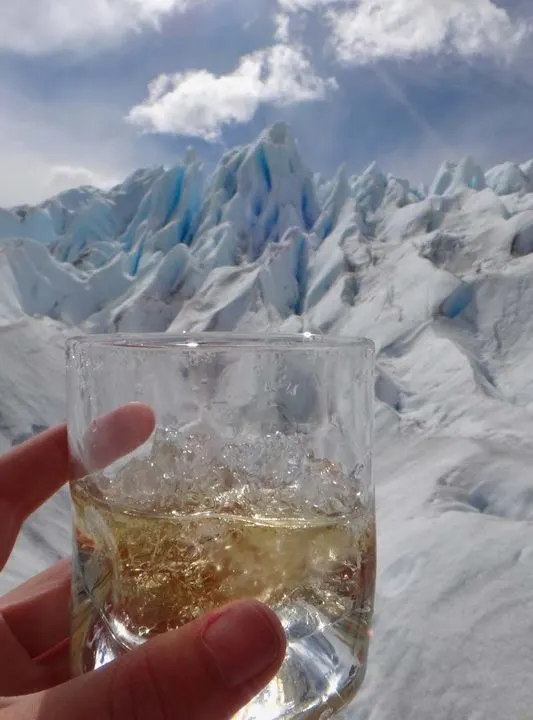 However, the tour is very touristy and it can get quite busy on the ice. If you fancy ice trekking in a less-visited destination, then Glaciar Exploradores along the Carretera Austral is probably more up your street.
When to visit El Perito Moreno
The best time to visit the glacier is between November and March. The summer months come with clear skies and warmer weather, even though you will still have to bundle up warmly out on the ice!
Some people choose to visit in October or April, when the weather is less friendly or predictable but the park has far fewer visitors.
For the best photographs, try and pick a sunny day, when the blue of the ice will really shine.
Even better, as the temperatures get a little higher in the late afternoon, the thunderous rumble of cracking ice can be heard from all over the park. If you are lucky, you will be able to witness the ice breaking off and plummeting down into the turquoise water.
You'll also find that staying into the late afternoon not only gives you a greater chance of seeing and hearing the shattering ice, it also gives you some quiet time away from the crowds.
Most groups leave by 5pm and after this, you can expect to walk around and visit the best viewpoints of the glacier in peace.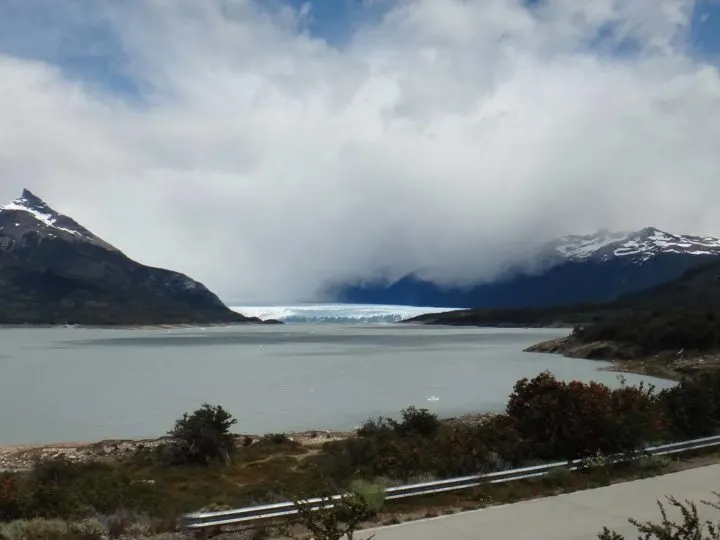 The weather is really important to properly appreciate this site, so try and stay in El Calafate for a few days in case of rain or cloudy days to give yourself the best chance.
The park has no restrictions on the number of visitors a day, so there is no need to book tours ages in advance. Even in peak season, you can organise a tour for the following day or even the same afternoon.
Visiting El Calafate
The closest town to Perito Moreno is El Calafate. Walking down the streets of this Argentine town, you might think you had been transported to the Swiss alps.
The combination of the snow-capped mountains in the background, Lago Argentino stretched out below and the wildflower-covered hills will not fail to enchant you.
Matching the Swiss aesthetic is the price. Everything here is expensive due to its popularity and remoteness, so be prepared to extend your daily budget.
Eating out at one of the town's restaurants costs, on average, upwards of $10 USD, while prices in the supermarket, Supermercardo la Anónima (Av. San Martin 902), are elevated too.
The town itself is not terribly exciting but has some great handicraft markets on the main street. Everywhere you turn you will find travel agents selling glacier tours and trekking excursions to Los Glaciares National Park.
If you want to get out of town a bit an explore, you can rent a bike and go for a ride along the edge of the lake and admire the incredible natural beauty of the area.
How to get to El Calafate
Getting to El Calafate is not cheap – nothing is in Patagonia (although there are ways that you can still visit Patagonia on a budget). However, your biggest decision is about what is most important to you: cost or convenience.
Fly
The fastest and most convenient option is to fly. There are frequent direct flights to El Calafate but only from within Argentina. You can fly here from Chile with a stopover.
There are three or four daily direct flights from Buenos Aires and two from Ushuaia. All are operated by Aerolineas Argentinas, who, unfortunately don't have the best reputation for arriving on time, but are the only option you have!
Prices vary based on time, availability and season. It's best to book at least a few months in advance, especially in peak seasons when the tickets tend to sell out.
This will also guarantee lower prices, although expect to pay at least $120 USD one-way from Buenos Aires.
Important Note: From Buenos Aires to El Calafate, you are flying from the domestic airport, Aeroparque Jorge Newbery (AEP), NOT the international airport, Aeropuerto Internacional Ministro Pistarini, Ezeiza (EZE). They are on completely different sides of the city!
Bus
The most common way to get around Patagonia is by bus. It is only three hours from El Chalten ($15 – $20 USD) but a hefty 24 hours from Bariloche ($50 – $80 USD).
If you are in Puerto Natales, Chile, it is a six-hour bus journey ($25 – $30 USD), although the journey can take longer depending on the queues at the border.
From Puerto Natales, private day tours to Glacier Perito Moreno are possible and cost from $110 USD per person.
However, if you have the time, taking the public bus and spending the night in El Calafate is a much better option – a day tour will be very rushed, with hardly any time spent inside the national park.
Hitchhike
If you are pushing a budget and have time to spare, hitchhiking is a common way to get around in Patagonia. Be safe though and check out our tips for safe hitchhiking in South America.
Restaurants in El Calafate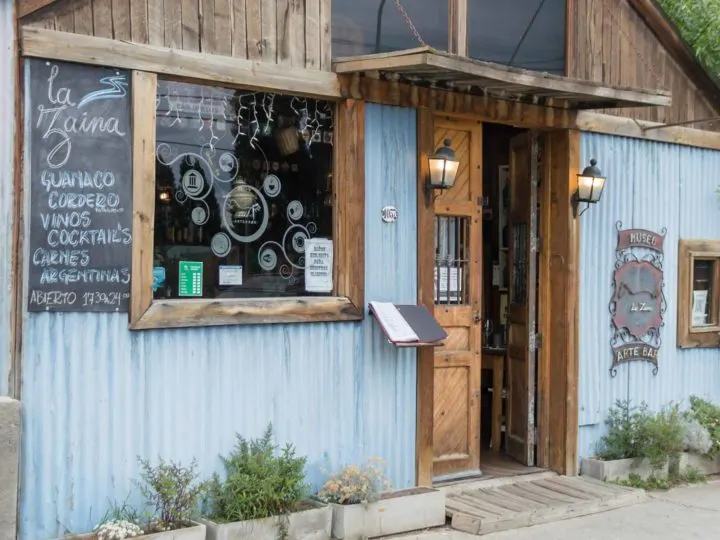 It might be expensive to eat out in El Calafate, but the quality is generally good. Our favourites include:
La Zaina (Gobernador Gregores 1057, noon-2am daily, except closed lunch on Monday). They specialise in Argentine steak and Patagonian lamb and have probably the best food in El Calafate. Mains $12-$16 USD. Recently refitted.
Don Pichon (Puerto Deseado 242, 6.30pm-midnight daily). Up on the hill above the town, it's the ultimate parrilla (barbecue) restaurant, with roasted lamb and enormous meat platters on the menu. Its views across El Calafate and Lago Argentino is spectacular at day or night. Mains $12-15 USD.
Where to stay in El Calafate
Budget hostels and campsites in El Calafate
A ten-minute walk from the bus station and from the main high street, Avenida San Martín, this is a favourite among backpackers. America del Sur ($30 dorm) is one of the largest hostels in town, making it feel slightly impersonal, but a huge kitchen and large living and dining area that have sweeping lake views make it an excellent choice for the budget conscious. They also offer meals in the evenings and there's occasional live music.
Midrange hotels and cabins in El Calafate
Linda Vista Apart Hotel ( from $120 USD double) has ten comfortable apartments set in a pretty garden. These are great for those wanting to self-cater as all have kitchen and living areas. Breakfast is included.
An old estancia (ranch) that has been converted into classy lodgings, Kau Yatún (from $150 USD double) is 1.5 kilometers south of El Calafate but the rural location feels very Patagonia. Rooms are a decent size and because it's part of a still-functioning sheep ranch, you can actually take a tour of the facilities. Bikes are available to use for free to get you into town.
Luxury hotels in El Calafate
The four-star Hotel Posada Los Alamos (from $180 USD standard double) is one of El Calafate's smartest and most traditional options. Large bedrooms have access to everything you need, including a pool and spa, nine-hole golf course and even a cocktail bar overlooking it. Their on-site restaurant is good, too.
With incredible views of the lake, a good restaurant and indoor swimming pool, Design Suites Calafate ($200 USD double) is the perfect getaway. It's a 10-minute drive into town (but there's a shuttle bus for guests, but with access to a couple of short hikes and those views, you'll be more than content staying on the ground.