Type "find volunteering South America" into Google and it'll bring up a list of over fourteen million results.
Most of these sites will claim they're offering you placements that will have a guaranteed deep and positive impact upon local communities.
But they're also charging big bucks to put you in touch with organisations, money that I frankly refuse to pay as you never know exactly where that money will end up.
But volunteering for free in South America and making a difference along the way is possible, just a bit more difficult. That's why I've put together this guide to websites where you can find free volunteering – all of which I have personally used.
A side note about volunteering for free in South America
However, bear in mind that "free volunteering" rarely means free. I refuse to pay administrative costs to large, international volunteering companies as I know that little of this money ends up going to the NGO or charity that you work with.
What I will pay, however, is for my own accommodation and food, unless I'm using a site where these are provided in return for manual labour.
Why?
Think about: the money that the charity needs to use to put you up in volunteer accommodation and to feed you three times a day is money that could go a lot further if it was being put into their work.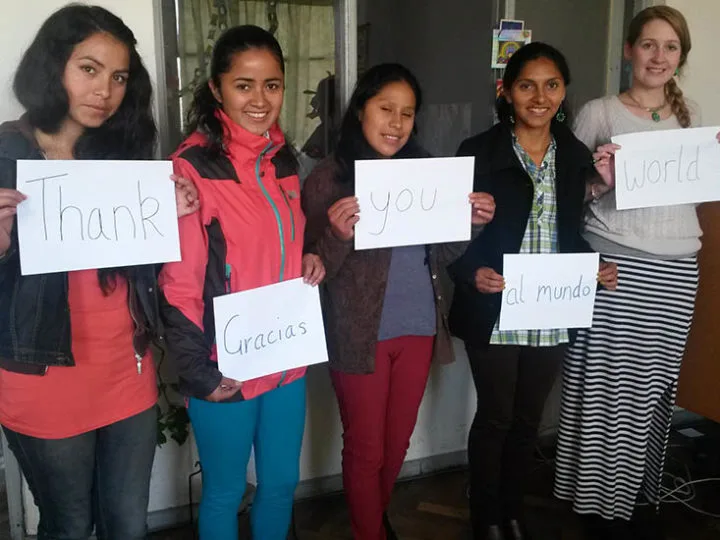 Given that the cost of living in most of South America is very cheap in comparison with the Western world, paying $10-$20 a day is something that most of us can easily afford.
For me personally, volunteering for free in South America means covering my own costs but not being required to pay a fee to an outside agency. However, there are some websites where it is possible to volunteer for free.
The best websites for free volunteering in South America
A budget backpacker's favourite and always top of the list of places to find free volunteering in South America, Workaway is a site where hosts from across the world offer food and accommodation in return for between four and five hours of volunteering per day.
It's a great way to spend anything from a week to a few months living with a host family, engaging in projects that often benefit the local people and living very economically.
Given that many hosts are located rurally, it's also ideal for those hoping to pick up Spanish, as you quickly become part of a small community.
The Good:
Both hosts and volunteers must write a profile so you know exactly who you'll be working with, and there is also the expectation that you'll swap reviews post-placement to evaluate your experience.
The numbers of hosts have shot up in recent years in even some of South America's lesser-visited destinations (Bolivia now offers 43 hosts), which means you have more choice and a greater range of locations to discover.
Given that so many volunteering opportunities these days expect you to pay a fee to the organisation to volunteer, Workaway is one of the few sites that guarantees you won't be paying a penny.
The bottom line is Workaway is the only website that offers placements for volunteering for free in South America.
The Things to Consider:
Saying this, it costs USD$ 29.00 to register for a year and to actually be able to contact hosts. However, this really is a minimal fee if you plan on workawaying for even a few weeks per year.
Although the numbers of hosts are increasing, the types of volunteering that you have access to via Workaway is somewhat limited: placements working with animals or children are fairly difficult to find in a lot of countries.
I also know of people who've not had a great experience as they've been required to work far longer hours than they had initially thought. To avoid this, make sure that both you and your hosts' expectations are clear before you begin.
Another site that operates upon the principle of free volunteering in South America, Helpx again offers placements where labour is in return for food and accommodation.
However, be aware that many of the projects being offered in South America on this site do require a contribution towards living costs. This is due to the low levels of income in some of the poorer countries.
Similar to Workaway, placements from Helpx range from farms to hostels to ranches, and all with the expectation that you work at least four hours per day.
Again, this is the perfect site for those on a tight budget and who are wishing to engage in a real cultural exchange, while feeling like they're doing some good.
The Good:
Helpx also relies on a system of reviews of hosts and helpers which should help to ensure that your experience is positive and you both meet the expectations that were set out before the placement.
Helpx is a smaller and lesser-known site than Workaway, and while some hosts are found on both sites, it's definitely worth checking out each of them as there are placements unique to each.
The Things to Consider:
A fee is required to become a 'premium' helper (which just means you can contact all hosts) of €20 for a ttwo-yearsubscription.
Plus don't forget, as mentioned previously, it's likely that you may be required to contribute towards food and accommodation.
The best websites for low-cost volunteering in South America
A very comprehensive list dedicated specifically to opportunities for volunteering for free in South America, Volunteer South America's aim is to help independently minded travellers find grassroots NGOs.
The site actively emphasises the importance of volunteers being as effective as possible, recommending that you do as much preparation beforehand: particularly in terms of studying Spanish, identifying your skill-set, learning about the regions you may want to visit and generally getting prepared to travel independently and adventurously.
I can only agree with these suggestions! Check out my other post about volunteering in South America for further advice in terms of finding projects and preparing to volunteer in this continent.
The Good:
This site places real value on meaningful volunteering, while listing a good selection of volunteering positions in a wide range of countries. Each listing comes complete with a brief overview of the position and expectations of the role, plus a link to the project's website.
The organisations are generally very small NGOs, often based in interesting South American locations, meaning that you are guaranteed to have a really rewarding and memorable experience and won't pay the earth to do so.
The Things to Consider:
As is pointed out on the site, volunteering for free in South America differs from paying through an agency in one significant way: the level of support that you will receive. I
f it's your first time volunteering, you don't have much knowledge of Spanish, or you generally would prefer to feel like there is someone looking out for you during your placement, then the opportunities listed on this site may not be for you.
That said, the programmes that I've worked with (which have all been arranged without going through an agency) have generally provided me with a certain degree of support anyway.
Added to this, the volunteering roles on Volunteer South America require you to cover living costs, so when it says 'free' it doesn't necessarily mean this.
However, in my experience, these are the organisation where, if you come with relevant experience, you can have the greatest impact.
Omprakash's focus is on volunteering as a transformative experience, where people learn through their experiences and have the support of a volunteer community.
This website operates a vetting process for organisations before they can become "partners" and the projects that are advertised on Omprakash range from those where you must pay a fee to volunteer, to others where you are volunteering for free in South America and are just expected to cover living costs.
For the latter, estimated daily costs are given.
The Good:
They have a grant scheme for "talented people with educational and empowering experiences of global citizenship" to help offset fees for volunteering.
Further to this, they seek to educate volunteers to better understand the communities in which they will be working, by offering their Education through Global Engagement (EdGE) programme. Fees are $750.
They have a database of former users of the site with whom you can connect to ask for advice, feedback on a project or just as a way of meeting other volunteers.
The Things to Consider:
The range of projects listed on Omprakash are much smaller than on other, larger volunteer recruitment sites, however given that they have all been vetted, they should be more reliable and likely to lead to a meaningful volunteering placement.
Working in a similar vein to Volunteer South American, True Travellers has a list of free or low-cost volunteering programmes in South America, each with direct links to the project's website and a sentence describing the overall aim of the volunteering programme.
The Good:
The list is split by country making it easy to navigate, with the information clear and accessible. This website also has an excellent list of resources and websites that are indispensable for planning your volunteering trip.
Like Volunteer South America, their focus is on offering valuable volunteering placements with organisations that are truly having an impact, and they do not believe in volunteers going through a large agency.
The Things to Consider:
The list of free and low-cost placements currently only covers Argentina, Bolivia, Brazil, Chile, Colombia, Ecuador, the Galapagos Islands, and Peru, so if you want opportunities outside of these countries, you'll need to look elsewhere.
The largest website on this list of opportunities for volunteering for free in South America, Go Abroad covers everything from volunteering to internships to language learning.
They have a huge database of volunteering opportunities, plus articles written by travellers and volunteers to give you first-hand experiences of selecting programmes and learning about what life is like living in certain countries.
The Good:
All countries in South America are covered, with an enormous number of programmes available to from (there are 308 in Ecuador alone) and you can break down your search according to the type and length of volunteering placement that you want.
You can also look at opportunities in the whole of South America, just to see what catches your eye.
Projects normally provide a full package of support to volunteers (including in-country assistance, airport pick-ups and training) and volunteers can review their experiences on the website.
The Things to Consider:
You are paying to volunteer and, although you are not paying to go through an agency (as Go Abroad doesn't take commission), it might seem more expensive than going through some of the other sites.
That said, if you've had little experience of volunteering and want to venture into a new country you've never visited before, going through a site that offers more support may be a better idea.
Another website with links to grassroots NGOs, The NGO List has listings of meaningful volunteering placements.
They have a number of NGOs which are "featured", meaning they have an entire page dedicated to giving you detailed information and personal experiences about volunteering with that charity (check out the one I wrote for the charity BiblioWorks, the NGO with whom I volunteered in Sucre, Bolivia).
The Good:
They list opportunities in South America by country and by field, which helps for when you're trying to track down a specific type of volunteering.
The Things to Consider:
Again, the range of countries offered is a little on the thin side, however they do ask that people get in contact if they have come across other deserving NGOS that ought to be on the list. The site also hasn't been updated for a while (since July 2015) so there is no guarantee that the links are current.
---
Are there any other sites that you use and which provide user-friendly and accessible information for meaningful volunteering in South America? I'd love to hear about the sites you use and why they deserve to be added to this list.
---
Found this article useful? PIN IT and share the love!