Home to the final, southernmost stretch of the Andes Mountains as they plunge into the Pacific Ocean, Patagonia is a remarkable place for hiking, particularly if you like wild terrain and scenery.
Some of South America's most superlatively beautiful hiking trails crisscross this land of wind-pummelled grasslands, clusters of evergreen forests blasted by the elements, and sky-piercing mountains, many weighed down with glaciers of the deepest hues of blue.
If the promise of this scenery isn't enough to get you packing your rucksack and out onto the trail, then I don't know what will. But trust me: Patagonia is a paradise for hikers, with day and multi-day treks that will leave you wishing you could extend your trip indefinitely.
I've spent months exploring the wildernesses of Chilean and Argentine Patagonia and this list comes from mostly personal experience (although I'll admit I've snuck a couple in that I haven't had the chance to do – yet).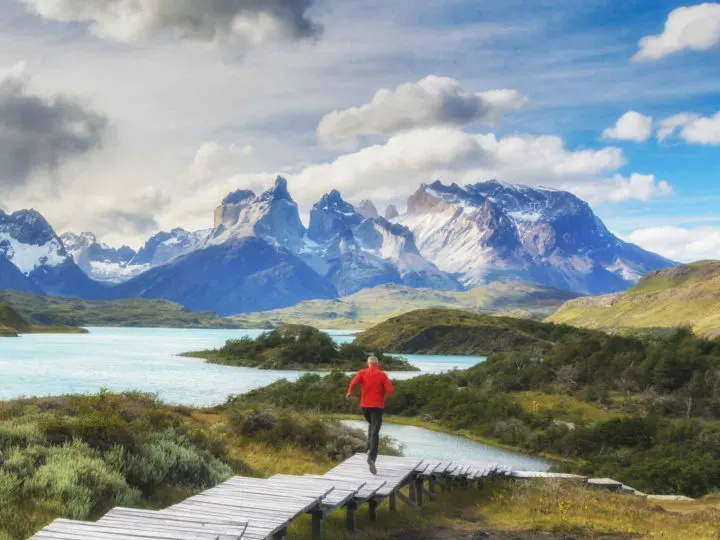 Join me on a jaunt around the region, with these fifteen of the best hikes in Patagonia.
A note about equipment for hiking in Patagonia
Patagonia is a rugged, remote, and untamed part of the world. Because of this, decent quality hiking gear, including hiking boots that you have worn on at least a few trails beforehand, is essential.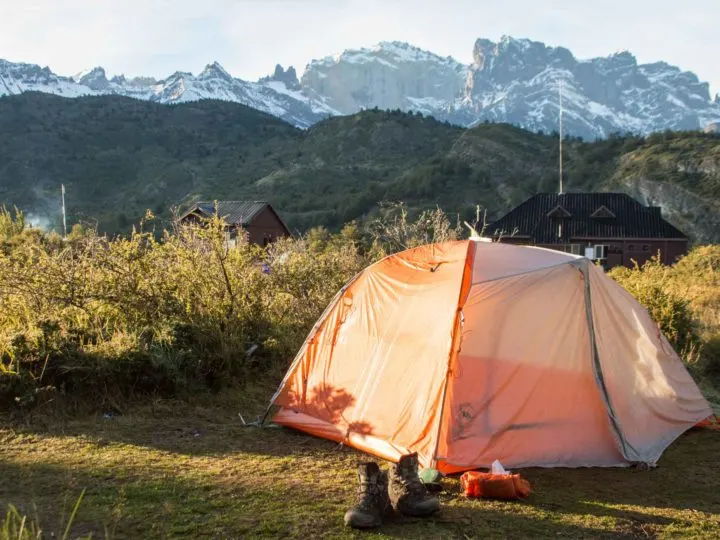 A day or larger pack, weather-appropriate clothing, and, if you're staying overnight, a high-quality, lightweight tent and three-season sleeping bag will keep you safe and happy on these hikes.
Camping in Patagonia is all part of the adventure and I definitely recommend that you build it into your trip; camping out in a remote place, far from civilization in the very far south of the planet is quite the experience.
While you can hike these Patagonian trails without a guide, I have listed companies that do offer guide services, and who will likely provide camping and cooking equipment (or meals) where required.
A lot of these hikes have fresh water along the trail, however, I recommend bringing water purification tablets or some backpack-friendly water filtration system (such as a Sawyer filter, Grayl Geopress, or Steripen – read our review of the latter).
Some hikes require camping and cooking equipment, as well as carrying several days' worth of rations.
If this is your first time packing for a hiking vacation, be sure to read our guide to what to pack for Patagonia.
I'm a huge advocate of packing light, and this list covers everything from hiking clothing and boots to camping equipment, and other day-to-day gear that will make your life on the trail markedly easier and more comfortable.
You can also find detailed descriptions of all these hikes in Patagonia in Moon Chile, a guidebook I spent two years working on.
For detailed descriptions of the longer treks, check out the Lonely Planet Trekking in the Patagonian Andes book (although don't both if you're in the UK – it's insanely expensive there for some reason but you can find cheap used copies to buy on other websites!).
Planning Your Trip to Patagonia?
Save time, stress & money with a customized travel itinerary planned for you by a Patagonia expert
When is the best time to hike in Patagonia?
The main season for visiting Patagonia is October through April. This is because of the weather, which can see snow and other inclement weather during the rest of the year. It's also not advised to visit outside of these months because many hotels, tour operators, and national parks close.
The best time to hike in Patagonia is any time between October and April, although December through February is the high season for travel, so you'll find trails busy and prices high.
The months of December, January, and February in Patagonia have the warmest temperatures, which hover around 15˚C (59˚F) and the days are long, with daylight lasting up to 17 hours. However, wind levels are high and can reach up to 190 kilometers per hour (120 miles p/h).
I always recommend visiting Patagonia in the fall months of March and April, when the landscapes turn a beautiful orange and red and temperatures hover around a mild 10˚C (50˚F) during the day – although they do drop below freezing at night. It's a lot less windy than in summer, and there are also fewer visitors to Patagonia.
Another alternative is spring and the months of October and November. Patagonia during these months sees daytime temperatures of around 10˚C (50˚F) and winds are less fierce than in the summer, although they can be biting and, combined with overcast days, can lead to cold hiking conditions.
During winter, the region practically shuts down and heavy rain and snowfall close trails and even roads. Some destinations such as Torres del Paine are supposed to be spectacular, but you will need to go with a guide as entry is prohibited unless with a tour.
I re-visited Torres del Paine National Park in September and found that while the weather is cold – dropping well below freezing at night – it's actually more settled than during summer, with lower wind speeds and, more often than not, bluebird skies.
Be aware that whenever you visit Patagonia, the chance of experiencing four seasons in a day – sun, rain, hail, and snow – is high and you'll want to come prepared for every eventuality.
Best hikes in northern Chilean Patagonia (the Carretera Austral)
1. Volcán Chaitén, Pumalín National Park
Volcano climbing is an activity that you can't miss if you spend time in Chilean Patagonia. While Volcán Villarrica further north is perhaps the country's most famous, Volcán Chaitén on the northern tip of Patagonia is equally impressive and the path up to the crater of this volcano easily ranks as one of the best day hikes in Patagonia, if not South America.
What's more, the trail itself is short and sweet – if a steep climb. But, as you emerge out of the top of a grove of charred tree trunks (the debris left after the volcano erupted, when lahars of mud and ash blanketed the surroundings), the 45-minute ascent is more than worth it.
From the very top of the trail, you can appreciate the vastness of the volcano, and find yourself standing on the lip of its 3.5-kilometer (2-mile) crater.
As you do, keep an eye on the volcano itself. It's still active, although currently offering nothing more dangerous than a tower of smoke puffing lazily from the top.
Other hikes in Pumalín National Park: the easy Sendero Alerces (0.7 km, 40 mins) is a beautiful short walk through protected alerce trees, while the medium Sendero Cascadas (5.6 km, 3 hrs) and Sendero Cascadas Escondidas (1.8 km, 2 hrs) reach some of the park's most beautiful waterfalls. The hard Sendero Tronador (5 km, 4 hrs) and Sendero Volcán Michinmahuida (24 km, 8-10 hrs), the latter of which includes views of the snow-covered Michinmahuida Volcano, are also worth exploring.
2. Piedra del Aguila, Futaleufú
Futaleufú might be better known as one of South America's prime white-water rafting spots, but with the town in a picturesque river basin lined by forested mountains, there's plenty to keep you busy on your own two feet.
Lying a few kilometers out of town, the Sendero Piedra del Aguila is an easy tramp up a gravel road to reach Eagle's Rock, a jutting, 40-meter high lump of granite that grants sweeping views east across the valley towards two picturesque Alpine lakes.
It's not the wildest of Patagonian scenery, but it's an easy introduction to hiking in the region.
3. Sendero Mirador del Ventisquero (Glacier Viewpoint Trail), Queulat National Park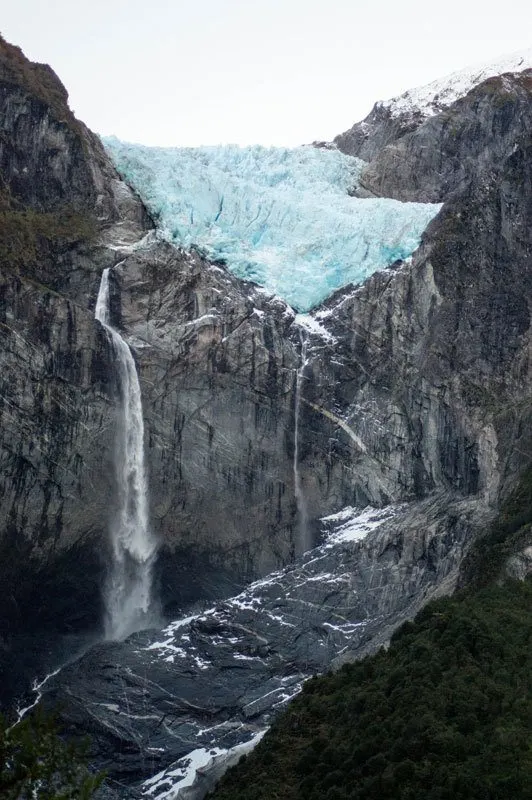 Wedged onto the cliff face high above a milk-blue lagoon, this glacier is one of the most magnificent in all of Patagonia, thanks to its magnificent colors and gush of meltwater that keeps the scene in motion.
One of the most iconic sights along the Carretera Austral is the egg-blue ice of the Ventisquero Colgante, the Queulat Hanging Glacier.
The light is better in the late afternoon, but, if you're camping in the national park, you can take the short – if steep – trail, climbing through Valdivian temperate rainforest dripping with moss – at any time of the day.
Covid-19 update: You MUST make a reservation in order to visit the park. You can do this on this website, but you will need to pay in cash (bring small notes) upon arrival. You can only enter the park between 9:00am and 14:30pm (you can stay within the park until 16.30pm) and you must bring your reservation code on your phone or printed off to show at the park entrance.
Watching the dazzling blue ice crumbling in noisy avalanches from the glacier's snout is a sight you'll want to absorb for as long as possible.
Other hikes in Queulat National Park: The easy Sendero El Aluvión (1 km, 30 mins) and Sendero Laguna Témpanos (1.2 km, 30 mins, easy) are also worth exploring (get information here).
4. Cerro Castillo Traverse, Cerro Castillo National Park
Torres del Paine National Park in southern Chilean Patagonia might have captured most visitors' imaginations, but if you're looking for a trail that promises outstanding mountain scenery and just a small fraction of the visitor numbers, there's a new national park in town: Cerro Castillo.
Its cornerstone trail is the Cerro Castillo Traverse (or Travesía Las Horquetas), a challenging trek through exposed mountain passes where the rewards are delivered in the form of panoramic views of glacier-studded peaks.
The most famous is the park's namesake, Cerro Castillo, christened as such for its castle-like shape – and which looks, if only teeny bit, like the three granite prongs of Torres del Paine, situated, as it is, above a magnificent cobalt blue lagoon.
This hike combines pristine backcountry scenery of glittering lakes and gleaming glaciers, untechnical hiking, and few other hikers, making it a truly outstanding multi-day trek in Patagonia.
Other hikes in the national park: The challenging Sendero Mirador Laguna Cerro (14 km, 6-8 hrs) is a great day hike up to Laguna Cerro from where you can appreciate the castle-shaped peak. Information about it here.
5. Jeinimeni-Avilés Traverse, Sector Jeinimeni, Patagonia National Park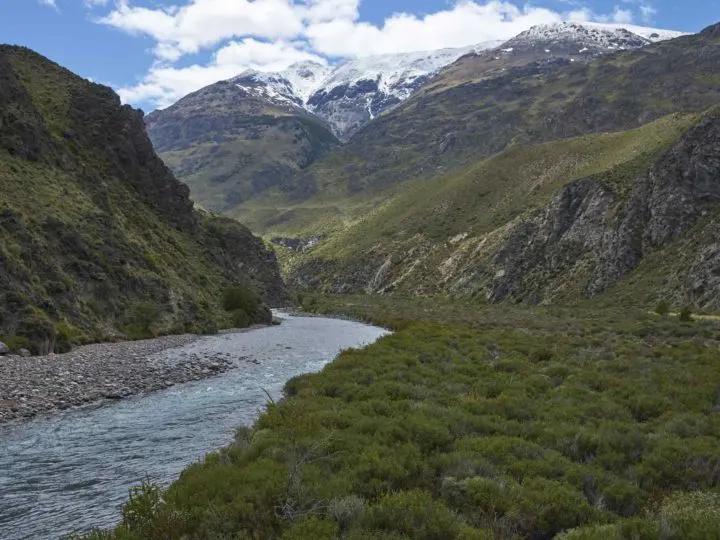 Patagonia doesn't get much more incredible than in the remote wildernesses of Patagonia National Park, one of Chile's flagship new protected areas.
Brimming with jagged mountains that fold into bewitching glacial lakes, the park is home to trails crossing gurgling rivers and through valleys of sun-burned grasslands and into verdant forests of southern beech, and none is more impressive than the Jeinimeni-Avilés Traverse.
Spanning two sections of the park, Sector Jeinimeni and Sector Valle Chacabuco, this trail is a true challenge for the adventurous. The path is poorly marked, but the trek crosses the wildest parts of the national park, where huemul deer, guanaco, and even puma roam.
While this multi-day trek requires you to bring everything with you – you're pretty damn remote, after all – the blindingly brilliant Patagonia vistas of undulating mountains and distant snow-dappled peaks will be more than worth it.
As one of Patagonia's least-visited national parks, you're also practically guaranteed to have the trail to yourself
Other trails in Patagonia National Park, Sector Jeinimeni: The Sendero Lago Verde (10 km, 2.5 hrs) takes you along the shores of Lago Jeinimeni to reach Lago Verde, both of which are similarly hued in electric blue. You can also turn this hike into the epic Patagonia National Park Trek (97 km, 5-6 days), which crosses Sector Valle Chacabuco and connects with the Paso Los Condores and the Ruta de Huemul to enter into Sector Tamango, the third part of the national park. Information about the latter here.
6. Lagunas Altas, Sector Valle Chacabuco, Patagonia National Park
The sweeping river basin of Valle Chacabuco is speckled with grazing guanaco and a carpet of ochre grasses that rustle in the breeze, and it's probably my favorite of the three sections of the brand-new Patagonia National Park.
While ground level is spectacular, the views are enhanced as you climb up into the hills along the Laguna Altas trail, one of my personal favorite day hikes in Patagonia. Ascending steadily up into the flank of Cerro Tamaguito and onto an exposed plateau, you'll find cinematic views across the entire Chacabuco valley and beyond to Argentina.
Along the way, a series of aquamarine lagoons provide the ideal spot for a picnic and, if you're lucky, you might spy a puma padding through the undergrowth nearby.
Other hikes in the national park: The hard Avilés Loop (16 km, 5-7 hours) gives you a chance to combat the final part of the Jeinimeni-Avilés Traverse, while the medium Lago Chico Loop (12 km, 4 hrs) circuits Lago Chico for panoramic views of Monte San Lorenzo, one of Patagonia's highest peaks.
Best hikes in northern Argentine Patagonia
7. Nahuel Huapi Traverse, Nahuel Huapi National Park
Hiking mecca Bariloche looks like a pleasant Swiss mountain village, with all the access to first-class trekking that you would expect. The nearby Nahuel Huapi National Park, with its craggy peaks and abundance of pristine mountain lagoons, is considered one of Argentina's finest parks for the intrepid.
This five-day hike travels through an extremely remote part of the national park, with outstanding views of the region's sparkling lakes (it's part of the Argentine Lakes District, after all), picture-perfect volcanoes and the forest-fringed mountains that characterise this part of Patagonia.
Not only are the views epic, but the experience is one-of-a-kind, with remote mountain refugios offering a pleasant place to rest your head – and enjoy a beer – after a long day's trekking in this spectacular part of Patagonia.
Best hikes in southern Chilean Patagonia
8. W trek, Torres del Paine National Park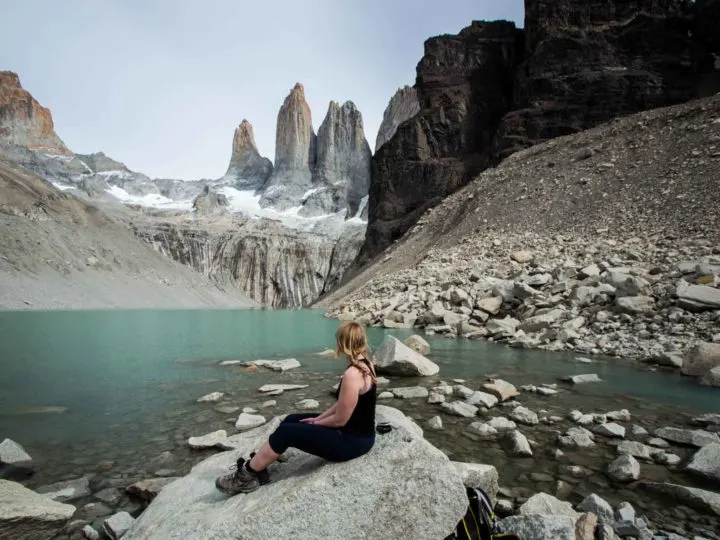 Torres del Paine National Park, with its cobalt blue lakes, wind-buffeted sweeps of hardy forest, and majestic peaks that rise in a jagged, snow-dusted mass out of the center of the park, is Patagonia's poster child. It's also home to one of the region's landmark hiking trails.
A five-day trek that follows a W-shaped trail across some of the park's most magnificent scenery, the W is an introduction to the soul-stirring qualities of Patagonia.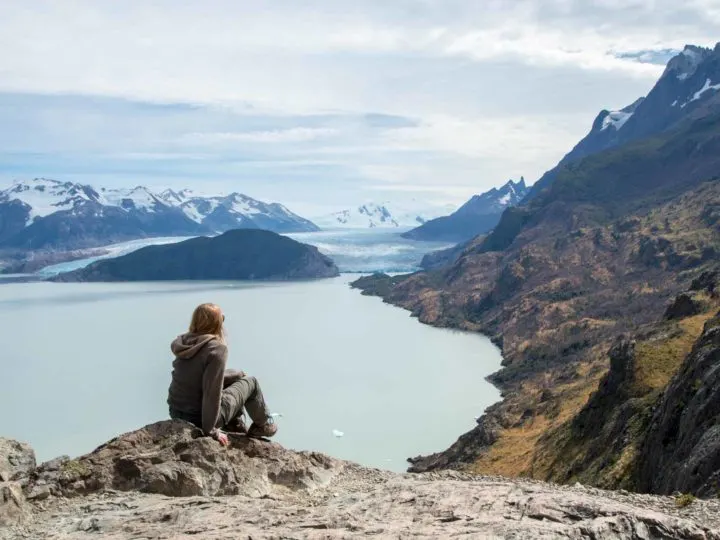 You trek through woodland and out again to face blinding panoramas, where you'll admire Glacier Grey carving bergs the size of buses into silent waters beneath and stand in silence as you watch huemul picking through scattered vegetation beneath an amphitheater of mountains.
The final and most admired view, however, is Laguna Torres and the three granite towers after which the park is named, which, if you time it right, you can watch turning vivid orange in the light of sunrise.
Other hikes in Torres del Paine National Park: There are dozens of hiking trails in the park, so read my guide to the best Torres del Paine day hikes for inspiration.
9. O Circuit, Torres del Paine National Park
The O Circuit promises a glimpse into the remote heart of Patagonia that goes beyond the much-trafficked trail of the W.
Instead, this hike takes a sweeping loop of the Cordillera Paine range, meandering into the park's northern zone where each morning you awake to a new day of glaciers slung in the mountains high above you and gushing water powering its way through furious rivers that accompany the trail for miles.
On day four, you reach the trail's most enticing viewpoint. A morning's strenuous climb up to John Gardner Pass brings you to a view of miles of the Southern Patagonia Ice Field, with its ridged glaciers extending beyond the horizon.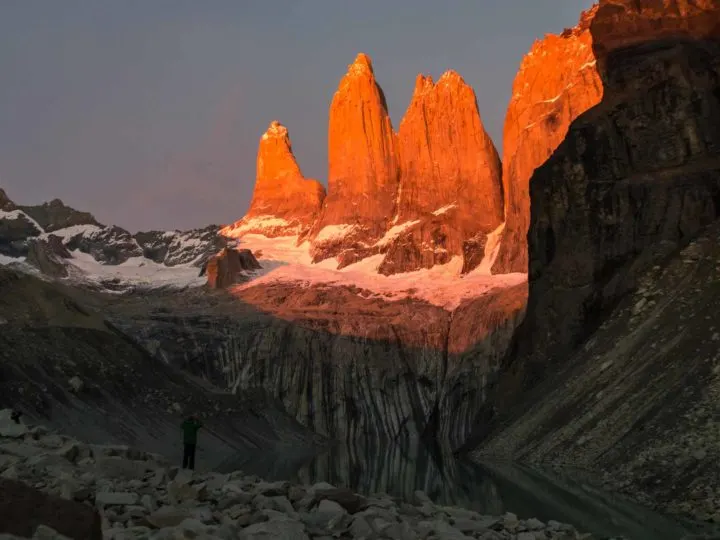 From here on in, you're on the W trek, which you follow, bewitched, all the way to the final day and dawn rising over the towers.
Other hikes in Torres del Paine National Park: There are dozens of trails in the park, so read my guide to the best Torres del Paine day hikes for inspiration.
10. Hike to Cabo Froward, Punta Arenas
The roaring oceans tumble and churn beyond the shoreline, providing a fierce backdrop as you hike across the beach and through peat bog and rugged forest to the very southernmost point of continental South America: Cabo Froward.
This is Patagonia at its wildest and most untamed, with the cape marking the point where the Atlantic and Pacific Oceans combine in a seething mass.
The waves are your constant companions, so it's fitting that Cabo Froward – and the end of the trek out – is marked by the towering Cruz de los Mares, the Cross of the Seas, which rises out of the landscape to tower above you.
It's here where you should pause, breathing in the fierce winds and absorbing the views of the Strait of Magellan across to the deserted mountains of Isla Dawson.
Keep your eyes peeled for dolphins, whales, and other sea life as you pick your route back the way you came and onwards to civilization – although the feeling of being buffeted by the wind and isolated far from everyone else is one that will last with you a long time.
11. Dientes de Navarino, Navarino Island
If it's remote, untouched Patagonia you've looking for on this list of hikes, then you'll find it in the Dientes de Navarino, a trail that climbs through the final stretch of the Patagonian Andes and promises a true trekking adventure.
This five-day hike isn't for the faint of heart of those without extensive trekking experience. But what you can expect is the truly wild, pristine, and mountainous scenery on what is officially the world's southernmost long-distance hike.
Named after the toothy mountains that jut out of Navarino Island (so far south it lies beyond Ushuaia, often mistakenly considered the southernmost settlement in the world), this trail clambers across stark, rocky land dotted with lakes and sparse, scrubby vegetation.
If you're looking for an experience of hiking at the very ends of the earth, the Dientes de Navarino is the one for you.
Other hikes in Puerto Williams: If you don't fancy doing the full circuit, you can do a short hike up to Cerro Bandera (4 km, 2 hrs) for stunning vistas across the town and the Beagle Channel.
Best hikes in southern Argentine Patagonia
12. Laguna de los Tres, Los Glaciares National Park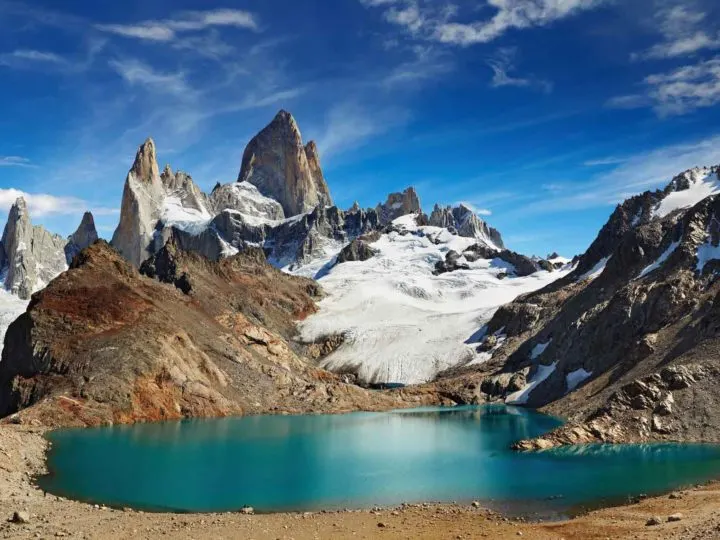 Like the W trek and the torres of Torres del Paine, Laguna de los Tres has become the stuff of backpacking legend in Patagonia and you can't go hiking in South America without attempting this trail.
The Laguna de los Tres trail's fame stems from the way it picks its way through shady forests where woodpeckers and even rare huemul deer linger, and where the occasional openings in the trees give up broad views of Monte Fitz Roy.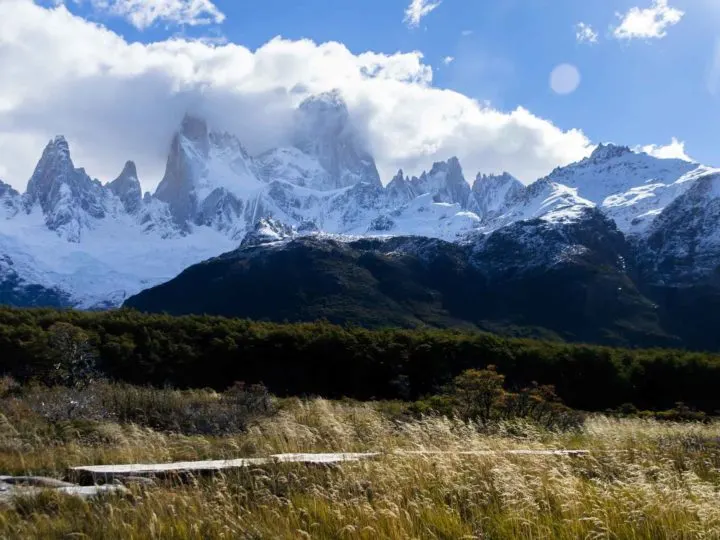 But mostly, this reverence stems from the very end point of the trek where, after a lung-busting climb up and up over rocky scree you appear out on the shores of Laguna de los Tres, whose green-tinged glacial waters reflect the pronged peak of Monte Fitz Roy rising directly above.
While many choose to clamber up to this dazzling viewpoint as a one-day excursion from El Chaltén, if you've got the time, take a tent to pitch up in the basic Campamento Poincenot, just below the final ascent to the lake, and head up early the next morning for a truly unforgettable sunrise.
Other hikes in Los Glaciares National Park: The moderate trek to Laguna Torre (18 km, 9 hrs) allows you to experience the start of the Huemul Circuit and has spellbinding views of the Cordón Adela mountains and the often cloud-covered Cerro Torre; the trail to Chorrillo del Salto (4 km, 1.5 hrs), is an easy wander out to a pretty 20-meter waterfall; the steep trail to Mirador Los Condores (2.5 km, 30 mins) and Mirador Aguila (1.3 km extra, 30 mins more) has great views of Lago Viedma, as well as the prospect of spying condors.
13. The Huemul Circuit, Los Glaciares National Park
Laguna de los Tres might draw the day trippers, but Los Glaciares' most superlative scenery is reserved for the most intrepid. The Huemul Circuit is just that.
What makes this trek an extraordinary adventure – and certainly among one of South America's, if not the globe's, best hikes – is the thrill of roaming the backcountry in this remote part of Argentina, picking your way past glaciers and around milky-blue glacial lakes.
But the most astonishing feature of this trek is the views from Paso del Viento, all the way across the Southern Patagonian Ice Field – an astonishing panorama of practically unending ice that shimmers beneath the sky.
The Huemul Circuit is by no means a walk in the park, but those who do it will find themselves safe in the knowledge that they may just well have encountered the finest views in all of Patagonia.
Other hikes in Los Glaciares National Park: The moderate trek to Laguna Torre (18 km, 9 hrs) allows you to experience the start of the Huemul Circuit and has spellbinding views of the Cordón Adela mountains and the often cloud-covered Cerro Torre; the trail to Chorrillo del Salto (4 km, 1.5 hrs), is an easy wander out to a pretty 20-meter waterfall; the steep trail to Mirador Los Condores (2.5 km, 30 mins) and Mirador Aguila (1.3 km extra, 30 mins more) has great views of Lago Viedma, plus the prospect of spying condors.
14. Crossing from Villa O'Higgins to El Chaltén (Chile/Argentina)
In Patagonia, even the border crossings between Chile and Argentina are an adventure, particularly the route between El Chaltén and Villa O'Higgins, one only passable on foot.
Starting on the shores of the azure Lago del Desierto, you'll hike or take the ferry across to the northern edge of the lake, where the only way is on foot as you climb gently up into the mountains through wind-battered forests of southern beech, with Monte Fitz Roy crowing the sky behind you.
But that's not all: after crossing the Chilean border and reaching the remote settlement of Candelario Mancilla, you'll have to wait for your transport. It's a boat that'll take you past the calving ice giant that is Glaciar O'Higgins before dropping you onto the shores of the southernmost settlement along the Carretera Austral, Villa O'Higgins.
You'll soon realize on this trail that every moment of this journey feels deliciously wild, untouched, and magical.
15. Cerro Guanaco, Tierra del Fuego National Park
Flanked by a wall of mountains on its northern edge and the frigid, whale-filled waters of the Beagle Channel in the south, Ushuaia is Argentina's southernmost city and has access to spectacular nature nearby.
Tierra del Fuego National Park has a handful of day hikes, but the gem in its crown is the challenging trek up Cerro Guanaco. It's a sludgy, waterlogged climb once you exit the tree line and find yourself in a bog that merges into a staggeringly steep and bone-dry outcrop of scree.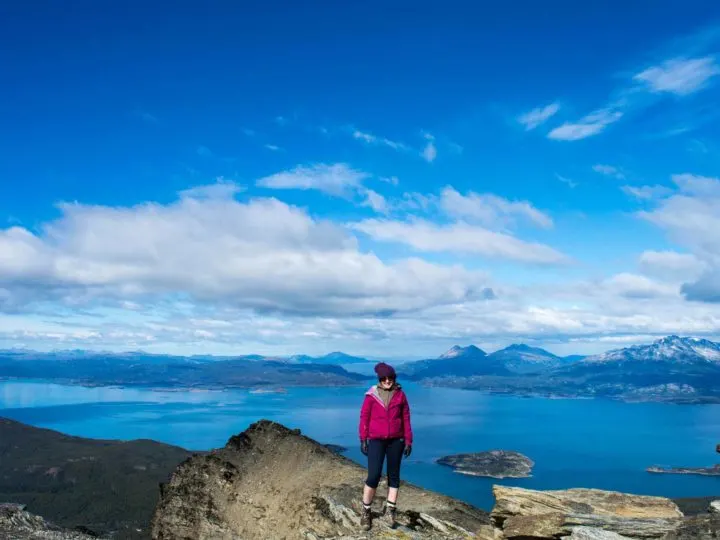 A final clamber along the edges of this and you finally reach the top of Cerro Guanaco, from whose exposed crest the cinematic views of the Beagle Channel and the mountains of Navarino Island await.
Keep your eyes peeled as you hike through the forests the first section of the trail, where red and black-headed Magellanic woodpeckers are resident.
Other hikes to do in Tierra del Fuego National Park: The easy Senda Costera (8 km 4 hrs) is a meandering coastal path with beautiful mountain views; the also easy Senda Pampa Alta (3 km, 1 hr) climbs up to a lookout for views of the Beagle Channel and the Valle del Río Pipo; the Senda Hito XXIV (7 km, 3 hrs) is an easy hike along the edges of Lago Acigami to reach the border with Chile and has lovely views across the Beagle Channel.
FAQs about hiking in Patagonia
Is Patagonia good for hiking?
Patagonia is considered one of the best places on the planet to hike! With the Andes Mountains cutting through the middle of Patagonia, it's no wonder that the region offers excellent hiking. Destinations such as Torres del Paine National Park, Bariloche, and the new national parks along the Carretera Austral top of most trekkers' bucket lists.
The best thing about hiking in Patagonia is that, despite the proximity to the mountains, none of the hikes in Patagonia are at altitude.
In fact, unless you're a climber, you're unlikely to reach over 1311 (4,301) meters above sea level – the elevation of Paso Viento, the highest point along Argentine Patagonia's Huemul trek – on any of the hikes. As a result, there's no need to worry about hiking at altitude in Patagonia.
Is hiking difficult in Patagonia?
How many days do you need to hike in Patagonia?
Patagonia is packed with hiking trails, so it really depends on how many you want to do! If you fancy the five-day W trek, then you'll need at least a couple of days on each side to fly from Santiago to Puerto Natales, the closest airport to Torres del Paine National Park (the park in which the hike is located).
Additionally, if you plan on doing day or multi-day hiking in Los Glaciares National Park just across the border in Argentina, you'll want at least three days (for day hikes) or four days for the Huemul Circuit, plus a couple of days to get there and back from Chile or from Buenos Aires.
If you fancy tackling the best treks in Bariloche, give yourself at least four days, while Chile's Carretera Austral, with its glut of lesser-known national parks, needs at least two weeks if you plan on hiking the best trails.