If you're visiting Bolivia, chances are, the Salar de Uyuni (aka the Bolivian Salt Flats or Uyuni Salt Flats) is on your must-see list.
The world's largest salt flat – it covers a whopping 10,582 square kilometers (4,086 square miles), an area larger than Puerto Rico – is a truly amazing sight to behold.
If you want to experience the incredible richness of natural beauty and diverse landscapes that Bolivia has to offer, a tour of El Salar de Uyuni is the best way to do it!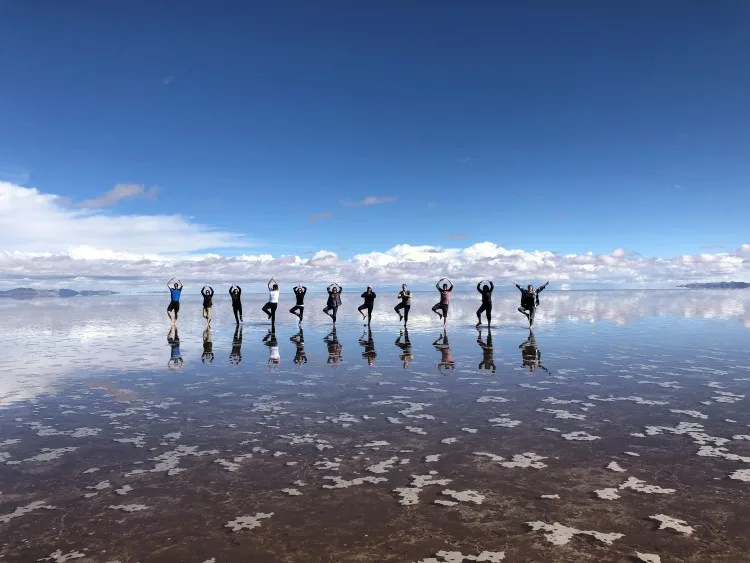 How to get to the Salar de Uyuni
The Bolivian salt flats are located in southwestern Bolivia and within the Bolivian altiplano, a high-altitude plateau that extends from southeastern Peru into this neighboring country. Sitting at over 3,500 meters above sea level (11,995 feet), the Salar de Uyuni is a remote and remarkable landscape, featuring prehistoric lakes, perfectly conical volcanoes, and unexpected wildlife; as a result, getting here does take time and effort.
You can take a bus, train, plane, or a combination of all three to Uyuni, the town nearest to the location of El Salar de Uyuni.
Alternatively, you can take a tour from Tupiza, a town located some 200 kilometers south of Uyuni.
Tours departing from Tupiza take a different route to those leaving from Uyuni; because fewer tourists choose to start their salt flats tours from here, you can guarantee you'll see fewer other tourists during most of your trip.
This is also because you're taking a route northwest (whereas those from Uyuni are taking a loop west).
A final alternative for visiting the Bolivian salt flats is from San Pedro de Atacama, a town across the border in Chile.
Tours are generally marginally more expensive (everything is in Chile compared with Bolivia!) but standards of tour operators are often better and it saves you having to take the long and uncomfortable bus across the border from Calama (Chile) to Uyuni.
We'll go into more detail about all of the above.
Planning Your Trip to South America?
Save time, stress & money with a customized travel itinerary planned for you by a South America expert
What previous clients have said:
Going to a new and exciting place is an adventure AND has its challenges. Being able to carve out an in-depth plan with someone that has been there and whom you can trust was extremely helpful.
We felt comfortable embarking on a six-week backpacking trip with kids ages 8 and 11 with Steph on our team. Her expertise and ability to hear what we wanted gave us a great jumping point for planning. Her advice and wide array of options also allowed us to be flexible. It also gave us peace of mind knowing that we had someone we could call if our plans went awry.
Every one of Steph's recommendations panned out to be incredible pieces of our trips and we would highly recommend her!
JORDAN AND KAYLEIGH
Traveled to Peru, Bolivia, Argentina and Patagonia
Getting to the Salar de Uyuni by bus
Buses from La Paz to Uyuni
The most common route to Uyuni is from La Paz, a ten-hour, 540-kilometer (335-mi) bus ride away. If you want to take a bus, unless you're traveling during a really busy holiday weekend in South America (like Carnaval), you'll likely be able to walk right into any bus station in Bolivia and purchase tickets at the counter.
If you're more of a planner like me, use Tickets Bolivia to purchase your tickets ahead of time. That way, you can be sure to get the times you want and a 160-degree lie-flat, or "cama," seat if you are traveling overnight.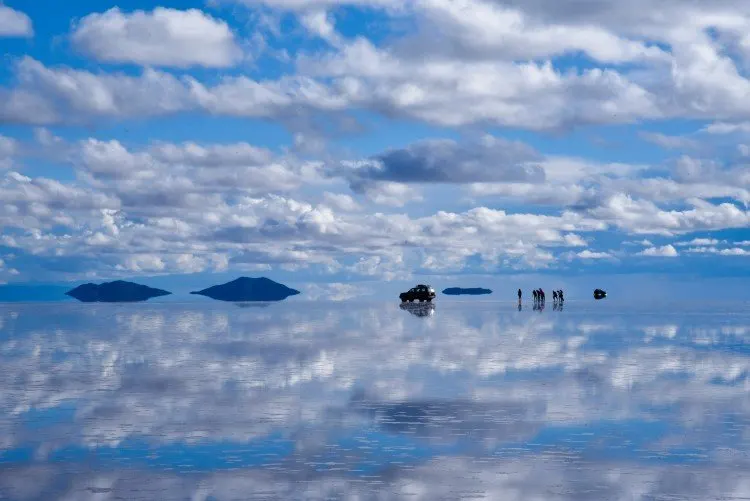 I've used this website multiple times and my reservations have always been honored. Once, when we had a problem at the terminal due to a "Dia de Peaton" (Pedestrian Day… a fun Bolivian tradition that can be a bit less fun if it interferes with your travel plans), the website even refunded our tickets for lost time.
Buses to Tupiza
If you want to take a tour starting in Tupiza, it's a four-hour bus journey from Uyuni, with buses leaving a couple of times each day from the bus terminal in the latter. Expect to pay around $30 BOB ($6 USD).
Alternatively, if you're coming from Argentina, you can get a bus north from Villazon. It's a journey just shy of three hours and should cost around 15 BOB ($2.7 USD). A handful of companies run this route. For vaguely up-to-date bus timetables, check out this website.
Buses to San Pedro de Atacama (Chile)
San Pedro de Atacama is the most visited town in northern Chile. However, to get here from southern Chile, departures are more frequent to nearby Calama. Buses to here from the Chilean capital, Santiago, cost between $40,000 CLP and $64,000 CLP ($50 USD to $70 USD) and take 23 hours.
However, flights are often the same price and significantly more time efficient. Further information about this is located below.
From the bus terminal in Calama, buses leave hourly for San Pedro de Atacama; you can find departures and book here. The journey costs $5,500 CLP ($7 USD).
Getting to the Salar de Uyuni by train
From La Paz, it's also possible to take a four-hour bus to Oruro and then hop on a train to Uyuni, another six or seven hours away. A one-way trip using either method will cost about 32-120 BOB ($5-17 USD).
This train connects Oruro with Tupiza (5.5 hours after Uyuni; 56-239 BOB ($8-$35 USD) and Villazon (3 hours after Uyuni) further down the line.
Trains leave four times weekly:
The more expensive (and more comfortable) Expreso Del Sur departs Oruro on Tuesdays and Fridays at 2.30pm.
The cheaper Wara Wara del Sur departs Oruro at 7pm on Wednesdays and Sundays; I haven't been able to confirm what time the return journey leaves.
Prices and (probably!) up-to-date prices and timetables can be found on this website.
Getting to the Salar de Uyuni by plane
Flights from La Paz to Uyuni
Uyuni also has a small airport. If you want to save time – and avoid the twisty, turning Bolivian roads – the flights from La Paz to Uyuni take only about an hour.
Depending on the time of year, these flights can vary between 1,100 and 1,800 BOB ($170-250 USD) and are typically operated by Boliviana de Aviación, the national Bolivian carrier.
You can find flight times and make a reservation through their website.
Flights to Calama (Chile)
If taking a tour of the salt flights from San Pedro de Atacama, the most efficient means of getting to this town is by flying into Calama, a city situated 100 kilometers northwest.
Aeropuerto Internacional El Loa (CJC) receives around a dozen flights from Santiago with carriers LATAM (expensive), Sky Airline (low cost), and Jet Smart (super low cost). I suggest checking for the lowest prices through Skyscanner and then booking directly with the airline.
If you book at least a few weeks in advance, you can secure flights for as little as $33,000 CLP ($48 USD) – although with Sky Airline and Jet Smart, you are required to pay for cabin baggage and hold luggage in addition to the quoted fee. Flights take around two hours and 10 minutes.
The airline LATAM is typically more expensive and have multiple daily direct flights (2.5 hours) from Lima to Calama, costing from $72,000 CLP ($90 USD).
From Calama, you can take a shared transfer directly to San Pedro de Atacama ($15,000 CLP ($19 USD) one-way or $28,500 CLP ($36 USD) return) with TRANSVIP or Transfer Pampa Expedition. Transfers are timed to pick up passengers from the arrivals hall just after flights land.
When should you visit the Bolivian Salt Flats?
The Salar de Uyuni is amazing at any time of year, but how your trip looks depends entirely on the season.
Visiting El Salar de Uyuni between December and March
Rainy season in Bolivia is when the Salar turns into the world's largest mirror, making it, for some, the best time to go!
Lasting from around December to March, the rainy season sees a thin sheet of water cover the crusted white salt of the flats. You'll definitely want to visit during these months if you're hoping to snap amazing reflection photographs where the horizon seems to completely disappear.
Because of the standing water sitting atop the flats, the sunrises and sunsets are spectacular, while, at night, the stars can appear in double, reflected by the watery mirror on land. You can read Steph, Worldly Adventurer founder's experiences of visiting the Salar de Uyuni during this period.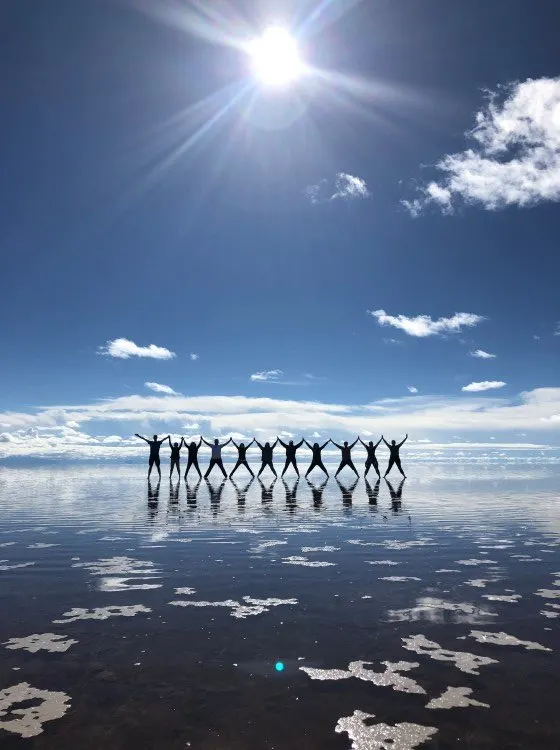 While wet season visits are great for photographers, there are also some downsides to visiting during this time. Rain makes mud, so the going gets tough at points along the road.
While 4WD vehicles and drivers are well-equipped to handle the terrain, more mud means a greater risk of getting stuck. You also might miss out on some of the activities, like riding bikes across the flats.
Visiting El Salar de Uyuni between April and October
Dry season in Bolivia lasts from around April to October and during this time, the salt flats look less like a giant mirror and more like… well, a giant salt flat.
It's still pretty spectacular, and the expanse of white stretches on forever! You're also still able to take some sweet photographs – particularly the hilarious perspective shots. Be sure to take along some props for your perspective photos, like a frying pan or toy dinosaur!
Be aware that it's winter during these seasons, so you can expect temperatures to drop to below freezing once the sun goes down (around -6°C (-22°F)). Night skies are also guaranteed to be clearer because of a far lower chance of rain than in rainy season!
Visiting El Salar de Uyuni in late March or late November
For the best of both worlds, visit in late March or late November. You might get lucky and find a part of the salt flat that is dry and a part that's covered in water. During this time, you should be able to enjoy taking photographs that use the flat and seemingly endless backdrop of the world's largest salt flats to create optical illusions, while capturing the incredible watery sunsets and sunrises, too.
What can you expect from Salar de Uyuni tours?
Salar de Uyuni tours from Uyuni
Many companies in the town of Uyuni offer salt flat tours. If you're not a planner like me, it's fairly easy to walk into a tour office upon arrival and book a tour the same day.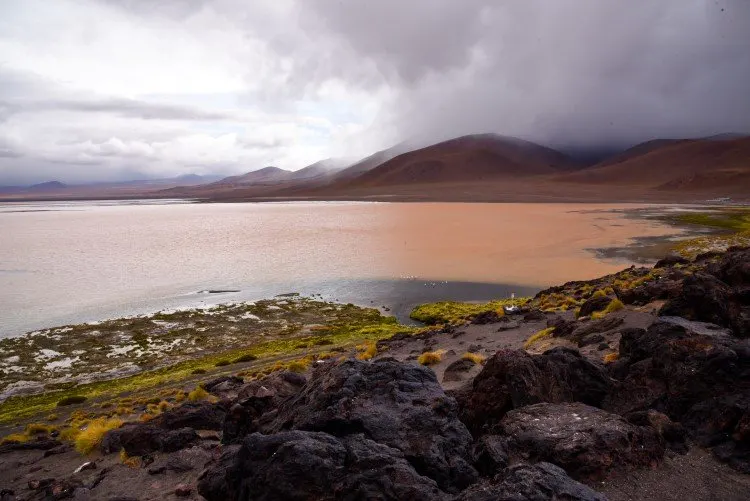 Most tour companies offer one to three-day tours of the salt flats, lakes, and surrounding region.
If you are short on time and funds and only interested in seeing the salt plains themselves, a one-day tour or day trip will suffice.
Two-day tours add the region's colorful, mineral lagoons, while in three days, you can see it all – salt flats, lagoons, deserts, and dramatic rock valleys.
My suggestion is to choose a three-day tour option. If you're going to stay in Uyuni for multiple days, you might as well go big and see all there is to see!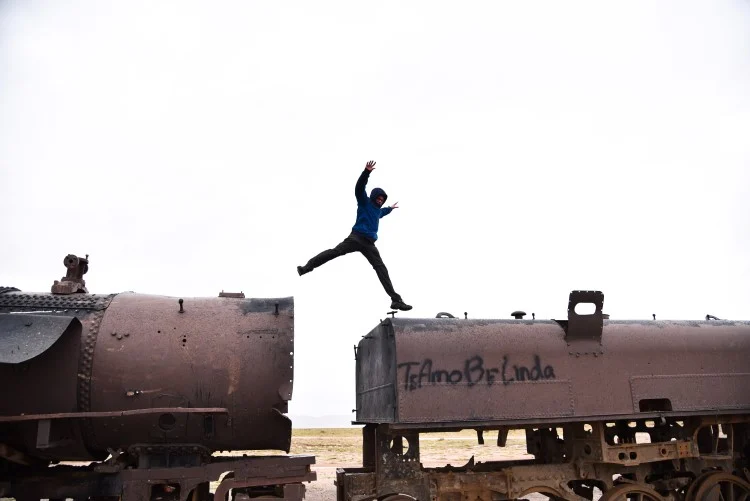 Group tours or private tours are also options. Private tours are obviously pricier but grant more flexibility; to meet new people and save money, go for the group option!
On a three-day tour you can expect to see and experience the following:
The Salar de Uyuni!
The train graveyard… a strange, but cool homage to Uyuni's commercial past.
A night in a hotel made out of blocks of salt and situated right in the middle of the salt flats themselves.
Laguna Colorado, Laguna Verde, and other Altiplano salt lakes home to vast flocks of Andean flamingos.
The colorful Dalí and Siloli deserts.
A bubbling, steaming geyser field.
Unique Bolivian wildlife, such as Darwin's rheas, vicuñas, vizcachas, and, of course, flamingos.
A dip in hot springs.
Salar de Uyuni tours from Tupiza
Another alternative is a four-day tour from Tupiza. These include all of the destinations listed above but in the opposite order. The extra day sees you touring some of the country's most remote scenery, where a series of deserted mining towns, volcanic peaks, and deserted altiplano plains filled with native wildlife are the highlights.
Your final day at the Salar de Uyuni also starts at sunrise, meaning you get the absolute best views of this grand natural site – and get to appreciate it before the hordes of vehicles from Uyuni arrive!
Whereas tours from Uyuni all take the same route which means you can expect to be in a procession of other 4WD vehicles packed with tourists – who all get out at the same spots at the exact same time – because there are only two tour agencies departing from Tupiza, you'll likely only see a handful of other cars during your trip.
What's more, tour agencies in Tupiza have a reputation for being far more responsible, with vehicles kept in better condition and generally a higher standard of guides being employed.
This reputation also extends to safety; drink-driving can be a real issue on the Salar, so it's essential to book with a company that is reliable and takes the safety of their passengers seriously.
Salar de Uyuni tours from San Pedro de Atacama (Chile)
If you're in Chile and want to pop across the salt flats, a tour from San Pedro de Atacama makes the most logistical sense.
Three- or four-day tours depart San Pedro de Atacama and stop at the most popular sights along the route: Laguna Verde, Laguna Colorada, El Salar de Uyuni, and the Termas de Polques hot springs.
Recommended tour guides for El Salar de Uyuni
While there are many tours and companies to choose from, I highly recommend Quechua Connection.
This company's guides are fluent in English and were very helpful. The first night's accommodations have hot showers (a big plus!) and you spend it near the hot springs, where you can enjoy an evening soaking under the Milky Way.
They also offer a visit to a salt factory and end their three-day tour with a hike through a giant volcanic rock valley, which was one of the highlights of our trip. They can also drop you in San Pedro de Atacama in Chile for an additional cost of around $15 USD.
Another great tour operator is Banjo Tours. While we have experienced many different guides during our Bolivian travels, our best by far was from Banjo. They offer many tour options leaving from Uyuni, including one from La Paz to Uyuni via lesser-visited Sajama National Park, where you can see Bolivia's highest peak and visit pre-Incan burial sites before visiting the salt flats.
Three-day tours start from around 1240 BOB ($180 USD).
Recommended tour guides from Tupiza
Steph (the founder and editor of Worldly Adventurer) saw the salt flats via a tour from Tupiza with Tupiza Tours. La Torre are also another highly recommended operator based here. Tour guides should speak English; be sure to confirm this when you book.
Because there are fewer tourists starting from here, you may need to wait a day or two for a complete group of tourists to form (you need at least four in your tour group before it can depart).
Tours are a little more expensive than those from Uyuni, starting from around 1370 BOB ($199 USD) per person. You can arrange to drive back to Tupiza or instead stop in Uyuni; both companies also can terminate the tour across the border in San Pedro de Atacama in Chile.
Recommended tour guides from San Pedro de Atacama
From Chilean border town, San Pedro de Atacama, the most recommendable agencies include Chilean company Cruz Andina Travel.
You can either end in Uyuni (from $96,000 CLP ($120 USD)) or back in San Pedro de Atacama ($200,000 CLP ($250 USD)).
This agency can also organize private tours for a much higher price.
Top tips for taking a tour of the Bolivian Salt Flats
One thing you can expect from all tours is to spend a substantial amount of time in a car. While the scenery flying past your window will be beautiful, the fact is you will probably sit for hours per day jostling around in a 4×4 vehicle down precarious roads.
If you get car sick easily, take medicine and sit in the front seat!
My biggest suggestion, especially if you opt for a private tour, is to be upfront with your guides about exactly what you're hoping to get out of the tour.
Want some extra time on the salt flats for pictures? Tell them! Don't care so much about the train graveyard or the Laguna Colorado and want to spend more time in the hot springs? Let them know!
Most guides want you to be happy with your experience; I've found that being clear about what we wanted out of our tour was best for everyone.
What should you pack for visiting the Salar de Uyuni?
Conditions on a tour of the Salar de Uyuni are variable. Hiking and sleeping at 3,600 meters (about 12,000 ft.) above sea level can get pretty chilly, especially at night.
If you choose a three-day tour, those will take you up to 4,500 meters (almost 15,000 ft.)! That said, the sun can be really strong at high altitudes, meaning you'll want to pack plenty of layers.
To be fully prepared for the Bolivian salt flats, you'll want to pack the following when visiting the Salar de Uyuni:
Sunscreen, lip balm, and a sun hat to block those rays!
A beanie, gloves, and a scarf or buff for those cold, windy days.
Warm clothes for sleeping… especially a pair of good, thick socks!
Sleeping bag. While the basic accommodations on most tours will provide beds and blankets, I like a little extra warmth when I'm sleeping, and I didn't regret having my own sleeping bag.
Flip flops, especially if visiting during the rainy season. You don't want to walk out into the salty water with a pair of your nicest hiking boots or favorite shoes. The salt is a pain to get off! On that note, you might want capris or pants that easily roll up (read: not skinny jeans) if you visit during rainy season.
Swimsuit if you choose a multi-day tour and are visiting the hot springs.
Rain jacket, especially if visiting during rainy season.
Headlamp! Many of the hostels have generators that shut off at night, and if you're planning to visit the hot springs at night, you'll need some light to navigate by.
Camera! You'll definitely be taking some cool shots! Also, bring fun props for perspective shots.
Aux cord. Since you'll be spending a lot of time in a car, most of the drivers will let you plug in your own tunes for the ride.
Water! While most tour companies will include water with meals, you might want to pack an extra few liters for yourself as it'll be expensive to purchase en route. Nothing cures altitude sickness better than chugging water and staying hydrated!
For more tips, based on seven years exploring Bolivia and South America, read our guide to what to pack for a trip to South America.
Where to stay in Uyuni, Bolivia
To be honest, I would suggest not actually staying in Uyuni. You can save yourself time and money by taking overnight buses or early morning flights and jumping straight onto a tour without actually spending the night in the town of Uyuni.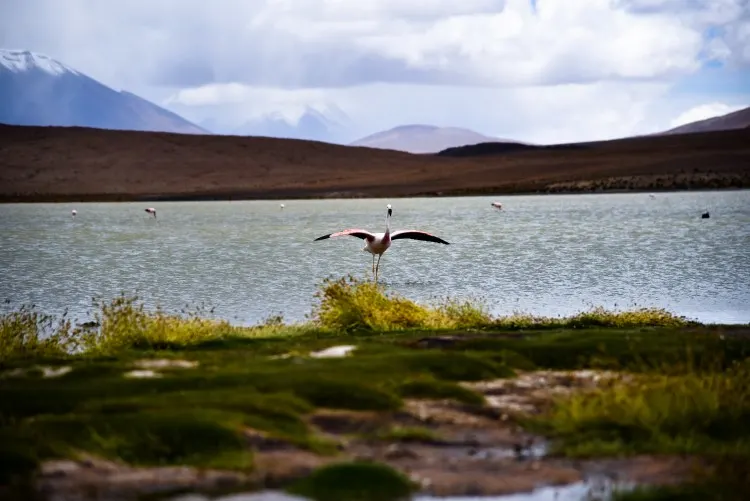 If your schedule doesn't permit this option, however, there are plenty of hostels in Uyuni that you can visit.
One good option is Casa de Sal (Av. Potosi, $80 USD double), a hotel made almost entirely from salt. Typically, you only stay in salt hotels that are right in the middle of the flats themselves, so this is an unusual option right in the center of Uyuni. Bedrooms are large, the top-floor restaurant has outstanding sunset views and the showers are hot – exactly what you'll want after a tour!
If you don't mind being outside of town and want to see the Salar de Uyuni at night, stay closer to the salt flats at one of the more expensive, salt hotel options near the village of Colchani. These include the Hotel Palacio de Sal (Orillas Salar de Uyuni, Colchani, $225 USD double) modern lodgings that are supposedly the first salt hotel in the world, and Hotel de Sal Luna Salada (Orillas Salar de Uyuni, Colchani, $205 USD double), which even has salt floors!
Where to stay in San Pedro de Atacama, Chile
On the northeast side of San Pedro, Ckuri Atacama (Los Laureles 170, $78 USD double) has really beautifully-furnished bedrooms with shower rooms, large double bed, and a small dining area with your own fridge and plates and cutlery for you to serve yourself breakfast (it's not included in the price). The owners are wonderful and know plenty about the area making them a great first port of call for information about tours or dining recommendations!
For those on a smaller budget, Backpackers San Pedro Hostel ($23 USD dorm, $47 USD double) is clean and had plenty of communal space (including two large kitchens) but was a little out of town (which shouldn't be too serious but it is hot and difficult walking at 2,400 meters above sea level in a desert!). It's a more relaxed option than many of the other hostels in town, although noise can still be an issue here.
FAQs about visiting the Salar de Uyuni
Are the Uyuni salt flats worth it?
Totally! These Mars-like landscapes are both mindboggling to look at and an absolute photographer's dream thanks to the perspective shots you can capture; the salt flats behind offer a brilliant backdrop for all sorts of whacky compositions!
Tours are also very affordable, starting at just $180 USD for a three-day, two-night 4WD tour that takes you not only to the salt flats, but to thermal springs, a series of curious rock sculptures within what's known as the Dali Desert, plus vast salt lagoons in a myriad of colors (including pink, believe it or not!).
The trip also takes you deep into the Bolivian altiplano, which shields wildlife such as flamingoes, vizcachas (fluffy chinchilla-like creatures), and vicuñas (the wild relative of the alpaca). The surrounding terrain is also unique: perfectly conical volcanoes rise up into the distance, making the location even more otherworldly.
Ultimately, the Bolivian salt flats are high up on our list of the destinations you can't miss in South America.
How much does it cost to go to the Bolivian salt flats?
It depends on the length of your tour and also from which town you start. If starting and ending your tour in Uyuni, Bolivia, three-day tours (the best option if you want to see the key highlights of the Salar de Uyuni) cost from $180 USD pp for a group tour.
Alternatively, you can start in Tupiza, a town three hours south of Uyuni. Tours from here tend to be four days and three nights and cost from $195 USD pp for a group tour. The extra day is well worth it for the remote scenery you get to explore, as well as the fact you arrive at the salt flats at sunrise – before all the tours from Uyuni!
The final option is to take a tour of the salt flats from San Pedro de Atacama, a town across the border in Chile's Atacama Desert. These tours tend to take three or four days (depending on whether you want to return to San Pedro de Atacama or continue to Uyuni) and cost from $190 USD.
Private tours starting from each of the above destinations are also available. You can expect to pay a lot more, as you're paying for an entire car, rather than a seat in one; prices start from $1,500 USD per group.
Can you drive to the Uyuni Salt Flats?
Traveling to the salt flats independently is possible but certainly not recommended. This is due to the lack of roads found across the salt flats, which can make it easy for drivers to get lost and struggle to find their way back to Uyuni.
An unforgettable trip to the Salar de Uyuni
For a traveler visiting South America or Bolivia, visiting the Salar de Uyuni is a must. The natural beauty and uniqueness are things you'll never forget! Learn more about places we think you should visit in Bolivia, what to do in San Pedro de Atacama, the Chilean town across the border, as well as how to pack for your trip to South America.
Did you find this Salar de Uyuni travel guide helpful? Don't forget to pin it for later!