Valparaíso (or Valpo to the locals) is a Chilean city steeped in history. Once known as the "The Jewel of South America", this city's bohemian, youthful revival over the past 20 years has made it a must-visit destination when touring these parts.
If you love getting lost in alleyways full of street art, craft beer, and cocktails, or just want to escape the sweltering summer heat in Santiago, Valparaíso is the place for you.
Situated on the Pacific coast, an hour or so from Santiago, Valparaíso in its pomp was considered one of the most important port towns in the world.
Nowadays, where these streets were once paved with gold, the buildings are now covered in some of the most beautiful street art that can be found anywhere in the world.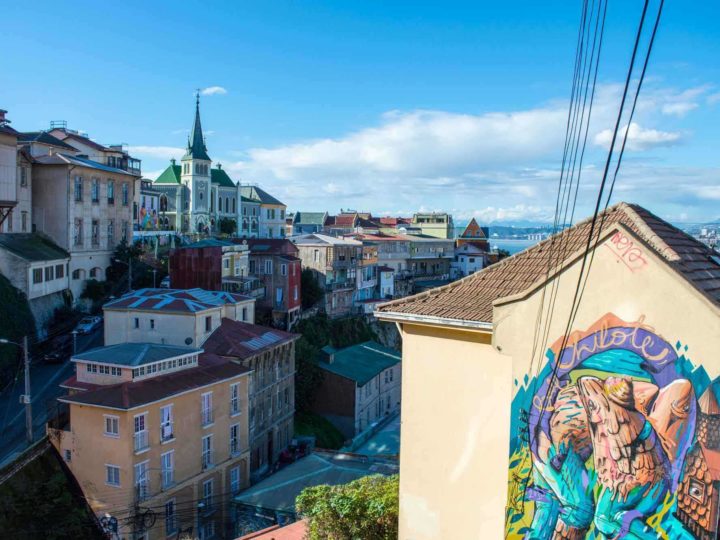 There are so many things to do in Valparaíso, you may just end up staying longer than planned! (We did…)
What things should you do in Valparaíso?
May 2023 safety update: the city of Valparaíso is becoming increasingly unsafe to visit. Muggings have been reported in the tourist neighborhoods of Cerro Alegre and Cerro Concepcion, even during the day. We recommend avoiding this city until further notice. If you do visit, taking a pre-booked taxi or using Uber is essential if straying from these two neighborhoods during day or night and extreme precautions should be taken when walking around the city. Read more safety information here.
1. Wander the city's colorful streets
It sounds simple but many of Valparaíso's streets are full of beautiful pieces of art – definitely the main tourist attraction in Valparaíso. From spray can graffiti, to cat mosaics and paintings of intergalactic timelords, you can find it all.
Before setting off make sure you are wearing comfy footwear and be prepared for hills as Valparaíso is built on 42 of them.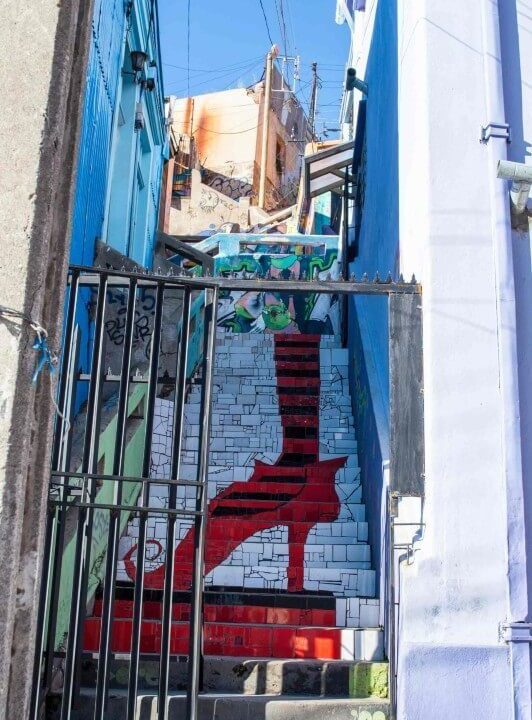 Here are my top streets to hit:
(TIP: make sure you walk each street both ways as art can be found on walls unseen from one direction!)
Hector Calvo – if you start right from the bottom of the steps, you'll see a whole load more (including the cat mosaic!)
Elias
Templeman
Atahualpa (conveniently next to Elias)
Carillo Armstrong (great for views)
Miraflores
Planning Your Trip to Chile?
Save time, stress & money with a customized travel itinerary planned for you by a Chile expert
These are just a few spots we loved. No doubt wherever you stay there will be something right outside the door.
2. Join a free walking tour
Like most cities in South America, Valparaíso is well served by free walking tours, which are run on tips. As there is so much to learn about this amazing city, a walking tour is the perfect way to begin your time.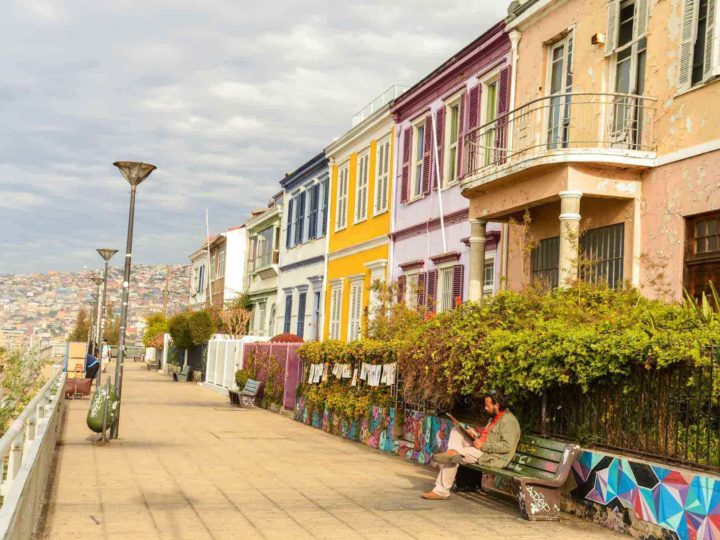 In its heyday, the city provided respite to the thousands of sailors heading from Europe to California during the gold rush, when it earned the name "the jewel of South America". However, the construction of the Panama Canal changed everything.
Added to that, earthquakes are very common here, the largest in 1906 and, more recently in 2010, have taken many lives and destroyed countless homes, meaning the city is almost constantly being rebuilt.
We did ours with the Tours 4 Tips crew. The tours are run by enthusiastic locals who are supremely well-informed about their city. They are welcoming, engaging, and very responsive to questions.
You can find them at 10am and 3pm in Plaza Sotomayor each day wearing a red and white striped t-shirt like Wally (or Waldo if you're reading this in the US).
All tours are in both English and Spanish. Whilst you can reserve, it isn't necessary.
3. Hunt out the work of Un Kolor Distinto
The most prolific artists in Valparaíso are the duo Un Kolor Distinto. These guys are everywhere and we made it our mission to see as many of their works as possible.
They are best known for four huge pieces commissioned by the city council on the sides of four of the highest buildings in Valparaíso.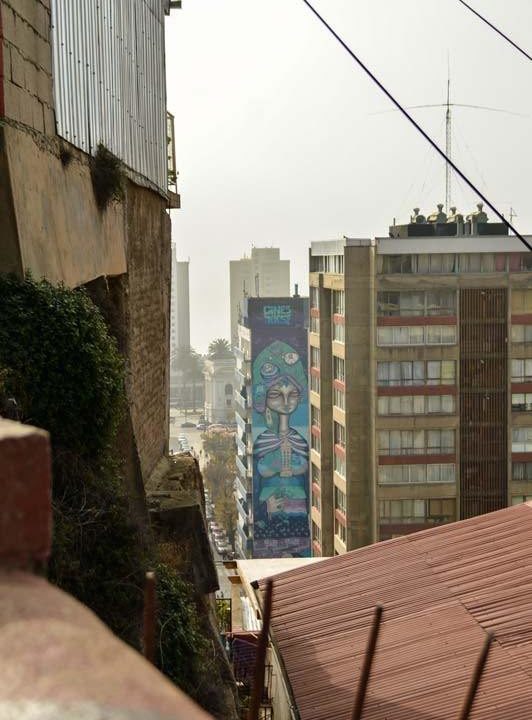 One, depicting summer, is very easily seen from any high point on the west side of the city. The others aren't quite so easy to find but through some sleuthing on their Instagram page, it's very possible to find them all! A really fun Valparaíso activity.
4. Chow down on the local favorite, chorrillana
Valparaíso is home to one of Chile's finest 'delicacies', the chorrillana. It's essentially a heart attack on a plate – but what a delightful heart attack!
It begins with chips. Lots of chips. Then, add 3 kinds of meat: steak, sausage, and kebab. Throw in some caramelized onions, cheese, and a fried egg on top and there you have it.
It might not sound like it but honestly, it's excellent. Almost every eatery in town will serve it but for the real experience, check out J Cruz (Condell 1466 Casa 11, Valparaíso) or Mastedonte (Esmeralda 1139, Valparaíso).
We loved the latter both for the food, the brilliant interior décor (complete with perfectly painted sky and cool fake but real-looking trees), and delicious juices – the latter a great compliment to the mighty chorrillana.
5. Get lost in the winding streets of the Concepción neighborhood
Once you find yourself in the heart of Valparaíso, you'll notice a bright yellow house perched on the top of a cliff. This house sits on the corner of a barrio (neighborhood) and hill known as Concepción.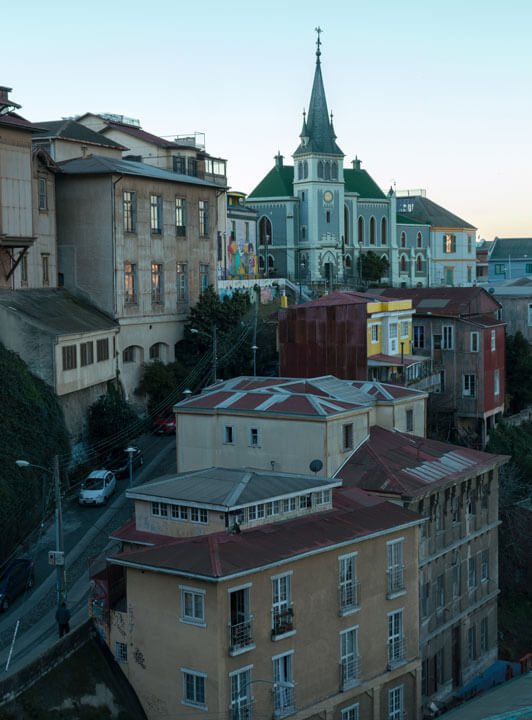 This neighborhood is a great place to spend an afternoon wandering the streets and checking out the art-smothering alleyways and building sides. 2023 safety update: be careful to not wander beyond the boundaries of Cerro Concepcion and Cerro Alegre due to the increased risk of muggings in Valparaíso. Take up-to-date local guidance from your accommodation.
Head to the yellow house, AKA Hotel Brighton (Paseo Atkinson 151- 153, Valparaíso) for sunset for a spectacular view over the Pacific Ocean.
Either pop in and have a cocktail or two on their beautiful veranda or hang out in the street outside, where occasionally you'll find people dancing to the music of local buskers.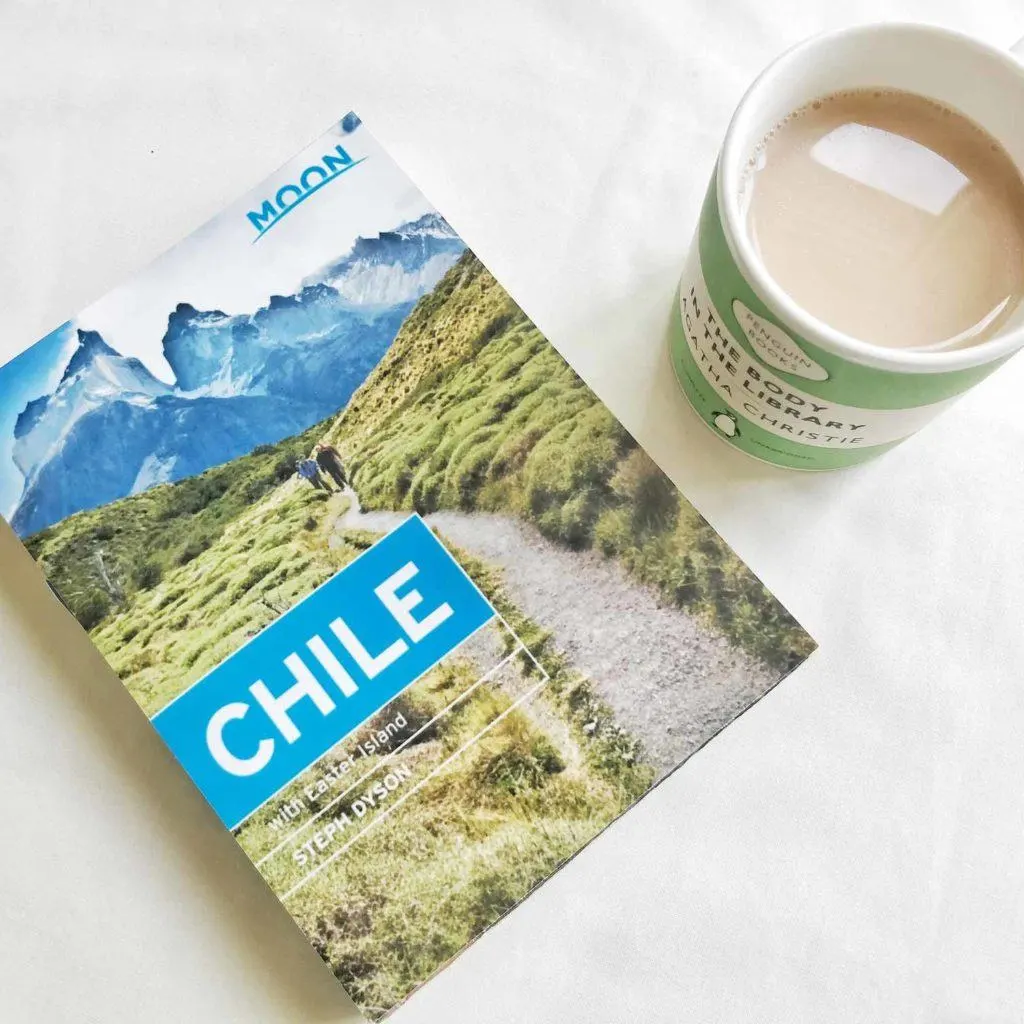 Need more inspiration?
You'll find even more detailed itineraries, off-the-beaten-path gems, hiking routes and accommodation, restaurant and tour recommendations to suit your travel style in my brand-new guidebook, Moon Chile.


You can also browse paintings by some talented local artists and this is one of the best areas for shopping in Valparaíso for locally made handicrafts and paintings.
How to get to Barrio Concepción: There are plenty of streets that will take you up to Concepción by foot. However, after a day or two of walking up and down Valparaíso's mountainous streets, why not treat yourself to a cheap ride on one of the funiculars.
Catch either the newly refurbished Ascensor Concepcion or one of the first funiculars built in Valparaíso in 1902 Ascensor Reina Victoria. Rides on the funiculars will set you back somewhere in the region of $100-$200 CLP ($0.15-$0.30 USD).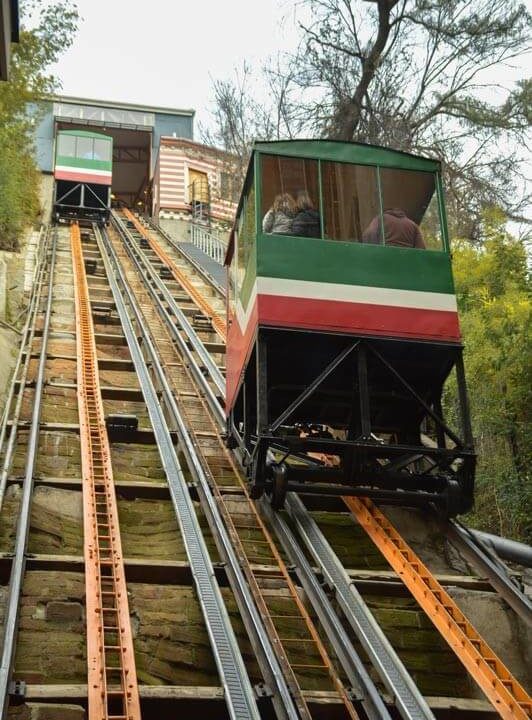 6. Enjoy evening cocktails on the roof terrace of Fauna
Fancy a sunset drink or nightcap overlooking Valparaíso and the Pacific Ocean? Fauna is the spot for you. This restaurant, bar, and hotel is blessed with a rooftop terrace on a hillside giving patrons a stunning uninterrupted panorama of the surrounding city.
If you're in Valparaíso on the weekend, it will be busy so you may have to wait for a table outside. However, we turned up three times and had a table on the terrace within 15 minutes or so every time.
Be sure to try the Fauna Pisco Sour (with berries!) or a Mauco IPA from just up the road in Concón.
7. Bar hop down Calle Cumming
Thanks to the city's large university student population, if you fancy a bit of a night out and a dance, there are plenty of options.
However, to experience Valparaíso at night you only really need to head to one street – Cumming. How convenient! 2023 safety update: be careful around this area at nighttime due to the increased risk of muggings in Valparaíso. Take up-to-date local guidance from your accommodation.
But don't let that make you think there's no variety. Kick things off with a litro (a massive liter bottle of beer) at El Gato en la Ventana (Cumming 113). If you can, grab a table outside as this place gets the evening sun.
Head on to Cervecería Anfiteatro (Cumming 107) for some local craft beers or Ilícito Bar (Cumming 68) if cocktails are more your thing (they also have local beers!).
El Viaje (Cumming 93) is the place to end up for a dance but don't get there too soon. An energetic lady may try to encourage you otherwise, but this place doesn't get going until 12.30-1am. Expect jazz, samba, salsa, and more.
The buses do run late in Valparaíso but, as with almost every city in South America, take a taxi back to your accommodation – it's safer!
8. Dive into the city's history at the Parque Cultural de Valparaíso
This cultural hub is very important to the people of Valparaíso. Originally a Spanish fort, which then became a prison – and was used to house and torture political prisoners during the Pinochet dictatorship – it's now a community space for art and culture.
Here you can see the art of former prisoners on the walls, young people practicing dance routines and (if you get lucky) an exhibition. Check the listings here.
Tip: if you take the free walking tour with Tours 4 Tips, you'll stop here en route.
9. Sip on a local special: pisco sours
Valparaiso is where we had some of the best pisco sours we've tasted in all of South America. Pisco is a spirit made from grapes and its origins (like many things) are hotly contested between Chile and Peru.
This drink combines pisco with lemon, sugar, and egg white to create a highly addictive and extremely tasty concoction.
Most bars and restaurants around Valparaíso will offer them so get tasting! Weirdly, the best was in BeerHOUSE (Aníbal Pinto 341-339, Valparaíso). Ask for the one with a hint of menta (mint).
10. Meet some local fishermen at Valparaíso's port and market
Plenty of local buses go to Caleta Portales (it should only cost a 'local' fare), Valparaíso's main fish market located in the east of the city on the road to Viña del Mar. Here you can buy fish directly from the fisherman. 2023 safety update: this area is now dangerous, so I would avoid visiting. Take up-to-date local guidance from your accommodation.
Ask to have it fileteado and watch them work their magic with a knife before they bag you up some freshly caught fish. A lot also sell ceviche in small plastic pots: buy some and eat it on the beach – it's divine.
How to get here: Get off as you reach the Portales metro station and walk over the pedestrian bridge to get to the beachside. You'll see a building on the right that looks a bit like an old sports stand and some restaurants and market stalls to your left. The building on the right is the fish market.
11. Chill out on Playa Concón
If you're craving a bit of beach action, nearby Concón is home to the best beaches near Valparaíso.
The buses in Valparaíso are brilliant. Case in point: you can take one bus all the way from Valparaíso to Concón, a pretty beach town an hour and a half away. And it costs just $540 CLP ($0.75 USD). Buses #602 or #605 are those that you want and should have a sign in the front indicating their destination is Concón.
The ride is winding and, like all bus drivers in Valparaíso, they drive quite quickly, which is something to bear in mind if you get travel sick. The road follows the coast bar a detour into Vina del Mar so you get great views the whole way.
Concón has two main beaches: Playa Amarilla (a yellow sand beach) or Playa La Boca (black sands).
Both beaches are nice for 'city' beaches and the water isn't too cold (but it is the Pacific Ocean!). Don't expect seclusion but if you head there during the week, they will be quieter.
On the bus, you can jump off at either beach or continue until you reach an empanada place called Las Deliciosas (Av. Borgoño 25370, Concón), right at the northeast edge of town.
They are famous for their seafood empanadas fritas (fried empanadas). The walk back to Playa La Boca isn't far.
12. Tour the award-winning vineyards of the Casablanca Valley
The Casablanca wine valley is just an hour away, meaning visiting vineyards is a Valparaíso activity that you just can't miss. You can pay for a tour but it's super simple to do it yourself. Here are the key points:
Ask your hostel/hotel to call the wineries you'd like to visit at least one day before you plan to go. All the wineries are pretty close to each other so it's definitely possible to pack in 3-4 depending on how much you like wine and your stamina. Ask them to check the prices too, although most wineries have their prices indicated on their website. Most are between $12,000-$20,000 CLP ($16-$28 USD).
Head to the bus station and hop on the next bus to Casablanca. They are very frequent and the fare should be around $1,500 CLP ($2 USD).
Grab a taxi from Casablanca to your first stop (Uber works for this trip). Depending on your negotiating skills, you may well be able to arrange a flat day rate with your driver for visiting a number of different wineries (expect to pay at least $40,000 CLP ($56 USD) for the day).
When you arrive at each stop, let them know that you'll need a taxi to take you on to your next tour. We had issues with getting an Uber out in the valley. Each trip shouldn't cost more than $7,000 CLP ($10 USD).
On the way back, ask the driver to drop you at the stop for buses back to Valparaíso. The buses run late so you'll have no problems coming back after the tours. You can buy a ticket on the bus and it'll be the same price as the ticket out.
Alternatively, you can chat with a taxi driver in Casablanca about renting their services for the afternoon/day for a fixed price. Expect this to be in the region of $40,000 CLP ($56 USD) and you may need to negotiate!
Choosing which vineyard to head to is totally dependent on what you like to drink and what you are interested in. Emiliana is a great biodiverse vineyard with some fantastic wines to taste. They also have llamas.
Viña Mar is known for its sparkling wines, while Casa Marin has intriguing whites such as sauvignon gris and an incredible restaurant – although you'll need to rent a car to get here (or stop overnight). All three are some of the best wineries in Chile.
13. Soak up the live music and tango at Bar Cinzano
From Wednesday through Sunday, you can find live music at Bar Cinzano, a great traditional Chilean tango bar. Dancing is strictly for those that can but it's a great spot to watch it all and soak up the atmosphere of Valparaíso at night.
The old guys behind the bar (I suspect the same that have been there since it opened) are very welcoming and friendly and you'd be missing out if you didn't try the almost sickly sweet – but very palatable – jarra de borgoña, a jug of red wine mixed with strawberries and icing sugar. The musicians are excellent too!
14. Visit Pablo Neruda's eccentric former house, La Sebastiana
Last but definitely not least, is one of the main tourist attractions in Valparaíso: La Sebastiana ($7,000 CLP ($10 USD) entrance).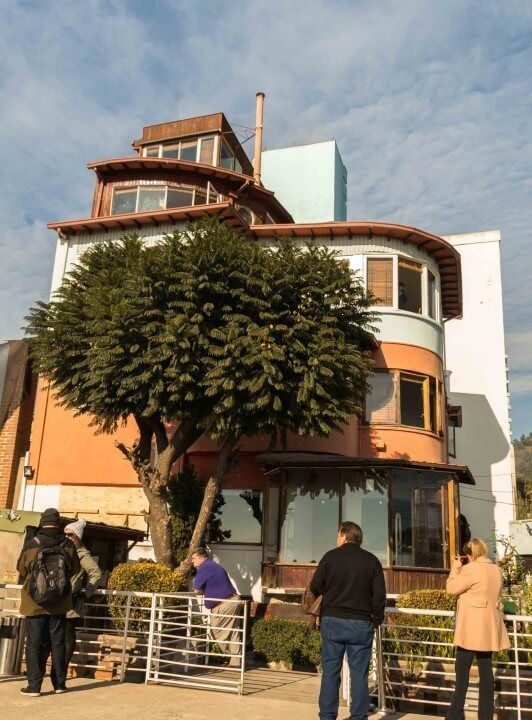 Chile's most famous poet had one of his three houses here, which has been kept in its original state as a museum in his honor.
Perched up on top of Cerro Florida, one of Valpo's many hills (if you continue up Calle Hector Calvo to the top, you'll find it), the museum provides a great insight into his life and inspirations. It also boasts a spectacular view of the city.
15. Take a day trip out to Quintay and Isla Negra
While there is plenty in Valparaíso itself to keep you entertained, those seeking a true insight into Chilean culture should rent a car and head out to the coast south of the city (check out Rental Cars for the cheapest deals).
One of the top destinations to visit from Valparaíso is picture-perfect Quintay, 42 kilometers south. This small fishing village clings to a pretty cove where dozens of pelicans bob on the ocean, waiting patiently for scraps from the resident fishermen.
You can watch all of the action from the terrace of Miramar, one of the finest fish restaurants you will find in the entire country (try the pastel de jaiba, a Parmesan-crab pie to see what I mean!).
Get here as soon as it opens at noon to ensure you get a spot on the outdoor terrace as they don't take bookings.
A short drive three kilometers northwest of the village, Playa Grande is a kilometer-long beach of golden sands and is practically undeveloped. While it gets popular in January and February, outside of these months, you'll find it serenely empty.
To get here, take the potholed turnoff to the left along the F-802, just after the last few houses, and follow it to its conclusion.
Where is Valparaíso and how to get there
Valparaíso lies right on the Pacific coast, 116 kilometers north west of Chilean capital, Santiago.
To get there, simply hop on a bus from Terminal Alameda (Universidad de Santiago Metro station) in Santiago. The ride will take you approximately 1.30 hours and should cost no more than $8,000 CLP ($11 USD).
Getting around Valparaíso
For people visiting Valparaíso, the city really isn't very big. It is quite hilly though. To help, a huge fleet of buses service the city. Trips within Valparaíso cost between $300-370 CLP (locale) and those further afield are $500-570 CLP (directo) ($0.40-$0.50 or $0.70-$0.80 in USD).
In the city you can flag these down without being at an actual stop and they will stop anywhere just shout, 'pare aqui, por favor'.
They drive rather quickly mainly because the drivers are paid per ticket sale so it can occasionally feel a bit hairy but by and large they are a safe and fantastically cheap way of getting around.
The Metro runs along the coast and is another option to get to certain places like Vina del Mar or Caleta Portales.
You need to pick up a Metro card to use it which costs around $1,400 CLP ($2 USD). Trips will cost between $400-900 CLP ($0.50-1.20 USD).
Taxis are plentiful in the city and Uber works here (although its legality across South America is questionable). The usual advice applies here: if you can, have someone you trust book a taxi for you instead of flagging one in the street (we had no problems doing the latter though!).
Is Valparaíso safe?
Safety is becoming an increasing concern in Valparaíso, with muggings and car jacking on the rise. I highly recommend not straying from the safe tourist areas of Cerro Alegre and Cerro Concepcion (although muggings here are still a possibility), even during the day.
If you want to visit other parts of the city, I highly recommend doing so with a tour such as Tours4Tips, who will also be able to advise about safety and security across the area.
Thieves are using distraction techniques to rob unsuspecting visitors. Do not leave anything of value in your car and do not accept assistance from a stranger if you have an unexplained flat tire or other car problem; this is a tactic used to distract you while another person removes your belongings from the vehicle.
The bus station is where a lot of theft takes place and the area surrounding it is dangerous; upon arrival here, book an Uber to take you to your accommodation.
If you are moving around the city at night, it's probably best to take a taxi.
Looking for more inspiration? Check out these Chile itineraries, this comprehensive guide to visiting Torres del Paine National Park, and this packing list for Patagonia. You can also learn which other places in Chile I recommend visiting (and avoiding!).