South America has long been one of the most alluring travel destinations, for a good reason. With its unrivaled natural beauty, range of ecosystems, and lively urban scenes, it's no wonder more people have found their way to this remarkable continent.
This article will focus on the safest cities that tourists frequent. For a ranking of countries' security, check out our article on the 10 safest South American countries in 2023.
In the past, much of the continent has held a reputation as a bit rough around the edges, but security in recent years has improved notably. While no place can ever be completely safe, we can confidently say there has never been a better, safer time to visit the best cities in South America. Here are, in no particular order, the safest eleven cities for travel in 2023.
1. Montevideo, Uruguay
According to the Global Peace Index for 2023, Uruguay ranks top in South America for safety, so where better to start than its capital, Montevideo.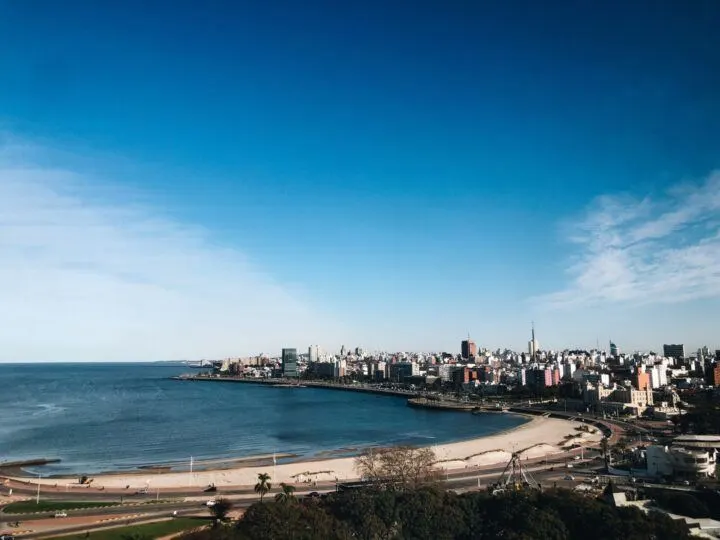 Montevideo is a medium-sized city of 1.3 million growing in popularity with many travelers due to its laid-back vibe, access to beaches, and agreeable climate.
It has seen the benefit of two decades of progressive governance, transforming Uruguay into the country with the best social institutions and the smallest wealth gap on the continent.
How to stay safe traveling in Montevideo
Although violent crime is rare, pickpocketing, car break-ins, and muggings sometimes occur, so be sure to avoid flashing valuable belongings, such as jewelry or large sums of money. The streets are generally safe, but it's best to avoid walking alone after dark when the streets have emptied and only withdraw money from ATMs in daylight.
What to do in Montevideo
Montevideo is a city whose charm steadily grows on visitors. Parts of the city may appear unsightly, but the capital rewards those who scratch beneath the surface. The centre of the city reveals many art-deco architectural gems, such as the Palacio Salvo in the ciudad vieja (old city).
While Punta del Este, east of the capital, is the premier beach destination, Montevideo also has over 13 kilometers of sandy beaches suitable for sunbathing or swimming. For lovers of tango, locals often dance all night in the many local bars, including El Callejón Tango Bar.
Planning Your Trip to South America?
Save time, stress & money with a customized travel itinerary planned for you by a South America expert
2. Buenos Aires, Argentina
Just next door to Uruguay, Argentina is another South American country with tons to do and a good security record. It's currently the second safest country to visit according to the 2023 Global Peace Index.
The biggest city on our list, this megalopolis of over 15 million people, sits on the coast facing Uruguay to the north. Buenos Aires is many cities in one, famous for its broad boulevards, old-world grandeur, and inimitable character.
How to stay safe in Buenos Aires
Much like Santiago, Buenos Aires is a city characterized by its history, with grand mansions standing just a couple of kilometers from workaday port enclaves. Visitors should avoid walking alone after dark, be discreet with phones and valuables, and be wary of scams.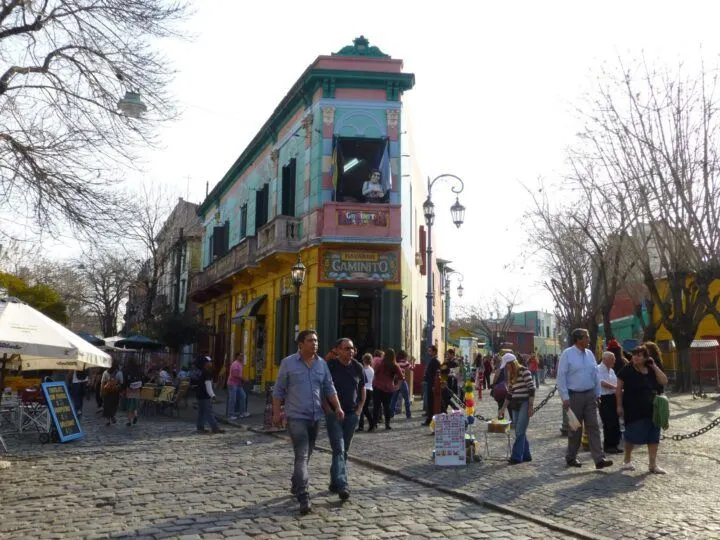 Although violent crime is a rarity, travelers should never resist mugging for obvious reasons. If planning to attend a football match, make sure you are purchasing tickets away from the ultra sections, where proceedings can get more than a little rowdy.
Read our guide to safety in Buenos Aires for more information.
What to do in Buenos Aires
Buenos Aires is the tango capital of the world, so whether you want to join in or just spectate, don't miss out on visiting ageless standards such as El Beso and Salon Canning, where you can either watch, take a class or join in.
For carnivores, it's hard to do better than an Argentine parrilla or asado (steakhouse), where the quality of the meat is only matched by the quantity. Locals swear by Don Julio, and the upscale La Brigada draws in international celebrities with its exquisite delicacies such as wild boar chorizo and *ahem* beef bollocks.
Read our itineraries for Buenos Aires for even more inspiration!
3. Mendoza, Argentina
Straight west from Buenos Aires, under the shadow of the Andes, lies Mendoza, one of Argentina's outstanding cities and destinations.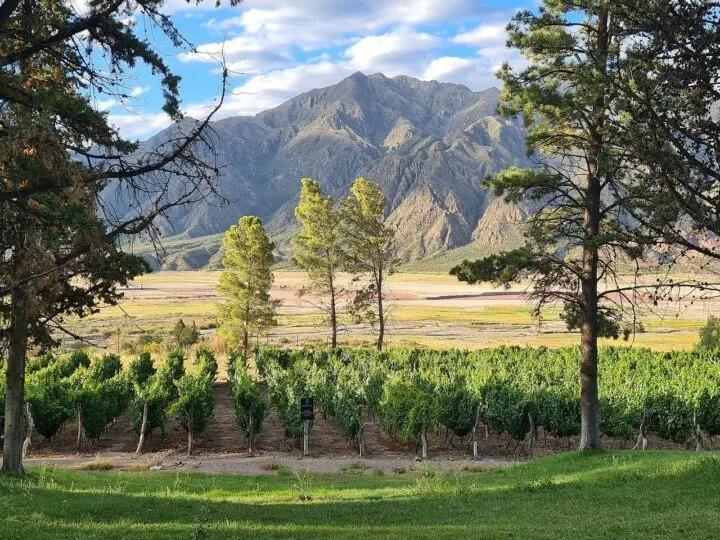 The medium-sized city of around a million people is world-famous for its premier export, Malbec wine. It is also the perfect base for exploration in the nearby mountains. The city has a small-town feel matching its bucolic surroundings.
How to stay safe in Mendoza
Like in the rest of the country, violent crime is uncommon, but theft and fraud can occur for the unwary. Car break-ins and burglary are the most common forms of crime, so visitors should take care the obvious precaution of locking their doors and being discreet with valuables.
What to do in Mendoza
The area surrounding the city is blessed with some of the best vineyards in the world, so oenophiles should not miss touring a couple of viñas to sample the local wine while visiting.
The other primary draw is the plethora of outdoor activities in the adjacent Andes Mountains. Depending on the season, tourists can take advantage of the prime hiking, climbing, skiing, and horseback riding opportunities.
4. Punta Arenas, Chile
Staying in Chile but venturing as far south as the continent goes, Punta Arenas is a safe, exciting destination for travelers. For those who love choosing the path less taken, Chile's southernmost city may be just the ticket.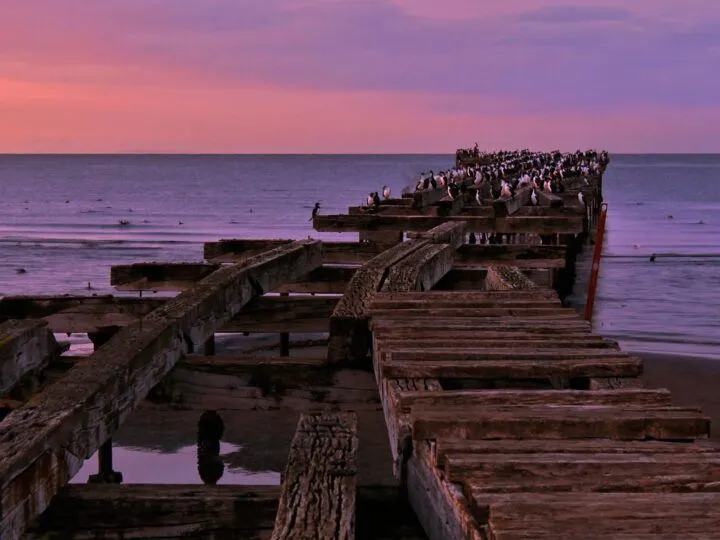 While quite remote and smaller than the other cities on this list, this city of 130,000 people has direct connections with Santiago and Buenos Aires, tons of outdoor adventures and all the amenities a modern city should provide.
How to stay safe in Punta Arenas
Security from crime is virtually a non-issue, although you should take care to secure your belongings, as petty theft is not unheard of. The chief safety concern is the high winds that blow through town, prompting civil authorities to mount ropes between buildings to aid pedestrians.
If outside for an extended time, it is necessary to wear sunblock, as UV radiation is deceptively high here, despite the remote southern latitude.
What to do in Punta Arenas
A primary reason visitors come all this way is to enjoy the natural splendor of nearby Torres del Paine National Park, accessible from Puerto Natales further north, and Tierra del Fuego, the southern peninsula at the end of the continent. Punta Arenas is a great jumping-off point for trekking in the surrounding area, where you can find penguins, sea lions, condors, and the world's most southerly parrot species. Hire a car a plan an epic Patagonian road trip with our guide.
Another reason to visit is to enjoy the seventeen hours of daily sunlight Punta Arenas enjoys in December and early January (which is why these months rank among the best times to visit the region). Punta Arenas also serves as a stopover for cruise ships bound for Antarctica (check out this Antarctica cruise departing from Punta Arenas from the highly-recommended company Swoop Antarctica).
For more on southern Chile, read up on our best Patagonia itineraries.
5. Santiago, Chile
Just behind Uruguay on the Global Peace Index in South America is Chile, and the capital Santiago is among the safest cities on the continent.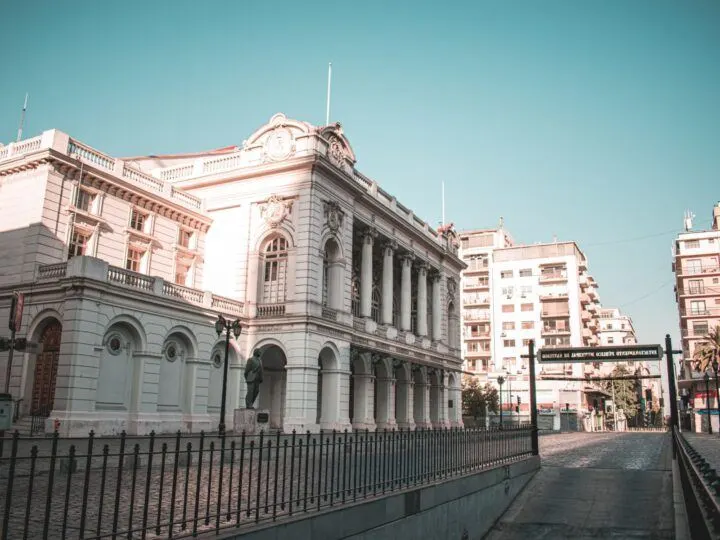 Santiago is a major city, with around eight million people living in the metropolitan area. It is a diverse city with many contrasting neighborhoods, knitted together by South America's best public transportation network. The city emits a European vibe with its architecture and temperate climate.
How to stay safe in Santiago
The city was in the news the past few years for civil unrest, but the protests were aimed at the government and police rather than travelers. The city has increasing safety issues; therefore, it's essential to practice common-sense safety precautions.
An increase in muggings, assaults, and carjackings has been seen in the city. Unlicensed taxi drivers are an increasing issue, too, particularly at the airport, so it's recommended to always book through a registered provider (we recommend the reliable, English-speaking My Ride Chile).
Previously safe tourist neighborhoods such as Bellavista and around the Plaza de Armas and the Central Market are becoming increasingly unsafe, and you're best to visit them during the morning as things can take a turn later in the afternoon.
The northern and western neighborhoods tend to have higher rates of crime, and it's best to steer clear of them after dark as there's little to do anyway. It's always best to take a taxi after dark, especially when taking part in Santiago's famed nightlife; use Uber where possible or ask your accommodation to call a taxi; never hail a cab off the street.
Neighborhoods such as Providencia Vitacura are now the best and safest locations to book a hotel in Santiago, while areas such as Lastarria are still good places to stay – just don't stray on foot from the neighborhood at nighttime. Never walk with your phone out or leave it visible on a table at a restaurant, or leave your bag where you can't see it – opportunistic thieves can swipe either without you noticing.
Read more safety recommendations for Santiago and Chile.
What to do in Santiago
The best way to get acquainted with the Chilean capital is to explore it on foot, and the large metro network makes it easy. You'll see groundbreaking street art, lively neighborhoods with tree-lined boulevards, and many numerous parks and green spaces.
Santiago is also renowned for its collection of museums, including the Museo de la Memoria y los Derechos Humanos (Museum of Memory and Human Rights) and the Museo Natural de Historia Natural (Natural History Museum).
For more details on this superb city, read up on the best things to do in Santiago.
6. Florianopolis, Brazil
In the southern region of Brazil, on an idyllic island just off the coast sits Florianopolis, arguably Brazil's best place to be.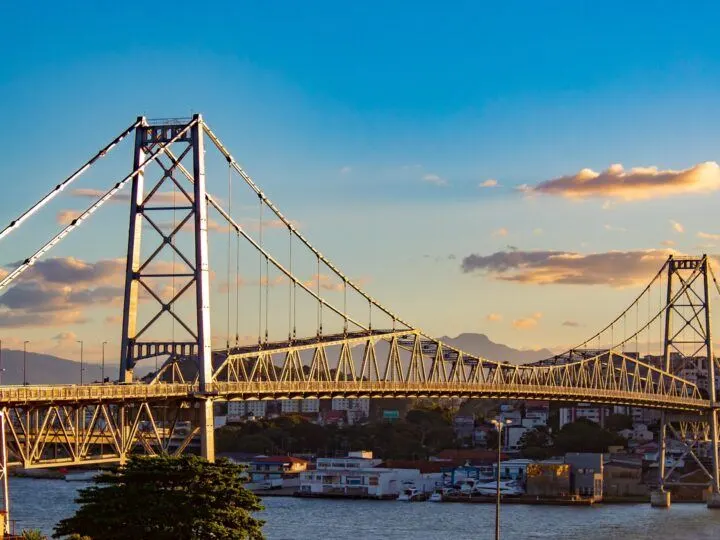 Brazil conjures images of endless beaches, samba, and football and has a contagious energy. Florianopolis has around half a million people in the city, surrounded by verdant mountains and golden beaches.
How to stay safe in Florianopolis
Sao Paulo and Rio de Janeiro have reputations as crime-ridden and at times dangerous, partly due to their size and wealth disparity. However, as the locals affectionately call it, Floripa is a more secure city, where crime can occur, but not on anywhere near the same scale as the country's larger metropolises.
As mostly anywhere in Brazil, it is advised to avoid walking alone at night and to leave valuable belongings locked in your hotel. Taxi fares should be arranged in advance, and Uber is a safe bet here. If you do become the victim of a mugging attempt, do not physically resist.
What to do in Florianopolis
The beaches just outside of town are famous for their surf breaks, and world tours routinely have competitions at Praia Mole (Mole Beach). Other beaches are more secluded and are ideal for an afternoon away from it all. After the sun goes down, nightlife thrives both in the city and on the beach.
Many travelers rave about the food as well, from the classic feijoada (black bean stew), to the seafood feasts best-enjoyed shore-side (Ostradamus is a local favorite), all washed down with a cachaça-fueled caipirinha.
7. Sucre, Bolivia
Nestled in a valley in the Andes is Bolivia's true capital and loveliest city, Sucre. For a good reason, visitors often end up extending their stay here.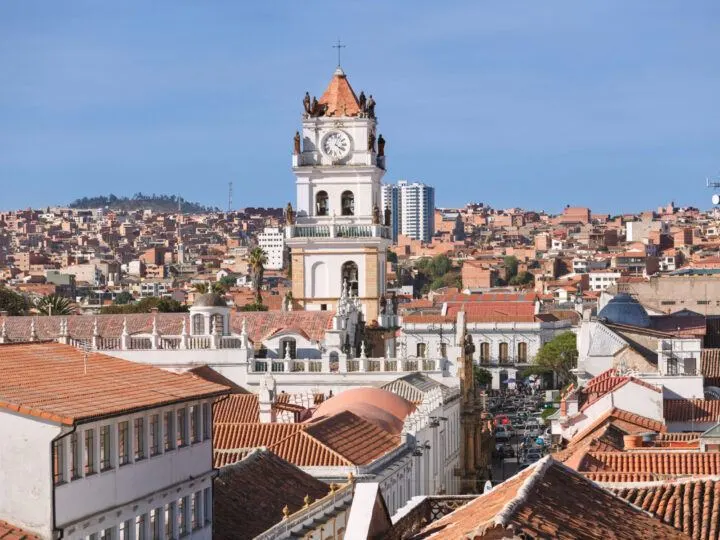 A manageable city of 300,000 people, Sucre sits at an ideal altitude, affording it one of the best climates on the planet. Its relaxed vibe and gorgeous colonial architecture make it an excellent destination for tourists and ex-pats alike.
How to stay safe in Sucre
Bolivia's larger cities, such as La Paz and Santa Cruz, have a higher incidence of petty crime, but Sucre's manageable size helps make it one of the most secure places in the country. As a rule, avoid flashing cash and valuables to avoid being a target.
Bolivia has a high rate of people contracting Chagas Disease, spread by tropical insects, but Sucre's high elevation of 2,810 meters (9,214 feet) is far above the insect's ecosystem. Some travelers suffer from mild altitude sickness upon arrival, but after a day or two visitors are generally able to acclimatize.
What to do in Sucre
With its ideal climate and lovely city centre, Sucre is the perfect place for walking around to take pictures. Highlights include the Casa de la Libertad (Freedom House) and the Teatro Gran Mariscal Sucre (Marshall Sucre Theatre).
The area around the city isn't short on activities either. Don't miss El Castillo de La Glorieta (Glorieta Castle) with its unique melding of Byzantine, Moorish and Gothic architecture, and El Parque Cretácico (The Cretaceous Park), with its well-preserved dinosaur footprints.
For more on this captivating city, check out the best things to do in Sucre.
8. Cusco, Peru
Perched high up in the Peruvian Andes is a city that predates the arrival of the Spanish and continues to captivate visitors with its stunning architecture and timeless charm.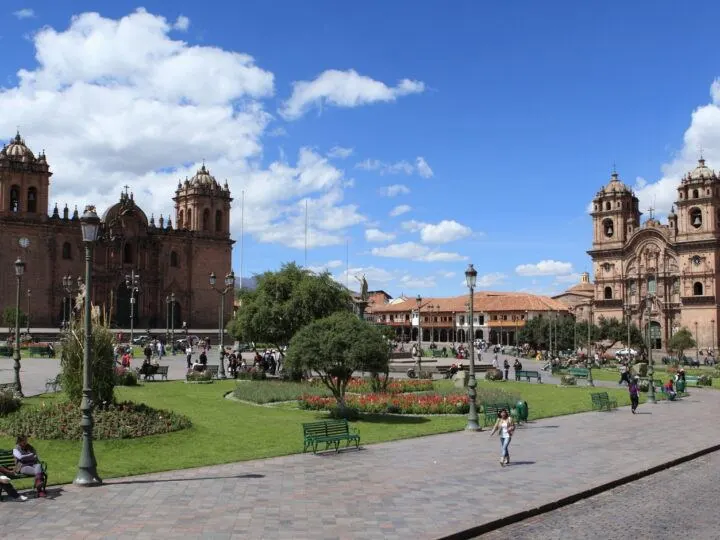 This city of 400,000 people has a distinct feel among South American cities, with its cool climate and traditional way of life alongside the many travelers who come to soak up its ambiance.
How to stay safe in Cusco
Peru was the site of demonstrations and social unrest early in 2023, however, the situation has since calmed, and Cusco continues to be a safe place to visit.
The former Inca capital is split between the historical center and its more local neighborhoods. Within the old center, tourists should be wary of petty theft and scams, but violent crime is rare, and it is generally safe to walk around in groups after dark.
The primary concern for most visitors is Cusco's breathtaking altitude (3,400m/11,150ft), and the altitude sickness that can afflict new arrivals. To counteract the effects, drink plenty of water, eat in small quantities, avoid alcohol, or do as the locals do: place a wad of coca leaves on your cheek.
Stay in one of the many hotels, guesthouses, or hostels close to Cusco's Plaza de Armas to avoid having to climb into the city's hills, too.
What to do in Cusco
The ancient city and its immediate surroundings are chock-full of activities. Many use it as a base for visiting the nearby Inca Trail and Machu Picchu or the Sacred Valley, while the city has more than enough to keep visitors occupied for a few days or more.
Travelers always find their way to the Plaza de Armas in the old center, and its two cathedrals, La Catedral del Cusco (Cusco Cathedral) and La Iglesia de la Compañía de Jesús (Jesuit Church) are not to be missed.
Uphill from the plaza are the San Blas neighborhood with its atmospheric, narrow stone streets and Saqsaywamán, the great Inca fortress overlooking the city. You can plan your visit with this Cusco itinerary or extend your time by staying at one of our recommended hotels and guesthouses in the Sacred Valley.
9. Arequipa, Peru
In the remote high desert of Peru sits the country's second most populous city, which could not be different from the frenetic capital, Lima.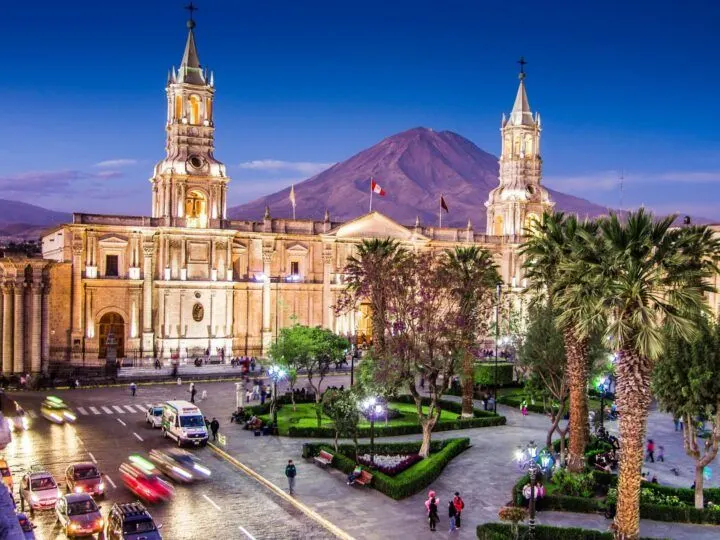 Routinely ranking among the safest urban areas on the continent, Arequipa feels like an overgrown town in the pace of life and the friendliness of its locals. Its one million citizens take pride in the architecture, cuisine, and natural setting of their city.
How to stay safe in Arequipa
Security in the city is mostly a non-issue. It is safe to walk around the city centre at all hours, and locals are happy to help visitors with directions and recommendations. The only annoyance you're likely to encounter is the restaurant touts on the Plaza de Armas.
Because Arequipa is in an extremely dry corner of the continent, it is important to stay hydrated and to apply sunblock if outside for an extended time.
What to do in Arequipa
Arequipa is known in Peru as the 'White City', because of the volcanic sillar (see-YAR) stone used to construct many of its buildings. Among the most stunning sillar structures are the massive Basilica Catedral de Arequipa next to the stunning Plaza de Armas, and the Monasterio de Santa Catalina.
One cannot visit Arequipa without tucking into its excellent local delicacies. The city is dotted with picanterías which specialize in chupe de camarones (curry-like soup with prawns), rocoto relleno (spicy pepper stuffed with mince and veggies), and soul-warming quinua dishes not unlike risotto. For the real deal, head to Picantería Victoria or La Nueva Palomino.
Travelers who are up for it shouldn't miss trekking the stunning Colca Canyon, three hours north of the city. Thrill-seekers should consider climbing El Misti, the towering volcano that towers over the city.
For more, look at our best things to do in Arequipa.
10. Cuenca, Ecuador
Following the Andes north to Ecuador, the pleasant city of Cuenca has earned a reputation as an excellent destination for both tourists and long-term residents and some consider it one of the best places to live in South America.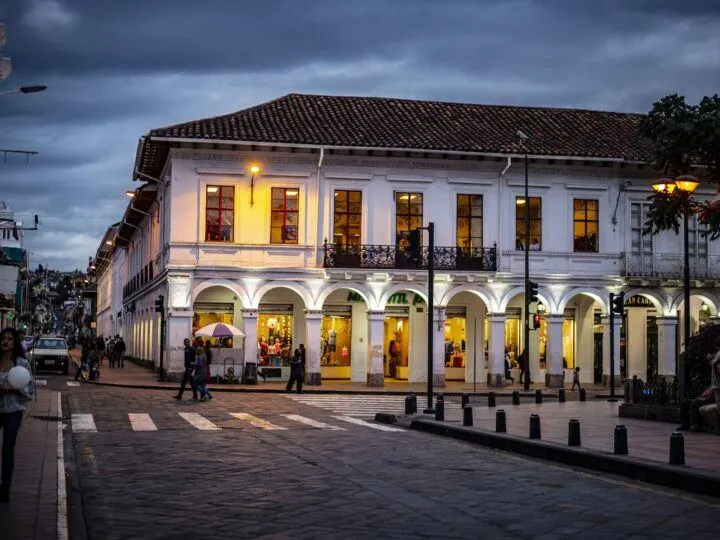 The city and the surrounding metro area have 660,000 residents who enjoy the mild year-round climate, while travelers are drawn to its colonial architecture and access to the nearby Cajas National Park.
How to stay safe in Cuenca
In the past couple of decades, more and more North American ex-pats have made the permanent or seasonal move to Cuenca, drawn by its security and ideal climate. In 2019, the Cuenca Tramway was completed, spanning 10.5 kilometers (7 miles) with 27 stations, making transportation safe and easy.
While the capital Quito has a mixed record when it comes to safety, Cuenca has the highest standard of living in Ecuador which keeps crime rates low. Theft and pick-pocketing are quite rare, so visitors exercising common sense will be perfectly safe.
What to do in Cuenca
Cuenca is one of the best cities in South America for exploring on foot, with its photogenic city centre and riverside parks. On the eastern edge of the city on the mountainside is the not-for-profit Amaru Biopark, which showcases an astonishing collection of animals including jaguars, tapirs, Galápagos tortoises, boa constrictors, and blue-footed boobies on its sprawling grounds.
If you're visiting on a weekend, every Sunday morning the city provides free mountain bikes for both residents and tourists to explore the trails along the Tomebamba River. To borrow a bike, go to the rental station at Puente Juana de Oro, next to Inca Bar. Exchange an ID or passport and return the bike by noon.
11. Bucaramanga, Colombia
Last on our list is a city in a country not usually famed for its security. But while in the past Colombia has been in the news for the wrong reasons, safety has improved dramatically in recent years.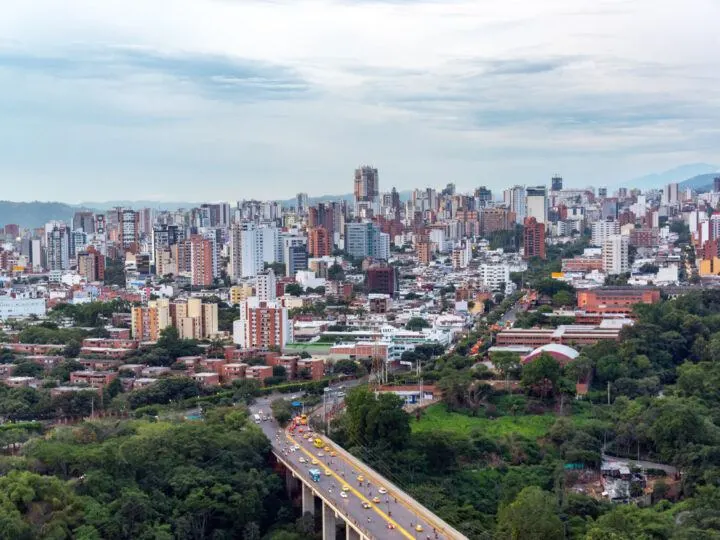 Bucaramanga, with a metro population of 1.1 million people, has been gaining a favorable reputation as a safe and friendly city with a lovely climate and lots of activities for travelers.
How to stay safe in Bucaramanga
While Colombia has done much to clean up its security image in the past couple of decades, the largest cities in the country still have some of the higher crime rates in South America. Bucaramanga, however, has very low rates of violent crime and far less theft and robbery than Bogota.
This being Colombia, it is important to take proper precautions. After dark, always taxi or Uber to your destination, and be discreet with phones and valuables at all times. It is also advisable to wear pants and shoes, rather than shorts and flip-flops, to avoid appearing an easy target.
What to do in Bucaramanga
Known as the 'city of parks', Buca has some lovely green space, such as Parque García Rovira and the Jardín Botánico Eloy Valenzuela. Home to ten universities, the city comes to life at night. Salsa enthusiasts will want to check out Calison, while reggaeton and techno fans should try Vintrash.
Just south of the city is Chicamocha Canyon, a popular trekking destination. Further south is the lovely colonial town Barichara, and San Gil, Colombia's premier adventure sports destination, where you can go zip-lining, white-water rafting, caving, paragliding or horseback riding.
Notes on staying safe traveling in South America
To keep yourself safe and sound, awareness and confidence are key factors. People who walk with a purpose are far less likely to be victimized than a tourist shuffling down the street, hunched over their phone. If confronted, for obvious reasons never argue or resist. Losing your phone or wallet is preferable to being a victim of violence.
A common way travelers find themselves in danger is while driving in an unfamiliar place. If road safety is a concern, you can choose to use public transportation or hire a car with a driver. Locals are of course more experienced and accustomed to their cities and driving habits.
Above all, keep in mind that the better prepared you are for your trip, the more likely you are to remain safe. Map out your trip, take the necessary precautions, and you're bound to have an amazing vacation.
Looking for more inspiration? Look at our South America itineraries guide, discover which are our favorite places to visit in South America, and plan ahead with this detailed packing list for South America.